Your new movie Erotophonophiliac: Documents of Lust - in a few words, what is it about?
It's a reflection on society right now more than ever I'd say, making a celebrity out of a serial killer. Natural Born Killers heavily weighed in on this but upon its release the film was crucified for it because it was too ahead of its time for many people to understand that the film was in fact a warning, a mirror held up to society, and not an instigation for violence. Now it's become a timely topic that people are full blown aware of (though sadly, they also feed into it). We now got people doing everything unimaginable for their 15 minutes, anything from people drinking poison for stupid TikTok challenges to recording and uploading murders committed by others or even themselves. This film focuses on the latter. Imagine Ted Bundy being on his killing spree today, uncaught. Would we fear him, admire him, or want to be him? Half the people out there are offended by everything these days, the other half is desensitized to everything. Could you ask for any more contrast and conflict? There's no more middle ground. No more reasoning. No more sense. Some of these people feel both overly sensitive and desensitized at the same time! Explain that???
Now the story about how Erotophonophiliac: Documents of Lust ultimately came into being is a very interesting one, so let's take it step by step: Originally the footage was shot for a movie called Amateur Porn Star Killer 3D: Inside the Head, a film that you shot but was never finished. So how did the project come about back when, and what can you tell us about the actual shoots you did for the film?
I had had a ton of success with the Amateur Porn Star Killer trilogy, which I released back in 2007-2009 (though the original was shot in 2004 and not released until 2007) thanks to video stores, DVD, and no censorship (unlike today with streaming - I don't believe these films could exist today). When a film this small sells this many DVDs, a distributor asks for more films like this, which is how Part 2 came about. Part 1 had so much buzz and so many pre-orders coming in that Part 2 got greenlit before Part 1 was even released. And then Part 3 got greenlit before Part 2 was released. But Part 3 became a different story because the distributor asked about doing it in 3D. And for me, 3D is like streaming and/or CGI-driven Hollywood films - I just don't get it, it disgusts me, and I have zero interest in it. I don't understand it nor the appeal, whatsoever. All that I did know was that it was these huge CGI-driven Hollywood films that seemed to be utilizing 3D. But an underground, zero budget, handheld, found-footage film about rape and murder? I thought the 3D request was a joke. And so that's how I approached it; I asked if I could make two films; the first being in the style of the original films, and then a second, cheesy film, made for 3D. I simply approached the 3D film as a parody to my own trilogy, though it did capitalize on the whole 15 minutes of fame theme.
To ask quite bluntly, why didn't you ever finish Amateur Porn Star Killer 3D: Inside the Head over all these years?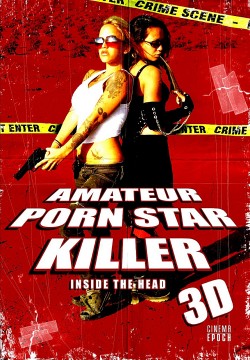 I think I lost myself by this point. I only made the original Amateur Porn Star Killer out of frustration. I had been pursuing filmmaking since I was about 5, and at this point it had been almost 20 years and I wasn't getting anywhere (I felt old at 24). I would spend years on a project, all of my money, and nothing would come of it. I could never finish anything due to actors not showing, not having money for the right effects, moving, doing everything mostly by myself and then having issues with sound, with the stories not making sense since it took 3 years to shoot something and people changed looks, ages, etc. Plus I'm not a technical person at all, and I'd get stuck doing all of the technical stuff, too. And remember, as I'm sure we've talked about, I only wanted to act and write. I never wanted to be a filmmaker. Directing only came from wanting to have acting roles, as in, if I directed my own films, well then I'd have acting roles. And I could also write my own stories, my scripts. But by the time I was 20 I was like, "well shit, I guess I'm a filmmaker. I keep making movies, so." But that's when things started getting really expensive and time-consuming, and without completion of anything. So, finally, after several more years of pursuing full-blown filmmaking, I was about to give up. I was going through a relationship break-up, just buried the most important person in myself, and really didn't feel like living anymore. I just wanted to make and complete at least one feature film before dying, and that's where Amateur Porn Star Killer was born. It was an idea that I could shoot in a single night and have edited within days. I never thought anybody would see it, though. Years later, it became a huge indie success. So, instead of going through another 20 years of hell, I did a sequel (despite hating the idea of sequels and wanting to make arthouse and/or action films, I went ahead and made another sexploitation film). And then I did another. It all happened so quickly once the original film got signed for distribution. But now throw in the idea of making a film that I don't really want to make in the first place, and then another version of that film in 3D (a format that I hate), and it became one big ball of shit that I didn't want to have anything to do with.
I thought the Amateur Porn Star Killer: Inside the Head footage was atrocious. Sure, it probably was the kind of material actually more suited for a title like "Amateur Porn Star Killer" - it was vulgar, explicit, poking fun at itself and everything else, it actually had blood (a creative choice not to use blood in the Amateur Porn Star Killer trilogy infuriated some, while captivated others), but it wasn't me, at all. I thought it was disgusting, and I was ashamed. I was actually trying to say something with the original Amateur Porn Star Killer, even out of my frustration and desperation to just see if I could make a film overnight. I tried to continue that idea in Part 2, which I was satisfied with. But I was done with it by Part 3, so then by the time it came to this film I was just flat out lost. I wanted me back. And this film wasn't me. I had no clue how to edit it. I tried giving it to another editor and it only came out worse. So, I shelved the film. I was giving the distributor a 2 for 1 deal anyway, and since I already delivered one of the films, we just decided to toss the 3D one, and so I went and made a much more arthouse film for them after that.
From what I know, the original Amateur Porn Star Killer 3D: Inside the Head was supposed to be rather parodistic on tone - so do talk about that parody vibe, but also about the feel of Erotophonophiliac: Documents of Lust, and your feelings about that tonal shift!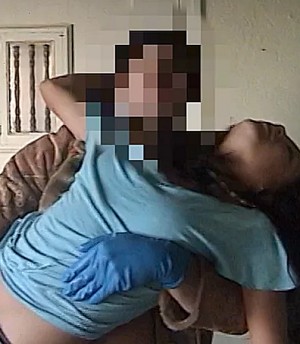 Since I didn't really know what I was doing and had never made a parody, I tried using Family Guy as a guideline; I just made fun of everything. I'm sure if I was famous that at least 80% of the "jokes" in here would get me cancelled. Many were so bad that I didn't even include it in the footage that I gave to SamHel. I mean, Family Guy can (somehow) get away with the most offensive jokes about the touchiest of topics. I don't think Amateur Porn Star Killercould. SamHel kept the same theme, but managed to approach it, I feel, how someone like Harmony Korine would (which is funny since my later films have been compared to Korine, long before I had seen much of his stuff, and when I mentioned it to SamHel, apparently he's seen none of Korine's stuff). Personally I wish some of the Japanese stuff had stayed in his edit (we shot a lot of the film in Japanese with Japanese actors), and I wish the film had stayed at feature length (I would have made it at 70-80 minutes as originally intended but it stands at a mere 27 minutes, I believe), but other than that I think he captured this in a way that I never could, and he made it worth finally releasing in some form. Even though this finished version is actually much closer to the stuff that I usually make, I was just too close to it to see it in that light. I never even thought to approach it seriously since I thought it was so ridiculous. I actually included some footage from the DVD release and signing which SamHel surprisingly used, and it somehow added even more to its voyeuristic and sinister vibe with a huge sense of realism behind it (since that footage was real!).
Do talk about Erotophonophiliac: Documents of Lust key cast, and why exactly these people?
I shot this as I was shooting the third Amateur Porn Star Killer film, and shortly after shooting the second. So, I simply used a lot of people that were in those films. I was also acting in some other movies, and since I was shooting this so quickly on just a little camcorder, I'd be able to film with many people on the spot while at other shoots. When it came to all of the Japanese actors (it was quite a cast), I had a Japanese friend of mine, Andy (we actually met at the theatrical premiere of the original Amateur Porn Star Killer), hire all of the actors (he also co-produced my Japanese short, Oni-Gokko/Tag, as well as The Owl in Echo Park). And then because the Amateur Porn Star Killer films were getting so much press, I also had people asking me to be in the film (it's crazy, I used to have to turn away actors even for the sleaziest of films, these days you gotta beg actors to show, even for the most artsy of films - times have definitely changed for the worse).
So with the footage shot all those years ago, how then did Erotophonophiliac: Documents of Lust come into being, and what can you tell us about its "new" director SamHel, and what was your collaboration with him like? And how did you first meet even?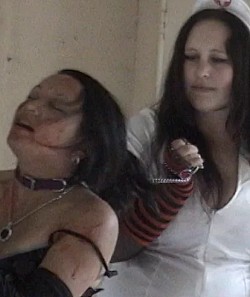 SamHel first contacted me when I was (finally) premiering My Name is A by anonymous. At the time he had never made a film (he was only 18), and was just a huge lover of films and wanted to help me promote it. I believe he said he started making films after he met me when he learned that I made My Name is A by anonymous with no script, and on a $300 budget. He didn't know that that was possible, and so he tried it himself. And he just never stopped. That was only about 6 years ago and he's made like 30 shorts and a couple or so features since then. He releases most of them himself, and has a small but strong following. I guarantee he's already made far more money than I have in my entire life. I mean, I've already made more money on the DVD sales of Erotophonophiliac: Documents of Lust over these past couple weeks than I have over the past decade of multiple films being distributed by actual distributors over various streaming sites. DVD is by far the way to go (as I've never stopped saying, though almost nobody but people like SamHel get this). And apparently, self-distribution is, too, if you have an understanding of it, and an audience. He found his audience, found a way of doing his business his way and all on his own, and he seems to be flourishing in it. I'm sure it's quite the struggle, though, don't let me my words fool you. My version of "big sales" is not Hollywood's (nor even IFC's) version.

As far as the collaboration, I just picked out what footage that I didn't want to send him, and sent him everything else and said "have at it." He sent me a rough cut, I just suggested a few small changes, and that was it. We've worked on a ton of other projects though, not just this. I acted in/co-produced Queen Wasp, acted in Fluid Fields, Flesh and Blood a Go! Go!, shot and produced Summerland, associate produced I Cut Your Flesh, and then he acted in and co-produced my films Red Oedipal, Guerrilla, and helped co-produce several others as well, including Ted Bundy Had a Son. He even did some background work on Choke and Samurai Cop 2. So, probably a dozen films we've collaborated on in some way.

The $64 question of course, where can Erotophonophiliac: Documents of Lust be seen?

There is a limited-to-300 copies DVD release available at https://www.abaroquehouse.com/product-page/erotophonophiliac-le-dvd

Anything you can tell us about audience and critical reception of Erotophonophiliac: Documents of Lust?

Sam makes more money but I get much more reviews, I guess that's how it goes. So, only a few select people have reviewed it as his films are a very niche audience, but all good so far.

From what I've read, your original Amateur Porn Star Killer-trilogy will be re-released for the fourth time now, and you've also just opened a merch store for the series - so where can films and merch be purchased from, and how do you explain the longevity of what was essentially a no budget series?

I'm still waiting on the official release date for Amateur Porn Star Killer's new edition but I approved artwork for the first Amateur Porn Star Killer nearly a year ago so it's got to be coming out soon. I'll have everything linked up from my site when I hear anything, over at https://www.madsincinema.com/

The merch store for clothes, facemasks, mugs, pillows and all other accessories is https://teespring.com/stores/amateur-porn-star-killer

I don't know how to explain the longevity. Like I mentioned, if the film came out today, it wouldn't stand a chance due to streaming, censorship, and all that overly sensitive crap. But at the same time, it also probably wouldn't do well on the other end of the spectrum due to people being desensitized and having had "seen it all" at this point. I mean, we've had actual amateur porn star killers record actual murders since this movie came out! The world has changed so much since I made this and events like those in this movie actually exist now. They've really happened, they're no longer just an urban legend. I think being ahead of the game really helped in the case of this film. You see so many movies that are considered classics or cult films that really aren't particularly special or great films, they just had great timing, or they captured something first. And given that I shot this in a few hours with no money, no crew, and only did one take, I surely can't call this a good film. I just think that I captured something unique at the time, and took a chance on releasing something that many people wouldn't have had the balls to release then (not saying that it was a wise choice, but it was a choice I made), I spent 3 years promoting it and building word of mouth all the way up til its release, plus I also had a distributor take a chance on it and we had so much press build up that we managed to get it a real release both theatrically and definitely physically on DVD, and with so much press and such a provocative title and great cover art, we just scored big time on getting it into tons of video stores and therefore in front view of the eyes of millions of people. You just can't do that in this day and age with streaming; we'd be censored or banned, or buried in the algorithms even if we got released digitally. So, I just got lucky.

I came in at the end of video store days, too, which might have helped even moreso, as even mainstream stores around that time were starting to carry all kinds of indie and uncensored films. And with our killer cover, plus being titled with an 'A' and being placed at the front start of the new release shelves, again, just luck, timing, but also smart marketing. And the only reason we wound up with that cool cover is because I couldn't find the lead actress for a photo shoot, so I got my girlfriend's sister to do it. But therefore couldn't show her face since she wasn't the same actress and I just had to come up with other ideas for the cover. I also released this when the term "torture porn" started being used, so this got thrown into that category. And since that category became a topic discussed in film schools and lectures and books, and included more mainstream indie successes (like the Saw franchise), I now was part of a whole academic curriculum being used. So, for this 4th edition release, we have commentaries by some of these critics, teachers and authors. It's just one of those things. Call me lucky if you will, but I don't! Not the kind of film I ever wanted to make nor be known for.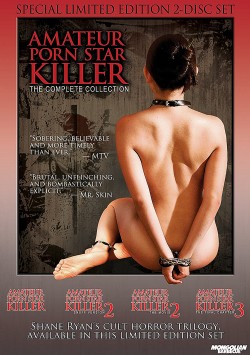 Watching any of the Amateur Porn Star Killer-movies again after all these years, how do they make you feel now? And that in mind, could you ever be persuaded to make another film in the series?
A huge part of me wishes I had never made the first one, or at least not the second. I became not just known for these films, but known as a "horror filmmaker". I never liked horror films! Every single week I have to explain to people who approach me regarding something horror related, that I do not consider my work to be horror. Now, I've grown to appreciate horror a lot more, sure. Especially over the past couple years. But this isn't my love...at all. I grew up on Van Damme, Stallone, Schwarzenegger. I'm an action guy, big time. I also loved silent films, being raised on Chaplin (my first film job was restoring a Fritz Lang movie for crying out loud). I grew up on classics like Touch of Evil and North by Northwest (my dad took me to the theatre to see resortations of all these kinds of films). As a teenager I got big into 70's dramas and took myself to see restorations of stuff like Dog Day Afternoon and Taxi Driver. I loved going to the indie theatres to see foreign dramas, especially French films. Now I did like controversial movies like Irreversible, Fat Girl, The War Zone, Baise Moi (all European films, 3/4 of them French), and they played a huge factor into the idea behind Amateur Porn Star Killer. But these were still dramatic films, not horror. And films of mine like My Name is A or The Owl in Echo Park or Paper Kids are so clearly arthouse dramas. And then Samurai Cop 2 and Guerrilla are clearly 80s action film homages. But I'm still always thrown into horror/exploitation, and I fucking hate it. I do so much more than just horror, if you could even call the Amateur Porn Star Killer movies horror films to begin with. Now I wouldn't mind doing some actual crazy horror films, but I love all kinds of movies, all kinds of non horror movies, and I just can't stand being lumped into one category, especially when it's one of my lesser favorite categories. Nothing against horror, at all. I just want to do and be known for stuff that I actually love myself. So, in that regard, I feel pissed off at the Amateur Porn Star Killer series after all these years.
As far as doing another, well, not to sound contradictory, but I do love true crime. But not for the horror. I love it for the detective work, the mystery, the journalism side - the puzzle pieces, basically. And so I'm doing the Ted Bundy Had a Son trilogy, which is basically a fictionalized true crime documentary on the character from the Amateur Porn Star Killer films. Now that I thought would be fun. Though it's been quite the headache since I included over 100 additional directors in an attempt to turn it into something truly unique. So, it's been a difficult attempt in piecing it together (a puzzle itself). But this is as close to making another Amateur Porn Star Killer film that I'd ever want to get. Though who knows. If enough time passes, if I get to do more stuff that I actually do like, maybe revisiting these would be fun. But I think I'd be going backwards if that were the case. I think I'd be more likely to do more of these if I don't find much success in anything else.
Any future projects you'd like to share? And your/your movie's/your merch's website, social media, whatever else?

Feeling lucky ?
Want to
search
any of my partnershops yourself
for more, better results ?

The links below
will take you
just there!!!


I recently released a trailer for This Girl, This Boy (a drama, the stuff I actually really enjoy making): https://vimeo.com/463410175
And I got another drama, The Girl Who Wasn't Missing, from 2010, finally coming out - https://vimeo.com/120137792
I'm also currently shooting another dramatic homeless story, Throwaway Girl (I guess you could call these a trilogy in a sense).
Plus I got some other features I've been working on for years (like The Owl in Echo Park - https://vimeo.com/103053589), some upcoming features I'll be working on soon, and I also co-produced a ton of stuff recently, everything from scifi, comedy, drama, horror, documentary, action, etc. Best to keep up to date here https://www.madsincinema.com/co-productions.html and here https://www.imdb.com/name/nm1546474/
Thanks for the interview
Thank you!