Your new movie Once, When I Was Dead - in a few words, what is it about?
Once, When I Was Dead is a film about an artist who after a bad art gallery showcase is considering giving up her dream and faces her nightmares head on. Itís about finding inspiration, knowing your potential, and facing the many challenges that come with achieving your dreams, and finding the true soul within you.
What were your sources of inspiration when writing Once, When I Was Dead, and was any of this based on personal experience, your personal feelings about being an artist?
Once, When I Was Dead is a very personal film for me, as a lot of it was based on how I was feeling as I wrote it back in 2005. I was in a very dark place in my life and wondered where my life and career would go. In order to achieve the goals you want, you have to look inside yourself to see where you believe you can go. When I did, the result was terrifying to me. I did learn a valuable lesson in writing in that the best stories come from personal experiences, so I based my thoughts, feelings, insecurities, and desires into this short script. I had planned to make it several times and it felt right to do it now as it represented the closing of a chapter in my life.
You have to talk about your films hallucinatory sequences for a bit, and were all of them properly scripted, or rather made up on the spot?
It was a mixture of both. The majority of the sequences were written in the script, but the first hallucinatory sequence was changed on set to better reflect what was processing in Ameliaís mind. It wasnít as sexual in tone but as we filmed the scene, we realized it needed to hit that mark for it to reflect Ameliaís psyche, to show the combination of pain and pleasure that was conflicting within her.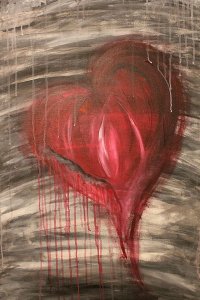 "Broken Hearts" by Shay Cully
The scene with Alice making her painting was not in the early drafts, and upon inserting the scene it became a better film to show the path Amelia could go on if she followed a certain way. Itís the only scene that is verbatim from the script as it was important to show an artist in such a fragile state but yet finding her true passion in such a dark and disturbing moment.
Please do talk about the paintings used in the movie, and where they especially created for Once, When I Was Dead?
The main painting for the film, Broken Hearts, was painted exclusively for the movie by Shay Cully, a tremendous artist who I had met when I played In Fear Of at the Macabre Faire Film Festival. As an artist herself, Shay understood the story I wanted to tell and created the painting after reading the script and talking with me. I was completely floored when I first saw it. It perfectly captured the tone of the story and was both beautiful and haunting at the same time. Shay is one of the most creative people I know. Her dedication to her art and loyalty to her friends are second to none.
Cinematographer Steven-Mark Glassner [Steven-Mark Glassner interview - click here] is also an artist, and many of his paintings are in Ameliaís space. It was Steve who insisted I make this film after reading the script and I realized that with both Steve and Shayís input, it had the one piece that had been missing the first few times I had attempted to make this film, that authenticity from the art world on making the film as accurate as it is in viewing that world.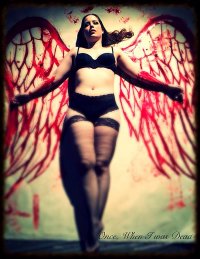 "Blood Wings"
by Steven-Mark Glassner
Steve created the Blood Angel Wings painting, which was accomplished by having Kaylee Williams [Kaylee Williams interview - click here] come to NY for a day to lay down on a canvas while we drew around her to get the parameters right. It was very surreal when it was done as it presented such a beautiful yet haunting visual, and during the time we made the painting, I had a death in the family, so the meaning of the wings took on a whole new meaning for me personally. Without the artistry of both Shay and Steve, the film would not look nearly as beautiful as it does.
How would you describe your directorial approach to your story at hand?
Intense would be the best way to describe it. Having done many films of different types with the In Fear Of episodes that I have done, Once, When I Was Dead was a completely different film. I had a great producer in Tony DeBenedetto [Tony DeBenedetto interview - click here] who financed the flim and believed in the concept from the moment he read it. He also has been a huge part of In Fear Of moving forward the way it is now. I had never done a film with so much backing behind it and was used to being my own boss so it was a new experience. Tony is a pure businessman and an even better person, and itís truly an honor to be his production partner on this film.
Lisa Forst, who I worked with on several In Fear Of episodes, had a daunting task of handing special effects and makeup, and did an amazing job bringing all the effects to life. There was one effect we had talked about doing that I do regret didnít make the film because of time, and if Lisa is reading, ďIím sorry! Iím a shit!Ē Lisa is going to be a HUGE star in special effects and I am truly dazzled by the work she does. I hope someday to give her a budget worthy of her talents but she can make anything look great. The visuals of Adam and Eve were difficult, and she managed to pull it off with the different paint mixtures and blending of colors flawlessly.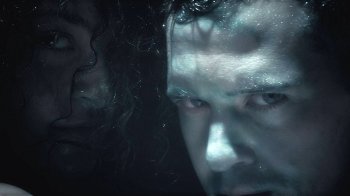 Music is key to any film, and Barbara Weber is a frequent collaborator who, when I hire for a project, I send a series of tracks in tone for her to get the style I am going for. Every time Barbara nails it out of the park and adds her own unique spin to everything. She is quick, efficient, and created a terrific score for Once, When I Was Dead.
What can you tell us about your cast, and why exactly these people?
This was the fifth time I had attempted to make Once, When I Was Dead, the first in 2007, then in 2009, 2010, 2012, and finally last year. Each time I had talked to different actors and crew to do it and each time before it didnít work out. However, with Tony, Shay, and Steve showing interest in making Once, When I Was Dead, I knew that this was the right time to make it, or it would never have been made.
Gabrielle Stone [Gabrielle Stone interview - click here] I had met on Facebook, but I had heard about her from about five different filmmakers I knew that had worked with her or interviewed her and told me not only how good of an actress she is, but how cool of a person she is. After a few conversations on Facebook, she sent me her demo reel and I was impressed. Being the daughter of a famous actress in Dee Wallace (which I didnít know initially), she is very well grounded and is also a hard worker. She had that innocent quality that I saw in Amelia and I felt she could pull it off. She understood the character immediately and I enjoyed collaborating with her on Ameliaís strengths and weaknesses. The look of Amelia was all her, and with the films she is working on now, I feel fortunate to have the opportunity to work with her on this film.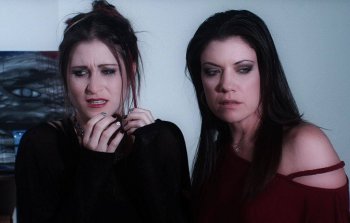 Gabrielle Stone, Tiffany Shepis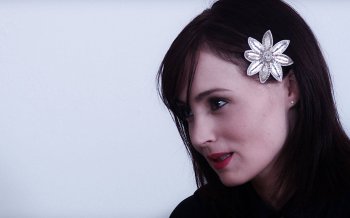 Kiva Dawson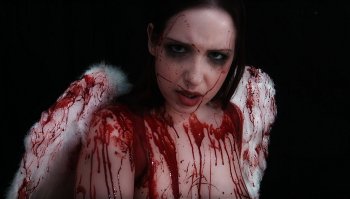 Kaylee Williams
Tiffany Shepis [Tiffany Shepis interview - click here] I have known for nearly ten years, and approached her back in 2007 about another project which never came to life. Tiffany is a tremendous actress and a popular name in horror. I did have Tiffany in mind when I wrote Lucy but I wasnít sure if she would do it because she mainly does features. I have to give huge credit to David Marancik (who was on set photographer) and Debbie Rochon [Debbie Rochon interview - click here], who are great friends with Tiffany and put in a good word for me on the film and the role. On the surface Lucy can appear to be one dimensional, a sultry femme fatale who wants Amelia to embrace her dark side, but Tiffany performs in such a meticulous way that you believe she cares of Ameliaís well-being, even if it is to her own benefit. Tiffany is a great collaborator and, like Gabrielle, made suggestions to her character that only improved the character on screen.
Kiva Dawson was suggested to me by Steve Glassner [Steven-Mark Glassner interview - click here], who had worked with her on a commercial shoot, and what I think sealed the deal for me is that when we met up to talk the film, she brought her son along. Seeing her as a mother showed me that she has strong instincts as a mentor and can show that stern yet nurturing nature to Amelia in explaining why she is failing as an artist, and Kiva portrayed it as if she had experienced some demons of her own, so she knows the pattern. A fun fact about Kiva is that she started as a child actor and her first role was a small part on the TV series Taxi, and her experience as a dancer, she was in The Big Lebowski in The Dudeís dream sequence, would transition well in mentoring an artist.
Kaylee Williams [Kaylee Williams interview - click here] is the only actor of the main cast I had worked with before, in the In Fear Of episode Merinthophobia: Fear of Being Bound, and I trusted Kaylee in portraying such a difficult yet silent role of Alice. Kaylee has become a good friend and I knew she could handle the vulnerability and fragility that Alice conveys in her scene. Itís so hauntingly poetic that itís one of the rare times upon putting a scene together in the editing room I got emotional, because I felt every ounce of her pain. Kaylee is an amazing actress, and a fearless one who is not afraid to put her soul on display for the world to see, and I wanted to make sure it was captured on screen in that regard. I donít think anyone could have played it better than Kaylee did, and the final shot of her is probably my favorite shot I ever filmed.
Kris Eivers, who plays the art patron, was suggested by Kiva, and I felt since they were friends, it would show their chemistry on screen. Itís only one scene, but Kris was a pro and nailed his scene. The Adam and Eve characters, played by Blaine Pennington and Taylor Costello, were cast for different reasons. Taylor is a friend of Gabrielleís and has a great dancing background, and could convey the rhythms of the scene that I wanted. Blaine was cast in the In Fear Of episode Agoraphobia: Fear of Leaving Home, and I was blown away by his acting ability. He also has the most beautifully gorgeous yet haunting eyes Iíve seen and knew it would look amazing in contrast to Taylor as well as Gabrielleís reactions to her visions.
Do talk about the shoot as such, and the on-set atmosphere?
I learned a lot on this set and did some things I would never do again. It was a different challenge, one that in some areas I was ready for, and some that I was not ready for. I was lucky to have a great cast and crew who knew and believed in the film so much that they delivered in spades to make my job easier in some regard. It was also surreal to see something youíve spent so much time on, so many iterations attempted to be made, finally come to life in front of you. I remember Gabrielle asked me ďDoes it feel weird seeing it coming to life,Ē and I admitted that it was more difficult than I thought it would be. Youíre seeing aspects of your personality, your psyche, and the thoughts you had when you broke down happening in front of you and it sets you back to that place temporarily. It took me a long time to shake it off after shooting and even in editing it was difficult. I edited it with my friend Stolis Hadjicharalambous who knows the beats well and it was good to have that input from another source as it added a better perspective and a more solid film in its final form. Our sound man, Keith Chernin, did a terrific job in mixing the dialogue as we were recording, making my first (and probably only) sound mixing work on film a successful one. One regret is that I should have enjoyed the experience more and not have been so tense on it.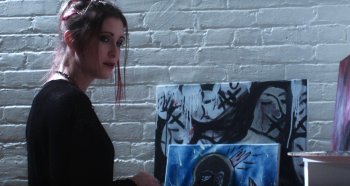 A few words about audience and critical reception of your movie so far?
From the get go, everyone who worked on the film knew that this could be a polarizing film. People are either going to love it or hate it. I will admit it does have a bit of a pretentious vibe to it and is more artistic than I would like it to be. Iíve been pleasantly surprised that those who have seen it, especially filmmakers and artists, understand the story being told and many can relate to it. I know to a couple it has hit a little too close to home. Aside from your great and short review, Iíve had a lot of good feedback on it as a whole.
I think Iíve surprised some people, especially those who like my work on In Fear Of, because it is nothing like any of the episodes Iíve done. I think while I do have a certain style of filmmaking, it's good to try different genres and mix it up a little.
We recently won a prestigious gold REMI award for Best Horror/Fantasy Short Film at the WorldFest Film Festival in Houston and it is making the rounds at festivals. I recently received an email from one festival saying it was one of the best short films they'd seen but couldn't accept it because some found the subject matter disturbing. Not sure if it's genuine or just a cop out response in an attempt to make me feel better but I've been hearing a lot more positive than negative that's for sure.
Any future projects you'd like to share?

Feeling lucky ?
Want to
search
any of my partnershops yourself
for more, better results ?

The links below
will take you
just there!!!

Find Scott W. Perry
at the amazons ...

amazon.com

amazon.co.uk

amazon.de
Looking for imports ?
Find Scott W. Perry here ...
Something naughty ?
(Must be over 18 to go there !)

I have to mention In Fear Of, which you have promoted many times on your site. I am very appreciative of that, especially in interviewing many In Fear Of alum before their episodes were released. Well, now they are: You can check out the web series In Fear Of at vimeo.com/ondemand/infearof and order the season for as little as 99 cents an episode. If youíre a Twilight Zone fan youíre going to love it.
Your/your movie's website, Facebook, whatever else?
You can check out Once, When I Was Dead on its Facebook page at facebook.com/OnceWhenIWasDead and you can view the teaser at https://vimeo.com/93660583.
You can also check In Fear Of out on its official site at infearoftheseries.com.
Thanks for the interview!
You're welcome and thanks for all the support.