Your new movie Alien Guy Tim - in a few words, what is it about?
Alien Guy Tim is a comedy/sci-fi mockumentary revolving around an outcast, named Tim, who wants to prove that he has been abducted by aliens, but encounters many obstacles along the way. As the camera crew follows Alien Guy Tim around, we can't help but wonder "are we alone?"
How did the project fall together in the first place?
Scott: We had been looking for a new project to work on that might require a budget and full-on crew. Pat had already created the Alien Guy Tim character on Instagram and people were reaching out to him asking if he was real. One day, when Pat and I met for coffee I brought up "What about this Alien Guy Tim character?" Within that same meeting we had developed an outline that was the foundation for our film's story. We then were fortunate enough to reach our goal through crowdfunding and shot within about 6 months of originally coming up with the idea.
Patrick, what were your sources of inspiration when writing Alien Guy Tim?
Patrick: The movie Brigsby Bear with Kyle Mooney was probably the biggest inspiration for the humor and mood of Alien Guy Tim. We both really connected with Brigsby Bear and knew that was the type of movie we wanted to make. A comedy with some darkness behind it suited us well. We wanted our film to be in a similar vein. Mockumentaries like This is Spinal Tap and Best in Show served as inspiration while writing the script too. I love those films and kept them in mind when trying to capture the style of Alien Guy Tim. A mockumentary is a unique style of filmmaking so I definitely rewatched those films while writing the script.
What are your personal thoughts on UFO-logy, alien abductions and the like - and based also on that, to what extent could you actually identify with Tim and the choices he has made?
Patrick: I certainly believe that aliens exist, and there must be intelligent life elsewhere in the galaxy or other galaxies. The US Navy recently confirmed that the video evidence they have is of actual UFOs is compelling and leads me to believe UFOs have been spotted on Earth. They don't go as far as saying they are alien spacecraft but I believe they probably are. I'm not sure about alien abductions. There are ways to explain it away, but also having watched a lot of X-Files I don't know why Mulder and Scully would lead me astray.
I do identify with Tim quite a bit. I'm an empathetic person and getting into the mindset of the character drove all the choices he made. Tim has a small group of friends, who he trusts and understand him, but when his closest friends, his brother and sister, don't believe him it's crushing for Tim. I think we've all felt that in one way or another and can relate.
What made you choose the mockumentary approach for Alien Guy Tim, and what are the main challenges and maybe also advantages shooting that way?
Scott: Being big fans of the genre, whether that be through This Is Spinal Tap, Best In Show, The Office or What We Do In The Shadows, we were interested in trying out that approach. On Instagram, the character Alien Guy Tim was already looking directly at his followers telling them about aliens and his alien girlfriend Sindervus 9, so we thought why not have Tim tell his own story in a longer form? I think people tend to sympathize more with Tim by having him front and center explaining his life and his struggles to you. There's something powerful about having your main character staring straight at the viewer from the very opening frame of the film.
Scott, what can you tell us about your directorial approach to your story at hand?
Scott: I really like to fully immerse myself in a project. As an editor I'll watch a lot of films in the vein of the piece I'm cutting so I try to carry that over in to my directing. While I have directed Pat many times in the past this was my first time on a set with a budget and with other cast/crew. I'm a big believer in over-preparing and getting in the right mindset so I made sure I was ready for the big day by storyboarding and creating visual ideas for our DP. I also thoroughly enjoy gaining inspiration from other films. Pat mentioned the film Brigsby Bear. I rewatched that close to 10 times along with Her, Swiss Army Man, Moonlight, Little Miss Sunshine, and some others, as well as interviews with those directors. I wanted to try to fully understand how these directors created the tones that they so successfully pulled off. We have been told by others how much they enjoy our subtle, melancholic tone of the film so I'm happy to hear the preparation paid off.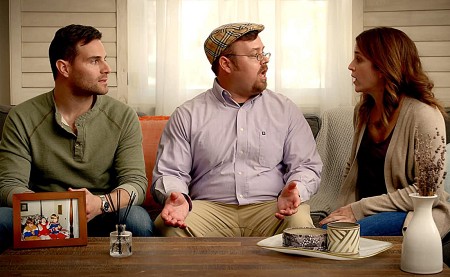 What was the collaboration between the two of you like during all stages of making Alien Guy Tim? And how did you two first meet even?
Patrick: We are very close friends in real life and we collaborated throughout the whole process. We came up with the concept together and worked through it during the entire process. From conception of the idea until the final edit of the film, we were constantly meeting and discussing every move we made. We are lucky to have a great working relationship too, and nothing went ahead without approval from both of us. We first met freshman year of college at North Carolina State University. Scottie was the guy with the camera who liked to shoot and edit, and Patrick was the one who liked to write and act. We were a natural pair and had a similar sense of humor and the same passion for NC State Wolfpack sports.
Patrick, you also play the lead in Alien Guy Tim - so what did you draw upon to bring him to life, and did you write Tim with yourself in mind from the get-go?
Patrick: My biggest inspiration for the character was watching Ancient Aliens. I found the people on the show to be fascinating, specifically David Childress. He had a unique way of speaking, which I started to imitate. That then grew into a character I developed with my brother named Tim, who was this quirky outcast with an alien significant other called Sindervus 9. I started doing the character on Instagram with short videos of Tim for about 6 months. I had a handful of people ask me if this character was for real, or if it was a joke. That helped inspire Scottie and myself to do this short film and really explore this concept further. And because I had done the character for months at this point I did write Tim knowing that I would be playing the part too.
What can you tell us about the rest of Alien Guy Tim's cast, and why exactly these people?
Patrick: They are actually all friends of ours, and were our first choices to play the characters. Huntington Daly, who plays Tim's brother, Steve, is a good friend and talented actor who agreed right away to do the part. We wrote the part for him. Huntington actually recommended Lauren Bair to play his sister as well. We had met her a handful of times before and in a funny coincidence saw her at the same coffee shop myself and Scottie met at to discuss Alien Guy Tim. We hadn't asked her to be in the film before this but had privately decided we would ask her in the coming week. When we saw Lauren there we knew it was meant to be. She has an impressive acting reel and we knew she could bring life to the role of Caroline. Jesse Kruger who plays Matthew is a friend who I worked with on film sets. He's a very funny improviser and actor. I sent his acting reel to Scottie and he immediately agreed we should go after him to play this role. His scene makes me laugh every time. We were lucky to get our top choices, and being good friends too they all went above and beyond in their roles.
A few words about the shoot as such, and the on-set atmosphere?
Scottie: We shot Alien Guy Tim in three long days over a weekend. Besides our sound mixer getting his car stuck in the sand during our desert scene, everything else was relatively smooth. The atmosphere on set was amazing. Little moments where our sound mixer would suggest keeping the boom in frame or our camera operator suggesting to show the opening slate in one of the scenes made me so excited to realize our crew really wanted to make this film special.
The $64-question of course, where can Alien Guy Tim be seen?
You can watch Alien Guy Tim for free on Vimeo: vimeo.com/332719465
Anything you can tell us about audience and critical reception of Alien Guy Tim?
Scottie: We have been very fortunate in our festival run this past year. Alien Guy Tim has won awards such as Best Comedy, Audience Choice, Best Mockumentary, Best Screenplay, and more. You can view all of our awards here: https://alienguytim.com/awards-2/
Having other filmmakers we've never met before walk up to us at festivals and tell us how much they genuinely enjoyed Alien Guy Tim has been so rewarding. Our critical reception has been very positive as well. You can view our reviews here: https://alienguytim.com/press/
Any future projects you'd like to share?
We are hoping to one day shoot a feature version of Alien Guy Tim. Patrick has written a solid script that we're excited about so hopefully with the proper funding and plan we can shoot that in the near future.
Your/your movie's website, social media, whatever else?
Follow us on Instagram: @alienguytim

Feeling lucky ?
Want to
search
any of my partnershops yourself
for more, better results ?

The links below
will take you
just there!!!


And learn more about our film at our website: https://alienguytim.com/
Anything else you're dying to mention and I have merely forgotten to ask?
We had an absolutely amazing cast and crew on this project. Everyone was either a good friend or came recommended highly by a friend. We are so lucky to have a bunch of incredibly talented people in our lives who went above and beyond to make Alien Guy Tim the film that it is. It wouldn't have been nearly as rewarding without all of them. So a special thanks to everyone on the cast and crew of Alien Guy Tim!
Thanks for the interview!