Your upcoming movie The Bad Man - in a few words, what's it going to be about?
Unless the Kickstarter campaign turns itself around, The Bad Man probably won't be my next movie, unfortunately. But I'm definitely keeping it in development and I hope to find some investors who can help me get it produced in 2016. It's an original script that I wrote last year. It's about a young couple who are kidnapped in their own home by a sad, suicidal clown character who brainwashes and coerces unwilling victims to become sex toys. In this case, the young woman is forced to become a living sex doll, and the young man is forced to become a dog. The clown breaks their spirits, and the protagonists have to hold onto their humanity long enough to escape their predicament, but that becomes increasingly difficult. Everything heads toward a third act where the couple will be auctioned off by the clown at a big, secret gathering of super-rich fetishists who engage in human trafficking. It's really dark stuff, really visceral, and really emotional. It might be the darkest thing I have planned for many years to come.
Basic question, why a clown villain?
The Bad Man began as a short film called Down Clown, which I wrote in 2005. It was originally a home invasion movie, but then The Strangers came out, and everything I wanted to do in Down Clown was pretty much done in The Strangers, so I put Down Clown away. But over the years, I never forgot about Down Clown and it began to evolve into something bigger and more grand. The clown character was carried over from the short film version primarily because I really want to see Arthur Cullipher, who was involved in the project all the way back to 2005, play that character. I think he's going to creep the shit out of audiences in that grease paint and with his peculiar mannerisms. The clown is also appropriate because the fetish cult in the film is diverse in its fetishistic pursuits -- anything you can imagine can be someone's fetish. So why not clowns? It also doesn't hurt that a lot of people are scared of clowns. The character also tries very hard to hide his true feelings, and I think the face makeup helps give him something to hide behind. It's a dynamic character. I can't wait for people to see him brought to life by Arthur.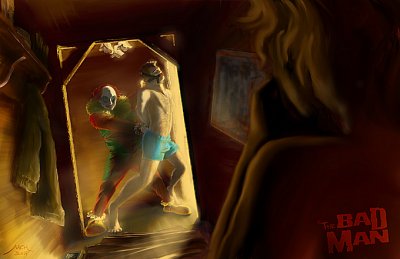 production art by Matthew Hightshoe
What were your sources of inspiration when writing The Bad Man?
The reasons why we torture ourselves fascinate me. If you really sit and think about it -- I mean, really, really think about it because this shit is deeply ingrained in our sick culture -- you'll be shocked to realize we happily mutilate baby boys' genitalia in the USA, right after they're born, before they can ever consent to the procedure, and against all human rights. 60% of the newborn boys in America are forcibly circumcised at birth because of nothing but superstition and government-sanctioned misinformation. If you're Muslim or Jewish, your genitalia get mutilated for religious reasons, and you're powerless against it. Boys die from it -- about 117 each year. Boys grow up with horrible defects and horrible scars. Why do we let that happen? I grew up in a religious cult that forced families apart when one or more members strayed from the church. I'd come to service and see people crying uncontrollably because they were just told they could never speak to their mother, their father, or their child -- ever again. And that was okay. I have family members who haven't spoken to each other for decades because of this. I have an uncle who died because of his religious conviction. He was in a car wreck and needed a blood transfusion. He refused it for some shit written in the Bible. He died that night, but he didn't have to. His son grew up without a father. That's conviction. That's belief. And as much as people are willing to hurt themselves over religious belief, they're even more eager to hurt and control other people. In the USA, at the very least we're preoccupied with denying everyone equal rights under the law. In other countries, they throw you off the top of the building if they think you're less of a human being -- that's what they do to gay people in some places. Conviction and belief drive people to do pretty scary things, and that's what I tried to explore in 2002, when I made House of Hope. Torture in that scenario I thought was pretty interesting and terrifying. The Bad Man takes that exploration just a bit further, because in the subtext of the script, the protagonists start to lose themselves -- they begin to let go of their humanity. They regress and begin to buy into the brainwashing -- you could say they start taking to heart what they hear in the pews. But are they letting go of responsibility and dignity because they have to? Or because they want to? Many people engage in role playing, S&M, humiliation, and degradation -- it's a turn on for many people. Letting go is a turn on. For me, it's an exploration of us as human beings and us as animals. What are we really? The noble human reaches so high, but the sex drive is there to pull us right back down into the muck. Sex and religion are so at odds with each other in America, so much so that the most pious of us seem to banish sex from their lives all together. The Bad Man is in many ways a crash of sex and religion. I'm interested in exposing religion for the fraud it is, and also in forcing people to come to terms with sexuality, because we're never going to evolve as a species if we keep averting our eyes.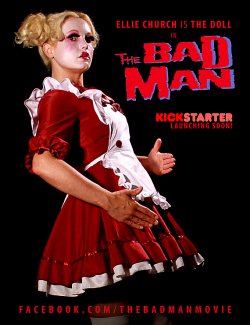 From the sound of it, you're really trying to push the boundaries with The Bad Man - so what do you have in store, and is there a line you refuse to cross?
I wouldn't say The Bad Man is really a boundary pusher. It's not A Serbian Film or anything like that. It's not particularly gory, and much of the violence is off-screen. It's more emotionally harrowing -- that's what I'm going for. I'm interested in taking exploitation elements and treating them very seriously and with a respectable amount of restraint. I think you can explore the ugliest content, but you can do it with taste and style. That's how I approach this. But in terms of a line I won't cross, I like to never say never. It all depends on context and creative intent. I would never hurt an animal on film, though. I can't watch movies where animals are really being hurt, and I don't even like to hurt them fictionally. In Headless, Nathan (Erdel) wanted to kill a puppy, and I said no. I think most people in the audience start to pull away from you, even in a horror film, when you hurt animals. I just don't want to see that stuff.
What can you tell us about the intended overall look and feel of your movie?
I'm not sure I can talk about "look" in any way that makes sense right now, but the movie is an emotional roller coaster ride. Everyone who has read the script has given really positive feed-back. It's a bit of a nailbiter, I think. Titillating, creepy, harrowing, and sublimely sad.
Anything you can tell us about your key cast and crew yet, and why exactly these people?
The cast are fearless. If the Kickstarter campaign fails, I hope I can get them all back again whenever the funding might come through. I wrote the part of the clown for Arthur Cullipher. He will hit that right out of the park -- it'll be up there with Kathy Bates' performance in Misery. Ellie Church is a phenomenal actress and dear, beloved friend, so she was a natural choice to play Mary. Ellie's been getting so many great reviews for her work over the last few years, and I think her ship is really about to come in. The Bad Man will really push her to the limits and I think her fans will love seeing her go places in this movie -- she hits rock bottom, and comes back with a vengeance. Her part reminds me a bit of I Spit On Your Grave that way. Her boyfriend PJ was a part I never thought I'd be able to cast because PJ becomes a very broken man. He's not even a man any more at one point. He's really a dog. But then I worked with Jason Crowe on The Legend of Wasco this past summer, and the guy is a natural talent. Over the course of that film, I learned how fearless he was as an actor, so I asked him about the role of PJ and he accepted. He will break people's hearts in this role.
As far as I know, you're currently running a fundraiser for The Bad Man - so do talk about your campaign for a bit!
Well, the campaign is halfway over and we've only raised 19% of our goal. So it's really not looking good, and we're all making peace with that right now. We knew $33K was a lot to ask for, but we knew it could be done -- other filmmakers have raised as much and more. I had hoped with our successful Headless campaign and with Found getting around the globe more and more, that it would all be possible. But for whatever reasons, it's not happening. I wish I could be more optimistic about it, but there are websites out there that do statistical analysis of these campaigns, and it's just not looking good. On the off chance that we do successfully raise the money, though, the Kickstarter backers will get their exclusive perks next year after the movie is finished. Limited edition DVDs and Blu-rays are available at different levels of contribution, as well as autographed character post-cards and a movie poster signed by the whole cast and crew. Backer-only T-shirts, a first look at Harvest Lake -- a new movie I'm shooting in just one week, actually. The perks go all the way up to laying dibs on props and wardrobe from the film, and executive producer credit.
Once the budget's in place, how do you plan to proceed, and any idea when and where the movie might be released onto the general public yet (even though that might of course be waaay too early to ask)?
If the Kickstarter campaign is successful, we can shoot it in October/November and the movie would probably be finished late next spring and hit the festivals next summer. With the campaign pointing south as it is, it's impossible to say when we might be able to shoot the movie. I have one producer interested in helping me raise funding, so it's certainly not dead. But raising money can take a long time, so you just never know.
As far as I know, you're only day away from shooting another feature, Harvest Moon - so you obviously have to talk about that one for a bit?
Brian Williams, who you might know for Time to Kill, and I have really become friends this year and decided to make a small, easy, cheap little movie together. Something we could afford out of our own pockets and make with our friends, and just have fun doing. Well, I wrote the script and it got bigger, a little more expensive, and we're shooting it next week. Arthur has been working around the clock the last several weeks to get all the special effects ready, and we're thrilled to be reuniting Ellie Church, Dan Nye, and Jason Crowe in the cast. We're also working with Tristan Risk [Tristan Risk interview - click here], from American Mary, and Kevin Roach from Nathan Thomas Milliner's Freddy Krueger fan film that premieres next month. So it's an exciting mix of old blood and new blood for me. It's an erotic creature feature that's part Picnic at Hanging Rock and part Zulawski's Possession. It's weird, kinda funny, and very different from anything else I have in the works, so I'm pretty excited.
Any other future projects you'd like to share?
I've just been offered a movie that will shoot at the end of the year. As soon as the producers are ready, I'm looking forward to announcing that one. There are about a dozen other projects we're developing at Forbidden Films, but it's too early to know which of them might be next.
Your/your movie's website, Facebook, Kickstarter, whatever else?

Feeling lucky ?
Want to
search
any of my partnershops yourself
for more, better results ?

The links below
will take you
just there!!!

Find Scott Schirmer
at the amazons ...

amazon.com

amazon.co.uk

amazon.de
Looking for imports ?
Find Scott Schirmer here ...
Something naughty ?
(Must be over 18 to go there !)

Please connect with us at www.facebook.com/forbiddenfilms, www.forbiddenfilms.net, and you can pledge to The Bad Man-Kickstarter campaign at https://www.kickstarter.com/projects/959785738/the-bad-man. If we don't make our funding goal, you won't be charged! If we do make our funding goal, you won't be charged for your pledge until Monday, September 7th!
Anything else you are dying to mention and I have merely forgotten to ask?
Yeah, everybody watch Headless! We're on Vimeo-on-Demand at: https://vimeo.com/ondemand/headlessmovie, and DVDs and Blu-rays are available at http://forbiddenfilms.storenvy.com/!
Thanks for the interview!
Thank you!