Back in 1990, you directed your first film, Scarlet Fry's Horrorama, which has only just become available on DVD. What can you tell us about this film ?
At the time I was renting about 5 Horror/ B-movies a day & I started seeing all these shot on video sorta really bad B/horror films, but they were really gorey. So everytime I rented something & put it in the VCR, & it looked like it was shot on video I knew I was gonna love it. They were so bad they were good & I realized I could easily do something like this so I got out mom's old video camera & started filming stuff. I never did anything with it untill I had moved to Los Angeles & got a part starring in Satan's Storybook (starring Ginger Lynn Allen) which was the first movie Scarlet Fry was credited in. I was so excited to see my name on the credits of a real movie I could actually rent that I decided to re-shoot all those old shorts I did on mom's camera & host them under the name Scarlet Fry ... & that's how this film came about. It's a very entertaining shot on video gore fest that you can't help but to love no matter how bad it may be.
What were your influences on Scarlet Fry's Horrorama ?
Alice Cooper was a big influence on how I developed the name Scarlet Fry. I used to read all these articles on Alice & he always spoke of certain filmakers like Herschell Gordon Lewis [Herschell Gordon Lewis bio - click here], & so I went & rented all of his movies - like Blood Feast, 2000 Maniacs, Wizard of Gore etc. I would say my biggest influence even today would be Herschell Gordon Lewis, & guys like Ted V.Mikels & Ray Dennis Steckler.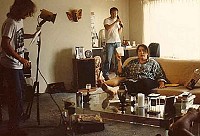 on the set of
Scarlet Fry's Horrorama
What do you find so appealing about anthology movies that you seem to always come back to that format ?
Well when you're doing a horror film with a low budget you have to be carefully not to bore people with a long drawn out story. That isn't going to scare anybody only bore them. I like doing anthologies because every 10 mins somebody gets killed & the viewer isn't going to sit there wondering when something's gonna happen, they know that the short is almost over & somebody is gonna die a gruesome death, & then a new story will start so they can never get bored.
What made you decide to pick up directing in the first place ?
I was the only one willing to take my projects seriously in the early days so I had to direct them. Sometimes it would just be me the camera & the actors, I wanted to direct so I could get my vision out there without interference.
Where did the Scarlet Fry character as such originate from ?
Originally i wanted to go into music & do theatrics & be the next Alice Cooper ... but I couldn't sing, so I decided How cool would it be if Scarlet Fry Hosted horror films like in the old days when you had Zachery, Elvira & all that ? It's a lost part of the genre that is lacking these days, so I developed Scarlet Fry to be a ghoulish host that can always change faces & bring terror to all.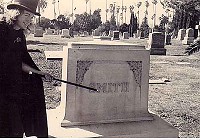 Scarlet Fry, circa 1989
Scarlet Fry later also popped up in Scarlet Fry's Junkfood Horrorfest and in your upcoming Nightmare Alley. How did the character evolve over the course of these three films ?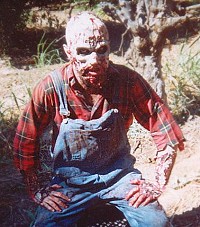 Scrarlet Fry, circa 2005
Basically I always change the face of Scarlet Fry in each film to keep it intresting. Bands like Kiss always had the same make-up but every year they used to change their costumes. I thought how cool would it be if in each movie Scarlet Fry was the same guy but had a new look every time.
Speaking of Nightmare Alley: How is that one getting along, and when is it supposed to be released ?
Nightmare Alley is going along great, we recently won a local film fest, & it will be released theatrically starting in Az sometime around Oct-Nov. There's no set date yet, but this movie will be by far the best thing I've ever done & already has distributors' interest.
Do you plan to come back to the Scarlet Fry character for future films, and are you planning to ever use him as anything other than a horror host ?

Feeling lucky ?
Want to
search
any of my partnershops yourself
for more, better results ?

The links below
will take you
just there!!!

Find Walter Ruether
at the amazons ...

amazon.com

amazon.co.uk

amazon.de
Looking for imports ?
Find Walter Ruether here ...
Something naughty ?
(Must be over 18 to go there !)

Yes, besides starring in my own films as Scarlet Fry I'm also an actor & would love to be in more horror films & I would just use Scarlet Fry on the credits of course. So if there's any directors out there that need actors I'm available. Also we are planning on doing 2 more anthologies before I set out & do my first full length feature. My next anthology will be called Scarlet Fry's Scream Machine & Scarlet will be a fortune teller at a fair who will tell your future ... a gruesome death of course. We are currently in the writing stages.
How do you see your own evolution as a director from Scarlet Fry's Horrorama to Nightmare Alley ?
I've grown in several ways & have become a lot more willing to break rules, I think the great directors were the rule breakers & the ones that take their time & dont settle for second best. I always used to settle, buto more settling these days. I'm on top of things & make sure it looks great before I put it out there. In the past I'd just go "Whatever works" haha.
Any future projects worth mentioning ?
Yes Scarlet Fry's Scream Machine which I mentioned above, & my full length feature Slum Goddess from the Lower East Side.
Anything else I've forgotten to ask but you are just dying to tell us ?
Check out this link & order your copy of Horrorama today.
Thanks for the interview !