Your upcoming movie The Legend of Six Fingers - in a few words, what is it going to be about?
Two filmmakers set out to make a documentary about a rash of domestic animal slaughters. After interviewing several local residents, the filmmakers learn the Native American legend of Yá·yahk osnúhsaˀ - "Six Fingers" in English. Believing that Six Fingers is responsible for the animal slayings, the filmmakers set out on a terrifying journey into the woods to discover whether or not the creature exists.
Now how did the project come together in the first place?
I was taking a walk behind my house, out to the woods where I had set up a Motion Sensor Camera. Then the idea started playing in my head of filming a "Found Footage" movie. Some kind of monster movie, but where the camera crew are a part of the movie and it's happening to them as the story unfolds. I went inside the house and started writing and everything began to come together.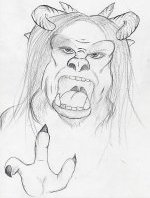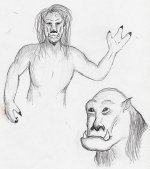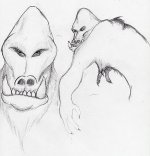 artist renditions of Six Fingers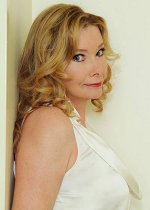 Lynn Lowry
The Legend of Six Fingers is said to be based on a Native American legend - is there any truth to this, acutally, and other sources of inspiration when writing the movie?
Hmmm... Is there any truth? Maybe you'll have to visit the locals and find out.
As far as inspiration, I'd say movies like Troll Hunter (which I loved!) would be one perhaps. Mixed with all the Bigfoot-movies from the past.
For The Legend of Six Fingers, you've chosen the found footage approach - why do you think this approach will fit the story particularly well?
I had it in my mind from the first thought that it was going to be a found footage movie. So I kind of worked a story into the approach. Two nobodies trying to make something of themselves stumble upon something they can hit it big with and ignore the consequences. I think it's just fitting to tell it from their perspective.
Since The Legend of Six Fingers is a creature feature, you of course also have to talk about your monster for a bit!
Well from the first teaser poster we put out everyone just assumed it's a Bigfoot-movie. But Six Fingers is something different for sure. Something similar, but he's a whole new kind of monster... I don't want to say too much though. You'll just have to see for yourself.
Creature features tend to feature quite a bit of violence and gore - now how far do you plan to go in that direction, and are there any lines you refuse to cross?
I see a lot of movies that try to shock you more than tell a story. Yes I love violence and gore, but I don't think we have to use too much of that to tell this story. It's more of a tale of two friends and the things that they go through. I'm trying to make people care if these guys actually make it out alive. I wouldn't say I refuse to cross any lines, I just believe more in letting the characters tell the story instead of the violence.
With Debbie Rochon [Debbie Rochon interview - click here], Lynn Lowry and Tiffany Shepis [Tiffany Shepis interview - click here], you have three horror icons in your cast. How did you get them, and what makes them ideal for their characters? And what can you tell us about the rest of your cast?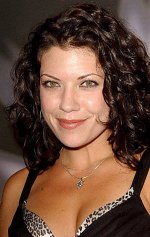 Tiffany Shepis
I have worked with Debbie on 4 features since last year. I worked with all 3 of them on Model Hunger and had such a great time working with them all. My producer Greg Lamberson [Gregory Lamberson interview - click here] and myself talked about where we can use them in the film and then he got everything in motion to bringing them on board. Debbie is such a fantastic actress, she brings so much to the table. I had a role that she played perfect and put so much emotion into when we filmed it. Lynn blew me away with her performance in Model Hunger, so we gave her a very significant role in the film which tells the whole story of the legend. I can't wait to see her do it!
Tiffany will appear for a special appearance in the film. When I was making Snow Shark she had actually approached me about being in the film. I was ecstatic, I am such a big fan of her work! But we were way too far into production for me to be able to offer her anything worth her time. We joked about it while we were filming Model Hunger, and she teased how it could have been a better movie with her in it. I couldn't make another movie without her in it in some way or another. We had such a good time working together before.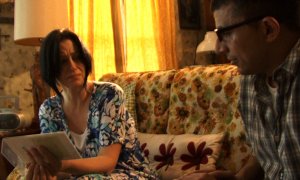 Debbie Rochon, Andrew Elias
As far as the rest of the cast, Andrew Elias is a good friend of mine and was such a likeable character in Snow Shark that I had to give him a shot at carrying this film. I feel like he's going to bring a lot to the character.
Tim OHearn is the perfect monster. He's a big guy. In creature costume, standing next to my character (The cameraman) and Andrew's. He's going to be very scary.
You of course also have to talk about your location for a bit, in my opinion a key factor for a movie like yours!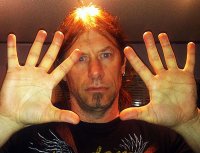 Tim O'Hearn
Yes! There's 140 acres of land we can do whatever we want on for the film. There's ponds, thick woods to film in. There is so much production value with the wildlife alone we'll likely run into. We're going to set up tents in the thick of it and get some amazing stuff.
As far as I know, the film is still in its fundraising stages - so what can you tell us about your fundraising efforts?
We launched an IndieGoGo fundraising campaign here: http://igg.me/p/427406/x/20315
The drive also will receive matching funds from independent media marketing expert and home entertainment studio head Michael Raso [Michael Raso interview - click here]. So every dollar we make Michael will double.
It's not easy to raise money on these crowd-funding sites. Now a lot of name celebrities are using the source and making it even more difficult for the indie movies to get the money needed. I see a lot of campaigns out there too that take your money and never even make the movie.
We used IndieGoGo to get some of the money for Snow Shark and got the rest from investors. But we MADE the movie. It got a worldwide distribution deal as well. So what sets this apart from other projects you might see out there is that our team gets things done, and get them out there for you to see.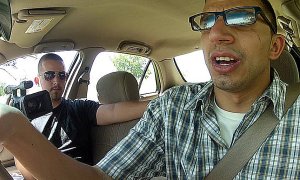 Sam Qualiana, Andrew Elias
Once your funds are raised, how will you proceed - and any idea when and where the movie will be released yet (which might be waaay too early to ask)?
It is a little too early to talk about any of that, but with Michael Raso on the team as an executive producer, we're already in discussions with a distributor, so it's almost certain that you will be seeing it on the shelves of video stores.
Any future projects beyond The Legend of Six Fingers?
I never stop. I'll be working with Greg in some shape or form on his next feature Killer Rack written by Paul McGinnis (who acts in Snow Shark). I am already planning on my next feature after this one as well.
What got you into filmmaking in the first place, and did you receive any formal training on the subject?
I've always just loved the movies. I have been making short films since 1998. If I needed to learn how to use new equipment, learn a special effect or wanted to learn techniques I'd teach myself things on the internet. I took some classes of basic training in editing, lighting and cinematography at a local television network. I've worked on so many other features I try to take something from every film I'm on. Last summer I was a 2nd Assistant Director on Model Hunger, as soon as we wrapped I was the 1st Assistant Director on Troma's Return to Nuke 'Em High, and then went right into working as 2nd Assistant Director on SyFy's BattleDogs. I also just worked as Director of Photography on Dry Bones which I learned a lot from.
As far as I know, you started out as a director of numerous shorts - so why don't you talk about those for a bit, and also about your evolution as a director?
I've made over 100 short films which most of them were only made for fun and had myself and my friends playing multiple characters in different wigs. We had such a great time making such stupid, silly shorts. I started trying to make more serious stuff or at least evolve as a director and use other actors. I made a little short crime drama called No Road Out and entered it to a new film festival in Buffalo, where I met Greg Lamberson [Gregory Lamberson interview - click here], one of the guys running the festival. The film won me the Filmmaker to Watch-award and I quickly decided it was time to make a feature. I filmed my first feature with hardly any knowledge of how to make a feature film with mostly a green cast and crew. I've learned so much since then. But it was a fun ride.
You of course also have to talk about your debut feature, the ingeniously titled Snow Shark: Ancient Snow Beast, for a bit!
Snow Shark was originally a short film I did in 2004 which is included in the special features of the feature. It's hilarious, you have to watch it. We have a 12 year old sheriff and painted on facial hair. I was actually just going to do a sequel and revamp it because it was one of my favorite concepts, but when I announced it online it blew up and I decided to turn it into a feature. I started filming before the script was even done, which seems to be a trend with me for some reason.
When it comes to filmmaking, you've done it all, writing, directing, producing, photographing, editing, acting and whatnot. What do you enjoy the most, what could you do without?
I love acting, directing and filming the most. I could definitely live without editing. But I get more satisfaction out of it than if I'm not. Assistant Director work (1st AD and 2nd) can be tough as well. I get so much out of everything I do though it's tough to say there's anything I wouldn't do again.
How would you describe yourself as a director?
I'm not sure if I could describe myself, I like to tell people I would never put them through something I wouldn't do myself. I like to be involved in every single thing that is going on with my own movie.
Filmmakers who inspire you?
Alfred Hitchcock. Roger Corman is a huge inspiration to me [Roger Corman bio - click here]. James Wan and Leigh Whannell are an incredible team too, with their story telling and style. Every time I watch their movies, my mind is flowing with creativity and I want to do something right then!
Your favourite movies?
Death Sentence, 300, The Watchmen, Breakfast at Tiffany's, A History of Violence, Jaws, The Thing, and 500 Days of Summer are all movies I can watch over and over again. I love them all... I know a little bit of a variety of genre there making you probably say Whaaat!?! Huuuhh!?!?
... and of course, films you really deplore?

Feeling lucky ?
Want to
search
any of my partnershops yourself
for more, better results ?

The links below
will take you
just there!!!

Find Sam Qualiana
at the amazons ...

amazon.com

amazon.co.uk

amazon.de
Looking for imports ?
Find Sam Qualiana here ...
Something naughty ?
(Must be over 18 to go there !)

A Christmas Story (said me and nobody else in the world), Project X, While She Was Out, G.I. Joe: The Rise of Cobra.
No offense of course to the filmmakers behind them, every movie, no matter how bad had a lot of hard work put into it which I can admire. Those films just make me mad though when I watch them, haha!
Your/your movie's website, Facebook, IndieGoGo, whatever else?
IndieGoGo: http://igg.me/p/427406/x/20315
Facebook: https://www.facebook.com/SixFingersMovie
YouTube channel: http://www.youtube.com/user/MetroshiaProductions
Website: http://captbligh1.wix.com/metroshiaproductions
Follow on Twitter: @Metroshia_Films and @SamQualiana
A website to purchase some of my short films: http://kunaki.com/msales.asp?PublisherId=118447
Anything else you are dying to mention and I have merely forgotten to ask?
I think that about covered it. I just hope everyone can take the time and visit the IndieGoGo and subscribe to my YouTube channel. Share the campaign and help us make this film as great as it can be!
Thanks for the interview!
You're welcome!