Your new movie Facade - in a few words, what is it about?
At its core, it is about the internal struggle high school students face Ė or refuse to acknowledge Ė concerning their true identities and how little they coincide with their reputations among peers. Itís about how far they are willing to go in order to uphold this facade for the sake of acceptance.
What were your sources of inspiration when writing Facade, and was any of the movie based on personal experiences?
Being an amateur high school filmmaker, I firstly need to narrow the scope of my ideas to something that I know I can conceivably shoot. And since my most common public environment is that of a high school, I tend to gear my creativity towards subjects involving high school students. Thus my inspiration really was observing the world around me, and the theme I landed on was the problem of youthís confused sense of self-identity. It isnít a topic that hasnít been handled time and time again, but I hoped to bring a fresh approach to the subject matter as a youth myself living within the bubble of muddled young personalities. My inspiration as far as writing the story was simply determination to say something honest. Having said that, I wouldnít exactly say it is based on personal experience, as Iím quite certain Iím comfortably aware of who I am and unafraid to show it. And unlike some of the characters in Facade, Iím actually not familiar with any real bullying or delinquency in my small Canadian school. Nevertheless it is known that such things exist in many places, and the overall theme is universal.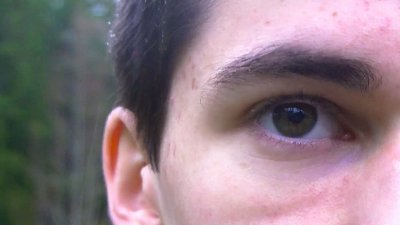 How would you describe your directorial approach to your story at hand?
The film undergoes many alternating tones between scenes, from drama to tension to romance Ė and even some lighter humorous moments. While these tones may differ greatly from one another, all can still be found in everyday life at a high school. Therefore, one of the major goals was to balance them and make each of them work without shifting from one to another jarringly. In order to do that, a lot weighs on the believability of the setting and characters. My way of attempting to achieve this begins with paced continuous shots that focus and at times linger on the quieter or less cinematic attributes of the lifestyle portrayed. I mostly relied on the characters, with their speech and their silence, to set a mood of authenticity. From there, my directorial style alters with each respective sequence to fit the mindset of these characters. The editing, the soundtrack and the cinematography range from soft to rampant based on the charactersí situations and emotions, but in the end my approach ultimately comes down to finding a tonal place that reflects how one experiences or remembers the highs and lows of their teenage days.
Always supposing you didn't have a huge budget - how did you get all these authentic locations?
Thatís where I live! The school is always free for me to use for a while after or during classes, so there was no trouble in that department. Once I had extras, the production design needed no work as the settings were already perfectly suited to my needs. The outdoor locations are nearby and all I had to do was choose times when I suspected few other civilians would be around.
From the looks of it, Facade seems to be your biggest production by a landslide - so what kind of a challenge was the movie from the production side of things, also compared to your earlier movies?
In all honesty, there was only one real challenge that continuously extended the production which was conflicting schedules of the actors. Aside from that, it wasnít any different from my other work as the scenes themselves were never particularly difficult to pull off. There was one other setback, though, when about a third of the film was accidentally deleted and I had to re-edit it back togetherÖ
You often appear in front of the camera in your movies, but not in Facade - why is that?
Funnily enough, I actually wrote the central role of Arthur with myself specifically in mind. It took some faith to hand it over to someone else, but I realized it was what I wanted to do so that I could maintain full control behind the camera. This was especially important to me for the three-minute-long tracking shot, in which I certainly wouldnít be able to act without constantly worrying about how it looked.
What can you tell us about your cast, and why exactly these people?
Of the twelve listed actors in the ensemble, only three are ones I have worked with (many times) before. I wrote the character of Drew for my most common collaborator Trevor Adolf, as I wanted to see his darker side shine through in a character while still playing to his abilities with dialogue and facial expressions. My other ďmuseĒ, Josh Tevlin, was meant to play Franklin from the beginning as well. Itís a role that relies heavily on nuance, which I have found he has consistently been able to convey with even just his eyes. The other protagonists, Arthur and Emily, underwent a different casting process. Scott Bernard had actually never acted before in his life, but I sensed in his quietness and intelligence a hidden screen potential. I went to him before anyone else (besides myself) to propose the idea, by which he was surprised but intrigued. After an informal audition, I began to see the possibilities more clearly and my confidence in him grew more and more as filming progressed. Then thereís Conner Dwelly, who plays Emily. The real truth is I had only approached her because I knew she had a background as an actress, and I went in with nothing but hope that she would deliver. I quickly knew that I was more than safe, as her capabilities impressed me every time we shot. Along with the rest of the ensemble Ė some friends, others acquaintances, and one a drama teacher Ė I was quite pleased and grateful for the cast I ended up with.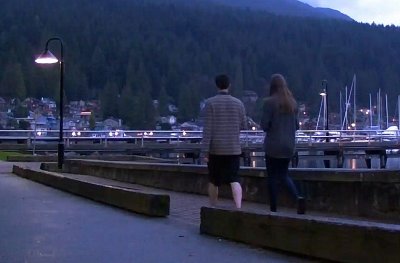 Do talk about the shoot as such, and the on-set atmosphere?
Shooting mostly in a school, with kids who go to school, trying to capture the essence of a school, the on-set atmosphere was often that of any school project. For the sake of the film, I didnít want to separate the actors from their reality, so I tried to make the process feel relaxed and allow the actors to have some fun Ė albeit grasping their full attention and cooperation simultaneously. Due to the aforementioned difficulties in arranging shooting times that catered to every actorís schedule, the whole thing took about seven months to make.
Anything you can tell us about audience and critical reception of Facade so far?
For those who have seen it, the general consensus is that itís my best film so far Ė many even say by a distance. I couldnít be happier with the current reception.
Any future projects you'd like to share?
Iíll be taking a bit of a break as the school year comes to a close, to make room for studying and all that wonderful stuff, but I do have one screenplay written that I would love to make. Itís called Mourning Day and Night, and itís about the complicated relationship between two brothers following the unexpected death of their parents.
What got you into filmmaking to begin with, and especially considering your young age (17, if my info is correct), where did you learn the craft even?
Iím 16, actually. Iíve always loved cinema, but the thing that really put me on the path to where I am now was Tarantinoís Pulp Fiction. If I begin to talk about that film and how it shaped me as a person, I will not shut up, so I shall refrain from doing so. Iíve only learned the craft to the degree one can by simply watching thousands of films. I believe that passion and love for film is enough to produce a quality piece oneself.
What can you tell us about your filmwork prior to Facade?
Ever since I was a little kid, Iíve made short films. Granted, they used to be ridiculously silly and horrible, but they do still have a piece of me in them. I have seven titles listed under my official filmography prior to Facade, all of which can be found on my YouTube channel, RyJamCinema. Among them are horror films Nightfall Hunt and Illusory, a bleak suspense/thriller I shot in Vegas called Getaway Vacation, comedies The Pinkett Scheme, Deep Cove: Les Adolescents and most recently The Big Conspiracy, and tragic high school drama Tumble, which until now has been my most acclaimed film.
You have made movies in quite an array of genres - any genre(s) you lean towards more than others?
It would appear that at the moment Iíve made more comedies than anything, but I really do like experimenting with all genres. Deep down, I think dramas are what Iíd lean towards more than the rest as far as what I enjoy, and probably where my talents shine most as proven by the two common favorites, Tumble and Facade.
How would you describe yourself as a director?
From the actorís point of view, it really all depends on who Iím working with, and the conditions under which Iím working with them. If weíre talking about the eyes of the viewer, Iíd like to think Iím versatile in that sense as well. A directorial flair unique to myself is still developing, and Iím sure Iíll grow as a writer, cinematographer and editor in the future as well. For now, I think Iíll leave it to everyone else to describe what Iím like as a director. Is that a cop-out?
Filmmakers who inspire you?
The big one, my God, the filmmaker everyone associates me with and who will always have a special place in my heart and in my work, is Quentin Tarantino. While my films may often differ from his, one can almost always find inspiration, homages or references to his work in each one of them, whether they be intended or not. Iím an obsessed fanboy and proud to admit it. He really, truly did make me the person I am today, and that is no exaggeration. I could praise and discuss my love for that man to no end. The next ones down would be Paul Thomas Anderson, Martin Scorsese and the Coen Brothers. Stanley Kubrick, too. Also up there but more so on a writing standpoint are Woody Allen and Richard Linklater, the latter of which more so than anyone when it came to Facade. Iíll leave it at those, but there are plenty others I adore as well.
Your favourite movies?
Oh, boy. Pulp Fiction, which goes without saying, as well as just about every other Tarantino film Ė most notably Inglourious Basterds, while the next tier would consist of Reservoir Dogs, Django Unchained and the Kill Bills. For Paul Thomas Anderson, I worship Magnolia and The Master, and I really love Boogie Nights, Punch-Drunk Love and There Will Be Blood too. Scorseseís Casino and Goodfellas are perfect to me, and Taxi Driver and Raging Bull arenít far behind. The Coensí No Country for Old Men and Fargo are big favorites as well. I think Linklaterís Before trilogy is a masterpiece. Also Refnís Drive, Ciminoís The Deer Hunter, Boormanís Deliverance, Coppolaís Apocalypse Now, Nicholsí The Graduate, McDonaghís In Bruges, and Wendersí Paris, Texas. Farhadiís A Separation and Benigniís Life Is Beautiful are a couple of my favorite foreign films. I could go on and on, but I think Iíll leave it at that. And yes, Iím aware that most of these happen to be relatively new. Thatís just what my taste has geared towards for whatever reason.
... and of course, films you really deplore?

Feeling lucky ?
Want to
search
any of my partnershops yourself
for more, better results ?

The links below
will take you
just there!!!

Find Ryan Jamison
at the amazons ...

amazon.com

amazon.co.uk

amazon.de
Looking for imports ?
Find Ryan Jamison here ...
Something naughty ?
(Must be over 18 to go there !)

I tend to stay away from films I donít think Iíll like, and I generally donít have hatred so strong for a film that it ruins my day or anything. Looking at my IMDb ratings, thereís nothing I hate that everyone else doesnít hate as well. I guess Iím just a very warm person.
Your/your movie's website, Facebook, whatever else?
Facade: https://www.youtube.com/watch?v=8DskBeqEjGA
YouTube Channel: https://www.youtube.com/user/RyJamCinema/feed
IMDb: http://www.imdb.com/name/nm7118578/?ref_=fn_al_nm_1
MUBI: https://mubi.com/cast_members/455978
Anything else you are dying to mention and I have merely forgotten to ask?
I think you covered it!
Thanks for the interview!
Thank you, Mike!