Your upcoming movie Orient City: Ronin and the Princess - in a few words, what is it about?
It is a hand-drawn samurai spaghetti western. It combines the characteristics of the American Wild West with the architecture of Feudal Asia, inspired by the styles of steampunk and anime. Itís a lot to digest, I know, but it actually all makes sense. Traditional western haunts such as bars, brothels and barbershops feature characteristics such as Chinese rooftops, dragon gargoyles, Chinese lampions and bamboo construction stands.
Orient City was built vertically on top of four rocks connected by the channels of water at their base. A city whose poor dwell at the bottom, quite literally. They live in favela-like neighborhoods, carved into the rock walls but featuring a distinct oriental-style. As the city rises up, connected by stairways and cable cars, so do the classes and high society lives an opulent, wasteful lifestyle above the clouds.
In the center of it all is Boshi, our hero. Or the closest thing to it. Heís a fallen samurai who spends most of his time in an opium den. Heís hired by a man named Rooster to protect a wealthy family. Set up to fail, he winds up bonding with the daughter, Nessa. The little girl would rather become a great warrior than a princess and when sheís left all alone she must do exactly that.
Orient City: Ronin and the Princess is quite a wild genre mix - so how did that come about, and how much fun is it to play with all these diverse genres in the way you do?
It actually didnít even start with an idea. Zsombor Huszka and I were on the road promoting our graphic novel R.E.M. and Zsombor was sketching a samurai Batman art print called Dark Ronin. As it took shape, we started spit-balling ideas of what this world could beÖ And Orient City was born.
I grew up a child of the 80s, so Star Wars basically defined my childhood. Iím not trying to compare the two, but the ability to make a world that never existed and see it come to life is very exciting. It is a lot of fun to world build. Itís actually a dream come true.
(Other) sources of inspiration when writing Orient City: Ronin and the Princess?
The world itself has been inspired by a lifetime of westerns, samurai films and everything in-between. Itís hard to pick just a few. I think Tarantino once said, ĎI steal from every single movie ever made.í And speaking of Tarantino, I know he inspires ZsomborÖ how he picks a genre or a type of movie, lifts all its elements and then exaggerates everything, even its flaws.
One of the main elements of the story is the relationship between Nessa and Boshi. Two films that have similar themes to ours are Leon: The Professional and Man on Fire, but I hope ours is unique and can stand on its own.
Do talk about your co-director and lead animator Zsombor Huszka for a bit, and what's your collaboration with him like? And do also talk about previous collaborations, and how did the two of you first meet even?
He is based out Budapest and was actually a member of the Hungarian national fencing team. Heís also a Brazilian jiu-jitsu brown belt. So heís not your traditional artistÖ and it gives him a very good perspective on the action scenes because they are coming from actual experience.
Even though we are a world apart, we have a short-hand working together. It started almost immediately on my graphic novel R.E.M., which he got off a test page. Itís weird to write things down on paper and then have someone take that and turn it into almost exactly what you saw in your head Ė or, usually, make it better. I rarely have major art notes, usually it is smaller tweaks.
He did all of the artwork for the film I produced, With You, by Grammy-nominated electronic music artist Dirty South based on his album of the same name. And then when I made my directing debut last year, Zsombor actually did hand-drawn animated titles and they were nominated for an Excellence in Title Design at this yearís SXSW festival, against massive films like Spectre and Avengers: Age of Ultron.
What can you tell us about the look and feel of Orient City: Ronin and the Princess, and how much influence did you have on the design of your movie?
We spend a lot of time going back and forth on design work. The style and art is definitely Zsombor, but itís hard to say where my input starts and stops on the artwork, and the same can be said about his influence on the script. I put it to paper, but itís really both of us. Itís a very fluid and symbiotic relationship.
If you at all can, also talk about the style of animation of Orient City: Ronin and the Princess for a bit!
The most important guideline we keep in mind is that everything from the smallest details to the choreography of a fight scene has to have both Western and Asian movie elements in it. If Zsombor creates a typical western wanted flyer, he makes it a scroll and puts it on rice paper with faded Kanji symbols on it.
Anything you can tell us about your projected voicecast yet, and why exactly these people?
Right now, Dave Sheridan is going to be voicing a role. Iíve worked with him before and he really believes in the project. Heís better known for comedies like Scary Movie and Haunted House, and the horror film The Devilís Rejects, but Iíve seen him do drama and he is seriously under-rated.
Past that, I donít want to project. I will just jinx myself.
As far as I know, you're currently running a fundraiser for Orient City: Ronin and the Princess - so do talk about your campaign!
Yes, we are currently on Kickstarter. Our goal is $30,000. That takes into account the money you need to pay Kickstarter (and Amazon for credit card processing), as well as rewards/shipping. It seems like a fortuneÖ but the reaction to the art itself has been amazing and I can only hope enough people want to see this come to life.
Besides the film itself, which you can get as a digital download, DVD or Blu-ray, we have some traditional things like a T-Shirt and two versions of a full-sized movie poster.
All of the rewards are based around the artwork. We have a series of art prints that reflect samurai or wild west culture. My personal favorite is probably The Dark Ronin (Batman as a Samurai) Ė which I mentioned is the start of this whole world. Backers can also get personalized commissions; from more classic black & white images to very stylized colored versions that put them into the world of Orient City. Something cool that relates back to the film is drawing someone as an ink-washed avatar. Because the film is traditional animation, we thought it appropriate to offer animated cels. You select a frame (out of 8 from the final film) and we are going to print each layer of animation on a cel Ė which is going to look very cool once framed.
If this sounds interesting, check out the campaign. There is a ton of artwork that will give anyone a good idea of the look and feel of the film, and at the end of the intro video is the opening shot of the film Ė which is a long boom-up through Orient City, from the water to a saloon.
https://www.kickstarter.com/projects/rcolucci/orient-city-a-hand-drawn-animated-film
Once the budget's in place, what's the schedule? And even if I know it's waaay too early to ask, any idea when and where Orient City: Ronin and the Princess might be released onto the general public yet?
We will be done with everything by December 1. That gives us time to not only finish the animation itself, but we have scheduled enough time plus a pad to put together/create all of the rewards.
First stop is the general public, because thatís who backs projects on Kickstarter. Itís truly amazing to have the ability to connect directly with people that are willing to spend their hard earned money backing projects. Thatís who we are making this for. We will most likely apply to festivals after that, but itís about this core audience first and foremost.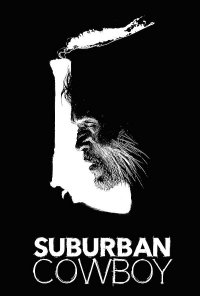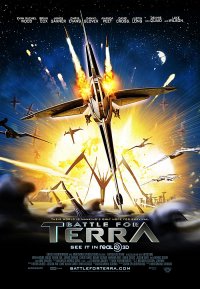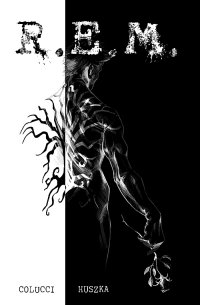 Any future projects beyond Orient City: Ronin and the Princess you'd like to share?
Right now the main focus is on Orient City: Ronin & The Princess.
Last year I directed my first live-action film, Suburban Cowboy. Itís a small filmÖ a gritty thriller that is being sold right now, so I try and keep myself busy and not freak out about that.
What got you into filmmaking in the first place, and did you receive any formal training on the subject?
I donít come from a background where a career in the arts was realistic so I went to Villanova University and studied Accounting, for no other reason than it was supposedly hard and I was good at it. I spent a year overseas studying Economics and Political Science at Cambridge University - and when I was there I realized I was destined for another life. It was the first time I left the bubble that was my life, and really took stock of it. The books I was consuming in large quantities all had one thing in common Ė they were about filmmaking. Not the racy, exciting side of HollywoodÖ but books on lighting and editing and screenwriting. It dawned on me that people actually do this for a living. These movies that shaped my entire life werenít created in some magic fantasy land.
So I came back, transferred to a university that offered film production close to home and eventually got accepted to the Peter Stark Producing MFA Program at USC, which was a turning point in my life. It opened up a lot of doors and surrounded me with like-minded people for the first time.
What can you tell us about your filmwork prior to Orient City: Ronin and the Princess?
Right out of grad school at USC, I produced the CG-animated film Battle for Terra: 3D, which came out in 2009 through Lionsgate. Weíve got a great voice cast with Chris Evans, Ron Perlman, Evan Rachel Wood, Dennis Quaid and a lot more. We actually built the animation studio from scratch Ė so instead of dealing with a live-action production crew, I was figuring out the optimal temperature for a render farm and then figuring out how to get a 15-ton condenser on the roof of a high-rise in Los Angeles to provide that cooling. It was intense and not at all what I had learned over the years of film schooling. I put that to use in my follow-up live-action feature, the VFX heavy White Space, which is still in post-production.
Do talk about your company Spoke Lane Entertainment, and the philosophy behind it!
The goal is to grow into a shop where genre creators are constantly approaching me with their projects and building something substantial. Each project builds on the last and so far itís really just been films and books created by myself. There are a few projects that are being developed, whether films or graphic novels or manga series, by other creatorsÖ but they arenít ready yet. I donít know if I have a philosophy or mandate. I have diverse tastes. That said, I probably wonít be making a romantic comedy or straight up comedy anytime soon. Iím not the type of person to slap something against the wall and see if it sticks. Iím too obsessive and this is too hard
You of course also have to talk about your graphic novels, and how does scripting a graphic novel compare to writing a screenplay?
I am the creator behind Harbor Moon and R.E.M. Ė two very different books. I learned a lot making Harbor Moon. R.E.M. is a very personal story. Itís probably the smallest thing Iíve created, but the one I am currently most proud of. Itís a striking and beautiful book. Itís a dark, thriller/drama about a scientist trying to beat sleep. I wasnít really thinking about Ďtarget audienceí when I pulled the trigger on that one.
Truthfully, I donít know how to write a comic. Thereís a specific format that is used and since the things I do are done internally I donít have to follow the rules. My script is basically a bastard cousin of a screenplay. I make sure to pull out every detail that isnít on the drawn page. Then pass that off to the artist. The layouts are easily the longest in my process Ė because itís so open to interpretation.
Filmmakers, writers, whoever else who inspire you?
My favourite working director is David Fincher. But Darren Aronofsky with Pi and Ed Burns with Brothers McMullen are two films that I saw and thought Ė films arenít made in some fantasy landÖ I love these movies and I think I can do this.
Since Orient City is hand-drawn, I would be remiss to not mention MiyazakiÖ and specifically Princess Mononoke. But I guess Ghost in the Shell is the one that stands out the most. It was the first time I saw an animated film that was definitely not for children. It wasnít until then that I realized I wasnít alone in the world. It transcends animation Ė itís one of my favorite films, period.
Your favourite movies?
How long do you want this interview to be, cause my list is long. Very long. I will give a specific list for Orient City - my favourite Westerns and animated films: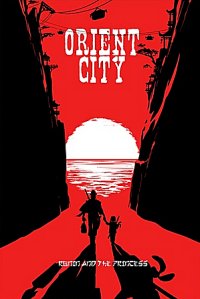 Feeling lucky ?
Want to
search
any of my partnershops yourself
for more, better results ?

The links below
will take you
just there!!!

Find Ryan Colucci
at the amazons ...

amazon.com

amazon.co.uk

amazon.de
Looking for imports ?
Find Ryan Colucci here ...
Something naughty ?
(Must be over 18 to go there !)

Once Upon a Time in the West, The Man Without a Name Trilogy (cheating I know), Unforgiven, McCabe & Mrs. Miller, Butch Cassidy and the Sundance Kid, Young Guns, The Searchers, Wild Bunch, The Good, The Bad & The Weird, The Proposition. Honorable mention: Rango.
Princess Mononoke, Iron Giant, Pinnochio, Ghost in the Shell, Akira, Alladin, Alice in Wonderland, Spirited Away, Grave of the Fireflies, The Lion King.
... and of course, films you really deplore?
Amazing question. I try to stay positive cause movie making is hard enough. But if I had to pick one film that I truly hate: Crash by Paul Haggis.
Your/your movie's website, Facebook, Kickstarter, whatever else?
Definitely check out the Kickstarter page. All we ask is that you give us a chance. The opening shot of the film is at the end of our intro video.
https://www.kickstarter.com/projects/rcolucci/orient-city-a-hand-drawn-animated-film
Anything else you're dying to mention and I have merely forgotten to ask?
This was fun, and challenging to think about some of this stuff. I just hope I donít come off as this pretentious filmmaker that thinks they have it all figured out.
Thanks for the interview!