First of all, why don't you introduce yourself to those of us who don't already know you?
Ok, Hi. My name is Ruth Davis Hays and I'm a stay-at-home mom, a writer, a costumer, and also work with my husband Tim Hays' [Tim Hays interview - click here] makeup effects business, MonsterFX.net. I'm a Florida native; born in Jacksonville and graduated with a BA from Florida State University School of Theatre back in 1992. When we moved to Orlando, I worked in the Costuming Department at Universal Orlando for about four years. I loved the people there, but after my son was born, I wanted to stay home with him more than my schedule allowed and I was having a few health issues as well. So, I left my full-time job and worked part-time as a data entry operator. That allowed me more time to work on my books and be a mom.
You are currently writing on a series of books called Books of Jorthus. In a few words, what is that series about?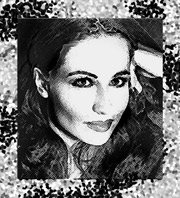 Lylith
Yes, Jorthus. Well, the main story line follows three characters: Lylith, Keinigan, and Lord Dharromar. They become entangled with each others' lives while going after the same gemstone, which then leads them into a quest to reestablish contact with the other worlds in their star system in order to regain balance in their small corner of the universe. Between journeys and battles, they find love, friendship, as well as uncover a deceitful secret that can overtake their world and possibly many others.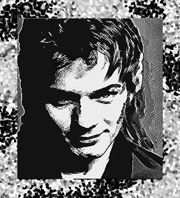 Keinigan
For your books, you have created quite a complex system of worlds. Could you elaborate on this?
There are three primary worlds in the series that are interdependent in a spiritual essence sense. I call them sister worlds. Jorthus is the largest; geologically very similar to Earth, an almost parallel world if you will, but its people have relied on magical forces rather than technology to shape their societies and cultures. The world is more primitive than ours, though. When the stories begin, civilization has grown to a comfortable level where most people no longer use The Majiks and they look to special mages, called sengheirs, to help or protect them. There exist many races that we are familiar with from folk tales or fantasy such as humans, elves, dwarves, ogres, and dragons, but there are new races, too. I have Faerlins, which are a Fae race, and Apthions, which are aquatic beings hovering on the brink of extinction.
There are two other worlds within the system, one named Quorrelles where a wild paradise once flourished, but has become something different altogether; the second, named Gerellus, has followed technology and mechanical inventions rather than letting the natural majiks flow and it has become a world of tall spires with glass and steel winding around them. People can travel from one world to another by either spells, enchanted doors, and even spacecrafts. It is enjoyable to expose the characters to worlds that are new, strange or even terrifying for them.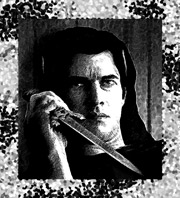 Dharromar
A few words about the series' main characters?
There is Lylith, a reclusive sengheir of the majiks who has her quiet life swept away by a muddle of political intrigue, dark mysteries, and an attempt to prevent the destruction of her home world. Keinigan, a faerlin thief who is always down on his luck until he meets Lylith and has his ambitions shifted from scavenger to hero. Then, there is Lord Dharromar, Lylith's lover, who turns out to be more scoundrel than gentleman. As the series progresses the cast of characters grows, though I try not to let it get out of control. Every character wants their fifteen minutes.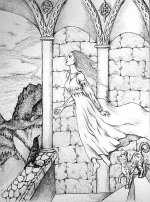 Illustration by
Khanada Taylor
What were your initial inspirations for Books of Jorthus?
The stories, as they stand now, were an evolution rather than one big inspiration. They derived from several different inspirations; from images of the ocean floor that I used to stare at in college when I should have been listening to the lectures to elements from fairy tales that used to haunt me as a child. Jorthus was my escape, a world that I wanted to be in. As the story lines evolved, the other worlds popped in to give the characters new experiences.
The main characters evolved from aspects of personalities in another story I had started writing as well as slivers of my own personality, but they did not have any concrete images until my best friend and I were restoring some dolls for her collection, which can be seen at www.theminifacesofewan.com. As we worked, we would just banter about the little creations. It was fun and helped pass the time. Since I was writing several short stories, she encouraged me with saying things like, "this could be that character" and then the imaginations would be unleashed as we would discuss what could happen to the character. One main character, Keinigan, was derived directly from a vampire that I was writing in that other story after it fell by the wayside. I had decided to concentrate my efforts on finishing one novel rather than writing bits and pieces on several.
I like to keep writing fun. If it ceases to be fun, then why do it? The stories that occur on Jorthus just evolved through a series of scenarios, a lot of answers to the question, what would happen if? I enjoy drawing inspiration from elements in more classical literature, plays, and folk tales, but I try not to stress about what has been "done before" with this story because in my humble opinion, originality can be all in how a writer presents an idea or deals with it on an individual character level. I do like to draw on familiarity with names and such; since the Jorthus books are supposed to be a "parallel world dimension" then dealing with what a reader can immediately relate to helps. That is what I mean by keeping it fun.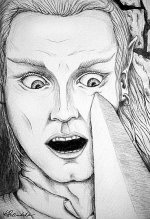 Illustration by
Khanada Taylor
According to my information, writing the series was quite a lengthy process plagued by setbacks. Want to tell us more about this?
The years of procrastination and problems helped shape the plots, I think. The ideas started in college in 1986, but the story I started writing then was a far cry from what it is now! The Jorthus plots were just little scenes that I toyed with to give me a break from the vampire story I was working on, and several little fan-fic type love stories that I had started in high school. Very melodramatic, romance stuff -- things I don't even like to look at now because they make me cringe and laugh at the same time.
Well, when I started to take all my notes and type them out after college on my mother's computer was when my battle with technology began. If it wasn't job time constraints keeping me from writing, then it was hard drive crashes, dumped discs, or total file scrambles. One time I decided to stick with a handwritten notebook and ended up losing it in a parking lot! My writing career seemed cursed. But, each time I would start again from what bits that I could salvage and the story would change and evolve once again into something that I liked better.
How come you picked up writing in the first place, and what can you tell us about your writing endeavours prior to Books of Jorthus?
My grandfather loved literature, always quoting famous poems or Shakespeare to us. I studied theatre and humanities mainly because of him. Then, in high school my friend Khanada and I would write short stories to entertain each other. That is what kept me going despite the setbacks, the desire to write these stories so that she could read them.
Before Jorthus, the biggest book I had going was, as I mentioned, a vampire novel. The working title was The Family, but now I call it The Blood Seed. It started as a basic "star-crossed lovers" tale that ended with just about all the characters dead or insane. It was morphing into a trilogy involving mutating humans, covert organizations, and a vampire apocalypse. But I began to lose interest in it when vampires started becoming so popular that people would groan when you mentioned them. I think I dumped it back in 1992. Since then, I've seen so many movies and books that had similar ideas to what I had been doing that it became a case of "why finish it?" The thing about vampire stories is that little nuances that are "new or innovative" about them really do count when trying to sell to a publisher. Every movie or book seems to be trying to "one up" the others.
There were a couple of ghost stories that I had been fooling around with before Jorthus, but none of them seemed to stick with me as much as the fantasy tale. I think the allure of total freedom that comes from the fantasy genre overshadowed all the other stories in my head.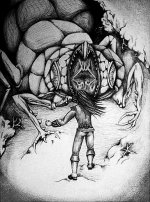 Illustration by
Khanada Taylor
Is there any way you could in a few words describe the creative process of writing a book of yours?
Daydreaming, mainly. It could start from something as simple as staring at a picture, the clouds in the sky, or listening to music. With the Jorthus tales, it usually starts with a "what would happen if..."
I know the characters so well in my head now that to get inspired to write a scene all I have to do is think of a scenario to drop them into. I know what they would or wouldn't do -- even if it might seem incongruous to someone else, I know why they would react in a particular way and that propels the development of the storyline. The character interaction becomes a big part of how things transpire. Then I run the scenario over in my head like watching a movie to see how it develops. As I translate what I see onto the page, the emotions and internal characterizations emerge. That's the best way I can describe it, if that answers the question. Sometimes the story can take a turn that even I'm surprised by and that is always interesting for me as a reader rather than an author of it. I write so that I can read it (or so someone else can read it). I don't always know how it may turn out, I have a general guideline for where the story needs to end up, then I follow how it gets there.
Any future books you'd like to talk about both inside and outside of the Book of Jorthus-cycle?
My sister and I have a children's book independently published called What Makes Our World Go 'round? She wrote it and I did the illustrations. It was inspired by the care and sacrifice of time that our family put forth to care for my grandmother before she died. It is also a thank you to all the caregivers in the world.
I have a couple of other children's books written as well, but unpublished. And the Translations from Jorthus will also encompass another series called The Northgate Papers.
After the Jorthus novels are sorted out, I would like to have time to write a biography about my grandmother from letters that she wrote to family members. Some are as old as 1919 and trace family events amid world events. I would love to read them all.
Your books are quite obviously in the fantasy vein. Is fantasy a genre you've always been fond of?
As a child, I loved fairy tales or ghost stories and I have enjoyed reading several books of the genre, though I haven't had the time to read much from the newer authors in the last ten or twenty years. The fantasy genre, for me as a writer, is rather like an author's playground. It allows a freedom to play around with concepts or social commentary without having to point the finger of blame or criticism at anything directly in the real world. If the events or issues that the characters deal with were placed in a conventional setting, then there would be a whole new set of rules enforced upon the writer in order for the story to be convincingly portrayed. Fantasy can have allegory and symbolism in a much more accepted way, whether it is intended by the author or not. Fairy tales are allegorical plays of life, it is almost expected.
I enjoy reading most books for the humor, the struggles, or issues about the humanity in it even when not dealing with humans, such as in Douglas Adams, Terry Pratchett, or even J.R.R. Tolkien.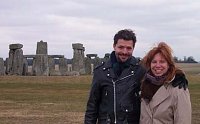 Tim and Ruth Hays
You are married to special effects wizard Tim Hays [Tim Hays interview - click here]. Does his work in any ways influence your writing (or vice versa in fact)?
Our work times do overlap, but not always when it comes to writing. Sometimes I run an idea by him and ask for tips on technical issues or monster ideas, although he is usually busy on his own production work. I do put the stories on hold to help him out on a project, does that count? He is very supportive of my work and will freely offer ideas and if it ever is made into a movie, then he would be the first special effects guy I'd call, of course!
Together with your husband you have also worked on many an independent film as a costumer. Would you care to talk about your filmwork for a bit?
It came about by both necessity and happenstance. Tim would be involved in one project or another, such as Legend of the Red Reaper or his short film Coming Soon (where he needed a leather jacket for a large puppet), and a need for extra costume pieces would arise. Having been a theatre major at FSU, I love being on productions and I'm happy to help out however I can, so I would design and create whatever was needed to make sure the films got done. Hopefully my efforts were satisfactory.
Most of the time the costumes were ones that I had made from other events, such as Halloween. Tim's outfit in Star Wars: A Dark Beginning and as a counsel member in Star Wars: The Forgotten was an Obi-Wan Kenobi costume that I had made for him long before.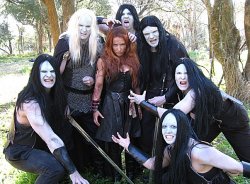 Tara Cardinal and her gang of creeps in
But, sometimes there were custom pieces. On Legend of the Red Reaper, Tara Cardinal [Tara Cardinal interview - click here] and I collaborated on a couple of original designs. Vicki Hildebrand was the head costumer on the film and it was a large and ever-changing cast to deal with! It is difficult sewing costumes when I have no idea who will be wearing them and have no time for proper fittings, but I can't say that it isn't exciting to see the final product on film.
I even got to be an extra in Legend of the Red Reaper and that was fun. I got killed twice, as different characters, of course.
If your books were made into a movie, what would your dream cast be (no matter how impossible)?
I would love to see them made into movies, but a dream cast, that's hard. There have been a few actors that my friends and I would point to as making good main characters whether in looks or in mannerisms based off other roles. If we could roll back a few years then Ewan McGregor as Keinigan, James Purefoy or Luke Goss for Dharromar, and maybe Kate Winslet for Lylith would be nice. That is not set in stone. Amy Adams or someone like that would be good as Lylith, too.
Tara Cardinal was gracious enough to allow me to use her as a model for some cover art. (Thanks Tara!) And another actress and stuntwoman from Legend of the Red Reaper, Kat Kentes, posed for another character named Rachel. (Thanks to Kat, too!) The painted images based on their photos are on the cover of the second book, The Convergence, along with a mocked up version of my husband, Tim.
Writers who inspire you?
Oh, I've always loved Shakespeare, and as a kid I read C.S. Lewis and Grimm's fairytales. In college, I loved reading the Rings trilogy by J.R.R. Tolkien, Anne Rice's Vampire Chronicles, and Stephen King. There are so many that I can't even think of them all.
Your favourite books?
Well, to add to the list above, I would have to say the Morrigan's Brood series by Christopher and Heather Poinsett Dunbar. I'm reading those now between marathon editing sessions. I must not forget the Dragonlance series by Margaret Weis and Tracy Hickman. I also loved Douglas Adam's Hitchhiker books. The plays by Oscar Wilde and the Dickens novels are some old standbys, too.
... and since this is a film-site, your favourite movies?
Top of the list is a tie between Peter Jackson's interpretation of Lord of the Rings and Anne of the Thousand Days. Next in line would be the original Star Wars trilogy (4 through 6, because of the impact they had on my teen years), Grosse Pointe Blank, Beetlejuice, and Stage Beauty. An odd collection, I know. There are so many movies that I enjoy watching and appreciate for different aspects, but I would have to say that these are ones that I can watch over and over and always want to see them again immediately.
... and of course, movies you really deplored?
I like to try and find something of worth in any movie, even if it is overshadowed by deplorable absurdities or the fact that it is an utter waste of celluloid due to directing, acting, or writing. But, there were a few movies that I just lost interest in watching in the middle of them, for one reason or another. If a movie seemed too "out of my taste" to spend money on, I usually didn't go see it unless someone else took me. I've sat through some stinkers, but I think one of the movies that I disliked watching the most was Full Metal Jacket. It was well done, technically, but I just really didn't want to be there. That may have been the director's purpose, in which case kudos to Kubrick. I just can't stand to even think about watching it again.
Your website, Facebook, whatever else?

Feeling lucky ?
Want to search for books by
Ruth Davis Hays
yourself ?
The links below
will take you
just there !!!


More information about my writing can be found at the website created by my lovely friend, Khanada, http://www.booksofjorthus.com, http://www.facebook.com/the.world.of.jorthus, or http://jorthusbooks.wordpress.com/. Artwork for the stories can be found at http://khamarupa.deviantart.com/ and the books are available at https://www.createspace.com/3376444, https://www.createspace.com/3423702, and Amazon.com as well as at Lulu.com for digital download editions.
Anything else you are dying to mention and I have only forgotten to ask?
I'd encourage readers to also check out http://www.triscellepublishing.com/ for the Morrigan's Brood books and www.monsterfx.net. I've been blessed with a lot of fascinating experiences on independent movie sets and would love to thank everyone I've worked with as well as congratulate the team from Legend of the Red Reaper on completing the filming, with big hopes for the movie's future. Mostly, I would like to thank you for offering this opportunity.
You are so welcome, and thanks for the interview!