Your new movie The Assassin's Apprentice - in a few words, what is it about?
The Assassin's Apprentice is a short film concept piece about an assassin in training named Kaylee (played by Tarah Paige) who must undergo one final mission to become a full-fledged assassin. However, she decides to do things her own way, much to the annoyance of her mentor Pete (played by Robert Picardo) and the handler Miranda (played by Marina Sirtis). Our goal is to shop this concept piece around to get backing for a movie trilogy and video game tie-in.
With The Assassin's Apprentice being a science fiction yarn, is that a genre at all dear to you, and what can you tell us about your approach to the genre?
Science fiction is a very fascinating genre, because it allows you to think outside the box. This film is set in the near present but involves technologies such as drones which are not yet common-place. That said, what really inspires me is exploring facets of a character who is conflicted, who has a dichotomy. In this case, Kaylee knows she should obey her mentor but decides not to. Why would she do this? Is there a hidden motive?
How did the project come into being in the first place?
One of our backers, Paul Hickman, for Occupants, the feature film I directed before this film, was a big fan of action films and parkour (freestyle running). So he decided to come up with this concept piece in order to facilitate the aforementioned movie trilogy and video game tie-in.
What can you tell us about your writer Paul Hickman, and what was your collaboration like?
Paul Hickman is a lawyer by trade but always wanted to get into filmmaking. He had this idea for an action trilogy for quite a while and decided to write the initial concept piece which is The Assassin's Apprentice. I worked closely with him over the last two years honing the idea for the trilogy and figuring out which characters were the most important for this current story and the future. It was a very interesting and wonderful process, one that continues to this very day.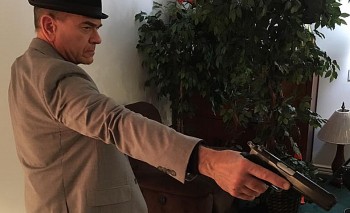 Roberto Picardo
A few words about your directorial approach to your story at hand?
As I mentioned before, I love dichotomy for my characters, so Kaylee was of that mold. I also had directed a movie about a female assassin ten years before called Girl With Gun and channeled the lead character in that film Gwen Hunter into Kaylee. I saw similarities between the two, but whereas Gwen acted alone, Kaylee has a family, albeit one that doesn't always see eye to eye. I also watched quite a few action films such as Run, Lola, Run and Assault on Precinct 13 to get a feel for the freestyle running and parkour moves that were necessary in this film. I think research is very important to coming up with the directing arc.
Your film stars quite a few Star Trek veterans - so do talk about them, what was your collaboration like, and how did you get them even?
I've worked with Robert Picardo six times now, so I pretty much know what he wants and plan accordingly. I know he likes to work with the other actors in the scene beforehand and has ideas for his character which we incorporate into the script. That way we get the most natural performance possible for the character he portrays. On the other hand, this was my first time working with Marina Sirtis, but I did what I would do for any actor I direct. I created backstories for the character and we worked together to figure out who Miranda is and how she came to be in the position she inhabits in this film.
We got Robert Picardo because he is a friend of the producer Howard Nash, whom I worked with both since we did P.J. ten years before. As for Marina Sirtis, she worked with the other producer Ryan T. Husk on a film called 5th Passenger and she agreed to come onboard this film.
What can you tell us about the rest of your cast, and why exactly these people?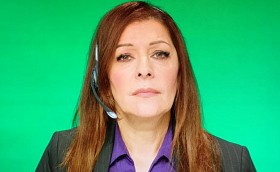 Marina Sirtis
As for Tarah Paige, she is a very good friend of Paul Hickman's and someone who has acted in major motion pictures doing stunts work, with credits including Rise of the Planet of the Apes, Alice in Wonderland, and Transformers: Age of Extinction. She also recently acted in a Star Trek fan film called Renegades. As for our other cast members such as Rico E. Anderson, Katherine Roberts, and Reka Rene, they were actors who worked for producer Ryan T. Husk. Jennifer Durst and Larry Butler were actors I worked with before, and Luis Carazo was someone I knew. However, all actors were sought because they fit the parts they were portraying and we auditioned them beforehand.
Do talk about the shoot as such, and the on-set atmosphere?
The shoot was a grueling three-days of principal photography. On Day 1, we had around 50 people including 10 extras, as well as stunts involving breakaway glass, and an original song written by composer Vasilis Milesis with lyrics created by our lounge singer actress Sasha Travis called "Lucky Boy". On Day 2 and 3, we used a filming drone operated by my good friend Steve Overstreet and a prop drone seen in the film operated by Kevin Benson. Suffice it to say, operating two drones at once is both exhilarating and scary! Each day had its challenges, but what made it fun was that everyone enjoyed themselves and I was really happy with our crew including our director of photography Ray Karwel, key makeup artist Alisha Baijounas, key costumer Nina Minnelli, production designer Lauren Ivy, and stunt coordinator Steven Stone.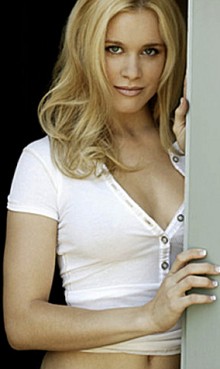 As far as I know, you're currently raising funds for The Assassin's Apprentice's visual effects - so do talk about your campaign for a bit, and what is the audience to expect in terms of effects work?
Basically, we need the extra funds to shoot a pickup day on February 24, 2017 as well as do extensive visual effects, such as placing drones in shots where we didn't have them in, creating Miranda's office background with screens behind her showing interactive maps that Kaylee must follow using the Google glasses she wears, and gun firing effects including fired bullets. We've already reached 75% with 16 days to go, so come join us for such perks as an IMDb credit.
https://www.indiegogo.com/projects/the-assassin-s-apprentice-vfx-and-pick-up-shots-film-action
Once the budget's in place, what's the schedule, and any idea yet when and where The Assassin's Apprentice might be released onto the general public?
Right now, Emile Haris, our editor is busy putting together a rough cut. We should be completed with the film by early summer 2017 for release at that time at various film festivals.
Any future projects beyond The Assassin's Apprentice
There are several projects I am working on. One is Collar, another concept short which I just directed under the tutelage of producer Troy Gabaldon, about a priest with underlying intentions, with a potential series as a possibility. Another is Occupants 2 currently being written by Occupants writer Julia Camara, under producer Howard Nash. Howard and I are also involved in a true story found footage film called Wisper which is in the funding stage. There is also a horror feature called The Dollhouse which is being put together to be shot in Macedonia, Ohio under producer Julie D'Aloiso. And Alien Cross, under producer Sean Kenney (of "Captain Pike" fame from the original Star Trek episode The Menagerie), and involving Gary Lockwood (2001: A Space Odyssey), Hana Hatae ("Molly" from Star Trek: Deep Space Nine), and Olive D'Abo (Wonder Years and Law and Order: Criminal Intent).
Your/your movie's website, Facebook, IndieGoGo, whatever else?
Here are the site links:
Official website: https://www.facebook.com/taamovie/
IndieGoGo post-production campaign: https://www.indiegogo.com/projects/the-assassin-s-apprentice-vfx-and-pick-up-shots-film-action
Teaser trailer: https://youtu.be/CpRgBm0USDw
My website: http://www.russem.com
Anything else you're dying to mention and I have merely forgotten to ask?

Feeling lucky ?
Want to
search
any of my partnershops yourself
for more, better results ?

The links below
will take you
just there!!!


Come join us for our Occupants screening at the Pasadena International Film Festival on Thursday, March 9 at 8:30pm where we will further discuss The Assassin's Apprentice including the upcoming work-in-progress screening of the film at Ratha Con on Thursday May 11!
http://www.pasadenafilmfestival.org/
Thanks for the interview!
Thank you for interviewing me!