Your new movie John #3 - in a few words, what is it about, and what can you tell us about your character in it?
John #3 to me is a way of getting a strong message out to the general public of the horrible effects of abuse and the long term damage it caues. Vicky is extremely determined, strong, intelligent yet very lost and is constantly trying to cleanse herself from what makes her feel internally dirty. Getting inside Vicky's head was at times painful.
What did you draw upon to bring your character to life, and how much Rosie Pearson can we find in Vicky, actually?
Hmmmmm, clever question. Now without getting too personal, I have suffered a form of abuse but not the type of abuse Vicky has. I dived more into Vicky's experience rather than use my own, which was difficult but was the only way of course to do the character justice. Vicky is one deep character, I had to go down every thought and avenue of how she thinks, the best I could to get to a level of understanding to play her as best I could.
Do talk about John #3's director Kyle Titterton for a bit, and what was your collaboration like?
I have worked with Kyle before but in a completely different surrounding. Kyle directed me in a couple music videos dancing. We get on extremely well so having Kyle on set of John #3 was a blessing as he was a grounding strong root on set due to his experience and calm approach
How did the project fall together in the first place, and how did you end up on the production side of things? And to what extent could you actually identify with the movie's theme?
The script was actually written for me to use as an acting showreel and the last thing I have ever wanted to do was produce, I literally fell into it. What started off as a lowkey 2 minute scene to be used as a reel turned into ... well a ten minute short to go around film festivals, and it has set me off wanting to produce more. As I spoke to more people about the film it then just grew and grew into what it is now, so I had to grow with it.
What were the main challenges of bringing John #3 to the screen from a production point of view?
Keeping calm, grounded and reading people. Dealing with a low budget project you are constantly in a way pestering people. I have learned that you always need to look deeper into any problem or issue that arises and take your time. Listening and watching is also extremely important. So I guess the hardest part of getting John #3 finished was lack of experience.
What can you tell us about your co-star Alan Cooper, and what was it like working with him? And did you as a producer have a hand in his casting?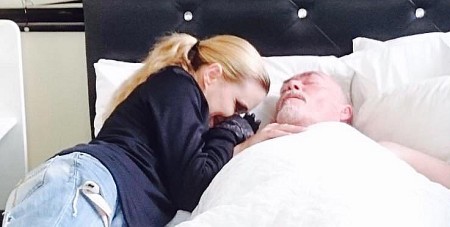 with Alan Cooper
Alan was extremely professional and creative with his character. Alan is a limitless actor, he just gets stuck in and is willing to leave his ego at the door. I did cast him and I am very happy with his performance on camera and on set.
The $64-question of course, where can your movie be seen?
John #3 has been submitted to film festivals around the world so details will be on the John #3 Facebook page https://www.facebook.com/John3Film/ - keep an eye out or get yourself to the screening of the feature films Jengo Hooper and Heavy Makeup in Camden or LA where John #3 will be screened. For LA screening it will be Oct/Nov... Camden will be this summer. Keep an eye out for further details!
Anything you can tell us about John #3's audience and critical reception yet?
The audience from the premiere of John #3 were very pulled in when watching John #3! "Want to see more " was said a lot. There were a few comments on the technical side of the film but I expected that and was happy to learn from John #3 being my first project to produce. Constructive criticism from those who have done it themselves is greatly appreciated.
Any future projects you want to share?
Very excited about my next go at producing, which I said I would never do ha ha ha. My next shot at producing is a short film. This film shows what lays in the cracks of the concrete London underworld. The message is strong and raw. The script is written by Craig Maclachlan who was associate producer on John #3. We have been finalising the script now for months and we are both very happy with what we have now. The short is called Feral. I have taken on a big responsibility with this one, so taking my time to go as deep as possible into the details of production, the characterisation mainly as that's what will make or break the film, the actors. I may direct Feral! Just working out what's best for the film. Whether I direct or not, there will be intensive rehearsals with each actor one to one, my self and the actor just to make sure all characters are well-rounded. That's on the producing front for myself.
What got you into acting in the first place, and did you receive any formal training on the subject?
I got myself into acting as it's all I have wanted to do from a young age. I got my first acting job at the age of 13 years old, a Freddy Frog commercial, then just went on from there, not from job to job but that was my first professional acting job, I have since done more commercials, short films, and features but in between doing acting have done anything I can within means to survive, in other words nothing has been given to me on a plate. I do presenting as well which helps to have a stable income, so I can say I earn all my money from performing now. Yes, I was in a performing arts school throughout my teens called Brent Street Performing Arts, where I studied acting, dancing and singing. At the age of 18 I did a drama diploma at Sydney Theatre Company, then moved to London.
From what I know, one of your very first roles was in an Australian soap when you were still in your teens - so do talk about that experience for a bit?
Oh yes, All Saints! What a fantastic experience - hmmm I must have been about 15 years old when I did that. It was a dream being on such a professional set with professional actors. The role was very heavy and intense, so I was so nervous about pulling it off but managed to put myself in the moment and pull it off, I guess. I can remember exactly how it felt playing that role.
Eventually you moved to the UK and continued your acting career here - so what prompted that move, and how do Australian and British film sets compare?
Due to England being a much older country then Australia I feel that the UK is ahead of Australia in many ways, now I am not saying better just more developed so in saying that I feel I can progress more here in the UK than back in Australia. Also I am lucky enough to have two English born parents so have a British passport. It felt that I would have more of a chance cracking the industry here in London than if I stayed in Australia - I put myself up for a hard task for sure but 100% made the right move and have learnt much more than I ever thought existed, not only as a actress and producer but about life in general.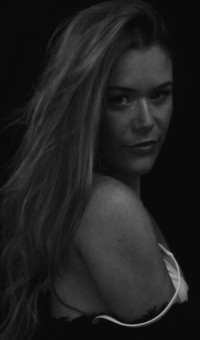 Feeling lucky ?
Want to
search
any of my partnershops yourself
for more, better results ?

The links below
will take you
just there!!!


How would you describe yourself as an actress, and some of your techniques to bring your characters to life?
I have an objective an removed approach when working on scripts that allows me to see the interactions from multiple perspectives, yet give my all when acting and show the deepest vulnerable traits of the character and try to capture every nuance and live the character's moment. I believe script work is so important and a powerful way of really getting into the world you are acting in! I find the objectives of each character I play for the whole project then break it down to the objective of each scene, then each line and all objectives are connected. This facilitates letting go of the "why"! I do my best to get to the truth of the role I am playing and become it.
Actresses (and indeed actors) who inspire you?
Dame Judi Dench, Al Pacino and my all time favourite Sean Penn!! Just to mention a few.
Your favourite movies?
Casino, the French film The Untouchables, Dead Man Walking, Into the Wild, Texas Chainsaw Massacre: The Next Generation and Monsters Ball.
... and of course, films you really deplore?
Don't have any films in my mind that I deplore as don't hold on to them in my mind
Your/your movie's website, Facebook, whatever else?
John #3 Facebook link: https://www.facebook.com/John3Film/
Rosie Pearson performance Facebook link: https://www.facebook.com/ROSIEPEARSONOFFICAL/
Showreel: https://youtu.be/mW5E7Fl969I
John #3 trailer: https://youtu.be/BvtGVtRLlQo
Thanks for the interview!