First of all, why don't you introduce yourself to those of us who already know you?
My name is Robert J. Massetti Iím an independent filmmaker and the owner of FEAR FILM Motion Picture Studios in Tampa, Florida. Owner/creator of FEAR GIRLS, Festival Director of the FREAK SHOW Horror Film Festival, and just all around cool guy.
You are currently releasing the webseries Blackout. In a few words, what is it about?
Blackout tells the story of Sara, who on a dark stormy night, stabs her husband to death during a power blackout. As police investigate to see if the killing was murder or self-defense, the ghost of her dead husband who is back from the grave to seek revenge haunts Sara.
What were your inspirations for Blackout?
I wanted to make a dark and creepy movie with a bit of mystery to it. Iím a huge fan of Brain DePalma and his movies Dressed to Kill and Blowout, so Blackout is based on those types of movies. Plus some of the lighting in the movie is inspired by Dario Argentoís Suspiria.
Why did you choose to release Blackout as a webseries as opposed to turning it into a feature film, and in your eyes, how does directing a webseries differ from making a feature film?
Actually, Blackout was a short film that I made back in 2001 and is part of my first DVD movie release called Phobias. I was never satisfied with the first cut of the movie, so I re-cut Blackout and added never before seen footage, new sound effects and a brand new movie score by Craig Padilla. Since I wasnít able to include the new cut on any DVD, I decided to release it as a web series to see if I could generate an audience for it. I may in the future turn it into a feature film but I have to see if people are really interested in the story before I can move forward, so putting it out as a web series is a good way to test it to see if there is really interest in the film.
Any indication about what the series still holds in store for us, and for how many episodes is the series scheduled? Plus, are you ever planning a second season or something?
At this point, Iím not really sure how many more episodes are left, but there is plenty more surprises coming in future episodes. If we can get enough people to watch the web series, we may start production on a second series and even a feature film, but we first need people to watch the current series. Without an audience we canít move forward.
Most importantly of course, where can the series be watched?
We are now in the process of distributing the series to different web outlets, but the best place to see the series is at the FEAR FILM website at this link:
http://www.fearfilm.com/site/category/webseries
You have also only recently produced As Night Falls, directed by Joe Davison. A few words about that film?
As Night Falls is a horror/action movie with bits of comedy thrown in to make the movie a very unique viewing experience. The movie will appeal to everyone, especially horror fans that are looking for something different from the genre. When we premiered the film at Spooky Empireís Ultimate Horror Weekend in Orlando, Florida, we had a standing room only crowd that just loved the film. You can watch the Official Trailer at the movies website:
http://www.asnightfallsthemovie.com
How did the project come into being, and what can you tell us about the film's director Joe Davison?
Joe has been trying to get this project off the ground for years and when he finally got financing for the project he wanted me to come on board to help him with the movie. We had met a few years back and we hit it off right away so working on As Night Falls was a real treat for me. Collaborating together we knew that we could make a very unique kind of horror film and I think we accomplished that with As Night Falls.
How difficult was it for you as a director to stick to a producer's duties on As Night Falls?
Yeah, it was strange at first because I really like to be involved in every aspect of a film especially in the direction of a movie, but As Night Falls was Joeís baby and I supported him in all his decisions on the film. It was actually a great experience for me to look after the business side of movie more than the creative side. Since we had such a great crew and cast, it made my job all that much easier so I do like to produce movies, but my first love will always be directing.
Let's go way back in time for a bit now: What inspired you to become a filmmaker in the first place, and did you have any formal education?
Since my parents where huge movie fans, especially horror, I grew up watching movies all the time, but it wasnít until I saw the movie Star Wars that I really started thinking about making movies for a living. Since then I have done nothing but eat, breath and live movies. Yes, I did have formal education by attending film school at Columbia College in Chicago.
I've read somewhere that before going into feature-filmmaking, you have made quite a number of shorts. What can you tell us about them, collectively?
When I first started FEAR FILM Motion Picture Studios back in 1999, our first project was a short film called When Shadows Lie Darkest and that was soon followed with the short film Blackout. We premiered both shorts at the Cinema Paradiso in Fort Lauderdale and got a huge response from the audiences that saw the films. People started talking about the shorts on horror forums on the internet and a buzz started to begin. Filmmaker Tim Ritter heard about my short films on the internet and contacted me about possible distribution of the films since he worked with Sub Rosa Distribution. I sent him the films and he thought they were good enough for a distribution deal, so they put When Shadows Lie Darkest and Blackout together for our first DVD released and called it Phobias.
Phobias came out on DVD in 2003. That was a very exciting time for us as we had our first movies being distributed worldwide and people finally getting to see our work. It opened a lot of doors for us.
Phobias was followed by the horror anthology Realms of Blood in 2004. A few words about that one?
After we made the short film Blackout, we decide it was time to make a feature length film. The problem was that we had no money for a feature or a script. Since we couldnít pay anyone on the production, we decide to make three short films with a wrap around story and make it a horror anthology like Creepshow and Tales from the Darkside. Making short films was the best way we could keep people on the project for the shortest amount of time. So after a year and a half of working on the weekends, we finally completed Realms of Blood and released it on DVD in 2004.
What can you tell us about the Fear Girls-series and the concept behind it?
Fear Girls came from the need to make something that could generate a nice cash flow so we could finance our feature horror films. What sells better than sex? So I created Fear Girls back in 2001 and after almost 7 years of trying to find backing for the project, I was finally able to find financing for it in 2008. Back when we first had the idea for Fear Girls no one was doing anything like it. The concept of combining beautiful women and horror has been around for years, but we wanted to show woman being sexy as vampires, monsters, and killers covering their bodies in blood. So if you like naked woman and horror, then Fear Girls is for you.
You also run a Fear Girls-website, http://www.feargirls.com. What does this website comprise?
The FEAR GIRLS website features my photography and the beautiful models that I have worked with. Some of the models have been featured in Playboy, so I have been very lucky to work with such beautiful talent. Some of the models featured on the website are also featured in the Fear Girls DVD series. On the website you can watch trailers from the series and see photos of some the most beautiful woman in the world.
As far as I know, you are now working or planning to work on a movie called The Thing Under My Bed. Anything you can give away about that movie just yet?
The Thing Under My Bed is a project that I have been developing for over 3 years now. I am very excited about this project since it has such a high creep factor and it will be a film that horror fans have been waiting for. The script is written by Bram Stoker Award-Winning Novelist Owl Goingback and we also have Brooke McCarter (Lost Boys) attached to star in the film. Right now we are still looking for investors to back the project so everything is at stand still until we can raise the money for the project. If you go to the FEAR FILM website you can watch a 5 minute short that we made based on the story.
Any other movies or future projects you'd like to talk about?
I will be producing Joe Davisonís next project Journey into Hell that starts shooting January 15, 2011 in Tampa, Florida starring Deneen Melody [Deneen Melody interview - click here] and Alex Vincent (Child's Play). We should at least have a movie trailer done in time for Spooky Empireís May-Hem show May 27-29, 2011 in Orlando, Florida so keep an eye out for that. Iím writing a new screenplay for a new horror film that I canít talk about in any detail at this time. All I can say about it is that itís a really cool ghost story. Iím also working on doing some more Fear Girls DVDs and more web series.
Your films are by and large horror movies. Is horror a genre especially dear to you, and why (or why not, in fact)?
I grew up watching horror films so they have been a big part of my life for a long time. Horror is really the only genre that really interests me as a filmmaker. I love to create suspense and mood in a film keeping the audience on the edge of their seat with a scare mixed in. For me, horror movies are fun because you can experience fear in a safe environment so it was natural for me to make horror movies when I became a filmmaker.
A few words about your production company, fittingly titled Fear Film Motion Picture Studios?
FEAR FILM started way back in 1999 right at the beginning of the independent filmmaker boom that was happening because of the advent of digital video and editing programs like Final Cut Pro. It gave independents the chance to make movies that didnít cost a lot of money because we could shoot movies on video instead of film. I started FEAR FILM to make movies but it also opened up doors for us to make local commercials and music videos, which helped pay the bills while we looked for new movie projects. The company has expanded further into photography, website design, talent management, and events. Needless to say we stay quite busy.
You are also the creator and director of the Freak Show Horror Film Festival in Orlando, Florida. What can you tell us about the festival and how did it come into being in the first place?
The FREAK SHOW Horror Film Festival is going into its 6th big year and has become one of the largest horror genre film festivals in the US. Films selected to screen at the festival compete for the Freaky Award in 9 different categories. Independent horror filmmakers are encouraged to submit their films and screenplays to the festival. We have a great time every year at the festival with huge parties at the pool with celebrity guests! If you are interested in submitting your film or screenplay, just visit our website for more details:
http://www.freakshowfilmfest.com
You have pretty much done it all when it comes to filmmaking, directing, writing, producing, editing, ... What do you enjoy the most, what could you do without?
I really enjoy every aspect of filmmaking, but what I enjoy most is directing a movie. I really like creating and working with actors so directing really gives me that chance to bring out the best performances from my actors. It really is magic when a scene comes to life the way you want to. What I could do without is writing and the business side of filmmaking. Itís hard for me to write everyday but it is the most important part of the film so I really force myself to sit down and get as much writing done as possible. The raising of money, dealing with investors, writing business plans, budgets and so on can really drive me insane. But to make movies, you have to do this everyday. I just like doing the creative side.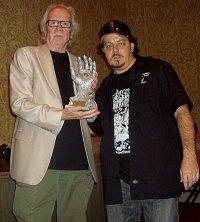 Robert J.Massetti with John Carpenter

Feeling lucky ?
Want to
search
any of my partnershops yourself
for more, better results ?

The links below
will take you
just there!!!

Find Robert J. Massetti
at the amazons ...

amazon.com

amazon.co.uk

amazon.de
Looking for imports ?
Find Robert J. Massetti here ...
Something naughty ?
(Must be over 18 to go there !)

Directors who inspire you?
John Carpenter, Brian DePalma, Alfred Hitchcock, Dario Argento, Sam Raimi, James Whale, David Lynch, James Wan, and David Fincher to name a few.
Your favourite movies?
Se7en, Halloween, The Fog, Evil Dead, Frankenstein, Dressed To Kill, Blowout, Psycho, Vertigo, Deep Red, Suspiria, The Old Dark House, The Thing, and Trick R Treat to name a few.
... and of coure, movies you really deplored?
I canít stand movies like Twilight, The Blair Witch Project, Paranormal Activity and its sequel just to name a few.
Your website, Facebook, whatever else?
If you want to find us on the internet your can go to FEAR FILM website at:
Once there you can add us on Twitter, Facebook, Myspace and join our Newsletter.
FREAK SHOW Horror Film Festival:
http://www.freakshowfilmfest.com
FEAR GIRLS:
Anything else you'd like to add and I have merely forgotten to ask?
I just want to thank the fans for supporting us over the years. Your support has kept the dream alive and I thank you from the bottom of my heart for that. Horror Fans are the best fans in the World! And I want to Thank You for this very in depth interview it was a lot of fun! And remember to ďSpread the FEAR!Ē
Thanks for the interview!