Your movie Demon Exorcism: The Devil Inside Maxwell Bastas - in a few words, what is it about?
It's about one mans struggle with demons. The one man is meant to represent everyman. Love will always conquer evil. That is what our film is about, but we also were trying to hopefully get into the subconscious of the viewer and have them really reflect on their own lives.
Demon Exorcism: The Devil Inside Maxwell Bastas digs deep into demonology, mythology, religion and the like. How much research did you put into this when writing the movie, and how much was just made up? And related to that probably, why both a Catholic and a Jewish exorcist?
We did extensive research because we wanted to make sure it felt real to everyone - also, because demonology is represented in most organized religions. Almost every religion has their own version of demons, it just differs in scope and how it's implemented. That in itself you can take pause to. It is very interesting that most organized religions have some sort of demonology.
Of course we read The Bible, The Torah, The Koran, and "The Book of Enoch" which we had not read until we started doing research - but the best information came from fictional pieces of work that we now consider to be demon mythology: Paradise Lost is one of the most definitive pieces written on demons and angels. If we had the budget, we would love to make a film based on Paradise Lost. I think it would be really epic to see angels and demons fight in a sense that it is the basis of all good-and-evil fights. What we sometimes forget is that the Jewish religion is the oldest religion on the planet. The next oldest, is Christianity. There is some speculation that Hinduism and Buddhism may have been older than Catholicism but that has yet to be proven. Lucifer's Flood is a work of fiction written by a theologian Linda Rios Brook, in the story she tells first person perspective of a fallen angel, he is what she calls a "Watcher". The watcher demon watches and remembers everything he sees so it can be written down and told for millennia. The fact that it was first person of what a fallen angel was going through was very interesting. In the book she considered fallen angels "Demons" even though there is great debate on the subject in other pieces of work.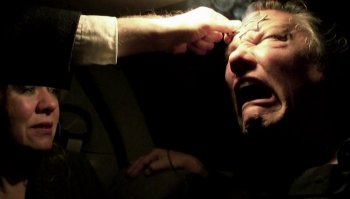 As far as a Jewish and Catholic exorcist, after doing the research, we realized how close these two religions really were. We wanted to show a Jewish Rabbi and Catholic Priest being brought together in desperate circumstance to fight together for a common good and find a solution ... but in the end, we also wanted to show that the individual who is going through the demon possession, is the one who ultimately has to make the right decisions. It does not mean the Rabbi and Priest are insignificant, they are guiding his tortured soul to remind him that there is a way to beat his "Demons". But the key factor here is the individual needs to take personal responsibility and make amends.
After watching many movies and reading cases of said "real exorcisms" it is clear that most Priests and Rabbi's or other clergy treat the Demon affliction as an outside attack that the individual is helpless to stop and they also seem to treat it as there is no reason for the event. What we are also trying to get across in the film is that your actions hold consequences and you have to take personal responsibility for those actions or a demon will kick your ass.
(Other) sources of inspiration when writing Demon Exorcism: The Devil Inside Maxwell Bastas?
Our society is the other source. Anger. People generally seem more angry and impatient. People seem to have less time for each other and seem to be detached. The Max character embodied these issues.
Do talk about your writing partnership on Demon Exorcism: The Devil Inside Maxwell Bastas for a bit if you can!
The core concept of the story came from Melanie. The basic idea was that the main character Max, was not an innocent person. The motivations for the demons to attack Max were anger, and that he blamed GOD for the death of his family, essentially pushing GOD out of his life and allowing the demons to take hold. In most other films about possession, the person being possessed is a victim and seems to have done nothing wrong. For example, In the classic movie The Exorcist Regan ( the little girl being possessed) is attacked by a malevolent demon, or demons and seems to have done nothing to warrant such an attack. So, what we were hoping for is that people that saw the film would reflect on their own life and mistakes and try to resolve them.
Richard wrote the narrative and most of the dialog based on the story outlined that Melanie set down. The characters came to life in the writing of the script. Melanie was reading right along as Richard wrote to make sure that the characters would reflect the original intentions of the story. This is the first time we have written this way. But we feel it is our most successful story to date. We love the motivations behind the characters and we believe that the script accomplished what we were going for. The most important thing that we took away from the story is that if you write a screenplay with the belief that what your writing will impact people on more than one level, then you have a better chance of being successful.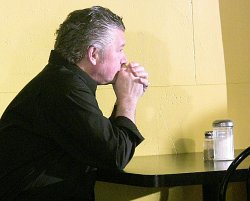 Michael Mili as Maxwell Bastas
Now that might sound a tad odd, but to what extent can the both of you identify with Maxwell Bastas, how much of yourself have you put into this character?
If we did our job correctly, then everybody and everyone can see a little bit of themselves in Max. Including us. We were hoping that people understood that Max was just a regular, imperfect human being that had some extreme circumstances happen to him, and with all humility Melanie and I, are also imperfect. So that is why we wanted our hero to be just a normal Joe. It was important that the audience could identify with the characters.
How would you describe your directorial approach to your story at hand?
We wanted this film to feel real. With the given budget and time constraints we had to shoot this story very fast. We had a crew of five. These five people included Melanie and myself. Most of the time, it was just me and Melanie. I was lighting, shooting and directing and Melanie was helping with lighting and sound. We shot the entire film in 16 days spread out over two months. Working around the actors' other schedules. As far as the look of the film, I tried to light it in such a way that it felt real without looking like it was shot without motivated lighting. I approached the idea that the film is serious and the things that were happening were serious but the situations were ridiculous in scope. So, I tried to convey a feeling of being trapped at least through Max and a feeling of impending doom when we see all the demons coming for Max.
Do talk about your cast for a bit, and why exactly these people?
Our cast is made up of actors that live in and around Detroit, where we are from. We had such a limited budget that most of the actors were deferred. We picked our actors based on the fact that they love acting. All of the lead actors have been leads in other films so that helped knowing that they had proficiency and that they understood acting as a craft. Most of our actors are actually filmmakers in their own right. Victor Pytko (Lester) has acted, directed, and produced films. John Anton (Fr. Shield) directed Guns, Drugs, and Dirty Money, Jeff Priskon (Fr. Reynolds) directed Love & Plutonium, and Jamie Wheatley (Beelzebub) is a professional actor and has produced other films. Mike Mili (Max) is a veteran actor in the Detroit area, he also has written screenplays and he has a novel out there. So lucky for us we were dealing with seasoned actors. We did try to have authentic and realistic looking people for actors.
What can you tell us about the actual shoot and the on-set atmosphere?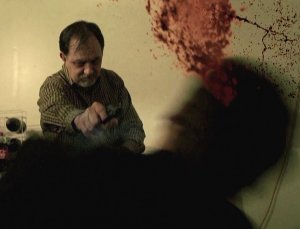 At times it was hectic, other times it just seemed to flow smoothly and other times, we thought we would never get it done, but I think most filmmakers go though the roller coaster during the production process. We tried to make the actors as comfortable as possible so they could focus on their performances. But still, there was a few times the actors helped carry lights and equipment. We are very serious on the set partly because we have no choice with the amount of time we have between setups. We have to maintain focus and try not to tangent to keep on schedule – like the last day of shooting we started at 8am and ended at 2am. We staggered the actors in when we needed them, so they didn't have to sit around all day but Melanie and I shot 15 pages on what we consider our "Day of Days" - meaning that it was the most productive shoot day of the entire schedule. We try to set up before the actors arrive, but sometimes it's impossible. You have to realize while Melanie is doing makeup, I would be setting up lights... our goal is not to have the actors waiting too much. In most cases it worked out ... but sometimes there is no way around having to wait on a film set.
A few words about the critical and audience reception of Demon Exorcism: The Devil Inside Maxwell Bastas?
We had an open invite to the public at the premiere. It sent chills up our spines when the audience gave us a standing ovation. Believe it or not, 70% of the audience was made up of people we didn't know and neither did the cast or crew. The theater was packed. It made us a bit nervous, as well as excited. Going into the premiere you just do not know how your film will be received. We sat in the back so we can watch the audience's reactions as the movie played out – it was a blast to see the audience respond at all the right places. As far as VOD and DVD, we still are not sure how that is going but we are hopeful. Demon Exorcism's plot is meant to be complicated because we want the audience to use their own imagination and their own spiritual beliefs when watching it. It is important to us that the meaning speaks louder than the special FX. So sometimes if people do not get the movie, they may be lost because we weaved things into the story we learned in our research that is meant to be underlining to all the dialog and the mood to give the audience the feel that we are going for. It is supposed to hit you in a more subconscious way, like a dream – So if you do not see this you can feel lost watching the film. Some critics understood what we were going for and understand what really working with an ultra low budget is about. The people that do not give the film a chance would rather watch a bubble gum movie made for 100 mill. Our story and our underlining meaning give our film its heart. If you get it, you get it – if you don't, then you don't. No biggie. :P Hopefully you walk away entertained.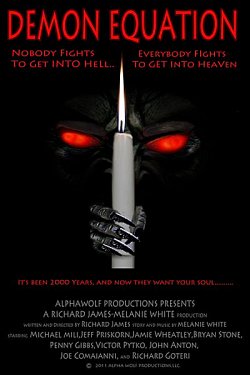 Any future projects you'd like to share?
We are working on our next screenplay. We have been working on story concepts for over a year, this one took a lot of research because it is on a break-through in science and technology. We won't get into details until the screenplay has been copyrighted.
Let's go back to the beginnings of your careers - what got the both of you into filmmaking in the first place, and did you receive any kind of formal education on the subject?
(Richard) I started making films when I was 12 using my father's super 8 mm film camera. I carried that through until college where I received a degree in filmmaking. It seemed I was always limited by resources and budget constraints. My passion for making films has never left and at times it feels it grows stronger. I love the entire process from the research to the writing, the screenplay to the shooting, editing and finally the ultimate--showing it to people. I always say, there are three movies the one you write, the one you shoot and the one you edit.
(Melanie) When I had met Richard, I was studying photography. I have worked with many artistic mediums, including music, but never had an opportunity to work with video and was curious about it. I have a degree in computers and have schooling in photography, abstract art, fine art, studied The Double Strung Harp, and am also a certified massage therapist. Rich wanted me to act and I said no way lol - but I loved being behind the camera (not in front of it ... teehee). So we spent long hours just talking about movies and what would make an excellent movie. Once I got involved in the making of the films I realized that all the diverse experience I have translated into the process of making a film. What I didn't know is that I was going to love composing music the most. We decided to put together a short film titled The Difference. We had a great time and decided we worked well together on a set. Filmmaking is a very interesting artistic medium because when you create a film it is a synergy of everyone involved. It takes all types of artists' input to make a film: You need musicians, actors, set designers, hairdressers, makeup FX, cinematographers etc. Filmmaking gives great purpose for all artists. And I just love that.
You are involved with one another on both a personal and a professional level - so which came first, and how did you meet up to begin with?
Melanie and I met because of the craft. Individually, we were both following our artistic passions and met up on that path. We were working with slightly different media at the time we met she was working with photography and I was more into Video, but everything else surrounding our paths connected, and we fell in love.
Please do talk about what I believe is your debut feature Shadow of Crime for a bit!
Shadow of Crime was also a ultra-low budget film that centers around greed. We shot it in 18 days. The idea of the film was to make a Detroit mob movie that was character-driven.
(Richard) I didn't know when I wrote it that the whole mob idea would end up being just a backdrop and the characters would develop the story for us. As I wrote it, I realized if I followed what the characters would do in any given scene, it would lead me to a conclusion, so basicly getting inside the heads of the characters is what wrote the story. Shadow of Crime is about two mob hit men and two out-of-work auto-workers who decide to rob the mob. When I wrote the film, the economy had just tanked and people were getting laid off left and right so I decided to add this into the story and maybe say something in a small way about why this is happening. The film focuses on the characters and has two subplots that come together in the end. If you like crime-dramas, you may find this film interesting.
Any other filmwork of yours you'd like to talk about?
We are always working on the next film. We have developed what we believe is a very strong idea for our next story. It is in the sci-fi genre and we are really excited about the story. The screenplay is not completed yet but the story is developing into what could be a really good film.
How do you see yourself as director/writer/producer?
Well, our goals as filmmakers is to tell strong original character-driven stories that always have a heart. With each film, we try to improve on mistakes we have made in previous work. We are always striving to obtain a bigger budget, we would love to be able to tell the story the way we want and not have the extreme constraints that are put on us from having a limited budget.
Filmmakers who inspire you?
(Not in any particular order):
Stanley Kubrick, Orsen Welles, John Huston, Angelica Huston, Clint Eastwood, Robert Evans (The Kid Stays), Eli Kazan (The Face in the Crowd), Michael Mann, Bernard Herman (composer), John Carpenter, Samuel Fuller, Tim Burton, Rick Baker (makeup FX) , Peter Bogdonavich, Sidney Lumet, Paul Newman, Uma Thurman, John Cusack, Joan Cusack, Ben Stiller (actor and director), Brad Pitt (acting), Bogart, Ridley Scott & Tony Scott, Hitchcock, John Waters, Meryl Streep, Ian Mckellen, Ewan McGregor, Morgan Freeman, Christina Ricci, George Clooney (actor / director), Helena Bonham Carter, Johnny Deep, Will Smith, Gwyneth Paltrow, Geena Davis, Guillermo Del Toro, Dario Argento, Bernardo Bertolucci (The Last Emperor), Martin Scorsese, Stephen King, Christopher Nolan, Mario Bava [Mario Bava bio - click here], Akira Kurosawa, David Lean, Sergio Leone, Quentin Tarantino, Roman Polanski, Peter Jackson, Robert Rodriguez, Julia Roberts, Sally Field, Michelle Pfeiffer, Winona Ryder, and more.
Your favourite movies?
These are not in any particular order and not of course the entire list, just so many - we do not define our tastes by genre, but rather by a good story or the film has a unique intelligence: Silent Hill, Edward Scissorhands, Ed Wood (Tim Burton), Bettlejuice, all those old Universal Monster films (Wolf Man, Frankenstein etc..), ANY Three Stooges, Abbot and Costello, The Maltese Falcon, Chinatown, Man without a Face, The Woman in Black, Evan Almighty. We so very much enjoyed Dinner with Schmuck", Wages of Fear, Cinema Paradiso, Boondock Saints – was the start of the inspiration for Shadow of Crime –, Tombstone, Jaws, Halloween, Delicatessen (1991), Exorcist, Sherlock Holmes (old and new), Fight Club, Devil's Backbone, Pans Labyrinth, Legend, Pulp Fiction, The Virgin Suicides, Pump up the Volume, The Passion of the Christ, The Baby's Room (2006), Terminator, Terminator 2, American History X, The Sixth Sense, The Help, Machine Gun Preacher, KunDun - such a beautiful film -, The Stand, Pirates of the Caribbean, Memento, Trick 'r Treat, Amelie, The City of Lost Children, The Good, The Bad and the Ugly, Good Night and Good Luck, Heat, Blade Runner, 12 Angry Men, Prophecy, Lord of the Rings, No Vacancy, Addams Family, The Green Mile, The Royal Tenenbaums, Rosemary's Baby, The Godfather, White Hunter, Black Heart, Jurassic Park, Alien I & II, Men in Black, Star Trek IV, The Wrath of Kahn, Star Wars (originals), Dune, The Shining, Highlander I, The Haunting in Connecticut ... and so many more we can appreciate that the list will be too long. I could not even imagine being born right now and have all these films to catch up on … Seriously...
... and of course, films you really deplore?

Feeling lucky ?
Want to
search
any of my partnershops yourself
for more, better results ?

The links below
will take you
just there!!!


The Village – M.Night Shyamalan – what a waste of money.
The Avengers ( the one based on the British TV Series with Uma Thurman and Ray Fiennes).
Highlander 2 – The Quickening – they destroyed the entire mythos of the first film, and we both loved the first film.
Warlock III: The End of Innocence – so..painful.
Cabin in the Woods – the ending made absolutely no sense... understand what they were going for but...
Mel thought the The Blair Witch Project was hokey, Rich thought it was okay.
The Last Exorcism – really?
Dislike big budget films pretending to be low budget
Dislike found footage type, mocukmentary style... it's cheap and dirty – (makes independent narrative filmmakers look bad; meaning, that they are gimmicky and people buy into it and they are a cheat and sometimes the audience does not realize it).
Year One with Jack Black, and we like Jack Black generally but this was so bad.
Jaws: The Revenge with Michael Caine.
"Dreamcatcher" - should have been titled "Anal Crawlers".
Insidious – deflating.
Alien 3 and 4 – what were they thinking?
Your/your movie's website, Facebook, whatever else?
Anything else you are dying to mention and I have merely forgotten to ask?
Well, Our film Demon Exorcism: The Devil Inside Maxwell Bastas was originally titled "Demon Equation". Because the Demon Equation was meant to say that there is an equation that can cause a Demon to attack. But the distributor thought the name would be tough to market - so we changed it.
Thanks for the interview!