With Night of the Living Dead Live, you are bringing one of modern horror's most beloved classics, Night of the Living Dead, to the stage. What gave you the idea in the first place, and what got the project off the ground?
My partner Christopher Harrison [Christopher Harrison interview - click here] had seen a picture on Facebook. The pic was that of our good friend Kasey and his girlfriend at Halloween. They were dressed up as black and white zombies from a 50's or 60's horror film. Chris came up with this crazy idea and approached me with it. "What if we did Night of the Living Dead on stage?" So here we are... 3 years later.
What can you tell us about Night of the Living Dead Live's writer and director Christopher Bond [Christopher Bond interview - click here], what made him perfect for the job, and what can you tell us about your collaboration with him?
I had seen Evil Dead the Musical in Toronto back in 2007. For the record, I am not a fan of musicals, but this production had me in stitches. I enjoyed it so much that I went and saw it again before it wrapped up its Toronto run. Christopher (Harrison) had also seen it and was a big fan. It was a no brainer that we needed to get Chris (Bond) on board. He was our first choice. And as serendipity would have it, Christopher (Harrison) was talking to his friend Mickey, who is a lighting technician at a local theatre here in Hamilton who just happened to know Chris (Bond). Mickey told Bond about the project and he called Christopher (Harrison) that same night. We all met in Toronto later that week and basically sold him on the idea.
The next step was to have him read the script that Chris (Harrison) and I had penned. Now at this point, the script had gone through a couple revisions and had already been read by George Romero, Russ Streiner, and John Russo... and they were happy with it. However, as good as it was, it wasn't good enough. Bond's concern was that it was too much like the movie and didn't translate well for the stage. Basically, a lot of boarding up windows, which works well on screen but will bore audiences on stage. We decided to hand off the writing to Bond and his partners Trevor Martin and Dale Boyer. Needless to say, it was a great decision to let the professional stage writers do what they do best... write for the stage.
Bond has also been pivotal when finding our department heads. He has assembled an amazing crew of people who excel at what they do. Honestly, we couldn't have asked for a better group. Together I firmly believe we have an award winning production!
With George A.Romero, John A. Russo and Russell Streiner, you have three creators of the original Night of the Living Dead on board as executive producers. How did you get them interested, how big was their creative influence, and what was your collaboration like?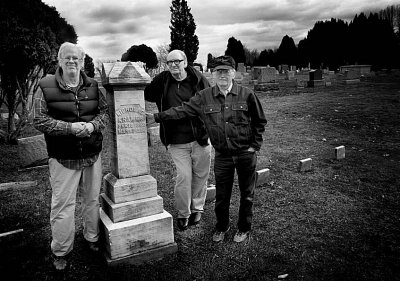 Gary Streiner, Russell Streiner, John A. Russo
When Chris and I began this project, it was agreed that we would NOT put this production on without the blessings of our heroes. We actually wanted to put the initial run of Night of the Living Dead Live on in our hometown of Hamilton almost 2 years ago. However, after many failed attempts at contacting George, we decided to regroup and postpone the production until we had a chance to speak to him.
Later that year, we were promoting Christopher's film Devil's Night at the Rue Morgue Festival of Fear. Without even knowing it, and not until the last day of 4 long days, were we aware that John Russo and Russ Streiner were actually in attendance. Wasting no time, the idea was pitched at John and Russ and we obtained John's phone number.
For the next several months we went back and forth. Finally on April 26th, 2012, we met Russ Streiner and the Godfather himself, George A. Romero, in Toronto and signed a deal to present Night of the Living Dead LIVE on stage. We were also granted creative freedom from George and Co. with their full support behind the project. Not only have they lent us their names, but they have effortlessly been promoting the show ever since we met.
John and Russ have travelled up here to Toronto and area on several occasions over the past year helping us promote the show including Fan Expo (Rue Morgue Festival of Fear) and the 10th Annual Toronto Zombie Walk (The Original Zombie Walk by the way!). We worked with Thea Munster at TZW and had John and Russ "head" up the walk as the Grand Marshals.
How close will Night of the Living Dead Live remain to its cinematic source, and have you taken any major liberties you can think of?
As a Night of the Living Dead fan ourselves, we made sure that the stage adaptation stays true to the original material. So much so that we are presenting the play in Black and White (grey scale)!
What are the major issues when bringing a cult movie like Night of the Living Dead to the stage - especially since you want to bring the show to the stage in black and white, right?
The biggest issue thus far is how to do the lighting. Then the lighting effects the wardrobe and set colour and so on a so forth. Thus, we've had to do several lighting tests against various colours, materials etc. Just because you colour something a certain colour, it doesn't mean that it's going to translate the same under certain types of lighting. Some grey materials have looked green, or blue. So we have come up with a colour pallet that complements the lighting choice and vice versa. Everything from the wardrobe, makeup, and set paint is all determined by the lighting choice.
We also want to stay true to the period. This means we have had to source out some pretty hard to find/obtain vintage items. If you find something perfect for the show, it's usually too much money. Borrowing/renting anything is out of the question. We are painting everything greyscale/black and white thus were having to purchase most items. Really eats into your budget. But worth the end result!
What can you tell us the effects work on your play, and how does creating special effects for the stage differ from creating special effects on film?
You only have ONE chance to get the effects right on stage. If you miss the gag in a live scenario, you can really take your audience out of the experience of the show. If you miss it on film, you may have to deal with a disgruntled director and/or producer, but at least you can do it again. We are taking special measures and have hired the best (The Butcher Shop - Evil Dead the Musical) to ensure that all blood and other gags will be executed on cue.
What can you tell us about your cast yet?
Cast isn't finalized as of yet. We will be announcing our full cast in the next couple of weeks.
You also want to make Night of the Living Dead Live a bit of an interactive experience - would you care to elaborate?
You have to attend to find out! You never know who will be sitting beside you.
After your experiences with Night of the Living Dead Live so far - could you ever be tempted to bring any other cult classics to the stage, or would you like to bring any to the stage even though it's impossible?
We have talked about what other films would be cool on stage around the Nictophobia office. Of course, my personal favorite film, The Texas Chainsaw Massacre would be cool... NOT A MUSICAL of coarse. We want to see Night of the Living Dead Live grow. Our initial run will be a small and very intimate but we have aspirations to make it big enough for Broadway. I personally have seen a version coming out in a stadium-like setting (kinda like a monster truck event) with explosions and hordes of zombies... just kidding... maybe.

Feeling lucky ?
Want to
search
any of my partnershops yourself
for more, better results ?

The links below
will take you
just there!!!

Find Phil Pattison
at the amazons ...

amazon.com

amazon.co.uk

amazon.de
Looking for imports ?
Find Phil Pattison here ...
Something naughty ?
(Must be over 18 to go there !)

Any future projects beyond Night of the Living Dead Live you'd like to share?
We are currently developing a real creepy, on the edge of your seat horror/thriller feature entitled The Mummers. It's a turn of the century piece based on the Newfoundland/Irish Christmas tradition of Mummering with a dark twist. This project is slated for 2015.
Your/your project's website, Facebook, whatever else?
www.nightofthelivingdeadlive.com, @livingdeadlive, facebook.com/NightOfTheLivingDeadLive
www.nictophobiafilms.com, @nictophobia
Anything else you are dying to mention and I have merely forgotten to ask?
George A. Romero, John A. Russo and Russ Streiner will be in attendance for a special Q&A after the 7pm performances on May 3rd and 4th hosted by Fangoria magazine editor Chris Alexander.
Thanks for the interview!