Your film Vs. the Dead - in a few words, what is it about?
Phil Pattison: A careless government experiment that brings the dead back to life lands in the hands of a vagabond tattooist who in turn mistakes it for a delivery of tattoo pigment. A group of young hooligans find themselves searching for answers and try to extinguish a really bad situation after one of their buddies becomes infected.
Jeff Beckman: Yeah, pretty much that, the stereotypical government mis-handling of a lethal military test project (cause we all know by now even more than in the 80's that governments are useless and would mishandle shit like this) leading to a seemingly contained outbreak, with a few kids looking for answers and fighting for survival... age old tale, yes?
Basically, Vs. the Dead is a zombie movie. Is that a genre especially dear to you, and your favourite zombie movies? And whast kind of zombies do you personally prefer (classic voodoo zombies vs the flesh-eating variety, slow- vs fast-moving ones, ...)?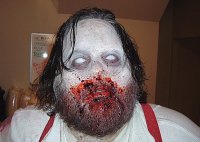 Phil: I became a real fan of the genre when I first saw Dawn of the Dead when I was 16. Then a friend of mine gave me an uncut copy of Day of the Dead. That's when I started paying attention to the director of these films and realizing that there was a whole entire sub-genre of zombie specific movies. I had been enthralled with the Friday the 13th-, Nightmare on Elm Street-, and of course the Texas Chainsaw- series of films (TCM being my all time favorite movie) that I had never explored the George Romero- and Lucio Fulci-classics sitting right next to everything else I was renting [Lucio Fulci bio - click here]. Then of course, the zombie film that really kicked my love for the genre into high gear was Return of the Living Dead. It was the first time I found myself laughing at a horror film while still receiving copious amounts of gore and a kick ass soundtrack to boot!
Jeff: Personally, I was a bigger fan of the slasher genre, even great exploitation sleaze flicks before zombies... but I found ourselves writing about zombies, as it has a far greater connection to society and politics... social dilemmas, far easier to make fun of, too.
What were your main sources of inspiration when writing Vs. the Dead?
Phil: We definitely weren't trying to re-invent the wheel but at the same time, we wanted the root cause of the virus to be spread in a new and creative way. Jeff being a tattoo artist himself, we decided to tie that angle in to the storyline without it taking over the entire story. Also, a lot of the characters were loosely based off of our own friends (some of which unknowingly played themselves in the film) which made it easy to write.
Jeff: When we wrote it i would say there was no inspiration - well maybe the fact that I work in the tattoo industry and there are dirtbags everywhere, but it was written with nothing else in mind... shooting it, maybe we wanted a "return of"-feel... street trash, feel something dirty for sure.
You have written and directed Vs. the Dead as a joint effort. How easy/difficult was it to make this film with each other, how did you first meet, and how did you come to the conclusion you have to make a film together?
Phil: I met Jeff through my friend Curtis who had been tattooing me at the time. Curt was the drummer in Jeff's band HAYMAKER and was working at Jeff's tattoo shop SINKIN' INK. I forget exactly how it came up but I was getting tattooed at the time when we came up with an idea to shoot a short splatter flick over a weekend using my shitty MINI DV cam and a case of beer. I expressed that we might want to plan it out so that we don't waste any time, i.e. actually writing a script instead of winging it. So that's what we did. We spent many late nights travelling 20 mins outside of Hamilton to the 5th Wheel Truck Stop where we found all the inspiration needed to fuel the ideas behind Vs. the Dead.
However, our little idea suddenly blossomed into a 98 page script. Writing with Jeff was very easy. We both knew what we wanted in the story and found little confrontation on ideas. We were writing a script that he and I both enjoyed and that's all that mattered to us.
Jeff: I met Phil thru mutual friends, we talked about short films, did a few and then decided to jump right into a huge project, finding ourselves in over our heads for the most part... there was head butting, some verbal battles but once it started rolling it went alright I think, with the help of a ton of others too... it was one of the hardest things I have ever done, I mean I've done some big projects, like a 30 hour (in progress) tattoo, or a 12 hour painting, but something that takes 2 years to even get somewhere with, it was hard... we fought for this thing - no money , relying on actors who where not being paid, long days and nights - it was hard as fuck... learning experience, when we do the next flick it will be better, quicker and easier... I hope.
Your film is unique within the zombie genre inasmuch as your zombies only attack people who they hated when alive - now where did that idea come from?
Phil: Again, we weren't trying to pull the wool over anybodies eyes but we wanted to be unique in other ways. We wanted to create a purpose for the attacks and take away the randomness that is derivative in most zombie films.
Jeff: For me it was a break down of life, I got into punkrock when I was 14, had a mohawk, studded jacket, boots... now this was before bullshit stores like Hot Topic, or bands like Blink 182, it was quickly appearent to me that people hated me... just cause I looked like a goof, so I hated them, and we hated other people for the way they looked (mods), they hated us, skins hated them... there was this defined line of hatred that I grew up in and fought about and lived with.... so the idea of zombies attacking only people they truly had deep rooted hatred for, the one thing they remembered... it was a no-brainer (no pun intended).
What's unusual for a zombie film is that your movie is carried by a bunch of strong characters. Would you like to elaborate on that?
Jeff: Not sure I understand exactly what you mean... when we wrote the script the "friends" were more like a group of kids you would have hung out with growing up, the nice kid, the quite one, the asshole, and the responsible one... that's the chemistry for almost every childhood "klan" I ever knew of. Kind of had that in mind when writing it, almost a Monster Squad all grown up.....
A few words about your principal cast?
Phil: I can't say enough about everyone in the film. We had NO money, yet everyone still came out and still put 150% into it (well, mostly everyone). Everyone was having a blast shooting Vs. the Dead and that is what the project was all about, having fun without the typical movie set politics.
Jeff: Really good people, we were lucky enough to have full-hearted awesome people involved, this movie was on the verge of never seeing the light of day, but knowing how hard the cast all worked it made us, well, mostly Phil, keep on pushing... till someone believed it was worth it., we owed it to everyone, not just the principal cast, involved to have this out there...
Stupid question alert: Jeff, you are a tattoo artist - so how high is the level of realism in the film's depiction of the filthy tattooist? And as a tattooist, have you ever thought about spreading a zombie virus? (Told you it's gonna be a stupid question.)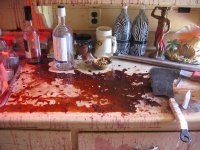 Jeff: Hahaha, well of course Scratchy Dan is a little extreme when it comes to "scratchers" (what we in the industry refer to basement tattooers or kitchen wizards), but of course I have seen my share of people very close to Scratchy Dan's type... I think there have been times we thought about creating a virus thru pigment for those special type, the tapout boneheads, dudes that bring shitty printed photos of "The Rock" for reference - some kind of problem solving plague that would end the questions "does it hurt?", "My buddy says he knows someone who'd do it for 20 bucks!" and "Have you ever done this design before?" (referring to Zhe Rock's tattoo) or even the inevitable "Why are tattoos so expensive?" Yeah, we'd create a virus for those types if we knew it wouldn't affect the rest of us out there.
A few words about the film's central conflict, punks versus jocks - and whose side are you on?
Phil: I'm not going to lie. I played high school football myself, however, I never correlated with the "BRADSTERS" of my team. I had zero interest in becoming part of the biggest dickhead clan in the city. I definitely side with the punks, although I never considered myself either.
Jeff: Punkjocks.
Phil, a few words about your production company, Nictophobia Films?
Phil: Nictophobia Films was started with my friend and fellow filmmaker Christopher Harrison [Christopher Harrison interview - click here] in 2009. We had both worked with each other over the past 12 years on several different projects including his first feature which I produced in 1998.
How did you get into filmmaking in the first place, and did you ever receive any formal education on the subject?
Phil: I've always been a fan of filmmaking ever since I was a kid. And yes, as cliché as this sounds, I too had a video camera given to me as a young boy and made schlocky films with friends using ketchup as blood... yadda yadda. I did go to film school here in Ontario. First I attended Sheridan College for illustration/graphic design then I enrolled in the Film and TV program at Niagara College here in Ontario. In fact, my roommate and good friend Andrew Coutts was the editor of the last 2 installments of the Saw-series and edited the highly anticipated film The Day. Nictophobia Films' first project, The Man Who Loved Flowers (Stephen King short) was also edited by Andrew.
Any future projects, both independently and with each other?
Phil: We (Nictophobia Films) have just finished a film called Devil's Night starring Danielle Harris (Halloween 4 & 5, Hatchet 2) and Shawn Roberts (Diary of the Dead, Land of the Dead, Resident Evil 3D), which we are promoting at this years Rue Morgue Festival of Fear in Toronto, On. Danielle Harris will be in attendance with us signing autographs. Chris directed and I edited the project. Chris has also written a feature horror/thriller entitled The Mummers. It's currently in the hands of some high profile producers and agents. We're hoping to be in pre-production on this project in the fall/winter this year. Chris and I are also producing a stage adaptation of Night of the Living Dead in Toronto (currently in pre-production). Jeff and I have always talked about writing another project together and possibly someday we will. Vs. the Dead 2 perhaps.
Jeff: I feed my family by tattooing people, it's all I know, so film making, especially after realizing what goes into it, will be a pastime. Right now I have no time to pass, so hopefully one day I would love to do something else, I've been taunting phil to do a slasher flick... or a coming of age/aggressive skate punk movie... would love to do that too.
Directors who inspire you?
Phil: John Carpenter, George A. Romero, David Lynch, Don Coscarelli, Tobe Hooper, George Lucas.
Jeff: Carpenter. Carpenter and John Carpenter... Oh, and that Raimi fellow.
Your favourite movies?
Phil: The Texas Chainsaw Massacre 1 & 2 (Tobe Hooper), The Thing, Return of the Living Dead, Dawn of the Dead, Eraserhead, Halloween, Phantasm, Poltergeist, Planet Terror, Creature from the Black Lagoon, Night of the Living Dead, Warriors, Escape From New York, Star Wars-Trilogy.
Jeff: Big Lebowski, Fast Times at Ridgemont High, Friday the 13th Part 3, Creature from the Black Lagoon, H.G, Wells - The Invisible Man.
... and of course, films you really deplore?

Feeling lucky ?
Want to
search
any of my partnershops yourself
for more, better results ?

The links below
will take you
just there!!!

Find Phil Pattison
at the amazons ...

amazon.com

amazon.co.uk

amazon.de
Looking for imports ?
Find Phil Pattison here ...
Something naughty ?
(Must be over 18 to go there !)

Phil: The Rocky Horror Picture Show … let's be frank: all musicals suck! But this one takes the cake. Twilight (for the record, never saw any of them… the commercials were enough of a turn-off for me). Shitty remakes, like TCM and Rob Zombies Halloween 1 and 2. I could go on but this could take forever.
Jeff: I don't want to sound like a typical cynic here but I truly with all my heart despise almost every remake over the last 10 years, the Friday the 13th-remake is such a huge pile of shit, along with the Texas Chainsaw remakes, they look good, then it becomes this failed MTV-turd, and you think it's gonna get better, then they get worse, and when you watch it again for whatever stupid reason you would do that, the second time it becomes clear a lot quicker of how truly shitty these movies are... no humour, no clue of nostalgia, stupid fucking date raping underwear models trying to act like they're being graded in some whacky high school drama class, these movies that Micheal Bay backs are the cancer of cinema... how many more pieces of shit-wrapped-in-money-remakes are they gonna throw at us???? Imagine these cocksuckers like Micheal Bay said, "Hey I have a bag of money here, let's find a starving dark script, a equally poor, hungry director, an ugly cast of decent actors and make a fucking good movie for 1 tenth the cost of what it cost to feed the shit heads in Transformers"... What do you think would happen? Something better than anything we've been forced to see over the last decade.
Your website, Facebook, whatever else?
Phil: www.nictophobiafilms.com
(we is broke ass filmmakers but a Vs. the Dead site is currently being developed)
Jeff: No website, well... sinkin-ink.com, that's my studio, and that's all I got.
Thanks for the interview and the interest in this project. All the best!
Thanks for the interview!