Your upcoming movie Helen Keller Had a Pitbull - in a few words, what is it about, and what can you tell us about your character?
The movie deals with a Hollywood scammer who tries to basically crush the main character's name in the industry by writing ripoff reports about him. Also the main character and his girlfriend decide to move to Los Angeles for his girlfriend to achieve her dream of becoming an actress, and her last dying wish is to have a Pitbull, so as her boyfriend is succeeding in his career he learns and develops a liking for this type of breed of dog as well. My character was one of the main interns in the movie, who had a "Stiffler" type of character about him. He was more concerned with status then getting actual work done, and had some attitude.
What did you draw upon to bring your character to life, and how much of yourself will we be able to find in your character?
My character I felt I brought into it was an arrogance to himself and very ignorant type of attitude. He at the same time wasn't very well educated about what was going on, and perhaps a little short on his memory, therefore leading him to ask many questions, but with an attitude still like he is the man. I would say the short term memory part and me being hard-headed are the two things you can find about me in real life that are in my character, because when I set my mind to things I very strongly believe in, I keep those beliefs to me and not an opinion will change that thought, which is why I very rarely like to debate ideas on touchy subjects. I have a very bad short term memory as well. If someone tells me their name I end up having to ask them three more times before its locked in my memory.
How did you get involved with the project in the first place, what drew you to it - and seriously, what were your first thoughts when you heard the title Helen Keller Had a Pitbull?
I was honestly skeptical about it at first because I have never even met this guy in person and he told me over e-mail that to be in his movie I just had to donate a certain amount of money. Eventually I looked him up over social-networking and I knew before I met him I could trust him and believed him. Sure enough, I was right about my instincts and intuition as usual. My thoughts when I heard the title is that it would be about well, Helen Keller and a Pitbull, but in reality Helen Keller had nothing to do with the film.
What can you tell us about your director Josh Mitchell [Josh Mitchell interview - click here], and what was your collaboration like?
He is definitely going somewhere, not that he already isn't doing well for himself in the amount of time he's been in Los Angeles, but he is a goal-oriented determined monster and definitely keeps his word with you. I haven't had one person that has done so much for me in so little time, and also keeps everything real with me when he's speaking. He tells me what I need to hear, not what I want to hear about the industry. Of course I have also a very strong friendship with Josh, definitely one of the most positive, down-to-earth, generous, and truthful people I have ever met, which is why I get along with him so well. He is the man and if anyone wants their career to be in the right hands, Josh Mitchell is your guy. Meeting him in my eyes was the universe responding and destiny.
Your role has a comedic side to it - so how do you identify with the movie's brand of humour, and do you consider yourself a funny person in private life?
Like I was saying about my character earlier, he is basically a "Stiffler" type of character. He is cocky, arrogant, ignorant, and likes to party. Just your typical young jock college student who is considered a jackass and thinks everyone likes him.
Also, Helen Keller Had a Pitbull is a tale about Hollywood itself - so did any of its story sound familiar to you?
Yes. This is Hollywood baby, nobody said it was easy to get where you want to go but in this industry you've gotta stay on your feet and be aware of your surroundings. It seems like half of Hollywood is an illusion and deceiving people who actually make a living ripping you off and destroying your name. That's what makes me driven even more is when people find this dream unattainable, haters, and people believing I can't do it, just make me want to work twenty times harder. I've had some difficult experiences dealing with people, but what can you do other than making more wise decisions and keeping that fighter's spirit.
Please do talk about the actual shoot and the on-set atmosphere for a bit!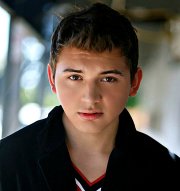 It was a very fun project that was filmed. By far one of the best experiences I've had on set with everybody just being light and getting along with the cast and crew for the most part. It was dynamic and awesome scenery for the shoot that we took. Definitely was spot on about everything the crew wanted. We shot in the director's house for scenes of his home life. A couple that were down the street from his house in the neighborhood that had really beautiful lighting and colors that enlightened the film. By far my favorite scene was the area where I got most of my shooting done and that's not the reason I loved it but because it was on the top floor of a business building with an amazingly beautiful office that was breathtaking. I wanted to live up there and never leave it was perfect place for the main character to show off as his office. I will never forget just stepping outside and looking over some of the city while dreaming like the world was mine.
Any future projects beyond Helen Keller Had a Pitbull you'd like to share?
Nothing planned, I had a commercial that my hopes are up and fingers crossed for, but nothing that I have presently set in motion yet, but I know that there will be definitely more great things for me to work on this year.
What got you into acting in the first place, and did you receive any kind of formal training on the subject?
I started acting when I was 19, which was when I moved out to Los Angeles, no experience whatsoever. I just went for it because it has been my dream my whole life, and got introduced to my acting coach (Steve Scott) who trained me privately and has helped me advance my talents in big ways and the right ways, and I was introduced by my good friend and manager (David Voogd). My goal is to become Hollywood's next big action movie star as well as play many other diverse roles that challenge me to become the best I can be in this endeavor.
Can you still remember your first time in front of a movie/TV camera, and what was that experience like?
The first time I got in front of camera was when I first got the bug and knew that for sure this is what I wanted to do with my life, that I have a purpose, and a destiny to fulfill. I've become much more aware of who I am as a person and love the imaginative realm around acting on how you become a different character, but at the same time relate to experiences you've had. I remember calling up my acting coach and being overly elated about being on set, saying "This is what I want to do man! I love this, it was the greatest experience I've ever had!". He laughed and replied: "That's great man! You got that bug! I'm happy for you bro, that's great!"
What can you tell us about your filmwork prior to Helen Keller Had a Pitbull?
I've done a few commercials and short projects on my own, but other than really just background work on television shows, my career is still young within two years of time and I know that I will have much more to offer the world with my talent, and the right projects will come through.
How would you describe yourself as an actor, and some of your techniques to bring your characters to life?
It really comes natural for me to just be able to read something that has been brought completely new to my attention with no practice, and I just usually get most of how it is supposed to be said, what the character means, and why he is making those choices. After the first part I like to analyze it even more, reading between the lines as well as getting my facial expressions and voice on spot with not only the script but making it realistic for the viewer in a way they can relate to. A lot of staring at myself is how I usually get a visual of the character as well as envisioning this guy in my head with my appearance and how he is responding as if it were actually happening, I like to make everything seem as real as possible and put myself in that situation, which I guess most people call method acting. Before any training I like to stretch out my face muscles as well as my body though to get loose and ready for portraying a character.
Actors (or indeed actresses) who inspire you?
Robert Downey jr, easily hands down. He has been to hell and back in his career (narcotics, jail, etc.) while still maintaining to have the biggest comeback once he hit the lead role in Iron Man, and he's bigger than he ever was during his prime. Not only for those reasons but he is so diverse with the characters he plays. If I were to mention any others I would say Jason Statham because he does his own stunts in his action movies, and that takes guts. Christian Bale would be another because of how much he commits to a role from seeing The Machinist and The Dark Knight, the weight change was drastic in such a small amount of time. He is definitely a method actor as well. Those three would have to be my most admired actors.
Your favourite movies?

Feeling lucky ?
Want to
search
any of my partnershops yourself
for more, better results ?

The links below
will take you
just there!!!

Find Paxton Marosok
at the amazons ...

amazon.com

amazon.co.uk

amazon.de
Looking for imports ?
Find Paxton Marosok here ...
Something naughty ?
(Must be over 18 to go there !)

Always a tough question. Movies for me is like music, depends on the time of the year. My list: Limitless, Scarface, The Dark Knight, Silver Linings Playbook, Van Helsing, Public Enemies, Blow, Goodfellas, and Pursuit of Happiness.
... and of course, films you really deplored?
Anything to do with Harry Potter and Twilight.
Your website, Facebook, whatever else?
www.facebook.com/paxtonmarosok
https://twitter.com/PaxtonMarosok
Anything else you are dying to mention and I have merely forgotten to ask?
Fun Fact: My dream role is to play a werewolf in a feature film.
Thanks for the interview!