You have only recently made your live show Werewolves, Cheerleaders & Chainsaws (or rather a filmed version of it) available on the internet. So do tell us a little bit about the show, and where to watch it!
We've been doing live shows and talks for the last couple of years, usually at film festivals or whatever. This year was the first horror-on-sea festival in my home town on Southend in Essex, and we thought it'd be fun to film the talk and put it up as a freebie. It's really a thankyou for all the folks who've supported our stuff over the years. It's one hour of advice and anecdotes about filming horror with no bloody money. It's not really safe for work (bit of blood, nudity and swearing) and it's up at http://jinx.co.uk.
What inspired you to do the show in the first place?
I was asked by a festival to run a workshop about screenwriting about three years ago. The format for doing live things has kind of grown out of that. I enjoyed doing it, so we keep doing them wherever we're asked (so if you want us to do one at your festival feel free to get in touch via Twitter - @zcarstheme).
Werewolves, Cheerleaders & Chainsaws is chock-full of anecdotes - which are your some of favourite ones, and any anecdotes you'd care to share that didn't make it into the show?
Ah, man. Ten years of making tiny budget horror movies and getting them sold around the world leaves you with a *lot* of stories. As you say, there are quite a few in the show; the one at the end about my loft is one of my favourites and is absolutely true. If the show was twice the length I'd probably include the story about why not to use real meat in your blood and guts mix. I can still remember the stench even now.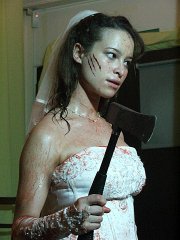 Hellbride
Let's do the impossible and sum up your show - so in no more than three phrases, what would be your advice to budding low budget horror filmmakers?
1) Treat everyone really, really nicely.
2) The script is the area where you've got more freedom than the big guys have. Use it.
3) Don't record an important scene onto a head-cleaner tape.
As even the title of your show suggests, you are deeply rooted in the horror genre. So what makes horror so appealing to you?
It's so amazingly versatile. I think of it as being the trump genre, because if you add elements of horror to a film that would otherwise be considered a completely different genre it suddenly becomes a horror film. Take our movie Hellbride; it's basically a romantic comedy. It's boy gets girl, boy loses girl, boy gets girl. Thing is, once you throw in a few eye-gougings and people getting their mouths stitched close, it suddenly becomes a horror movie! This means that writing "within" the genre is actually no such thing, since you can write in any damn genre you choose provided you throw in a few horror elements as applicable...
Let's turn the last question on its head: In general, how would you describe your approach to horror?
Ultimately, it varies from film to film. Some of my flicks are really just goofs; they aren't trying to scare people. Others have something pretty sinister beating in their dark hearts. I approach each movie as a completely clean slate, and the way that the scares or gory elements are dealt with will vary depending on the rest of the movie. I've only ever shot a couple of sequences that were actually trying to directly unnerve or freak the audience out, and that's something I'm moving towards rather than away from! I've got a script called House on the Witchpit (which I've been touting for years), which has got more pure scares in it than anything else I've ever written.
As far as I know, your next project is called Evil Apps - could you tell us a bit about that one, and when and where it might be filmed/released?
Odds are that we'll be shooting around November this year, although that's subject to change depending on the usual financial stuff. Provided we stick to that schedule, it should hit festivals around summer 2014 and DVD later that year. I've glibly called it a smartphone splatter film in a few places, which is actually selling the character side of things rather short. It's dark, sick, funny with a couple of big horror pay-offs. I love the script, and can't wait to bring it to life.
Any future projects beyond Evil Apps?
I suspect that Jim Eaves, Al Ronald and myself might reconvene at some point to do a third Death Tales movie (following on from Bordello Death Tales and Nazi Zombie Death Tales). They're just too much fun, and we work too well together, to leave it at two. Beyond that, I've got House on the Witchpit and Chainsaws Fairytale waiting in the wings for when we can put a production package that makes sense together.
Let's go back to the beginnings of your career - what got you into filmmaking in the first place, and did you receive any formal training on the subject?
Film has always been a huge part of my life, ever since I was lucky enough to get taken to the cinema regularly as a child. I ended up experimenting with Super 8 throughout my childhood and then persuading my parents to rent a camcorder from Radio Rentals ever so often throughout the 80s! I took Media and English at University, and cut my teeth as a runner on various shoots whilst working a succession of unfulfilling day jobs. We ended up deciding to shoot TrashHouse rather than buying a car when we had a few grand in the bank.
Your first movie as a director was, I believe, TrashHouse - do talk about that one for a bit, and lessons learned from it?
I've got a lot of happy memories from that movie, but God, I'd love to remake it now. We made quite a few mistakes in terms of getting the most from our budget, plus the way that technology has changed between then and now would allow that movie to look much, much slicker if shot today. As you say, it was my first film and I was eager to cram everything I thought was funny or interesting into it in case I never got the chance to shoot another one! So in went chainsaws, zombies, heavy artillery, retro outfits, a black & white sequence, fart jokes...
There are a million criticisms you could make of that flick, but nobody could say it wasn't ambitious enough! The cast and crew were lovely, the warehouse was freezing cold and the sets were really well built and then awfully decorated (because I didn't give the crew enough time or budget to dress them properly). It looks dead cheap, but I can't watch it without smiling.
Please do talk about your subsequent films Hellbride, KillerKiller and The Devil's Music, and about your evolution as a director?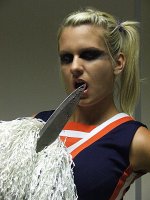 KillerKiller
Hellbride and KillerKiller were shot back-to-back over the summer of 2006. Hellbride was incredibly good fun, and KillerKiller felt like a huge leap forward in terms of the way the movie looked and the things we were able to achieve. In Werewolves, Cheerleaders & Chainsaws I talk a little bit about how the finances of the double-shoot made more sense than shooting them a few months apart. It was an insanely busy time, and I loved it.
We shot The Devil's Music the following year with the few quid we had left in the kitty after the double-shoot, and it somehow ended up being probably our best movie. It was the one where we really made our limitations work for us rather than against us, plus it was the first one where I fully stepped away from the producer role and my wife Pippa took over. She's a much better producer than I am, and it meant that we got a hell of a lot more bang for our buck.
What can you tell us about the Death Tales-series, about your partners-in-crime on this one, and how did this ongoing project as such come together in the first place?
James Eaves [James Eaves interview - click here] and his wife Laura were expecting their first child. He wanted to shoot another project before the baby arrived, but knew that a feature would be too ambitious and that a short would likely be a commercial dead-end. He approached me about doing an old-school anthology instead. I brought Al Ronald on board and the whole thing came together insanely easily. That first one, Bordello Death Tales, was a really tight shoot in terms of budget and schedule yet I think it turned out really well; we picked up great reviews, and it ended up getting a lovely UK release courtesy of the fine folks at Safecracker Pictures. They were instrumental in suggesting the scheduling and content of the sequel, which was shot as Battlefield Death Tales but ended up being released as Nazi Zombie Death Tales (partly because supermarkets seemed to prefer that title!). If I thought the schedule on the first one was crazy, Nazi Zombie Death Tales was even more so. It was suggested in October 2011, written in November, shot December/January and was out on DVD summer 2012. Madness! Brilliant, brilliant fun though.
A few words about Strippers vs Werewolves?
It's all over, and I'm very glad that I never have to think about it again.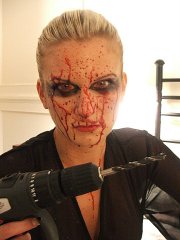 KillerKiller
You've been an indie horror director for about 10 years now - what keeps you going, and how did the business change over this time?
It's changing so much and so rapidly it's hard to keep up. Companies who seemed like permanent fixtures are folding weekly. Entire distribution methods pop up and disappear seemingly overnight. It's incredibly hard to anticipate what's around the corner, and to stay in the game you have to work incredibly hard. I keep going because I genuinely love it. Writing, shooting, post-production... Even talking about it in front of groups of people like in the live show. I love it. I think if I didn't, I'd have bailed out long ago. There's just so much product out there now, so many tiny budget movies crying out for attention. Loads of them are really damn good, too, so the marketplace is horribly crowded. I was so lucky to get a couple of movies out worldwide before digital technology enabled pretty much anyone to go shoot a movie; I've often thought that if I'd made TrashHouse in 2009 rather than 2004 I'd never have got it noticed or released, and my career would have stalled before it even started.
How would you describe yourself as a director?
I firmly believe in knowing and acknowledging your strengths and weaknesses. As a director, I'd very much say that I'm still learning. Hopefully I get better each time. I pick up new tricks, I gain confidence, but I'm still a guy who can make mistakes behind the camera and then spend months in post-production trying to cover them up. Screenwriting, on the other hand, I'm pretty confident in my abilities. Sit me in front of a blank piece of paper, and I'm generally a safe pair of hands.
Filmmakers who inspire you?
All the guys who just decided to go and do it themselves, from Sam Raimi to Peter Jackson to Kevin Smith, are the ones who made me realise that I could have a crack at doing this myself. Without them having blazed the trail, there's no way that guys like me would be doing anything other than sending off millions of CVs and then being broken-hearted that we never made it in the industry.
Your favourite movies?

Feeling lucky ?
Want to
search
any of my partnershops yourself
for more, better results ?

The links below
will take you
just there!!!

Find Pat Higgins
at the amazons ...

amazon.com

amazon.co.uk

amazon.de
Looking for imports ?
Find Pat Higgins here ...
Something naughty ?
(Must be over 18 to go there !)

My favourite horror is The Shining, followed closely by Carpenter's Halloween and Robert Wise's The Haunting. In broader terms, the film I've watched most times is Gremlins. It's just the perfect blend of horror and comedy, and anyone who has seen my chapter of Nazi Zombie Death Tales will notice the influence seeping in.
... and of course, films you really deplore?
I try to keep things positive. The world's got too much hate in it, and I like to keep things upbeat. No matter how flawed a film is, it still means something important to someone somewhere. I try and remember that and - Oh, sod it. The Nightmare on Elm Street-remake is an appalling piece of shit.
Your website, Facebook, whatever else?
Point your browsers towards http://jinx.co.uk for all sorts of stuff about our movies. Our Facebook is at http://facebook.com/jinxmedia and my Twitter handle is @zcarstheme.
Anything else you are dying to mention and I have merely forgotten to ask?
I'd like to repeat that #1 piece of advice about treating everyone really nicely. The world is a better and finer place if you treat cast and crew like gold dust, and what goes around comes around. You look out for people, they'll look out for you. Be excellent to each other, and go make some cool movies.
Thanks for the interview!