Your upcoming movie Beauty Secrets - in a few words, what's it going to be about?
Fifty six year old Amanda Gray is the spokesperson for Frank Stein Industries. She's known as FSI's human Guinea pig for their Body Restructuring process and their Bio-Rejuvenation process, which cured her of crippling arthritis and shaved decades from her appearance. But now she's suffering what may be fatal reaction from the process, at a time when FSI is about to get approval from the FDA. So the question is how will FSI handle the possibility of a PR nightmare at this very crucial time.
As far as I know, while a stand-alone movie, Beauty Secrets is also a spin-off of Epitaph: Bread and Salt - please explain how these films are connected! And other sources of inspiration when dreaming up Beauty Secrets?
It's her story, but it's really an FSI story. When I originally mentioned the project to Deann Baker [Deann Baker interview - click here], it was right around the time we were wrapping Epitaph. She was skeptical, she asked, "You're going to make a movie about her?" I could understand the doubt. Her character was a last minute addition and I don't think she could really fathom a whole film based around a character that only appears in two 30 second commercials and hadn't even appeared in the comics, but if you look at it as a whole it's makes sense as a stand alone story.
In the Epitaph movies and comic series, Frank Stein Industries hovers in the background. It's the four ton elephant in the room. When Cassie is killed by RipperJack, it's FSI that gets the body. Then later it's unmarked FSI agents who dump her body after a reanimation experiment gone awry turned her to Zombie Girl.
In Amanda's first commercial (seen on Victor's TV before he goes out) it states FSI is "treating" the food, air and water. We're also told one of the major partners with FSI is Alucard Industries. The movie ends with another commercial starring Amanda. We learn that Amanda is actually 56 and it's an ad for the BodRes process. Also in the after credits Easter Egg, Lady Bathory is feeding on a victim in Amanda's bathroom. That's a lot in the movie itself.
In the Victor Locke: Demon Hunter #0 comic we see Alucard and Bathory have relocated to Chicago. And in Abiding Lilith issue Alpha there's an implication that "monsters" are "working" for FSI, so it's building up to something.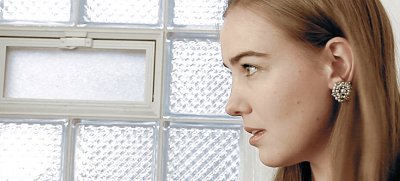 As for inspiration the whole Night Phoenix Press/Epitaph-universe is kind of an amalgamation of ideas from classic literature and movies. Amanda's full name is Amanda Gray, which is a nod to Dorian Gray. Frank Stein Industries was originally funded by Lord Byron to perpetuate the research being done by Dr. Frankenstein and Mary Shelly, who was his assistant and helped create Adam "Frankenstein", their first monster. The journals became the basis for the story we know as Frankenstein. Dr. Frank Stein is actually Dr. Eric Frankenstein, a descendant of the original Dr. Frankenstein. Adam may or may not still be alive. Zombie Girl is technically a Frankenstein monster. And there's a private military firm that works with FSI called Byron Tactical still ran by members of Lord Byron's family. Not to mention Alucard and all. So there's a lot of that in my work.
What can you tell us about your movie's intended look and feel?
It's going to look like Crisis Function, but cooler tones maybe. I really liked the Crisis Function look, especially that opening scene was my favorite. It was shot at night, with the snow reflecting the street light which made for great natural lighting and added a lot of production value to the scene. It had that indie feel from the early 2000 era, like Hyoguchi's movie First Last and Deposit or better yet Tim McCann's Revolution #9, which if you watch those, you maybe be able to see the influences on the story elements and shooting styles. I watched a lot of IFC at that time and I was taking in films like that, I'm one of those people who were excited about Vanilla Sky because I had already seen Abre Los Ojos. Taking all that in, aside from El Mariachi there still wasn't a lot of low budget indie action movies that told a great story.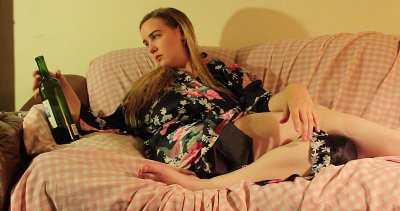 Since this one will be shot in one day, I'll be using some of the same techniques I used on Crisis Function, shooting on the T3i as the main camera, but taking full advantage of both mini cams, and go back using the iPad and iOgrapher for tracking shots. Again we're going to reuse some of the locations from The Perfect Letter.
Your leading lady Deann Baker [Deann Baker interview - click here] - what can you tell us about her, and what makes her perfect for the role?
I saw Deann on Facebook doing a project and as it turned out she was yet another friend of Heather Dorff [Heather Dorff interview - click here], who played Loren in Epitaph. Heather introduced me to Deann personally at one of her Rock Band Parties. Deann is a classic blonde bombshell, with the hair and the curves and the whole nine. She was perfect for the role, kind of like a younger January Jones or Christina Hendricks. I also like how she can project that look of dangerous beauty, like at the end of Epitaph, when she throws that look back at the camera, not to mention how she does the Amanda voice, that slow precise and kind of creepy thing.
What can you tell us about the rest of your cast, and why exactly these people?
Tommy Nowicki took over the role of Bobby in The Perfect Letter and Shawn Jolly played the demon leader in the last fight in Epitaph. I cast them both as Frank Stein Industries agents. We had Dora Santillan Hulihan who played Nurse Dianne in Crisis Function. I brought her on board, as Katrin Mercî, a doctor and scientist from FSI's Resurrection Sciences division, but she had a family emergency the day of the shoot, so we had Tommy play Dr. Mercî and changed the character's name since since most of the FSI staff have yet to be seen in the comic. We also grabbed up Christian Creasy last minute, (also from Epitaph and Crisis Function) to play the second agent with Shawn last minute.
You will probably remember the lovely Tiffany Christine is from Epitaph and she is reprising her role as Igora Fritz.
Rich Edward is a new guy. He was cast as Lucas, Amanda's lover. He's got that look I wanted for the character, at least we can easily transform him, and for his audition he did a monologue from Ferris Bueller, so yea, he got the role.
As far as I know, you shot Beauty Secrets in a single day - why is that, and where are the challenges but maybe also advantages?
After we shot Crisis Function I wanted further explore how far I could push production speeds while retaining quality. I want to experiment with a combination of real time and basic shooting and if I can do it on these smaller films I'm hoping it will help me speed up the process on my bigger films while keeping quality intact.
These kinds of films have to be planned a little more, whereas you have to know the specific shots you want to get, then you have to use the environment around you. My first ten minutes were completely scripted. From there it was up in the air. But almost nothing went right.
There was a miscommunication with some of the actors who thought it was a short because the script's page count so they had previous engagements, but hadn't told me, so scenes couldn't be shot as previously planned. Deann [Deann Baker interview - click here] was a trooper though and stayed until early morning shooting the thing. I had it planned out to be a huge real time chase scene in Downtown Chicago.
The main advantage is the ability to turn out product faster. As a YouTube producer the game isn't the same as doing feature film for distribution. You have to create more with less. Projects like Beauty Secrets or Crisis Function will be the norm while major projects like Epitaph and Wages of Sin will still be done, but in a fraction of the time and cost, but maintain the same or higher standard. The new Wages of Sin film will use many of the techniques used in Crisis Function and Beauty Secrets, and then the real test is the Victor Locke movie.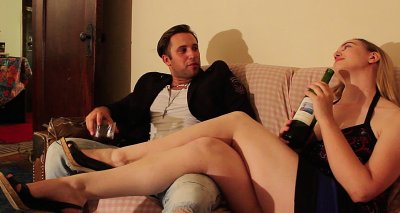 I know this is possible because I had Crisis Function almost fully edited by the time we shot pick up and all I needed to do was drop in the pick up shots, add music, then do a final cut. But I messed up and didn't follow my own editing advice. Somehow I started editing directly to an "Event" timeline without actually creating a project file, so one day I had a crash and I lost the whole thing. First time I've ever lost a whole project. But I had a whole new edit by the next week. It worked out because when I started the re-edit I knew the complete story from the original edit I started playing around with a nonlinear version. While the original had some non-linear bits, the new edit told the whole story in a non-linear way.
When did you actually shoot, and any idea when and where you might want to release the movie onto the general public yet?
We shot the movie Saturday, July the 12th, hope to have it released by the end of July.
Any future projects beyond Beauty Secrets you'd like to share?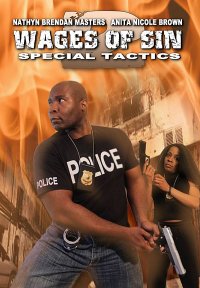 Feeling lucky ?
Want to
search
any of my partnershops yourself
for more, better results ?

The links below
will take you
just there!!!

Find Nathyn Masters
at the amazons ...

amazon.com

amazon.co.uk

amazon.de
Looking for imports ?
Find Nathyn Masters here ...
Something naughty ?
(Must be over 18 to go there !)

Wages of Sin 2: Special Tactics (https://www.facebook.com/wos2spectactics) is next starring myself and Anita Nicole Brown [Anita Nicole Brown interview - click here] as the new cop on the block, Heather Dorff [Heather Dorff interview - click here] is the new Mona Lisa, and we'll be working with Shavar Clark and Kevin LaRose again. Last time we saw this cast together was in Epitaph: Bread and Salt. And I'm working on getting Yohanni Liman, another Epitaph alum and also want to cast Meiling Jin from Crisis Function to take over the Katherine and Laura Hokkaido roles and maybe, if her time permits, you may be seeing Deann again too. I've also added Rebecca VanSickle from The Perfect Letter to the cast as a Special Tactics cop.
Speaking of The Perfect Letter, it's on hold until winter and I may be making a character switch, something I should've done earlier because it makes more sense.
And hopefully next year, we can do Victor Locke: Demon Hunter, the big Epitaph sequel and hopefully you'll see a lot of the cast from the original come back and some new faces and maybe some surprises.
Your/your movie's website, Facebook, whatever else?
The movie's page is on Facebook: https://www.facebook.com/herbeautysecret and our website, as always, is http://www.timecodemechanics.com and readers can follow me on my Facebook at https://www.facebook.com/nathynbrendanmasters or Twitter @nathynmasters to keep up with us.
Anything else you are dying to mention and I have merely forgotten to ask?
Crisis Function, my last movie, has broken the 70,000 view mark on YouTube and the TimeCode Mechanics YouTube page has officially gotten over a million views, so they can check that out at https://www.youtube.com/TimeCodeMechanics, which is where Beauty Secrets will also be uploaded.
Thanks for the interview!
Thanks for having me. Always a pleasure.