Your new movie A Man Called Nereus - in a few words, what is it about?
It is about parallel universes and a man who has the ability to manipulate them.
How did the project come into being in the first place?
Before this project I had already written numerous full length screenplays but they all required healthy budgets and a high profile names. When I write like many writers often do I imagine a specific actor in the role. So what I did was look around at what I had in terms of talent. I watched, met and corresponded with the majority of them in order to get a bearing on who they were. I had already formulated the story in my head and thought it could be done with all the resources in front of me. I just then started writing because without the blueprint no one was going to fund it.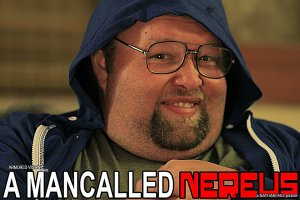 David C. Hayes
Having an autisitic person as one of your protagonists - now where did that idea come from? And other sources of inspiration when writing A Man Called Nereus?
The idea for A Man Called Nereus came from a dear childhood friend that I have always kept in touch with over the years. He had a handicapped child when he was first starting his family. I was amazed by his resolve and willingness to embrace the challenge because in his youth he was quite the rebellious type. The relationship that he experienced with this child enlightened him in so many ways and aided in turning him into a wonderful human being. As I witnessed this transformation it dawned on me that perhaps the handicapped child is the one watching over us, enlightening us. From that moment Nereus was born. At the time I was in need of a name so I researched and found "Nereus" - The Old Man of the Sea. He was a prophetic Titan Shape-shifter, perfect!
In A Man Called Nereus, you mix genres quite heavily - so do talk about your rather unique genre blend for a bit, and did you ever have the feeling you might be going too far in that respect?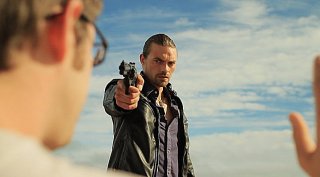 Seth Gandrud
With this script I felt an organic approach was necessary, being that a strict blueprint was not possible due to our budget and logistics. When you make a nano-budget you have to be able to adapt as a writer and re-invent. The first time I had to do this I thought the world had ended but I had no choice but to sit down a re-write a scene because the Caboose out in the woods is now going for 500 instead of the agreed upon 150. In retrospect the script and the movie are a lot different because of so many elements that nano-budgets face in production. It is truly guerilla in so many ways due to the obstacles we have to overcome.
My intent in the beginning was not to mix the genres so heavily, more sci-fi if anything is what I set out to do. My talent pool was very specific so I had to tailor my characters to their strengths. As I wrote I could see what was unfolding and decided to run with it. I also figured we had nothing to lose, some of my favorite flicks are genre smashers. The characters had a lot to do with the merging of genres. Joe Ricci on screen is so good at what he does. His character has so much presence but he isn't going to be a hick Sheriff or a Neuro Surgeon, He's a gangster through and through. Once again the talent has a lot of influence at this level so you have to adapt. In the first few days of filming the comedic elements were growing and had to be embraced. I thought when writing it would have a quirky tone but it evolved into more dark humor.
What can you tell us about your directorial approach to your story at hand?
Once the script was finished I met with the main cast except for Orchid Tao and we discussed the characters and story. They then went home and read the script and we had another one-on-one meeting to discuss their specific characters. When the main cast arrived on set we were pretty much on the same page. My approach is more of a personal one. I really enjoy meeting with and hanging out with the actor it allows us to come to a better understanding of one another. On set, it depends; sometimes I can act like a football coach during action sequences and not give the actor time to overthink the moment while on the other hand we can sit under a tree and talk philosophy and then by the end of the night I will be have some beers with my crew. My method is simple, I just try to be myself and open the lines of communication the best way I can. You never know who might have an insight that strengthens the picture.
Do talk about your cast, and why exactly these people?
Arizona has a lot of local talent that is so overlooked in the industry. Maybe it's our national image due to our deranged politics and the states politicians' clear disregard for the filming industry… Excuse me, it's a touchy subject… The talent here is diverse and is getting better every day.
Seth Gandrud is someone I always wanted to cast, I mean look at the mug. It's Dafoe meets Van Damme. Seth is a natural athlete and can handle action very well. He also has a great work ethic. He is never late, knows his lines and is drama free.
David C. Hayes [David C. Hayes interview - click here] is another consummate professional. I had met him before, seen some of his movies and had always wanted to work with him. I thought if anybody would be game to take on Nereus it would be him, he has no fear.
Orchid Tao was a little different. She came over one day with Seth as I was writing the ending and they looked to so cute together that I felt I had to ride their wave of love. I asked her if she acted and she said, "yes". We all hung out and by the end of the night I was convinced she would work. I offered her the part and she accepted.
Most of the other talent I had known previously from other projects where I had worked as a producer or cinematographer, so I developed parts for them as I wrote the script. One character, "Che", played by Sam Willette was a high school friend. He does eighty percent of the stunts and rigged all of the gunshots with producer Keith Wilson. Unfortunately he passed away after the shooting of the picture. The movie is dedicated Sam.
What can you tell us about the shoot as such, and the on-set atmosphere?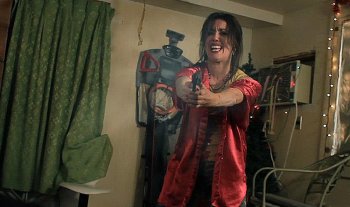 Gloria Jean Robertson
The core of Armored Vison: Keith Wilson, Lisa Wilson, Drew Pekke, Alexander Bain, Asia Flood and myself are real close, so it's only natural that whoever is on set with us seems to get sucked in. We like to keep a family-feel to the set. The first period of shooting took place in Baja California, Mexico. Majority of the cast went on this shoot for a week. So we were able to really get to know one another and bond, thus making the rest of the strenuous schedule more enjoyable. Believe me the tensions were high amongst the producers because for many of us it was our first feature with so many locations, characters, which cause a logistic nightmare, and our limited budget that we had to squeeze for every ounce.
A few words about critical and audience reception of A Man Called Nereus so far?
At the 2012 Phoenix Comicon, A Man Called Nereus was awarded BEST CHARACTERS in a film. Now that it is out for the masses and no longer languishing in the desert we have found fans all across the world who love the ride and are calling for the much intended sequel.
Any future projects you'd like to share?

Feeling lucky ?
Want to
search
any of my partnershops yourself
for more, better results ?

The links below
will take you
just there!!!

Find Nathan Hill (II)
at the amazons ...

amazon.com

amazon.co.uk

amazon.de
Looking for imports ?
Find Nathan Hill (II) here ...
Something naughty ?
(Must be over 18 to go there !)

Since A Man Called Nereus I have completed three new scripts and we are in the works of producing them back to back. The first one, Hades Awaits, is a Western fable, and 3echoes is about a love-triangle that transpires through three life times and I can definitely guarantee this one smashes genres.
What got you into filmmaking in the first place, and did you receive any formal education on the subject?
I have always known I would be a director/writer. The path however has been much different than I had imagined. I have been writing since I was in high school and continued into screenplays when I was 23. I read Rebel without a Crew by Robert Rodriguez and was convinced one had to make features in order to learn, because I wanted to be a filmmaker, the whole package. I figured to achieve this I better hone my peripheral knowledge and went back to school where I majored in fine art and philosophy with a minor in psychology. In the beginning of this period I wrote, directed and shot a political thriller titled American Bomber, and that was my first year of film school so to speak. Having completed American Bomber I then received offers to come work on bigger projects with more experienced filmmakers. In those trenches I learned what I know now. But I am humble to the fact that every day I learn something new about this medium.
Thanks for the interview!