You are currently busy post-producing the upcoming Origin: A Call to Minds - in a few words, what is it about?
While weíre keeping the plot for Origin under wraps, I can definitely confirm that it is a companion piece to Archon Defender, a 2010 feature film that Dave Krupicz [David T. Krupicz interview - click here] also wrote and directed. The film follows Lorem (voiced by Amanda Smith) who is intent on translating her consciousness into a Resonator Construct known as the Automa. The film deals with the repercussions of this decision-making process, and how it is generally a bad idea. Those of you who have seen Archon Defender and loved it will find so much more with this 3D prequel. And to those who are not yet familiar with the world that Dave has created, be prepared to be amazed!
How (if at all) does producing an animated film differ from producing a live action movie? And is animation something you can at all relate to?
Well, for Origin I came on board during the very early stages of production. Much of the structure of the story and characters as well as the voice-overs had already been completed by the time I had arrived as producer. I can only speak as an independent filmmaker, but there isnít much of a difference when youíre producing either type of film. A producer on indie-animated features still does the same tasks as one would do on a live-action project. The main difference between the two is that youíre dealing with animation and that obviously is a more time consuming route to go production-wise.
I can most certainly relate to animation as it is something that has always interested me since I was younger. The fact that I am producing one now is just an absolutely amazing feeling.
What drew you to the project, initially? And what can you tell us about Origin: A Call to Minds' director David T.Krupicz, how did you two first meet, and what was your collaboration like?
I just loved the world of Archon Defender and found Dave to be a genuinely great guy with an extraordinary imagination. What drew me to the project was the opportunity to work with him again, after collaborating on Archon Defender, which is how we first met. I was one of the voice actors on that film, and since then weíve kept in touch and remained great working partners. When I was invited back to voice some characters for Origin, we discussed the possibility of bringing me on board as producer, and now here we are - one year and a half later. The great thing about Dave is that he is always willing to collaborate, even when pirating a ship as ambitious as Origin. He is an uber-director and single handedly does EVERYTHING on the films he makes, from writing to animation to sound design. There isnít anything he doesnít do. But heís never against collaboration. We got along great during production and I sincerely hope we get to work on something together again soon.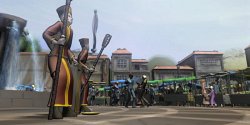 Origin: A Call to Minds is essentially David T.Krupicz's brainchild, especially since it's rooted in his earlier Archon Defender. So how much influence did you as a producer have on the look and feel of the film?
Truthfully, I didnít want a heavy influence on this film. Dave is a tremendous director and I wanted to ensure that I gave him complete control over what he envisioned for the world of Origin. It was not in the cards for me to interfere, something I specified very early on to him. The script, the characters, the animation, everything is what Dave had envisioned and I could never come between his vision and the story he wanted to tell. As you said, the film is his brainchild and heís put a lot of blood and sweat into the finished product, so those aspects of the film are his. What I brought to Origin were some new elements, including a great new musical score courtesy of my frequent collaborator David OíHearn. I also want to expose Origin to wider audiences. Archon Defender did great a couple of years back, but both Dave and I want Origin to explode onto the scene, and thatís what weíre intending to do this time around.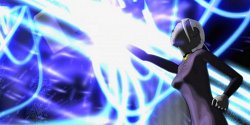 Origin: A Call to Minds is essentially a science fiction film. A genre you can at all relate to?
Sure I can relate. Growing up I loved Alien and Aliens, not to mention I watched the Star Wars-movies religiously as a kid (not so much anymore though). I love the science fiction genre, not quite as much as I do the horror genre but I find the two compliment each other rather well. My last film as a writer-producer was Severance and that also injected some sci-fi into the mix with a story about being replaced by another living, breathing double. With Origin, itís my first foray into full-blown science fiction, so itís exciting to be able to tackle that genre next and learn more about it along the way. I seem to work with different genres with each project I do, so this is no exception and has been such a learning experience.
You've also done some voice-acting on Origin: A Call to Minds. What can you tell us about that experience?
Voice acting is something I have always wanted to do and, rather jokingly, Iíve always said it was something I wanted on my bucket list. In 2010, I had the opportunity to voice some characters in Archon Defender, and that experience was amazing, but it was out of context by comparison to the more traditional ways of doing it. The film had been completed for about a year and I basically came in to record my lines shortly thereafter, coincidentally with many of my friends who also lent their voices. On Origin, I recorded my lines in a room by myself, with a script in front of me and not even a single frame of animation to work with. That was a little tricky. But yes, it was such a cool experience, especially that Dave brought everyone back in different roles for the film.
The 64-question of course, when and where will Origin: A Call to Minds be released?
Right now itís hard to say. Weíre busy with post-production at the moment and just about to begin scoring the film with David OíHearn. Obviously weíre pushing to have the film completed by the spring, so a Summer 2012 release is quite possible. At any rate, weíre looking to give the film a big festival push this year, so my guess is a summer time release.
Any future projects beyond Origin: A Call to Minds you'd like to talk about? And will you ever consider to produce another animated movie?
Right now Iím mulling over a few projects, some are shorts, some are features. I am also in pre-production on Suffer the Little Children, which is an adaptation of Stephen Kingís short story. I have written a solid little script and we have a great cast lined up, but as always weíre waiting on the money to come in. Iím really excited about that one. And obviously, Iíve got another short film, The Devil Walks Among You, which is making the rounds as we speak. That film had its premiere in January at the Projection Booth Theater in Toronto and will soon start taking the festival circuit by storm. Itís a film noir horror hybrid and boasts some wonderful performances from its stars. In terms of producing another animated feature, I would love to but that all hinders on the quality of the script and the directorís vision.
Your/your movie's website, Facebook, whatever else?
My website (www.morganmuscat.com) is probably the best source for information about myself, my work, and my company, Moonlit Road Entertainment. Youíll find info on Origin as well as other films that I have wrote or produced over the years. You can also check out my Facebook page (http://www.facebook.com/morgan.muscat) and my IMDb profile (http://www.imdb.com/name/nm2911850/) for additional information.

Feeling lucky ?
Want to
search
any of my partnershops yourself
for more, better results ?

The links below
will take you
just there!!!

Find Morgan Muscat
at the amazons ...

amazon.com

amazon.co.uk

amazon.de
Looking for imports ?
Find Morgan Muscat here ...
Something naughty ?
(Must be over 18 to go there !)

Anything else you are dying to mention and I have merely forgotten to ask?
Sure. I strongly encourage any independent filmmakers out there to keep pushing forward and to never give up on what they love. Each year I am amazed at how much talent there is out there and how little our work is exposed to the general public. To make a career out of independent filmmaking is quite the gamble because there's rarely any money in it. All you have is the determination of some creative people who want to make a movie and have their visions realized, but without the money itís such a difficult feat to accomplish. I want people out there to know that no matter what obstacle you face, be it a financial one or not, to just keep going and not let any negative influences get the better of you and your dreams. Itís so competitive out there, but Iíve seen some great filmmakers and some great work and I think if we continue doing what we love, weíre all going to turn some heads at some point. So if there is anyone reading this who is second guessing doing indie films because they are feeling defeated, please reconsider and get out there and make the project you want any way you can. Most of all, LEARN and DEVELOP from it because that is the experience you canít get from film school.
Thanks for the interview!
My pleasure as always, Michael. I enjoy your website very much!