Your new movie The Covenant - in a few words, what is it about, and what can you tell us about your character?
Itís about demons and dark times and complicated relationships. Sarah Doyle (my character) is going through the grief of losing a daughter and husband within days of each other and the fear that she is either being attacked by supernatural forces or losing her mind.
What did you draw upon to bring your character to life, and how much of Monica Engesser can we actually find in Sarah?
Sheís definitely her own person, but I drew a lot from my own experience as a mother. I have a son who was just over a year old when we filmed, he stayed with his grandparents and dad and I didnít see him for two weeks, which was the longest weíve ever been apart. Taking those feelings of missing your child and then amplifying them and imagining the separation was permanent really helped me get into the headspace of grieving the loss of a child. For possessed Sarah I drew a lot from reading first hand accounts of possessed people and those around them and of course cinematic depictions of demonic possession. I also drew from my personal life, both my very strict Catholic upbringing as well as the years I studied psychology. No matter how crazy everything happening to Sarah seems on the surface, itís all very, very real to her.
How did you get involved with the project in the first place?
This was my 4th time working with Robert Conway [Robert Conway interview - click here], I had two small roles in features he directed in 2014, then starred in Krampus: The Reckoning in early 2015. I was thrilled when he asked me to audition, he is very considerate of his actors and Iíve had a blast on all of his sets. He also tends to work with largely the same crew, and Iíve gotten really close with some of them as well, so it was a really great environment to work in.
With The Covenant being a horror movie, is that a genre you can at all relate to, and why (not)?
I donít really seek out horror movies (to watch OR to act in), but they seem to find me again and again. They are THE MOST FUN to make. Growing up, my parents were very strict about what we watched, so I missed out on the childhood horror experience most of my friends had. The Ghost and Mr. Chicken was pretty much my momís limit. She has watched all my movies though, so I like to think Iím broadening her horizons.
Do talk about your director Robert Conway [Robert Conway interview - click here], and what was your collaboration with him like?
Robert is wonderful to work with, he is one of the most humble writers/directors Iíve filmed with and truly likes his films to be collaborations. This was a unique experience because the key cast and crew were all staying together in a boarding house, so every day after filming, Robert, Owen and I would go over the scenes for the next day. It was awesome to be able to talk through everything, make sure we were all on the same page and explore (and reject) ideas about the story and Richard and Sarahís relationship.
You spend quite a bit of the movie in quite bizarre makeup all over your body - so do talk about your makeup for a bit, and the process of having it applied?
Iíve done some pretty intense makeup and body painting before, so I knew what I was getting into. It was an approximately 4 hour process including latex and silicone appliances (pieces that are glued to the body), airbrushing and meticulous hand painting, all done by our talented FX artist, Cat Bernier (sheís also an amazingly fun and kind person). It required a lot of sitting still, but we talked a lot, I read a lot and went over my Latin. The hardest thing about full body makeup and glued on appliances is feeling like you canít move after youíre done because it will mess up the final product. You really do want to stay as still as possible except when the cameraís rolling. It can get uncomfortable, but makes for a lot of funny moments. I also was supposed to have some really rad hand painted contact lenses (you can see me wearing them in my big scene with Maria Olsen [Maria Olsen interview - click here]) for all the possession scenes, but one night the lenses were stored in a solution I didnít know I was allergic to, so I had an intense reaction and wasnít able to wear them for the rest of the shoot.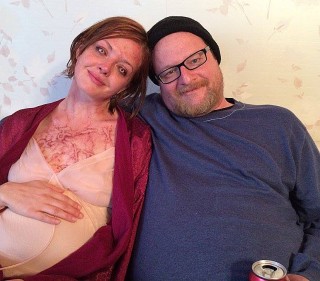 with Robert Conway
What can you tell us about the shoot as such, and the on-set atmosphere?
There was a lot of laughing. We all like to have fun and joke around and many of us have worked together before. It becomes like a family. We shot over Thanksgiving week and my husband and Cat cooked a turkey dinner for the cast and crew that werenít able to go home. We had a really warm, relaxing, nurturing environment, I think thatís key when youíre shooting scary or heavy stories.
Any future projects you'd like to share?
I was really excited to have a scene with James Russo in Possession Diaries, Juan J. Fraustoís upcoming film about (guess what) demonic possession (I DONíT play the demon this time). Nothing else I can talk about right now, but hopefully soon!
What got you into acting in the first place, and did you receive any formal training on the subject?
I grew up in southern Minnesota. It was very rural, very cold (very Chekhov, but I didnít know it). I was involved in 4-H plays and community theatre up until I graduated high school, always loved it and then didnít give it another thought for about a decade. There were no real working artists around me and it didnít cross my mind that I could be an actor, even though I dreamt about it. It wasnít until I was 24 and refocusing my life that I had this huge realization that acting made me happier than anything else I had ever done and I needed to try to pursue it. I got my BFA in Theatre from The University of Memphis and also trained at Shakespeare & Company in Lenox, MA.
What can you tell us about your filmwork prior to The Covenant?
I took an elective my senior year of college called Acting for TV and Film and felt like I had come home. The biggest note I had always received on stage was to be bigger, so to find myself under the microscope of the camera was incredible. It could literally see me think, and it opened this whole new world of subtlety and technique that I love about film acting. Iíve been doing film work for 7 years now, Iíve been fortunate to have several leading roles in various indie films, I think The Conduit, Kidnapped Souls, Blind People, and Krampus: The Reckoning are all available to stream.
How would you describe yourself as an actress, and some of your techniques to bring your characters to life?
Oh I donít know. Iím really cerebral I guess. I like to think about my characterís mental state and past, Iím constantly imagining myself in the characterís position and looking at how I would react or behave in a situation vs. how they would. Iím big on memorizing my lines ahead of time so they flow naturally, I think (for myself anyway) if Iím thinking about what to say it really takes away from the scene and if my lines are coming automatically it frees me to listen to the person Iím in the scene with and try to think my characterís thoughts. For intense scenes I use some physical tricks (trembling, fast breathing, jumping around a little) to make sure my energy is high.
Actresses (and indeed actors) who inspire you?
Meryl Streep, Catherine Keener, Sarah Paulson, Jessica Chastain. I really like Ed Norton. Recently Iíve been super inspired by Neil Brown jr, because I did Kidnapped Souls with him so I know him a little bit personally and seeing his career explode the past two years after over a decade of grinding has been just awesome, I know how hard heís worked for it. Honestly any actor, famous or not, who keeps at it, who continues to grind and hustle despite all the rejection and shit talking and ebb and flow of success is an inspiration. They are the ones who keep me going.
Your favourite movies?
American Beauty, Fight Club, Moonrise Kingdom, favorite thing I saw this past year was Hunt for the Wilderpeople.
... and of course, films you really deplore?
Iím not too big on most westerns, but I canít think of anything I deplore right now. I found Anomalisa really pretentious and didnít care for a lot of the choices made, but I totally understand what they were going for, it just didnít really hit the mark for me. A lot of people liked it though. I guess thatís the last movie I watched that I didnít love.
Your website, Facebook, whatever else?

Feeling lucky ?
Want to
search
any of my partnershops yourself
for more, better results ?

The links below
will take you
just there!!!


Monica Engesser - Actor on FB, and www.monicaengesser.com. I have a Twitter but I donít really tweet, maybe in 2017.
Anything else you're dying to mention and I have merely forgotten to ask?
I think youíve covered everything pretty well, thank you so much for having me and I hope you enjoy The Covenant!
Thanks for the interview!
Thanks for having me!