Your new movie Abduction - in a few words, what is it about?
Melissa rescues a young woman, Bozena, from a mental hospital where no-one believes she is a victim of abduction by aliens. She and mysterious Doctor Asil try to prevent the aliens from taking her but a government agent seems to be hot on her trail, and the Alien Greys and their powerful leader, the Hive Queen, have no intention of being stopped. An outrageous mix of graphic horror and dark twisted humour.
Why make a movie about alien abductions to begin with?
Mol: Too many zombie films, too many sc-fi movies focused on technology or (in the past) space monsters. Too many films around these days on sci-fi which focus on superior technology in the hands of aliens trying to conquer earth. Let's make something different: How about Alien Greys trying to abduct earth females to create a hybrid race, but instead of horror, it's funny horror? And the aliens are as failable as us humans.
Did there go any research into the subject?
Mol: Yes. Lots. Both in reading various books of people claiming they were abducted, and reading about the scientific or professional opinion by materialists saying abductee experiences are caused by purely underlying psychological influences or disorders.
(Other) sources of inspiration when dreaming up Abduction?
Mol: The X-Files TV series. Benny Hill (saucy, sexist British comedian) of the 70s and 80s (deemed, now, politically incorrect in the UK and in 1989 was scrapped). My personal fascination with biology and organic forms and reproduction in different species. The actors themselves... imagining them bringing each character to life. A belief that we are not real anyway (refer to Donald Hoffman lectures, YouTube). A belief we (humans) are relinquishing our freedoms and becoming a very controlled people by the elite and their puppet fake democratic systems. Mad Comics (back in the 70s and 80s... gone now). The Carry On films made at Pinewood Studios, UK, 1960s to 90s.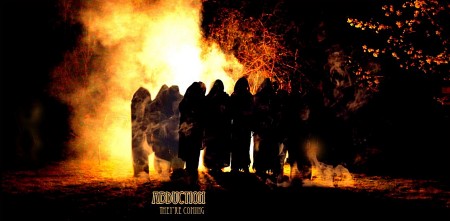 An important personal aspect: I grew up in the 50s – a time where human weaknesses, like prejudices, and total acceptance of male and female normality to be stereo-typical male, and females without mixing their traits. A lot of humour was derived from revealing our collective prejudices... yes, often at the expense of offending minorities. Most humour was sexist, racist, or simply vulgar and rude. It wasn't seen as this way at the time, but certainly is so by today's cultural standards. Such humour has all but disappeared. A shame, I think, because with it has gone our liberty to say what you think even if it is was not very endearing to this sex, that sex, or culture. No more Irish jokes! Now I live in a world where any attempt to illuminate how utterly stupid we all are in the eyes of nature and/or the universe are seen to be offensive and not politically correct. We are slowly removing the very qualities which make us human and enable humour to flourish, as it did, without concerns about offending this group or that person. I wished also to include my confessed underlying resentment about humans slowly becoming machine-like in their thoughts and perceptions. The film at a subliminal level is my protest at seeing my world, my era which I became familiar with, slowly die to be replaced by one less comfortable to me. All modern humour is just not funny. Humour is making fun of the human predicament and seeing tragedy as the universe having a little joke and a laugh, at our expense... I think. We believe we consider ourselves too important, where--in truth, we aren't.
These personal beliefs underpin every aspect of the film.
Kemal, how did you get involved with the project, and could you at all relate to the film's subject matter?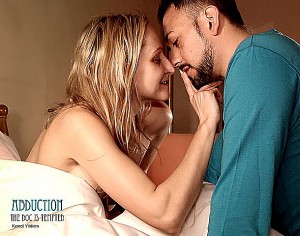 Kemal: I have known Mol Smith for a few years now and we have grown close both creatively and as friends, I first saw some of Mol's digital artwork which fused the female form with otherworldly interference which showed a unique mind at work so I knew I wanted to work with him, to explore these themes on film. Mol & myself spend many a night theorising on the meaning of existence, the state of our world, well at least our perception of it anyway and all things dark and wonderful so when Mol presented with his new script I just sat back and enjoyed it. I can definitely relate to elements and themes within the film as the film works on many layers, it just depends on what you wish to take from the experience, for me as an actor in the film I tried to look into the core of what I believe we all as living beings look for and that's a sense of connection whether that is love, sex or spiritual connection, for me the most important part of any film is the human condition.
Do talk about the movie's brand of humour, and was all of it scripted or some improvised on set?
Mol: I'm afraid it's mostly my dark sense of humour. My idea of 'funny' is the utter understanding of a universe which gives us life and then snatches it away again just as you get used to living it more profoundly. A monumental suburb joke! No one jokes better the cosmos. I try to think of what a conscious universe would find funny to amuse itself. Nothing is sacred. We are the inadvertent, unknowing clowns, entertaining an unseen intelligence with a warped sense of humour. I know the intelligence and the warped humour exists, because some of it connects with me.
Most of my thoughts are about 'Why are we here', 'Do we serve a purpose', 'Do we ever really die', 'Is all of life, all awarenesses, all minds, just one single consciousness meshed in some fragmented way with a reality/dimension and us, the bits of it, having to deal with that but ignorant of what happened to cause this'. And we quickly lose sight of the nagging question in late childhood. And then there are the human problems of dealing with an inner biology which manifests itself though subconscious thoughts and influences our behaviour to satisfy its greedy and often unsocial urges and demands: sex, gain, lust, desire, reward, excitement, boredom. Asil, played by Kemal, is such a character. In fact, any character coming from his dimension to ours has to adopt our biological form. It messes them up. The reproductive urge, camouflaged as sexual desire, competes for their attention and creates a conflict in the character. I feel this represents the core paradox in human-beings behaviour.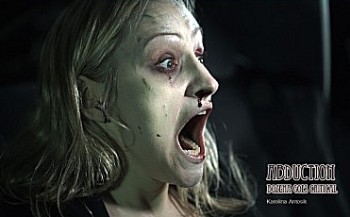 The actors' humour: Yes, every actor brought into play all kinds of spontaneous jokes and events as we filmed. Sometimes I forgot to shout cut because I was wetting myself with laughter. The Hive Queen, Amelie, having sex with the alien... well she had the whole crew and cast falling off their feet with laughter. She hammed up the character using her own powerful creative juices. Thorson, played by Mel Mills, and his entire sub scene where he takes the baby out into the garden and then his behaviour... well it was a complete surprise to all of us and unscripted. But wow! That's what I mean about the universe having a joke on us, hence I selected a suitable complimentary track (song) to amplify that.
What can you tell us about Abduction's overall look and feel?
Mol: Quirky. A rapid mish-mash of horror, humour, and weirdness which somehow should not fit together, and yet it does. We have a very low budget. I don't get investment or crowd funding but self finance the entire project so we can take our stories beyond what commercially aimed projects would limit. The one problem is putting the film on Amazon Prime, which means being very careful with some of the more graphic scenes. Sometimes I make it more graphic in the shoot but edit it down to fit Amazon's restrictions on their Prime VOD platform. Each film, including Abduction, will ultimately be put out as uncensored and a director's cut.
I have probably watched tens of thousands of films in my life, and it becomes increasingly hard to discover originality in any being produced today. Recently, I saw Under the Skin (https://en.wikipedia.org/wiki/Under_the_Skin_(2013_film)), which is an example of a highly original film. If you never read the novel (I hadn't), you are constantly fascinated with the film and where it's taking you. I can guess both the development of most films and their culmination, resolution, normally in the first 15 minutes. Boring!!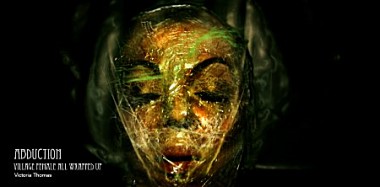 Abduction starts like a chase, a girl being hunted film (like so many girl-victim movies), with only a few glimpses of humour to tip you off the film is not serious. It transforms to absurd comedy and then again to a mix of comedy playing against semi-graphic horror. I can't stand loads of people being shot, stabbed, tortured etc. (Game of Thrones, most popular recent films and TV series), so I try to produce horror elements in completely different ways. I don't like the film school storyline plot development idea either: an antagonist, protagonist, with challenges to overcome, main leading characters, main leading villains. All too simple and out of step with real life and an instruction set which leads to all films sharing common and overdone storyline styles. In Abduction, more or less every character is a lead character. Each have their objectives and are slight caricatures of stereo-typical figures you see in most high budget movies, but in Abduction, I take out the false seriousness and remove the idea this story is something you must believe in. I have created a pantomime. The audience viewer can feel part of the joke being played out. The viewer / audience is being invited to the party and invited to bathe in he synergy and spirit of good intent of the people who made the film and acted in it. You are invited to laugh with us and at us. We, the cast and crew are all now close friends in real life, and we share common ideas about the world and each of us wishes to distract people away from the harsh reality they (us) all live in and hopefully, give them a release from that through fascination and humour.
I deliberately mixed in B movie elements and gave it a kind of B movie feel. Often, in the past, when cinemas in the UK showed both an A film and a B film at the cinema, the B film was more entertaining then the A film. Our budget does not provide us with the tools and locations to make a high-end film, but we endeavour to get good sound and interesting visuals and use only what is needed to keep the story tightly on track. The story is the main focus, not stunning visuals or ballet-style slow motion of terribly violent acts; although I do a pastiche (make fun of, maybe?) of that in Bozena's torture scene with Asil.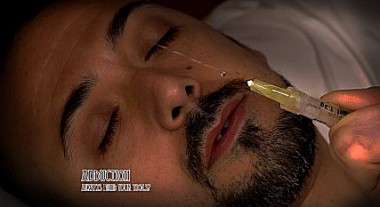 The film is aimed at trying to surprise people over and over. It's trying to jump the audience out of genre expectation and instead give them food for thought about other ways films can focus on a story when not limited or restricted by commercial thinking of audience types, and distribution channels. We will not be bringing out a range of toys and computer games even if we could. Many films today are just adverts for physical spin-offs and the money is made in the toys, games, and branded franchise. But the stories are tired and weak rehashes of original and powerful tales. We create a film to tell a story visually. We do not create it trying to consider how best to maximise profit. That's it. I am not worried whether the film makes money or not, providing it reaches an appreciative audience and we recover some of the costs. And if I can sit down and watch it and enjoy it as though I never made it. Most of all, I'll be pleased if it brings a bit of joy to folks, be it 1 or 10,000.
Kemal, you play one of the leads in Abduction - so do talk about your character, and what did you draw upon to bring him to life?
Kemal: I had the pleasure of playing Doctor Asil who is a bit of an enigma, he is doing experimental treatments on abductees to find the answer as to why they're being abducted, his treatment is brutal yet he cares for his patients. I found this to be quite apt to our own medical predicaments our doctors who are there as our saviours but sometimes mistreat us for other gains so this was an interesting aspect about the character, this duality - I have always been a fan of the Jekyll & Hyde quality within us all, and for me Asil is a representation of this. When I take on a character I usually find one quality within myself that helps to build a connection with the character, Once I have that the rest builds around that. I really enjoyed the struggle of the character as he wrestles with dealing with the duality of his real identity and trying to help those around him as well his sexual urges. I was very fortunate that all my fellow actors are amazing and we all had so much fun working on the film and are continuing the fun with the 2nd part of a planned trilogy of Abduction films.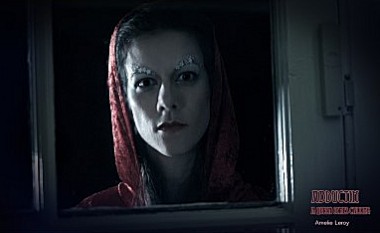 Do talk about the rest of Abduction's cast, and why exactly these people?
Mol: The actors playing the main characters were in my previous film – The Lorelei. I came to love them both as people and as colleagues and friends. I wanted to share with them again an opportunity for us all to create something to celebrate our mutual friendships. Knowing the people, their strengths and weaknesses, made it easy for me to define characters for them to play.
Mel Mills who plays Thorson is often typecast as a rogue or a cop. I wanted a character who appeared to be the solid one trying to steady a situation which seemed mad and unlikely.
Tessa McGinn, playing Melissa, is a first class performer and can manifest all types of characters. She understands serious drama and comedy and has the right sensitivity to weave the two together well. We needed her to set the tone and balance of the comic/drama mix.
Kemal, who plays Asil, is my mainstay in making films. As an actor he has played very serious and profound characters. He knows more about filmmaking than me and anyone else I know. He acts in our films and helps me shoot them too. He in invaluable and brings so much more to the party than his acting. My films always involve females in lead roles, and often there is some form of male/female interaction at an intimate level. Often, I exploit the lure of seductiveness, and often borderline on taboo subject matters. I need male actors I can trust and who the females can trust to act with in often 'semi-uncomfortable' scenes. Kemal, like all the male actors I bring to my films, are 100% trustworthy people who each want nothing but to encourage good practices and offer help and optimism to their colleagues in the film.
Karolina Antosik, playing Bozena, is Polish. She had a very difficult job to do. In the first week of filming, we shot the last 20 minute action scene. We all worked in a darkened room for the whole week, and Karo spent almost all of it sitting uncomfortably on a hard stone floor for 6 to 8 hours a day. She never moaned about it. Her slight slowness in translating what is being said in English into Polish so she can respond to it is a trait I used to show Bozena as a slightly dumb but loveable character. A victim of circumstances who is in love with the complex Doctor (Asil).
Amelie Leroy, who plays the Hive Queen, well... Amelie likes guns, chases, and action roles. It was a true test of her acting skills and creative juices to cast her as the Hive Queen. I was amazed by her performance as she gave the character the right mix of arrogance and ruthlessness with a hint of being stupid at heart despite her (the character's) thinking she was supremely intelligent. As aspect I drew upon from such arrogant people in English society who are wealthy through inheritance and class, but not very useful in a practical world because they are often stupid. It's a poke at the upper classes in this country and the arrogance of elitists.
Amelie is also a great puppeteer which came in handy with bringing the Alien Greys to life.
What can you tell us about the shoot as such, and the on-set atmosphere?
Mol: We shot the whole film in under two weeks. One week was entirely dedicated in the the daytime to the 20 minute action scene. We did other scenes in the evenings and the second week. It was hectic beyond belief. Little sleep, intense, many people crowded together in a small space. But we are friends and that love for each other transformed what could easily be described as hell on the set to joy and fun on the set mixed with a little frustration.
Our make-up designer, Jo Crowder was a star, ducking in and out of shots and keeping effects and make-up consistent. She never blinked once when I got irritated by constant delays and errors as we filmed. She carried on regardless. I think everyone pushed themselves to their limits to complete the film in a very short space of time, but no-one fell out with anyone else. In fact, the trial of friends achieving that strengthened the friendships and bond between all involved.
Kemal: From an actor's perspective the atmosphere was tense and a massive amount of fun playing these absurd characters in a dark world over un by alien beings while trying to keep a straight face to all the absurdity around us. Our director did an amazing job of whipping us into shape and bringing the best out of us all while maintaining his vision.
Anything you can tell us about audience and critical reception of Abduction yet?
Kemal: It's a bit early to tell, and the film will divide its audience due to its absurd humour, we just hope it finds an audience in this ever-increasing platforms of distribution. As with all films some people will get its humour and what it was intended to do while some people will not and that's what makes the world of film so much fun with all the diversity we have as film lovers.
As far as I know, you two are currently filming a sequel to Abduction - so what's that one all about?
Mol: We have nearly completed it, last scenes to be shot in a few weeks time. I'm part way through writing Abduction 3 which we will shoot next year. In Abduction 2, all the core characters return, including the Hive Queen, with new characters added and of course, the Greys and the Queen are up to their old tricks. The style is slightly different but the core traits remain. The film kicks off with fallout from the end of Abduction and then introduces the audience back into the abduction world 1 year later.
Abduction 3, I'm getting more time to think about and I intent to greatly increase the farcical elements to a complete state of mad absurdity. Only one's imagination can hold back the developing story, and yes, once again... all the core characters will be there.
What prompted you to make a sequel in the first place? And in which way do you plan to top Abduction or take it further?
Mol: I just think I have found a film style that works for me with key elements which grab my own fascinations. I also love the people involved and I get great joy from being with them struggling with the impossible task of making a good film on a zero budget. I personally think Abduction is a great device for a sitcom serial, but that will not happen. It's a bit like Star Trek on drugs.
Do talk about the new shoot so far for a bit?
Mol: Most of it is shot already but we have another gruelling week to complete it starting August weekend of the 6th. Everyone is coming here and the timetable is tight. More babies, more inseminations, more absurd moments, more laser fights, more tentacles, much more! J
And a few very surreal comic moments too. Bozene refuses sex to Asil until he can find a way to fix the damage done to her by the Alien Greys. And once you deprive Asil of that... anything can happen... and does J
So any idea when the sequel might be out yet?
Early next year... spring, maybe - www.abduction2.net
Any other future projects beyond Abduction 2 you'd like to share?
Mol: Abduction 3 and maybe 4. If I can write enough interesting story content, I might make the two films in the one project. In Abduction 3, we go to Asil's dimension for a while J

Feeling lucky ?
Want to
search
any of my partnershops yourself
for more, better results ?

The links below
will take you
just there!!!


Your/your movie's website, Facebook, whatever else?
Anything else you're dying to mention and I have merely forgotten to ask?
If folks like the actors in Abduction, they might like to see them in The Lorelei, also on Amazon Prime - www.thelorelei.net
We would also like to thank you and other film reviewers that help indie films worldwide by giving them this platform.
Thanks for the interview!