Your new movie Mask of Thorn - in a few words, what is it about?
Mask of Thorn is a prequel to our 2014 release Legacy of Thorn. Set in 1988, The film follows Bethany Lovell on her Sweet Sixteen as she finds out that she is in fact the target of Thorn the ruthless killer. Only this time someone has come to stop him.
What were your inspirations when writing Mask of Thorn?
I think the main inspirations came from Terminator, Mad Max and Sixteen Candles, which sounds like strange mix I'm sure, but it really leant itself well to the story that we wanted to tell. As usual though the film is just packed with references to other horror films and beyond.
With Mask of Thorn you return once again to the slasher motive - so what prompts you to visit that genre again and again, and how hard or easy is it for you to find a new approach each time?
I'm a life long fan of slasher movies, so that's probably where it comes from. I think the appeal is that it's a genre with rules, and the audience understands those rules, making it much easier to subvert them without alienating the viewer. We always go in with the slasher formula as a base and build from there.
Each time it's a little more challenging to do something new with it, because once you've subverted something, subverting that again takes you right back to the start, so you have to get creative with your approach every time, I think, for the most part we bring something new to the table with each film. So far we've made a battle royal movie (Slasher House), a psychological thriller (Hollower), a martial arts movie (Slasher House 2) and a retro actioner (Mask of Thorn), all really based on the slasher foundation.
What next, huh? A road movie? ;)
Mask of Thorn is not your first movie featuring your villain Thorn - so how has the character developed/changed over the years?
Thorn is the oldest of my characters, he really started life as my attempt to make my own slasher villain in the vein of Michael Myers or Jason. Of course, since then, he's become much more of his own thing, with a huge developed mythology that we plan to dig into for years to come.
He's always developing and changing, we redesign him with each film to fit the era and story and that a lot of fun, there are many places you can go with this type of character and that means a lot of cool scenarios that we can place him in down the road. And we plan to.
What can you tell us about Mask of Thorn's approach to horror?
Well, as I said, it's built on the classic slasher formula. Group of teens, stalked by a monster, picked off one by one. However, there is a lot more going on than just that, we get to delve into the secrets of Avondale and why Thorn keeps coming back there. Whilst there is a huge focus on the action, the scares are there as well and it's actually some of the human elements in the film that are really terrifying.
The idea was to make Thorn like 'the coming storm' and his dread is kind of felt throughout the movie, until he shows up and then, well, it's really felt in a different, gorier way.
For the sake of all the gorehounds among our readers, you have to talk about the gory bits in Mask of Thorn for a bit, and how were they achieved?
Yeah, as with the last one, there's a HUGE focus on the kills that made Legacy of Thorn one of most popular films, we really wanted to get creative this time round and although there are less deaths overall I think than in the last film, we wanted to make these ones really special and I think it worked out pretty well. Especially the death of Julia (Lydia Cashman) which took about 3 weeks to build and 3 seconds to decimate.
We build all our effects in-house and it's tough going, but it's very satisfying when someones head explodes right or their head gets cleaved or crushed in just the right way. In fact, I didn't notice until I was editing, but Thorn crushes a lot of heads in this movie with just his barehands. Like loads.
Do talk about your overall directorial approach to your story at hand!
I think with this film, I realised early on that although the gore was important, the characters were key and so I knew getting their relationships right was going pull it all together. Giving them complexity even if they were going to die shortly therafter was important to me this time round and I think it helps the audience to empathise, or not, with the characters when they survive or die. I really just wanted people to feel something when each of these guys bit the dust.
Directing has always been a little bit of a challenge for me because I do that, camera, sound and a pile of other jobs at the same time. There was a day on Mask of Thorn though where we had a lot of people on hand and I got to focus solely on just directing for about 3 scenes which was really, really great and I think they are some of my favourite scenes to shoot.
What can you tell us about Mask of Thorn's key cast, and why exactly these people?
Overall this has been our best cast yet, After some 'difficulties' over the last couple years with casting I was really careful this time round with who I chose.
Getting Bethany (Eve Oliver [Eve Kathryn Oliver interview - click here]) and Olivia (Sophie Bryant) right was obviously a huge part of it as their relationship carries the story and of course Julia (Lydia Cashman) had to be right to work off that. I can safely say that, in a million years, I couldn't have chosen better, nicer, more talented actors and the same goes for Maria Lee Metheringham [Maria Lee Metheringham interview - click here] who is introduced as Mina and she is just crazy talented as an actress, stunt woman, as well as being a filmmaker herself and it was a real treat to have her on board.
I mean I could be here all day gushing about the cast, but our new Thorn (Atticus Machiavellian) was amazing and really brought a new, fresh take to Thorn. I have to mention Martin Payne too, who really brought an important element of film to life for me and I really love working with him. Same with Clarke Tribe who took the role of Young Cyphers, The teen boys too, George Horn who plays young John from Legacy of Thorn and he did a bang up job.
Eduardo Cupi and Michael Batty did a great job as comedy relief/bullies and it was great fun killing them off. There are obviously some new faces (Ketorah Williams, Alex O'Neil, Chloe Badham, Tracey Chatterly) and some returning faces like Will Marshall [William Marshall interview - click here] and Michael Higham, but honestly everyone was great, I could go on but it would just end up being the whole cast list and they were all amazing. Everyone of them, I've never experienced anything like it.
A few words about the shoot as such, and the on-set atmosphere?
Well, as you might be able to tell from my glowing review of our cast, it was just great. I mean really, really great. I loved everyone involved, we became a family and that made shooting a breeze.
It's kind of amazing when you get that many amazing, talented, kind, decent people together, how much of a difference it makes, every single person was there to make sure that the film was everything it could be and they delivered above and beyond. When they weren't acting they were getting stuck into production and it just made it feel like a huge, positive team effort.
It was genuinely the best filmmaking experience of my life and I have had some good ones.
The $64-question of course, where can Mask of Thorn be seen?
Mask of Thorn premieres at Horror On Sea Film Festival January 19th 2018.
You can find out more at http://horror-on-sea.com
We're hoping to bring it to VOD early next year.
Anything you can tell us about audience and critical reception of Mask of Thorn?
So far the response to the film from critics has been overwhelmingly positive, I mean its a low budget movie so I don't expect to hear that its the 'The next Godfather' but I'm pleased with the reception it has had so far. I'll know more after the premiere in January.
As I mentioned above, Mask of Thorn is not the first movie featuring the character Thorn - but will you ever add another chapter to his story? And/or other future projects you'd like to share?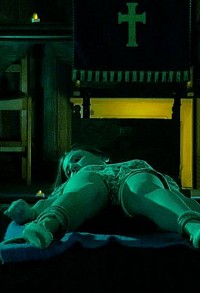 Feeling lucky ?
Want to
search
any of my partnershops yourself
for more, better results ?

The links below
will take you
just there!!!


There is another Thorn movie in the works, we teased it in the Legacy of Thorn credits, so Wrath of Thorn will be Thorn's next solo outing, which will continue where Legacy of Thorn left off, that won't be for a while yet, but Thorn may just make appearance somewhere else before then. That's all I can say for now.
Outside of that we're working on a new feature name Bannister Doll House, based on one of the new killers from Slasher House 2 and next year we'll be shooting the 'long awaited' sequel to Cleaver: Rise of the Killer Clown, which may or may not be a killer clown road movie.
We're also now producing Mycho Universe shorts via our Patreon at http://patreon.com/mycho the first of which landed on Halloween with Killer Scarecrow Short Rough Patch.
As always we just have too much going on and not enough time.
Your/your movie's website, Facebook, whatever else?
http://facebook.com/mychoentertainmentgroup
https://www.facebook.com/maskofthorn/
http://twitter.com/mychopictures
Anything else you're dying to mention and I have merely forgotten to ask?
I'd really just like to thank everyone involved not just in Mask of Thorn, but in all our movies this far, I mean if you'd told me 5 years ago that we'd be making our 7th feature I'd have thought you were a lunatic and it really is a testament to the people who help and support us that we can still do this. And of course, my wife and producer, Anna, for making all of my brain vomit a reality.
Thanks for the interview!
Thanks for having me.