Your upcoming film My Friend Max - in a few words, what's it going to be about?
My Friend Max is a heartbreaking coming-of-age tale about an misunderstood young girl, Thea, and the longstanding relationship she shares with an imaginary friend, Max, after the death of her father at a very young age. When Thea begins to develop a new relationship with a classmate, she finds herself having less time for Max, and ultimately must choose to grow up and move on to new experiences, or stay in the comfort zone that she's known for most of her life. This is a sad story about loss, finding yourself, and taking a leap of faith in hope of finding something remarkable.
What were your inspirations for writing My Friend Max, and was any of this actually based on personal experience?
I've primarily made horror films in the past, and have felt a lot of pressure from family members to make a film that was a little more "nice". Of course, in doing so, I had to incorporate a little bit of the supernatural into it, and I've always been intrigued by imaginary friend stories. There is so much to explore in the imagination of children, and there are no rules in a child's creative mind, so the concept was one that I had thought about for quite a while. Instead of it being horrific, I decided to make it heart-wrenching and very relateable to everyone who's ever experienced losing someone dearly close to your heart.
What can you tell us about your writing partner Chuck Mittan, and what was your collaboration like?
I met Chuck at the Snake Alley Festival of Film in Burlington, IA, where his scripts had been selected as finalists in SNAFF's screenplay competition year after year, and my films screening there at the same time. SNAFF helped Chuck & I develop a mutual respect for each others work and I pitched him the idea of "a cross between Drop Dead Fred, Stand By Me, and Let The Right One In." Chuck loved the story idea and was on board immediately. We took turns writing parts of the screenplay through collaborative emails, and together we explored Thea's complicated world and the people she shared it with. I can't say enough good things about Chuck Mittan, the guy is an amazing storyteller, and really brought out the best of my storytelling abilities as well. Nothing but positives on my end, I hope to create more scripts with him in the future.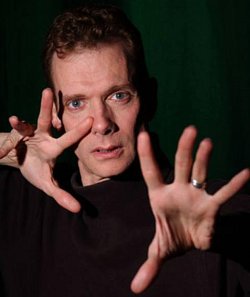 Doug Jones
A few words about the intended look and feel of your movie?
We plan on visually capturing the feeling of hope as it emerges from the storm of teenage emotions. We have a phenomenal cinematographer, Peter Wigand, on board who's going to pull our audience back to a childlike innocence and then slowly lead them back to adulthood over the course of the film. I have some very direct visions for certain scenes, but I also love allowing my DP's to flex their creative muscle too.
Your film will star Doug Jones - why him, and how did you get him even?
Who wouldn't want to work with Doug Jones? The guy is unlike any other actor ever! His ability to demonstrate strong emotions through physical movement is mesmerizing to me, I could watch him eat a sandwich and be entertained.
We got Doug involved through a mutual actor/producer named Steven Luke, who had worked with Doug on a previous film called Dust Of War. Steven has always been a big supporter of my films, and my young lead actress, so he was happy to help connect us to Doug, who's loving and playful performance in Dust Of War was exactly what we were looking for in Max. Working with Doug is like a dream come true, especially for my daughter who absolutely adores Abe Sapien!
My Friend Max also stars Kaylynn Burgin, who's your daughter, right? Now what can you tell us about her as an actress, and what are the special challenges working with child actors?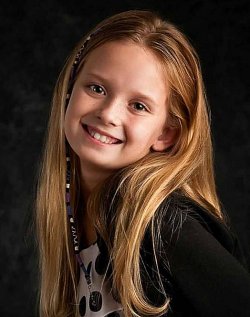 Kaylynn Burgin
Kaylynn is, indeed, my daughter. She got involved with acting after she expressed disappointment at not being able to go to film festivals with us, since the films I made were fairly graphic and not appropriate for someone her age. So I wrote a short family-friendly horror script called Bring Me A Dream & and cast her as the lead. She took to acting like a duck to water, of course she's grown up around actors & filmmaking most of her life so I think it was an easy transition for her, and an exciting one for me to see happen. She hasn't slowed down since then, doing 2 other films, and being cast in multiple local plays. Working with Kaylynn has been great. She works so incredibly hard to understand her characters, and loves to analyze & dissect the reasons for their decisions in the script. She's grown by leaps & bounds since she started, it really is amazing. She recently won Best Actress at the Dark Scream Film Festival in the United Kingdom for her performance in my film Special.
I think the biggest challenge in working with kids is getting them to trust you and buy into aspects of the production that they are unsure of. Kaylynn was very nervous about some practical effects that we used in Special, and even though she knew about them months ahead of time, we had an extremely difficult time getting her to understand that it was completely safe when it came time to shoot the scene. In the end, you have to understand that children should not be subjected to emotional pressure to do something they are not comfortable doing, especially if it's something that they are passionate about. We ended up using a stand-in for that shot, and everything worked out, but it was frustrating at the time.
What can you tell us about the rest of your key cast and crew, and why exactly these people?
The rest of the cast is made up of local talents around Iowa, some I've worked with in the past, and most that I have not. Madison R. Wells plays Thea's Mom in the movie, and has had a lot of professional accomplishments as an actress. We have another young actor, Cooper Pierce, who blew us away in his audition, as the classmate who's starting a new friendship with Thea. Lastly, we have Jim VonDolteren who plays Thea's child psychologist, Dr. Stephens, and is desperately trying to get to the heart of her relationship with Max. Casting was tough, but we unequivocally got all the right people.
As far as I know, My Friend Max is still in its fundraising stages as we speak - so what can you tell us about your fundraising efforts?
Well, even though we have Doug Jones attached to our project, we are still considered an "indie film" and don't have a lot of money to work with. Obviously, with such a major Hollywood actor in your film, you'd prefer to not cut corners, so we're currently live on IndieGoGo trying to raise $15,000. We've got a lot of cool perks available like copies of the script, digital downloads of the finished film, My Friend Max autographed posters, Doug's on-screen worn costume, and of course producer credits. Perks start as low as $5 and go all the way up to $5,000. I'm not taking a dime of the money myself, this is a labor of love for me, so if anyone wants to be involved in a movie with Doug Jones, go here and help us out with a donation, or by sharing it on social media: http://igg.me/at/myfriendmaxfilm/x/349542
Once your funds are raised, what's the schedule - and any idea when the movie might be released onto the general public yet (however tentatively)?
Our shoot schedule is locked in for September, that's when Doug was able to squeeze us in. We'll debut the film at a yet undetermined film festival, and then hopefully play it around other festivals for about a year before we put it online.
Any future projects you'd like to share?
I've got a few acting roles lined up and then I plan on turning my attention to a sequel of my film Special to answer the questions, "what happens next?"
What got you into filmmaking in the first place, and did you receive any formal training on the subject?
I'm primarily an actor, but there were so few productions in Iowa about 4 years ago that I got into directing because I just wanted to keep working on something. Now that there are more people in Iowa making movies again, I'm looking forward to getting back into character myself. I've been professionally trained as an actor, but I have not been to film school myself. Directing has been a "learn as you go" adventure, and I've improved greatly, film after film.
What can you tell us about your filmwork prior to My Friend Max?
I've performed in multiple movies as an actor, both non-paying indie films and well-paying studio films, and directed 4 short films all of which were in the horror/supernatural genre.
How would you describe yourself as a director?
I'm not an overbearing director who has to have his hands on the camera the whole time, or who has to make every minuscule decision. I believe in my crew, and their ability to deliver. Making a film is all about teamwork. I try to surround myself with capable & passionate people, if I do then it makes my job directing easy. I don't believe myself to be any more important than any crew member. I'm not the one making a movie, we all are.
Filmmakers who inspire you?
Alfred Hitchcock, John Carpenter, Guillermo Del Toro.
Your favourite movies?
Man, this list could go on forever, but a few that come to mind right off the bat are Psycho, The Orphanage, The Changeling, Escape From New York, Pan's Labyrinth & The Crow.
... and of course, films you really deplore?

Feeling lucky ?
Want to
search
any of my partnershops yourself
for more, better results ?

The links below
will take you
just there!!!

Find Mikeal Burgin
at the amazons ...

amazon.com

amazon.co.uk

amazon.de
Looking for imports ?
Find Mikeal Burgin here ...
Something naughty ?
(Must be over 18 to go there !)

Most remakes & Point Break, even though I admire Kathryn Bigelow as a director.
Your/your movie's website, Facebook, IndieGoGo, whatever else?
http://igg.me/at/myfriendmaxfilm/x/349542
Anything else you're dying to mention and I have merely forgotten to ask?
We also secured rights to use a hit song from Midnight Cinema (formerly Thriving Ivory) in My Friend Max.
Also, I just want to say how amazing my gorgeous wife, Jessica, is for understanding the amount of time that has to be put into making a movie. Without her tolerant support, I wouldn't be able to do what I do.
Thanks for the interview!
Please, all the thanks are on my end. It's an honor to speak with you.