Your new movie Easter Holocaust - in a few words, what is it about?
My latest film Easter Holocaust is about the coming of the apocalypse and the antichrist that happens to come in an unlikely form - the Easter Bunny. The film takes place in a small town where the demonic creature in the guise of the Easter Bunny begins to kill the townspeople. One by one the hearts of its victims are torn out and collected in a basket for it to feast upon. The surviving members of the small community eventually band together to send the beast back to Hell before a portal opens to welcome the apocalypse.
Basic question: Why Easter, and why choose the Easter Bunny as your monster?
While coming up with the concept for the film, I realized that were are a handful of horror films set during Christmas and other holidays, but very few having pertaining to Easter. So choosing Easter became an easy decision as it had not been really tackled. I chose the creature to be the Easter Bunny because I have always found it creepy when people dress as mascots or even the Easter Bunny during the holiday season. Not knowing who is inside is such a scary thought. Yet people place their kids on a strangers lap for a picture. I also selected the creature to be the Easter Bunny because I find fairy tales fascinating, as they are usually far more gruesome than the versions we read as children. I thought "what if the same concept applied to the Easter Bunny?" What if everything we knew of the mythology of the bunny was actually darker and we had been fed a happy, safe version as children? From there I decided that the Easter Bunny did not really bring baskets of eggs and treats to kids, but actually tore out people's hearts and collected them in a basket for it to eat.
With Easter Holocaust being a monster movie, is that a genre at all dear to you, and some of your genre favourite? And what do you think will make your movie stick out of the crowd?
I have always loved the 80's genre of horror, as I am a child of the 80's and it is what I grew up with. I love all horror, especially slasher films. So with this film, I tried to do something different, thus having the creature instead of a killer. I was careful to have the creature kill with its hands instead of weapons. I think I tried to approach the feeling of the creature from an It perspective. The original It is definitely an influence in this film.
I think what makes this film stand out is the layering of events that occur. The creature is at the center of the story, but all of the characters involved have their own events taking place. We also utilized practical effects as opposed to CG. I really wanted to bring that 80's feel to the film via the effects. I just think practical effects seem more real, because there is something actually there in the scene. I only used CG to enhance the practical effects, such as blood splatters and smoke as needed.
Do talk about Easter Holocaust's approach to horror!
Easter Holocaust approaches horror by paying homage to various horror classics such as Texas Chainsaw Massacre, Poltergeist, Evil Dead, and Jason Goes to Hell, just to name a few. We tried to create our own formula though. With the story being multilayered, there is not always a clear path to where the characters or story are going. I think this creates a lot of interest. The film is not predictable, yet it still has plenty of nods in scenes to classic horror films many of us love. You really have to pay attention. And the creature is not the only one killing in the film. So that also is interesting. I think and helps the film in being unique.
You of course also have to talk about Easter Holocaust's funny bits for a bit, and the film's brand of humour?
I don't think I could ever make a serious horror film, as I tend to find humor in everything. Humor has always been my own coping mechanisms for the horrors I have experienced in my own life. So I think that is one the reasons humor tends to end up in my films. I have also never forgotten the late Wes Craven's theory on the valuable relationship between horror and comedy. If you can get your audience to laugh in between scares it allows them to relax and then sets them up to be scared again. I always keep that in mind while writing the script for each of my films. In Easter Holocaust the events are often ridiculous and hard to believe. So I found it important to have the characters express their own disbelief through humor. I felt that if the characters were having fun and expressing what the audience might be thinking, then the audience would feel more drawn into the film. Overall, I just love crazy, over the top humor. My favorite death is that of the character Kandy Palmer played by Lisa Neeld of Playboy Magazine. She plays a hooker that attempts to fend off the creature with a dildo from her purse and in the process is impaled through the back of the head with it as she runs away! Who doesn't think that's hilarious?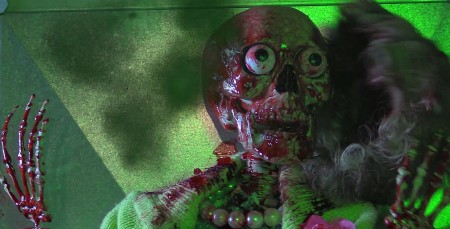 What can you tell us about your overall directorial approach to your story at hand?
I try to give the actors as much control of their characters as possible. I find that if you do that, you get the best and most original performance from someone. They become more in tune with the character and story and they tend to be more natural in their acting. I generally only ask specific actions from the actors if it is required for the scene, dialogue, and shots. Otherwise I let them decide on mannerisms, ect. I know all of the actors and select them for each part because I know what they can bring to the part. I also keep in mind the chemistry between the actors as many of them have been in previous films together. That also gives a lot to the performances as those bonds are already there. Above all, I try to keep things as fun as possible on set while still keeping the overall end result in mind.
You also appear in front of the camera in Easter Holocaust in not one but two roles - so do talk about your characters, what did you draw upon to bring them to life, and did you write either or both with yourself in mind from the get-go?
I always enjoy and welcome new challenges with each film that I create. Easter Holocaust was no different. I originally only set out to play one character named Millie, who is an elderly waitress in a diner. During production the actor that was set to play Mike Hardy, a monster hunter, was unable to film due to family issues. So out of necessity, I took on that character as well under short notice. I figured it would be another challenge. Indeed, playing both characters and directing was a true challenge. Especially when I played both characters in the same scene! For the character of Millie I endured more though. I wore a full face prosthetic, fat body suit, and wig. None of my real skin was showing except for my hands. It was so hot that in between takes our makeup artist had to keep applying liquid latex to re-adhere the face prosthetic, as I would just be drenched with sweat. It was a fun character to play, but not comfortable at all during filming. So when I played Mike it was a welcome relief. Just a mullet wig and trench coat to complete the look. I think both characters materialized from a combination of real people I have known and various films I have seen. I tend to take in everything I see and experience, so it is difficult to pinpoint exactly how they came to be. As I write, the characters seem to take on a life of their own and sometimes I find it challenging to stay on track with the story as some of them have so much to say at times. In some ways, the characters and script seem to write themselves. Strange, I know.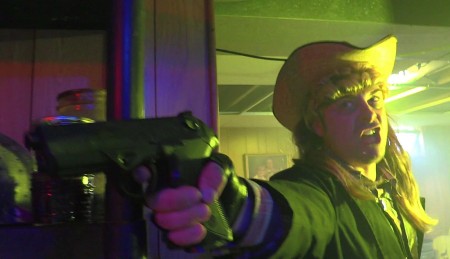 What can you tell us about the rest of your cast, and why exactly these people?
So much of the cast I have worked with in other films over the years and I have developed great friendships with. We all just enjoy working with each other and have fun bringing these crazy stories to life. We are like a theatre family in a sense that we all play off of each other and depend on each other. Everyone brings their own talents and ideas to the table. The actors are also some of the most dedicated people I have ever met. They always show up and bring their best to the production on the days of shooting. In general we all just play well together.
A few words about the shoot as such, and the on-set atmosphere?
The filming of Easter Holocaust was a long process. Over a year to be exact, as we filmed on weekends in order to accommodate everyone's busy schedules. We also filmed around the seasons, meaning we filmed the interior scenes during the fall/winter and then the exterior scenes in the spring/summer. Travel was also a consideration in the duration of filming, as some actors were local, and others came from other states to film their scenes. But, we were all dedicated to making the film in spite of the number of months we filmed. The atmosphere was always kept light and fun. There were times when a shoot went longer than expected, but everyone always remained professional. If anything, as we got more tired, we would end up laughing and having more fun. Because at the end of the day, that is what it is all about. Having fun. If it isn't an enjoyable experience to make the films, why do it? That's how I feel.
Anything you can tell us about audience and critical reception of Easter Holocaust?
People really seem to be enjoying the film. I have had great feedback and reviews. I am so thankful for those. It is doing well on Amazon Prime, as is streamed regularly. The film is also being added to more and more ROKU streaming channels, so that has been great.
Any future projects you'd like to share?
I just completed the script for my next film and I am currently in pre production for it. The film is titled Attack of the Radioactive Zombies. It is basically Willy Wonka meets Return of the Living Dead. Much of the cast from Easter Holocaust is set to return for this film. I am also filling a few cameo roles with known actors from various horror films of the past. If all goes well, filming will begin this coming August with a fall 2021 release.
Your/your movie's website, social media, whatever else?

Feeling lucky ?
Want to
search
any of my partnershops yourself
for more, better results ?

The links below
will take you
just there!!!


All of my films can be found and streamed from Vimeo on Demand. Although many are available on Amazon Prime, including Easter Holocaust. All of my films can also be found on various ROKU streaming channels such as GayBinge, Revry, StreamGoMedia, BingeHorrorTV, to name a few. If anyone has any questions or would like to reach out to me concerning my films or upcoming productions, they can reach me via email at Malachistitch@hotmail.com or at our Glamboy Productions Facebook page.
Anything else you're dying to tell us and I have merely forgotten to ask?
Easter Holocaust includes actor cameos from Ari Lehman (the original actor to play Jason in Friday the 13th), Charity Rahmer (formerly played Belle Black on the soap Days of Our Lives) and Lisa Neeld of Playboy Magazine. There are also Easter eggs throughout the film. Audiences may be able to spot items, props, and film posters from other Glamboy Productions films such as My Deadly Playmate, Stillborn, and The Murderous Rampage of Malachi Stitch.
Thanks for the interview!