Your new movie Bald Knobber - in a few words, what is it about?
In the 1880s in Southwest Missouri in the United States, the civil war was over, but lawlessness was alive and well. Bushwackers as they were called still roamed the land killing and robbing at will. In Taney County, Missouri, where over 40 murders had taken place without anyone going to jail, one man took a stand and gathered 12 other businessmen, to form the "League For Law And Order". The group eventually grew to over a 1000 men on horseback taking the law into their own hands. Truth and righteousness tends to be in the eye of the beholder. Taney Countyn, Missouri was changing and not necessarily for the better. The locals called them "BALDKNOBBERS". A true story.
With Bald Knobber being a western, is that a genre at all dear to you, and some of your genre favourites?
I generally am a fan of history and I enjoy the early frontier stories including the Civil War and the old west. My favorites are Open Range, Godless, The Magnificent 7 remake and most any Clint Eastwood western.
Other sources of inspiration when writing Bald Knobber?
The main inspiration for me is that the story based in the 1880s were true. You could not make up all the things that happened in Taney County, Missouri, USA. One of the things that most people do not know is, what is a Baldknobber? Where did the name come from? In the Ozarks Mountains of the states of Arkansas and Missouri, many of the mountains have open bare areas or clearings on the top part of the mountain. The locals in the early years called the clearings "bald knobs". When the first Vigilantes were organized by Nathanial Kinney and 12 businessmen, they called themselves "The League For Law And Order". They began meeting on top of isolated mountains in the open clearings so that they could see if anyone was trying to spy on their meetings. They met on the "bald knobs" of the mountain. The locals soon began to call the group "Bald Knobbers". They grew to be 1000 strong and reports on their activities were written in newspapers in New York and even London.
Bald Knobber is based on a true story - so how much research went into that aspect of your movie, and how much artistic license have you taken?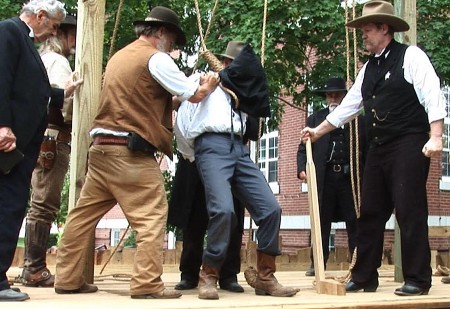 The Baldknobber film had to be made and I was surprised when I moved to the Branson, Missouri from Texas that no one had touched it cinematically. There were some short stories and a couple of books on the subject. The complexity of the story was, to say the least, was daunting! It was like a thousand pieces of a convoluted puzzle that had to be joined together. Creating a flow with clarity was difficult because a lot of history was happening at once. Nathanial Kinney was bigger than life and most everything revolved around his character. What you see in the film actually happened as you see it. We know because in most cases, there was documentation and witnesses. I was fortunate to have Curtis Copeland as my associate producer because he is also one of the better know historians for Southwest Missouri. We knew the story and worked closely together to bring the truth to the screen, without taking sides of the issues of the time. I also knew it would be an epic film which is unheard of for a small independent film company. We knew the facts for the most part but we had the task of making the characters come to life. Even duly recognized history requires relationships when it comes to real life. We had to create those relationships and what would have been the conversations to get us from scene A to scene B. We did a lot of research and in many cases shot historical scenes exactly where the event took place. It required 81 actors, 200 riders and horses and nearly 500 extras with scenes shot in 46 locations to created the film. It require 6 years to complete because most actors were volunteers and only available on weekends.
What can you tell us about your co-writers Curtis Copeland and Sean Murray, and what was your collaboration like?
I actually met Curtis Copeland, my soon-to-be associateproducer and co-writer, at the grave on Nathanial Kinney at sundown. It was not my intention to be melodramatic in the timing of the meeting. It just fell that way. A third party set up the meeting. I was thinking of creating Bald Knobber as a documentary but Curtis felt it needed to be a feature film. We instantly knew we were on the same wave length. I was fortunate to have Curtis Copeland as my associate producer because he is also one of the better know historians for Southwest, Missouri. Sean Murray is a writer and actually only created the very first scene of the film before he became seriously ill and unable to participate in the creative process. I felt he earned full credits in the project.
What are the specific challenges of bringing a western, especially one on an epic scale, to the screen on a budget?
One of my immediate challenges were concerns for security. Having been born in Texas, I was actually considered to be an outsider. Word was sent to me that it would be a very good ideal for me to not make the film Bald Knobber. There are still generational families that prefer the story not be told. I have to admit that most of the time , including auditions and on locations, I carried a 45 automatic pistol on my hip and we had security officers at most public location scenes,
Our challenge of making an epic film was money, locations, money, finding the right actors using open auditions and selective interviewing and money. We actually had over 300 people show up for a casting call at the Oak Ridge Boys Theatre in Branson, Missouri. Having been a documentary guy, it was a little overwhelming. There were only about 20 people selected from the audition. One special person was Angela Sauber Stephens. We chose her to be Maggie Kinney, the wife of Nathanial Kinney, the leader of the Baldknobbers. Angela soon became our associate producer over marketing due to her outstanding business skills. I already knew that I wanted Mel Barber to play Nathanial Kinney. Mel is an all-around entertainer. He began acting at the age of 7 in the Kansas City area and eventually moved into music with experience in televison , The Grand Ol Opry in Nashville, Tennessee and national music tours. Mel Barber is well know in Branson, Missouri, is one of the top of the entertainers.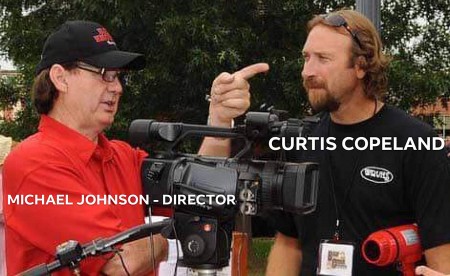 The rest of our actors were chosen one by one based on the needs of the character role. Many of our actors have entertainment backgrounds because Branson, Missouri is known as the "live music center of the world" with over 100 shows available daily for tourist from around the world. Having all of that at our doorstep helped a lot.
As mentioned, many of our scenes were shot where the original event took place in the 1880s. Others had to be scouted out by me. The Branson area in located in the Ozark Mountains in Missouri. The beauty of the Ozarks offered amazing areas to pick from including original log cabins and generational farms still standing.
What can you tell us about your directorial approach to your story at hand?
The main aspect that I wanted to accomplished was , it had to be real! I remember listening to one actor that had a real Ozark twang (dialect) in his voice and was thinking that he was too much hillbilly or country. Then I almost slapped myself when it occurred to me, "duh" that is the real people of the Ozarks Mountains. Just plain folks, not pretty actors from Hollywood with perfect diction. My approach to ever scene was to make it real, not necessarily pretty and perfect.
Do talk about your key cast, and why exactly these people?
As with any film, your main actors carry the freight. They can make or break a film. Each key cast member was not chosen by audition. Most I had already seen them perform in different venues. Some very quality actors did not get much screen-time but they were right for the role. Example would be Tom Wolf as General Jamison sent from the Governors office to make the Baldknobbers disband. I saw Tom Wolf play "Captain Hook" in the Peter Pan stage play with Kathy Rigby at the Mansion Theatre in Branson. I immediately thought about Tom when I needed the strong character of General Jamison in Bald Knobber. One of my big surprises was that my associate producer Curtis Copeland asked to do the character of Robert Coggburn in the film. I told Curtis I thought he had enough on his shoulders without adding more. He said he wanted to try. Now I can say truthfully say Curtis Copeland is one of the best actors in the film. When he is in a scene, he has your full attention.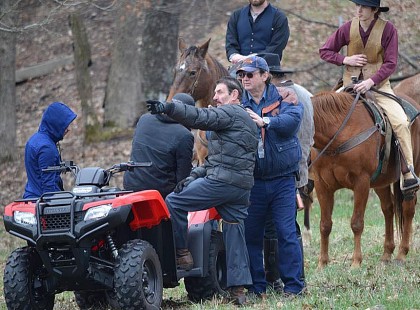 You of course also have to talk about the wonderful scenery Bald Knobber was shot in, and what were the challenges filming there?
The film Bald Knobber was shot as mentioned, in the beautiful Ozark Mountains of Southwest Missouri in the USA. I am originally from the Dallas, Texas area where I began in rock bands, country music, radio broadcasting and eventually as a television director, where I picked up a few awards along the way. I moved to Branson, Missouri, located on the Ozark Mountains because my daughter, Kimberly Barber, was one of the top female vocalist in Branson. Kimberly is featured on two songs in Bald Knobber.
One of my first projects in Branson was a documentary on the history of Branson. Coming from the state of Texas, I thought my home state had more than its share of interesting history. I soon found out that just about anywhere you plant your boot on the ground in Missouri, you are standing on history. Something happened there. It is amazing starting with the French Explorers and the Osage Indians and moving forward. Many of the famous outlaws in the US that people have heard about come from this area: Jessie James, Bloody Bill Slaughter, the Younger Brothers and Belle Starr.
A few words about the shoot as such, and the on-screen atmosphere?
One of the things that almost happened by accident is how we built a nation-wide following on social media as we made the film. I decided to take people with us by using Facebook. We posted short stories
about our production shoots, actors, and posted photos of the progress. That eventually led to over 77,000 people being touched in some way by our film Bald Knobber. Our website, Facebook, movie trailers on YouTube. It was amazing. Once the film was shot, I had months of editing before me. I was really not sure of exactly what we had until the editing process. We did not have time during the process to complete scene by scene editing as we moved forward. I do not recommend you create a film that way. Six months into the editing process, the computer crashed and wiped out my editing timeline. I was more than sick about it. I had no choice. I began again the editing process. We did not lose any of our source materials.
Anything you can tell us about audience and critical reception of Bald Knobber?
Once I completed the editing process and It was actually completed, I had seen every scene so many times, I was sort of numb to what we actually had. I could not be objective because it was six years of my life. The time had come to find out.
We arraigned to hold a premier for the film at the Mansion Theatre in Branson Missouri with a seating capacity of 2000 on the lower lever. We had to bring in a large screen for the event. We announced a date for the premier, June 30, 2018. We soon found out that the local press wold not even wave at us if we walked by. Three days before the premier, we only had 300 tickets sold. To say I was a bit uptight was an understatement. Then like magic, my beautiful associate producer Angela Sauber Stephens started kicking butt with the news media. We immediately were doing television and newspaper interviews, even on the night of the premier. We had about 1900 people come to the Sunday night premier. We soon had an offer from six film distribution companies. We chose Random Media of Los Angeles California. The world wide distribution is handled by Orchard Distribution in New York. The film is available in 32 global markets via Amazon, iTunes US, iTunes UK, iTunes Australia, Red Box Streaming, HULU and even in Branson, Missouri at Crooked Sky Trading Post. I'm told by my distribution company that talks are under way with PBS and the History Channel for possible viewing on networks. I checked with Amazon and Bald Knobber has a rating if 4 ½ out of 5 stars.
What got you into filmmaking in the first place, and did you receive any formal training on the subject?
I actually quit hight school in the 10th grade. I later got a GED and some college. My parents moved from place to place a lot and I just never felt at home anywhere. God works in mysterious ways and for sure He has a sense of humor.
I purchased a yellow Fender Telecaster guitar when I was 15 years old. That yellow guitar changed my life. I started playing music in a rockband in East Texas at the age of 17 and like everyone else, it was just an unchartered progression from there. I went to a broadcasting school and began working for small radio stations. Then Warner Amex in Dallas, Texas gave me a shot as director and manager of one of their satellite television studios where I produced and directed hundreds of talk and music shows. My heart was in telling stories. I won several awards for documentaries.
What can you tell us about your filmwork prior to Bald Knobber?
Bald Knobber was my first non-documentary film and my first screenplay. I had no idea how difficult the making of the feature film would be. It is the hardest thing I have ever done in my life. Experience is a hell of a teacher. All of my work in productions was mainly focused on documentaries. Bald Knobber was my first feature film. Knowing what I know now, I would have done a lot of things differently. But I would do it again.
How would you describe yourself as a director?
I think it would be more difficult for me to buy into a project that I did not write. I enjoy writing as much as shooting the result of writing. When I write a screenplay, I can see the scene in front my me playing out in my mind. There is no grey area, it is full color and in detail. Once you begin shooting a film that you actually wrote, it's like coming home again and familiar territory.
Filmmakers who inspire you?
I think Kevin Costner and Clint Eastwood are the best directors for western films.
Your favourite movies?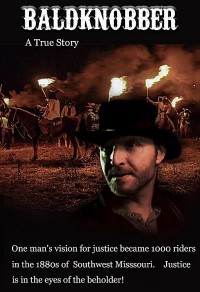 Feeling lucky ?
Want to
search
any of my partnershops yourself
for more, better results ?

The links below
will take you
just there!!!


I think my favorite western film is the remake of The Magnificent Seven. The actors chosen are perfect and the scene shots are extraordinarily creative. I'm not into superheroes. As they say, "if you have seen one, you seen them all." Another film is a little rough, but is is outstanding, called Godless, a western on Netflix staring Jeff Daniels.
... and of course, films you really deplore?
I'm not big on comedies because most of them are just not funny to me or the language is so foul that it overrides the value of the plot.
Your/your movie's website, Facebook, whatever else?
Facebook: Michael Johnson, Bald Knobber - the film
Bald Knobber trailers on YouTube
Producer417@gmail.com
Anything else you're dying to mention and I have merely forgotten to ask?
Our current Bear Creek Productions film in production is called My Mother's Sons. 1950 was a time between times. The guns of World War II were silenced and now becoming a memory. Man had not yet walked on the moon, no rock and roll and no videogames babysitters. Life was less complicated. Based on a true story of three brothers that created a special world of their own where imagination was the road map to a place with no creative boundaries. Imagination can be a dangerous thing sometimes. We are very pleased with the actors selected and the final screenplay. The film is currently being shot in the Ozark Mountains of the state of Missouri in the United States. Expected release date is summer 2020.
We are also currently writing the screenplay for a comedy western called Texas Jack. The idea came from a scene in the movie My Mother's Sons.
Thanks for the interview!
Thanks for your interest, Michael. If you ever get to the states look me up. Also stay in touch.