First of all, could you please introduce yourself to those who don't already know you?
I am German, but did also live and work in the US in Florida and California. I'm producing thrillers and horror and especially the Unhappy End! series.
What can you tell us about your current projects?
for two years now we are shooting using modern HDV equipment and computers which improves the technical quality of our films a lot. We are now shooting longer episodes (45 to 60 min-episodes) and movies instead of the old around 25 min-episodes. We just finished the first Unhappy End! feature length movie Last Laugh, which is on sale now starring Maja Loom, Sandra Lüdke and model Micaela Schäfer. It's about a former ugly duckling schoolgirl who lures the former beauties of her old school to a photostudio to torture and kill them.
Speaking of Last Laugh, does shooting a feature length film differ vastly from shooting shorts/featurettes? And do you prepare differently for such a shoot?
It differs as far as preparation is concerned. This was an experiment. Déborah and I decided we just try to shoot a feature in a way Roger Corman did [Roger Corman bio - click here], that is very few shooting days as we had to rent expensive equipment and a studio. It was more work to prepare for me. For the actresses I think it was difficult because we had no extra days for rehearsals as we did earlier for the first Unhappy End! episodes with one or two or even more days JUST for rehearsals. But nowadays with all those soaps when actors and actresses have to shoot a 25 min-episode each day, I think they just got used to this kind of working. Anyway I tried to shoot in a relaxed way. Déborah did a very good job shooting the title / opening sequence in Brazil. I wished we had done more scenes in Brazil, but I hope we can shoot there more soon. Debby is from Brazil, so there is a good chance we can shoot there again.
How did you get the excellent cast of Last Laugh?
Sandra Lüdke's agent Michael Keiran contacted me and we met and it was sheer luck - Sandra is an excellent actress who brought in great ideas. I love when artists bring in own ideas, it usually makes a better script the more people come up with new ideas. I am a big fan of Howard Hawks and Terence Fisher, who worked this way with some of their actors, like Dean Martin in Rio Bravo had some great ideas or Peter Cushing in every movie. John Wayne helping Dean Martin with the cigarettes in Rio Bravo was Dean Martin's idea and the excellent fighting scene at the end of Fisher's Dracula was Peter Cushing's design. Micaela Schäfer I knew from different TV shows and her work as a model and Carolin we found on a model site in the internet. I was impressed when I discovered she had nice ideas for a horror / slasher movie herself. Carolin also stars in a new Unhappy End! episode, The Nightmare Girl. Debby I met earlier through an agent for a project we never did (so far), but we stayed in touch and she wanted to co-produce Last Laugh.
Would you agree with the statement that Last Laugh is a slasher or survival movie bared to the bone?
Yes, totally. It's a matter of life and death right from the start till the unhappy ending. But it's also Sandra's movie. She did a terrfic job and along with Kerstin Orf, Claudia Splitt, Susanna Schwab and Astrid Dicke, she makes one of the best Unhappy End! villainesses. In fact I think she comes very, very close to the fine acting Anthony Perkins did in Psycho. I love Hitchcock, especially the James Stewart and Cary Grant movies, but Psycho is very special, and Sandra came very close. She was so wonderfully cruel AND vulnerable. All actresses were absolutely perfect, I think it's really one of the best Unhappy Ends we ever did. Most episodes I would say: well we could have done this or that much better, but with the Last Laugh movie I'm totally happy. The locations, the camera operators, Saskia's make up and acting ... no idea what we could have done better here, besides as already mentioned, more scenes in Brazil...
How did you your company, Gator Group, get started in the first place?
Many years ago Vonny Kesisoglu and I did live in Orlando, Florida one of the most wonderful places in the world. I did work for Disney and also wrote PR for another US company. Everywhere in Florida are alligators and when we decided to shoot and produce on our own I named it Gator Group. I also have a comic book story about Mr Al Gator in development, but we are not doing cartoons, so I have no idea if we will ever going to do that. It is a nice story about a young alligator who wants to rule the world. A philosopher teaches him everything to achieve this goal.
The company's website, mySpace, whatever else?
www.flickr.com/photos/MichaelHuck
Gator Group's main output is the ongoing Unhappy End!-series. A few words about this series?
Unhappy End! is a thriller-series about very attractive women who get involved in very bizarre cirmes. I always loved Alfred Hitchcock especially his TV-series with those surprise endings. And I loved bondage scenes with the beautiful heroines like in TV-series The Fall Guy and The Avengers.
So I looked for a way to do both, and Unhappy End! started. We always planned to shoot all around the world and so far we shot in Germany, Los Angeles, France, Italy, Spain and Brazil and we next want to go to Canada.
What were your main inspirations (if any) for starting the series?
I grew up with the old Republic serials starring Linda Stirling [Republic history - click here] and TV series like The Avengers - I loved thriller/adventures but I preferred strong women like Linda Stirling and Diana Rigg over male heroes. I also liked Stan Lee's Marvel Comics and DC with all those beautiful heroines.
It's really a pity what some film-producers did to Batman, Superman and Spider-Man. I mean, every fan knows, Batman's parents were NOT killed by the Joker, Batgirl is the daughter of Police Chief Gordon and not related in anyway to Alfred, Lois Lane and Superman met in Metropolis and NOT in Smallville and Mary Jane is NOT the neigbor's daughter!!! It's so silly. I feel a bit sad that there was no good superheroine movie so far - or TV series. I think Supergirl would work as TV series. Ok there was Wonder Woman. But the producers did not go far enough ... they did not ignore the original intention of course, but I think they should or could have stayed a little bit closer to the original comic books. Anyway so far it was the best superheroine series. But my main inspiration as far as movies and TV are concerned were German crime series and Republic serials and The Avengers.
German crime series because they are amazingly boring. A typical German crime series would show the wife of a rich business man being kidnapped within the first 5 minutes, then for 50 (!!!!!) minutes they would show a German police officer walking around and asking questions like"Where have you been that night...?" - and within the last 5 minutes the heroic police officer would discover the villains hiding place and free the victim. I realized then it would be much more suspenseful if the camera would stay with the kidnapped woman and her kidnapper (many years later, I watched The Collector starring Samantha Eggar and Terence Stamp - wow).
When I watched Republic serials like Jesse James Rides Again starring Linda Stirling and Clayton Moore, I realized Republic had another formula. In German crime series it was 5 % action and 95 % a police officer walking around and asking questions. In Republic serials you would see Linda Stirling (who was able to shoot and fight like Emma Peel) being captured by the villains, bound and gagged, taken to a steamboat with lots of dynamite, then Clayton Moore looking for her, fighting with the villains and rescuing her and it was 50 % of Clayton Moore walking or better running and fighting around and 50 % Linda Stirling shooting, fighting and being bound and gagged. I then asked my self, what would happen if I use another formula. lets say 20 % of talking and 80 % showing a beautiful heroine being captured, bound and gagged, always in deadly peril, menaced by some (usually) female maniacs. My intention was to eliminate boredom and bring in more suspense. (I would also have done car chase scenes, but it was just too expensive for me and my low budgets).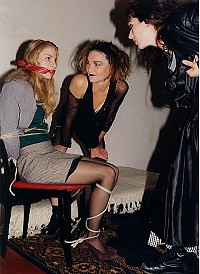 Marlene Marlow (tied up), Kerstin Orf and Claudia Splitt in
Most of the Unhappy End!-films have bondage themes. How come?
There are two reasons for all those bondage scenes: 1) I love bondage scenes. 2) The audience loves bondage scenes. Indeed the series was not planned ithis way, in fact we shot several films with only short bondage scenes or none at all and we got lots of complaints by people who asked why there are episodes WITHOUT bondage scenes.
Anyway the first projects I did when writing for German TV channels SDR, WDR were comedies and shows, nothing involving bondage at all.
I remember having witnessed several times when I was still in school that some girls liked to tie up other girls, and they ALWAYS chose the most beautiful girls to be tied up. I had the impression that those girls were kind of jealous and just enjoyed to have the beautiful victim at their mercy. There is a nice still of Die Schulfeindin: The beautiful heroine Angela (Marlene Marlow) is bound to a chair and gagged. The two bad girls played by Kerstin Orf and Claudia Splitt, look at her, triumphant, grinning dirty and making fun of their helpless victim. That's exactly what I have witnessed in school when those girls tied up a very beautiful girl.
On the other hand, an actress once told me, when she went to school she was always the one who was tied up, and upon realizing she had been chosen as victim because she was the most beautiful girl in class, really liked it. Once an actress whom I hired to play the bad woman asked me to hire a certain actress to play her victim and when I asked her why she wanted to work with that actress she told me, she will really enjoy to tie up and gag this "arrogant witch". I'm actually very surprised how many women are interested in bondage from the victim's point of view AND from that of the villainess who just enjoys to make her (more) beautiful victim suffer. I think that's a big difference between men and women. A man punches another guy in the face and that's it. A woman really loves to watch her victim suffer a long, long time.
A few words about your actresses and actors, and is it hard to get people to star in bondage-themed films?
I do not consider Unhappy End! as bondage films. What we are doing in Unhappy End! are thrillers and horror involving lots of bondage scenes. Bondage indeed was a main part of thrillers since silent movie serials à la Perils of Pauline, then Republic's Perils of Nyoka and The Tiger Woman [Republic history - click here] ... all the US TV-series until today use bondage. Diana Rigg and Stephanie Powers were bound and gagged in almost every episode of Avengers and Girl from UNCLE, and in recent series like The Lost World or movies like Hostel 2 and Timber Falls, the heroines are captured and bound and gagged all the time. There are several actresses in movie history from Maureen O'Hara to Cameron Diaz who played bondage scenes again and again, and Naomi Watts just was in Funny Bones bound and gagged almost the whole movie AND she did produce it.
I think bondage was never out of style from John Willie, Bettie Page and Irving Klaw till today. I do not like movies with lots of blood, I prefer this old fashioned things like Emma Peel tied to tracks in The Gravediggers episode when the train comes closer and closer. That's what I'm doing in Unhappy End!. One actress is the beautiful heroine in deadly peril and the other bad girl plays the part of the menacing locomotive. I really like that. The actresses are very different. Some just see it as a job playing a victim and some insist being tied up really tight to react better. We are working with really good models and actresses from mainstream TV shows, which is very important. I think most of the actresses we work with consider Unhappy End! thrillers with bondage scenes, like myself. Among the actresses were Katja Bienert [Katja Bienert interview - click here], who was in many series and a lot of international movies, Marlene Marlow, who starred in the ZDF series Die Rettungsflieger, Bettina Müller who was a SAT 1 achorwoman and later had her own tv show, Blitz, Magdalena Kowalczyk who was a member of the RTL Freitag Nacht News cast, Amanda Carrier, a Los Angeles Model and actress who also hosts a sports show on TV, and many other actresses and beautiful models who had guest parts or starring parts in German soaps or prime time series like Tatort.
A few words about Katja Bienert [Katja Bienert interview - click here], who pops up in many of your movies, and has become your business partner - and who was of course a renowned actress and former erotic star prior to hooking up with you?
Katja was in all the German TV series like Derrick and Praxis Bülowbogen, and she prefers a quiet life like myself. For many years now she has worked outside Germany with big international companies. She shot with Mario Kassar, Sylvester Stallone, Anthony Hopkins all over the world, she shot movies and TV in Portugal, Spain, South Africa, she produces TV-shows and documentaries in Germany and strange places like Benin, Africa. She wrote scripts and starred in a movie in Spain with Maria Gracia Cuccinotta, all during the last couple of years, but practically noone in Germany knows about this. She did co-produce several Unhappy End! episodes and it's just fun because what we do is really independent. Katja calls me and says "I'm just shooting in Italy, it's wonderful, come here and let's shoot an Unhappy End! episode", and we fly there and just do it, it's great. If you would like to set something like that up with a TV-network, it would take two or three years from idea to shooting, so I really like to work this way.
We had many well-known actresses in Unhappy End!, they would not work with us if they would consider Unhappy End! as bondage. I think Unhappy End! is something singular which does not fit in existing designs, a bit like like Asterix or The Muppet Show.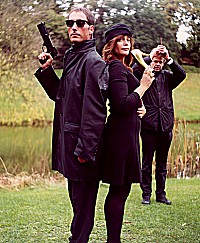 Immer Vollmond
Katja Bienert has also made her directorial debut within the Unhappy End! series (episode Immer Vollmond/Full Moon). How does her episode differ from your films?
Immer Vollmond was shot many years ago at a time when we planned to do everything in Unhappy End!, comedy, Fantasy, horror, thriller, so actually it fitted in this concept. Later we moved more towards thriller and horror, which is easier to shoot than comedy. But Katja also wrote the script, so she can explain this better [Katja Bienert interview - click here].
Your personal favourites within the Unhappy End! series, and why?
Episode 3: Die Rivalin - Technically one of the best and Katja Bienert was in it. Susanna Schwab was a great villainess. It's episode 3 in the series but it was the first to be shot. This started all ...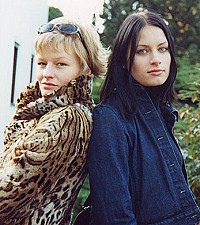 Nachtschatten
Episode 9: Nachtschatten - One of the best stories, great cast and very good acting from Astrid Dicke and Jean Bork
The Last Laugh movie - Technically one of the best we ever did. Sandra Lüdke is hilarious as the bad girl and her victims all were great. Maja Loom co-produced and did a perfect job. It was all fun.
Die Schulfeindin - Arguably technically one of the worst epidsodes we ever shot (my fault), but acting and script were absolutely great. A lot of people wrote me Die Schulfeindin is their favorite episode. Marlene Marlow was the perfect heroine looking as beautiful as Grace Kelly or Veronica Lake, and Kerstin Orf and Claudia Splitt were terrific as the two mad girls, they were really scary. I hope I can do one day a remake which is technically better, but it will be difficult to find actresses who could replace the original cast.
Any future episodes of the series lined up?
We just have finished the first Unhappy End! movie Last Laugh with Maja Loom and model Micaela Schäfer, and several other episodes like Shock Treatment and The Halloweenies are on sale now. A new episode, The 7 Nightmares Girl is in post production and last year we shot (but have not released yet) an international episode A Bouquet for a Kill, starring and directed by Lydie Denier.
We are planning new episodes the next two years in England, Germany, USA and Canada.
Future projects outside of Unhappy End!?
I wrote a vampire series and a crime series, no idea if we can sell it, it's too expensive to produce for me, and I'm busy with Unhappy End! for at least two more years.
What can you tell us about your life before Unhappy End!?
I tried to overthrow the government, but as the people here are too stupid to recognize that I'm the only rightful successor of our beloved Kaiser Wilhelm, I decided to leave politics and just shoot Unhappy End!.
As an independent filmmaker, what can you tell us about the German independent scene?
Actually, I know some directors and producers, but I'm not really involved in the German independent scene. I'm more in touch with producers in the US, Canada and some other countries.

Feeling lucky ?
Want to
search
any of my partnershops yourself
for more, better results ?

The links below
will take you
just there!!!

Find Michael Huck
at the amazons ...

amazon.com

amazon.co.uk

amazon.de
Looking for imports ?
Find Michael Huck here ...
Something naughty ?
(Must be over 18 to go there !)

Directors and writers who have influenced you?
Ernst Lubitsch, Howard Hawks, Billy Wilder, Terence Fisher, Curt Goetz and of course Alfred Hitchcock.
Your favourite kind of films, and your favourite movies?
I love the old Warner Brothers-, RKO- and MGM-musicals, 42nd Street, Fred Astarie, Gene Kelly, Maurice Chevalier. Some of my favorite films: Heaven Can Wait (Lubitsch), Ariane (Billy Wilder), Charade, North By Nortwest, Dracula (Terence Fisher), Frankenstein Must be Destroyed, Rio Bravo, El Dorado, Hatari!, Mr Hobbs Takes a Vacation, Das Haus in Montevideo, Bel Ami, Napoleon ist an allem Schuld, Singing in the Rain, Battleflag.
Favorite TV series: I Dream of Jeannie, The Muppet show, Buffy.
And some films you really deplore?
That's a really difficult question as I stop watching movies if they are boring. I recently watched a French movie starring Carole Bouqet as a lawyer. I am a fan of hers and the movie started hilarious - let's say the first 5 minutes - and then the rest was so silly and boring, I really felt cheated. The first 5 minutes promised real fun but then it was soooooooooo boring and stupid.
Thanks for the interview.