Your new movie Kids Get Dead 2: The Kids Get Deader - in a few words, what is it about?
Kids Get Dead 2: The Kids Get Deader is an homage to the classic slasher films, including our own horror hostess segments. A house party full of boobs, blood and rock'n'roll goes awry while our main character struggles with meeting her creator and the nature of free will.
With Kids Get Dead 2: The Kids Get Deader being a sequel to Kids Go to the Woods ... Kids Get Dead - to what an extent is it based on the earlier film, and when did it appear to you that that one needed a sequel?
Part 2 can not only stand on its own but surpasses the original. Our survivor girl (Casey, played by Leah Rudick) does make a return but we specifically tailored the script so the movie could be enjoyed without seeing the first one. Kids Get Dead was always envisioned as a series in the vein the Friday the 13th, Nightmare on Elm Street, Halloween etc. After the success of the first film we knew our series would keep going.
Your (other) inspirations when writing Kids Get Dead 2: The Kids Get Deader?
I am a huge fan of Tales From The Crypt, The Twilight Zone and USA Up All Night with Rhonda Shear. Those shows were very influential in addition to the big franchise slashers of the 80s.
How far do you go in terms of blood and guts in Kids Get Dead 2: The Kids Get Deader, and what can you tell us about your gore effects - and was there ever a line you refused to cross?
Some of our gore gets pretty intense! In the first week we ended up using all the blood that was supposed to last the whole shoot and had to have Rich Catino (our special fx make up artist) whip us up another huge batch.
We tried to use as many practical fx as possible. There is just a tangible element that doesn't translate with the CGI stuff so we used that sparingly.
As far as crossing any lines? I really don't dig that torture porn stuff at all. So although it's gory we still try to keep it fun and in the context of the story.
What can you tell us about your directorial approach to your subject at hand? And since this one is essentially an old school slasher, what do you think makes it stick out of the crowd?
I never try to force the camp value in a picture like this. It happens naturally with the subject matter. When you try too hard to ham it up it tends to come across as trying too hard. I trust our actors when they develop their characters and direct them to approach their scenes very seriously no matter how ridiculous the situation might be.
I think the subplot of Casey (Leah Rudick) confronting the author Charles Carver (Steve Buja) of the novels dictating their fates in the movie gives the picture a little more depth than your typical slasher film. Of course we have some very unique and sexy kills, which doesn't hurt either!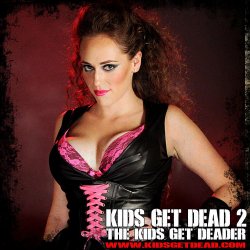 Samantha Glovin, hostess of
You of course have to talk about the horror host segments for a bit!
USA Up All Night with Rhonda Shear was such an influential show for me. So was Rod Sterling and the Crypt Keeper. I really love that element of the host or hostess and what it brings to the overall experience of watching a film like this. The nostalgia of the homage reminds me of when I experienced these things for the first time, but I also haven't seen it done since maybe Mystery Science Theater 3000 (another favorite). It's something I enjoy but don't see others do so I wanted to bring that element back to the movie watching experience.
What can you tell us about your cast, and why exactly these people?
The cast was very carefully selected from several auditions, call backs and rehearsals. Not only did we need people that could fit the part but keep up with a brutal shooting schedule and rigors of a horror picture. Some were people I had worked with in the past but there were plenty of new faces too. Everyone I work with really becomes part of our family, so we try to cast with that in mind as well.
Do talk about the shoot as such for a bit, and the on-set atmosphere?
The shoot days are very long and demanding. In most cases people are doing multiple jobs and wearing a lot of different hats. I try to make sure everyone has a good time and is well fed and we really do become a family very quickly. Everyone is very professional, often taking time away from their industry jobs to dedicate to our pictures, so it's important to me they are treated well. We also like to teach new film makers as much as possible. Whether it's a production assistant or even an actor, if they have an interest we try to teach them lighting, cameras, sound etc as much as possible. Many have gone on to start their own production companies, create their own films or secure industry work after training with us, and I've always been very proud of that.
What can you tell us about audience and critical reception of Kids Get Dead 2: The Kids Get Deader so far?
The reception so far has been amazing! In addition to a solid script we really upped the production value since the last film and everyone seems to really dig it. Audiences have been having a blast, our premiere at Tribeca Cinemas in NYC was a packed ruckus crowd and the critics have been getting behind us as well.
Since we have talked quite so much about Kids Get Dead 2: The Kids Get Deader already, you also have to say more than a few words about Kids Go to the Woods ... Kids Get Dead!
The first film had a very different feel than Kids Get Dead 2: The Kids Get Deader. We were going for more of a VHS tape feel with static and fake commercials in addition to the hostess vignettes. We also updated the look of the killer in Kids Get Dead 2: The Kids Get Deader as well as slicker production values. Kids Go to the Woods ... Kids Get Dead still packs a punch with the boobs, blood and rock 'n' roll and was the first step in envisioning the homage as an ongoing series. Both movies are ultimately designed for the audience to just have fun!
Any future projects you'd like to share?
We have a few scripts in the final stages now but nothing is completely locked in. Lately I've been very interested in werewolves, Barbarella and Paradise Lost, so we'll exploring some of those themes for sure. And of course Kids Get Dead 3D: The Kids Get Deadest is in the works!
What got you into filmmaking in the first place, and did you receive any formal education on the subject?
My introduction to filmmaking was making stop motion movies with our family camera and my action figures. I studied film in college but ultimately decided on a Communications Studies degree from Fairleigh Dickinson University. My first job after college was producing a feature! Talk about trial by fire. This led to a partnership in 4 Horsemen Films, LLC and about 10 years of freelance work in nearly every position someone can have from pre-production through post before starting my own company Darkstar Entertainment, LLC.
What can you tell us about your filmwork bestides the Kids Get Dead-movies?
In addition to several documentaries, music videos, commercials and things of that nature I am very proud of Lost Hero. It was an ambitious 25 min short that really showed connected with my thoughts on super heroes and their place in the modern consciousness. "It's not the villainy you prevent but the good you inspire" really struck a chord with me. You can check it out at www.lostheromovie.com.
How would you describe yourself as a director?
As a director I am extremely focussed and know what I want. But at the same time I want people to have the freedom to explore their characters and bring themselves to the roles they play.
Filmmakers who inspire you?
John Carpenter, John Landis, Robert Rodriguez, Lloyd Kaufman, and Roger Corman [Roger Corman bio - click here] are all very inspirational filmmakers. I love their DIY can-do attitudes as well as the hands-on nature they take with their pictures.
Your favourite movies?
I always dread this question, there are so many! High Fidelity, Never Ending Story, Back to the Future, Star Wars, Indiana Jones, Willow, Labyrinth, anything by the filmmakers listed above ... but this list could go on and on!
... and of course, films you really deplore?

Feeling lucky ?
Want to
search
any of my partnershops yourself
for more, better results ?

The links below
will take you
just there!!!

Find Michael Hall
at the amazons ...

amazon.com

amazon.co.uk

amazon.de
Looking for imports ?
Find Michael Hall here ...
Something naughty ?
(Must be over 18 to go there !)

Not naming names, but anything that comes across as lazy in execution or intent really bugs me. I am not really a fan of "found footage"-style movies or exploitation films that portray rape and violence as pornography.
Your/your movie's website, Facebook, whatever else?
The best way to keep in touch, chat about filmmaking, dig on some merch or find out about future projects are through:
Thanks for the interview!