Your new film The Gerber Syndrome - in a few words, what is it about?
In a few words: The Gerber Syndrome is about a very serious disease and about how everyday people deal with it.
Even if the infected in your film are technically not zombies, The Gerber Syndrome will almost certainly be labelled a zombie movie. Does this at all bother you, and were you at all inspired by zombie cinema?
I have to say that i am a big zombie lover, so I wouldn't really be bothered by that. That said, I didn't really want The Gerber Syndrome to be a Zombie film. That is because iíd prefer the audience to consider it a more realistic film rather than a complete piece of fiction.
You approach your subject matter in the guise of an old school (if fake) documentary. What inspired you to go that route?
I thought it would be way easier for the audience to believe in the film and to sympathize with the characters if I showed them something they could actually see on TV, like on Discovery Channel or National Geographic. Nowadays people seem to think: If TV says it, then it must be true. So my final purpose is to lead people to ask themselves: What would I do if that happen to me?
Other sources of inspiration for The Gerber Syndrome?
I watched lots and lots of real documentaries, to grasp that particular visual style and technique. On the fiction side, I really appreciated a British mockumentary called Death Of A President. That was one of the few mockumentaries made in a similar way as I thought The Gerber Syndrome should have been.
The titular "Gerber Syndrome" is of course just fiction, but how much of the syndrome is based on scientific fact?
The story is basically fiction. But the major part of elements that compose it are taken from real events. Even the disease is a ďcollageĒ of symptomes taken from several different diseases like Meningitis, Encephalitis, Malaria or Syphilis. During pre-production I worked a lot with two doctors specialized in infective diseases who showed me how to make this look as real as possible, and they also showed me how often reality is way worse than most horror films.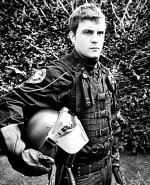 Luigi Piluso
A few words about your principal cast?
My cast was divided between professional actors and real people.
Melissa, her parents and the Doctor, played by Valentina Bartolo, Sax Nicosia, Pia Lanciotti and Beppe Rosso, are all professional and very talented actors, with important careers in theatre and TV.
Luigi Piluso, who is Luigi in the film, was a great surprise. He never acted before, and he showed us his great ability in looking believable and perfectly fitting the role.
From what can be seen in The Gerber Syndrome, you worked with a very skeletal crew. What can you tell us about your crew and the on-set atmosphere?
Compared to the crew of an average film, even if low budget, our crew was very small indeed. We never had more than 10 people on set. On the technical side I prefered to have people with a reportage and documentary background, because I thought they would better capture the essence of reality that I was looking for the film.
In fact the cinematographer, Stefano Rogliatti, and the second camera operator Renato de Gaetano, are mainly TV cameramen.
Some days, when we shot the interior scenes with Melissa for example, the atmosphere was quite serious and dramatic. We all felt involved in the charachterís drama, as if we were about to film real events.
Some other days, the situation was more relaxed, and we could even have a laugh now and then. Especially the scenes with lots of extras, those were quite fun.
I really liked the exteriors of the Security Center, so you just have to talk about that building for a bit!
We have been very lucky with that location! We were looking for the right place, and we couldnít find a location. I was quite desperate because that was a very important scene; and one day Sara Montironi, our production manager invited us to see this place, because her mother was working there. That was the central building from the Veterinary faculty of the University of Torino. Somehow she got us the necessary permits to shoot there, and it was amazing. We had the freedom of going pretty much everywhere, trough this fantastic surgery rooms, some of them oversized because they are destined to horses and cows. So it really felt like being into a hospital, and I think the audience has the same feeling while watching the film.
Speaking of the Security Center: Am I the only one who senses a certain scepticism towards authority in your depiction of the organisation? And would you at all want your film to be understood as a political film?
When writing the script I decided that I would show some stuff, some real stuff. And you donít have to look far away to find my referencis, you just have to read some newspaper from 2009 or 2010.
In recent years, there has been a big talk concerning viruses, diseases, epidemics, even pandemics sometimes. Sometimes real, sometimes not so real.
I thought that at the beginning of the last decade, after 9/11, peopleís big fear was terrorism. That was ďthe monsterĒ. Now, I think peopleís big fear is way way smaller than a terrorist, the new monsters are viruses, bacterias, infections and so on. And I think that these are much scarier than zombies, vampires or mummies.
There are definitely lots of wrong things going on concerning the management of peopleís health. Huge business are made every single day on the back of people who are suffering.
You hear about things you canít believe, stuff that look like some sci-fi movie, that makes you wonder ďis this Orwellís 1984 or real life?Ē.
So, my biggest hope is that my film might be able to make people think about some topics. To make them say ďI wanna know more about this, I want to learn whatís going onĒ.
Nowadays we can learn what is going on. Just go on the internet, maybe you wonít find the absolute truth, but at least you will know a little bit more. And this way next time your government, your doctor or a pharmaceutical industry will try to fool you about your health, you might be able to say NO! SCREW YOU!
Let's go all the way back to your beginnings: What made you go into filmmaking in the first place, and did you receive any formal training on the subject?
Filmmaking was my main and only big passion since I was six or seven years old. That is when I started making small short films with my friends, mostly adventure and 007 kinda stories. Then I kept on doing short films, untill I started making them better and presenting them to film festivals. That led me to meet Claudio Bronzo when I was sixteen, he was my first producer, the first who believed in me. And after four short films and a stage play together he is now the producer of The Gerber Syndrome. Iíve studied acting for five years, and photography for two years after high school, but I never did study filmmaking, Iím completely self-thaught.
I have been very lucky to have had the chance of working as editor and cameraman since I was quite young, and I learned a lot from the professionals i worked with.
As far as I know, The Gerber Syndrome is your first feature film, but you have made quite a few shorts that have won you some international acclaim. Would you like to talk about those for a bit?
I did make some shorts yes. Most of them were self-produced, with just my money or sometimes my parentsí. That was the only way I could express myself, the only way I could tell the stories I wanted to tell. In the last years, things got a little bit more serious, having someone else that finacially backed up my projects. The bad thing about short films is that nowadays there is no market for them, there is virtually no way to gain any money with them. At least from my own experience. So I donít know many people that are still willing to invest money in short films. That is a shame indeed.
After your shorts, what made you take the plunge and go into feature filmmaking?
After Warming Safari, my last short film, I felt I needed to do a further step. I wanted to do something that could really push my career into a more commercial circuit. With short films the only thing you can hope for is to get into film festivals.
So far, most of your films are horror movies in one way or another. Is that a genre especially dear to you, and why?
Not exactly. Actually I only did one horror short film. All my other shorts are mostly Sci-Fi. And even The Gerber Syndrome, I donít really feel it as a horror film. I watch lots of horror films, but itís not exactly my favourite genre. I like horrors when they have something to say. If itís just a thrill show, I donít really care.
Any future projects you'd like to talk about?
Iím currently working a new feature screenplay, with a very talented writer called Alessandro Mello. It has nothing to do with horror, nor Sci-Fi. Itís a very difficult and dramatic topic, but I really like it and Iím enjoying working on it.
You also work for M&N Productions, a company whose usual output couldn't be further removed from horror. Why don't you talk about that company for a bit?
M&N Productions has nothing to do with horror... Itís a TV production company specialized in marine documentaries. So, sailing, diving, motor boats and stuff. I started working there several years ago as cameraman, then editor, and now Iím in charge of the whole post-production department. Itís a great place to work, and Iím very satisfied with what I do there.
And I was very happy when they decided to co-produce The Gerber Syndrome with Indastria Film.
Directors who inspire you?
I really like the work of ďnewĒ directors like Mark Romanek, Brad Anderson, Chris Cunningham, Danny Boyle sometimes. And of course the classics, Scorsese (when he was young), Jim Jarmush, Romero, might sound obvious, but Kubrick above all. I canít deny it.
I have a crush on Scandinavian films, especially Norwegian. Some new Norwegian films like Dead Snow, Troll Hunter, Norwegian Ninja. They are ingenious. I love their style.
I also like some new German films and directors: films like Downfall, The Life Of Others, Die Welle, Invasion (American film, German director, I thought it was brilliant).
Your favourite movies?

Feeling lucky ?
Want to
search
any of my partnershops yourself
for more, better results ?

The links below
will take you
just there!!!

Find Maxž Dejoie
at the amazons ...

amazon.com

amazon.co.uk

amazon.de
Looking for imports ?
Find Maxž Dejoie here ...
Something naughty ?
(Must be over 18 to go there !)

Taxi Driver, Barry Lyndon, The Shining, Amadeus, Doctor Strangelove, American Graffiti, One Flew Over the Cuckooís Nest, Monsters, Inc... More recently I really liked District 9, Battle LA, Let The Right One In (the Swedish one), and I could go on for long...
... and of course, films you really deplore?
Well. I usually try to watch anything, but I really like donít like the Twilight-series. Because it looks ugly and fake. I was surprised because itís not well made, considering the budget of those films. Recently I didnít like Super, and Cowboys & Aliens really bored me.
Iím afraid I donít like most Italian films. We can only see very stupid comedies or very boring social dramas. And thatís 90% of our production.
Your website, Facebook, whatever else?
I used to have a website, but donít anymore. It was too complicated.
I have a vimeo page: www.vimeo.com/maxidejoie and there are the Gerber Syndrome official pages: www.facebook.com/thegerbersyndrome and www.thegerbersyndrome.com.
Anything else you are dying to mention and I have merely forgotten to ask?
I guess thatís it folks!
Thanks for the interview!