Your upcoming movie Haunting of the Innocent - in a few words, what is it about?
It's about a high-powered but philandering architect, Tom Paulson, who's wife, Brenda Paulson has a very traumatic experience, after which she convinces Tom, to move with their son, Roger, back to her hometown to live with her father, Erik, to start a new life. Upon arriving she meets a local woman, Beyla, who says seems beyond her years and possesses a particular knowledge of the town and its people that fascinates Brenda. But something is amiss, and the more time Brenda and Tom spend in the town the more things seem out of place and their own personalities seem affected by their surroundings. The strange goings-on guide Tom and Brenda down a dark path and dredge up ancient memories that eventually reveal the most twisted of secrets that the town has harbored for centuries.
What were your sources of inspiration when writing Haunting of the Innocent? And what can you tell us about your writing partners Ian Ascher and Chris W. Freeman, and your collaboration with them?
The great thing about Ian Ascher and Chris Freeman is that they are very active and vibrant creatives. They have ideas constantly brewing and are always ready to throw an idea either at you or in the trash, this makes the creative work easy because there's always a great idea or fix coming at you. They had already laid down the bones and sinew of the script so when I was asked to direct, all I had to do was go in and flesh it out in places and focus it in others. I loved the idea they brought me, I only had a to do a couple of roundtables with the writers and producers to get the story to where I thought it was shoot-ready.
One of the core inspirations for Haunting of the Innocent is the 1973 feature Wicker Man. We loved the idea of how a person could be slowly sucked into a world they thought they had full control and understanding of only to have it flipped completely upside down on them.
How would you describe your film's look and feel? And related to that, please talk about Haunting of the Innocent's approach to supernatural horror for a bit!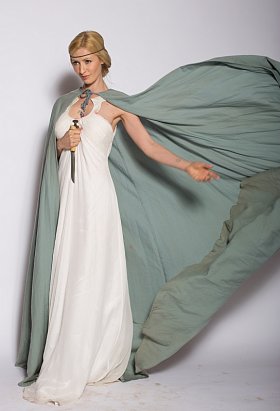 Hannah Cowley
I designed the film to look and feel a bit more like a classic horror film, slow-burn and paced, with modern touches sprinkled about. My DP, Miko Dannels, and I kept our frames very purposeful and efficient in the sense that much of what's happening in scenes is expressed in as few shots as possible. My favorite examples of this are Kubrick's Shining and Tomas Alfredson's Let The Right One In (the original). The simultaneous simplicity and complexity is one of the aspects I've come to love about the best filmmakers.
"If you're gonna show me, don't tell me. If you're gonna tell me, don't show me" is an old adage I learned from my theater days after college and it has always stuck with me. My intent was to express the supernatural aspects as "naturally" as possible, given our constraints, and to not overemphasize them. I wanted them expressed through character choices as much as possible rather than through magic lightning bolts from the sky or silly auras surrounding a character. I've always felt this creates both a deeper suspension of disbelief in general and a greater sense of dread and terror when watching a horror film.
Supernatural horror usually also suggests quite a few special effects. So what can you tell us about the effects work on your movie?
In keeping with the aforementioned, and considering my affinity for story foremost, my goal was to integrate the special/visual effects with the story such that they are not the dancer but rather they are the clothes on the dancer. I have always been distracted when watching a movie and the purpose of a scene is just to show me a supposedly dazzling special FX sequence, but without advancing the story in any way. So there is a good deal of FX usage in Haunting of the Innocent but at times the viewer may not even be aware of it. We did however have some great SFX makeup and blood work done by Michelle Diaz and Mika Caviola, and my VFX artist, Sean Jackson did some fantastic work with ravens, fire, and smoke elements as well.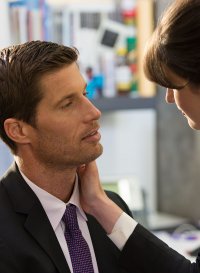 Rib Hillis
What can you tell us about your movie's key cast and crew, and why exactly these people?
Rib Hillis (as Tom Paulson) [Rib Hillis interview - click here] was, luckily for me, already attached when I came on board, and I can't be happier because of what he brought to the table. As an actor Rib's openness to guidance and sheer willingness to pursue the idea, when put together with his talent and experience were indispensable on my set.
Likewise Dane Hillis (as Roger Paulson, Tom's son) is Rib's real life son and what more could a director ask for than to have a real father and son team on set who are both natural performers. The moments of nuance onscreen between these two are things that don't exist between actors who don't know each other and are next to impossible to create artificially onscreen.
Jessica Morris (as Brenda Paulson) has this ability to beautifully evoke the qualities of someone who is simultaneously surefooted and lost. That vulnerability was absolutely necessary for Brenda as was her sense of self to stand up to Tom at the right times. It also give you the sense that you're not sure where she stands at any given moment, the precise imbalance I wanted for Brenda.
Hannah Cowley (as Beyla) was Beyla the moment she sat down in the audition, period. Watch the film and you'll see what I mean.
Neil Dickson (as Erik, Brenda's father) instantly legitimizes any scene he's in. He is such the craftsman of acting that, on the rare occasion I would need to adjust a scene and couldn't find the words, he would see my body language and just nod at me say in his regal Queen's English, "Brilliant, yes?" and the next take was the one.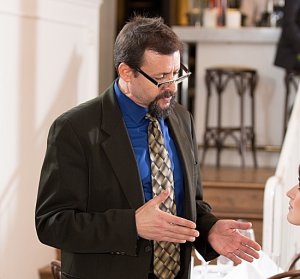 Judd Nelson
Judd Nelson (as Mr. Franklin) was a trip, I didn't know what to expect prior to meeting him but was delighted to find out he's just as passionate and excited to be on a set as any brand new actor on the scene. It's always such strange experience to meet someone who you've known since you were a kid watching them in movies and on TV and they have no knowledge of you so there's this disparity. But once you find the common thread, which in our case was a passion for the story, everything else falls away and you can immediately appreciate the man's expertise. I was extremely happy with the extra bit of magic he brought to his scenes.
I also want to throw a quick mention to actors Autumn Federici [Autumn Federici interview - click here], Flood Reed, and John Joyce, all of whom I've worked with before and will again. They always deliver.
Miko Dannels (my director of photography) was essential in the execution of the look and feel of the picture. From the moment we sat down he understood immediately what I was aiming for, and he knew how to deliver it on the camera systems we used (Red and Canon 5D Mark III). Aside from his eye for light, Miko is the kinda guy who sees a problem before it's a problem and prevents it from getting there and he usually does so without saying anything. He knows his business.
Darren Morze (my composer) worked with me on Blackout and I didn't even have a choice if I wanted to achieve on this picture what I wanted. Darren is the kind of composer that already knows what I need before I ask for it, and he already has 3-4 ideas of how it can sound. And the quality of his music is second to none.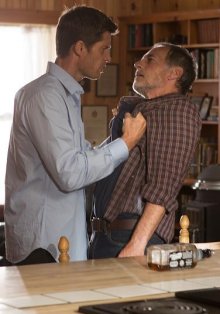 Rib Hillis, Neil Dickson
Brian Guilladeau (my editor) is another guy who just gets it. As with so many of these key crew positions, there are always droves of people out there who have the technical skills to work a particular instrument or piece of equipment or software, but something much more difficult to find is someone who intrinsically understands the intersection of the technical with the art. And Brian just gets it.
One of the unsung crew positions on most productions is sound and yet its almost always at least 50% of the importance of the film. Chris Buch & Jacob Voelzke (production sound mixers) did wonders getting me the sound I needed in often impossible sound environments and then David Kitchens and the boys at Juniper Post (post production sound) did wonders cleaning up what we had and and creating what we didn't. A big thanks to them.
A few words about the shoot as such, and the on-set atmosphere?
Another reason my design was necessary, 9 locations and 12 primary performers all shot in about 16 days. For the uninitiated, that's insane. I was freaking out when the producers first told me the timetable. Then I sat down with Miko, had a couple three fingers of bourbon, and came up with a plan. Thanks to producer Autumn Federici [Autumn Federici interview - click here] and Justin Jones' experience doing these types of shoots, aside from a dropped scene, I got the film.
The atmosphere throughout was focused but enjoyable. Shooting a movie is always a hectic experience because you're usually working 12-16 hour days, 6 days a week for however many weeks. You're doing night shoots, then day shoots, then back again, and your Circadian rhythms are mucked about, but it's also the most invigorating experience because it awakens the senses to purpose, the most vital of principals. And usually the type of people who work in the movie business thrive on the driven but constantly shifting experience.

Feeling lucky ?
Want to
search
any of my partnershops yourself
for more, better results ?

The links below
will take you
just there!!!

Find Matt Hish
at the amazons ...

amazon.com

amazon.co.uk

amazon.de
Looking for imports ?
Find Matt Hish here ...
Something naughty ?
(Must be over 18 to go there !)

The $64-question of course: When and where will Haunting of the Innocent be released onto the general public?
January 28th 2014 on Redbox is the first pickup I've heard of from the producers so far, but it will almost certainly be out on many of the digital platforms within a week or so after the Redbox release.
Any future projects you'd like to share?
I've always got some stuff brewing, various projects are in development stages, and I hope to be talking to you about one or more of them soon!
Your/your movie's website, Facebook, whatever else?
http://www.imdb.com/title/tt2554714/
Thanks for the interview!
My pleasure, and thank you Michael.