Your new movie Cannibal Messiah - in a few words, what is it about?
On the surface the movie is about a militant pathfinder seeking revenge for the death of his brother, who got killed by an animalistic beast. In order to do so he kidnaps two local filmmakers and forces them to lead him deep into the woods of Silschede. Beneath this simple twist, a whole universe - or more correctly said - a whole multiverse of strains and topics is opening, which range from speciesism to cannibalism, from racism to xenophobia, from drug use to drug abuse, from refuge to betrayal, from genuine spirituality to pseudo religious cults and from the narrow boredom of Silschede to the unlimited possibilities of timetravel.
What were your inspirations for writing Cannibal Messiah - and with all the weirdness going on, how much was actually in the script, how much was made up on the spot?
The greatest inspirations come, besides from our own previous works, from the classic Italian mondo and cannibal film era in the seventies and eighties. It took a broad research of revisiting all the icons of that genre, in order to catch the right flavor and to pick out some special scenes begging for a quote or parody. The script itself was already weird enough on its own and had much more content in it than what you find in the actual movie. If we had filmed all of the scripted scenes, the movie would be at least 180 minutes long and defenitely not yet finished. And it even had a lot more weirdness in it than people would think. Of course, some jokes were just generated by spontanious ideas on the set, and when it comes to continuity there were a lot of sources for disturbance outside the production process (i.e. the changing lenghts & styles of hair), but believe us, the major madness already was set up in the script itself and a big deal were the logical problems resulting from the time travel experiences in the movie.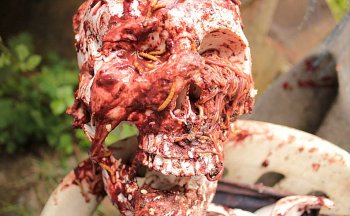 Cannibal movies only rarely show less than quite some blood and guts, and Cannibal Messiah is no exception - so do talk about the gore effects in your movie for a bit, and how were they achieved? And was there ever a line you refused to cross?
Sebastian Zeglarski from Moregore Pictures (creator of the movie A Fucking Cruel Nightmare) was responsible for the largest part of splatter and gore, assisted by Master W for the less complicated raw pizza pastry effects (Check our behind the scenes footage if you're curious what you can do with pizza pastry). Since we didn't have a big budget for serious and realistic looking effects, we decided to give the violence in the film a straight forward over the top loony toony touch: Trying that even the most gross and disgusting brutalities still would make you laugh or at least wonder why i.e. a squirrel would produce massive fountains of blood.
As a writer and director Master W always has to take the hardest parts in acting when it comes to humiliation, so other unpaid actors would follow his example. Still some refused to fill up their mouth with the fake vomit we prepared for them, some did and actually started real life vomit action on the director. Crippler Criss (who directed the movie together with Master W) refuses to do things like this most of the time because he doesn't like to get dirty. But in this movie even he had to do some really gory stuff as he got disemboweled.
You of course also have to talk about Cannibal Messiah's brand of humour!
The humor in this movie ranges from the above mentioned cartoon violence humor, unlogical anti-humor, slapstick, parody, satire, wordplay, and of course the good old fecal humor. We tried to create a lot funny moments in the movie and luckily they all worked! During the movie premiere on January 23rd 2016 we could see how people reacted to what we created for the first time, when we were watching the movie on the big screen with the audience. Using a lot of humor is what keeps the audience awake and interested. Some funny stuff worked even better than exptected. The scene in which the train passes in the background caused one of the biggest laughs during the premiere. It was huge!
Do talk about your over-all directorial approach to your story at hand!
That's a tough question for someone without any sophisticated approach towards directing. Basically we just planned what is realistic to shoot on one day, beeing nice and friendly to our actors, trying that everyone has a nice time on the set and praying for sunny weather and good performances.
You two play versions of yourselves in Cannibal Messiah - so how close were they to your real selves, actually, and what did you draw upon to bring your characters to life?
Yes there are some similarites with us as private persons and the fictional charactors in the movie, but also some big differences: In the movie Master W has some drug abuse issues that he is working on and in real life he quit drinking, but that was only possible for him by superseding the booze with the herb. Also he is quite a coffein junky, but overall the Master W from the movie got a much heavier drug abuse issue than the one answering your questions right now. Then, we are both movie makers, but different from the film character Master W does have a private life next to this occupation wich includes a family and a reggae band (U-Turn) where Master W is the lead singer. The real-life Crippler Criss is not as angry as the one in the movie. He is more of a quiet person and would only start yelling if someone pissed him off really badly. The jacket he's wearing in the movie used to be his jacket in real life many years ago and you can see him wearing it almost (or every) movie we ever made. Over the years this jacket became his "costume". The tension between our movie characters is also something that sometimes took place in real life, but gladly not to the extent of tension in the motion picture... at least not yet.
What can you tell us about the rest of your cast, and why exactly these people?
Honestly we can't choose our cast. Our cast chooses us. But we feel lucky that such a big number of people was willing to donate their free time for no compensation whatsoever for our little production... even in times when it looked like the movie might never get finished at all. And some of the actors we used for small roles proved to be that kind of interesting that they got big roles in our upcoming project. And we thank each and every one of them for putting their trust into us and after seeing the finished product they all seemed pretty happy with the result.
With Cannibal Messiah being mostly an outdoors movie, you just have to talk about your locations for a bit, and what were the advantages and challenges of filming there?
The good thing about the forest as a setting is that you don't have to decorate the set, unless you want to let it look like a cannibal village, you don't have to light it artifcially, as long as the sun is showing up and you don't have to clean up the gallons of our 100% organic fake blood. On the flip side there are owners of the forest, who evantually will destroy your cannibal village, fires that can break out any time when the summer is just hot enough, armies of ticks trying to suck the last drop of blood out of your actors, hunters who don't want to share their woods with a group of guerilla filmmakers, a lack of hygenic facilities and outbursts of heavy rain that can ruin a valuable weekend.
What can you tell us about the shoot as such, and the on-set atmosphere?
The atmosphere on the set was very family like, friendly and loose, often even a kind of party atmosphere, which from time to time could become somewhat problematic as far as not every one's acting skills were improved by the consumption of alcohol or other mind altering substances. In the first year of the shooting Master W was still drinking booze which made him unable to read the skript, unable to give the right commands and unable to act with a minimum of decency. But there were some problematic days, too. This was the first movie with such a big cast for us which means you need to have the right plan when to do what and which people to tell to come to the set and when so they won't have to get bored sitting around half the day on set because the directors didn't get their timetable right. Mutiny was close but we managed to keep our unpaid cast in order by giving them free beer.
The $64-question of course, where can your movie be seen?
The movie can be seen on your home TV-set of course. In order to achieve that you have to order the double DVD Digipak in a slip case with the 120 minutes long feature film plus 240 minutes of bonus material directly from P.S.Y.C.H.O. Productions, from the label distributing our film Creepy Video Store, its partner Black Lava Entertainment or just from any other good online DVD shop. Here are some links:
http://psychoproductions.com/
shop
http://cvs.rocks/shop/de/cvs-release.html
https://blacklava.at/index.php/der-konig-der-kannibalen-double-digipack-enhoused-in-an-slipcase-
cvs-001.html
Anything you can tell us about audience and critical reception of Cannibal Messiah yet?
Except for some gross refusal for obvious reasons we received unexpectedly and overwhelmingly positive responses to the movie. With a variety of reasons why people enjoy this film: While some only focus on the gore and cannibal parody parts, others are fascinated by the complex and confusing storyline or the variety of different perspectives you can take towards our movie. While some people would struggle with the length of the film, most people reported that they were kept entertained all the way till the unexpected ending. And really everybody thinks the movie is very funny.
Any future projects you'd like to share?
Yes, we are already working on a new project, but it is in such an early phase that we can't give too much information away yet. All we can say is that it will be a horror comedy again, but without any borelliose danger for our actors and crew and that this time we'll try to tell a story really straight forward as minimalistic as possible, focussing on the most important aspects of a story, which are its characters.
Your/your movie's website, Facebook, whatever else?
https://www.facebook.com/PsychoProductionsNRW
https://www.youtube.com/user/PsychoProductionsNRW
Anything else you're dying to mention and I have merely forgotten to ask?

Feeling lucky ?
Want to
search
any of my partnershops yourself
for more, better results ?

The links below
will take you
just there!!!

Find Cannibal Messiah
at the amazons ...

amazon.com

amazon.co.uk

amazon.de
Looking for imports ?
Find Cannibal Messiah here ...
Something naughty ?
(Must be over 18 to go there !)

Most people think our movies are all about fun and fake blood. But if you want you can still find an underlying seriousness under all the sarcasm and gore, which is basically concerned with the lack of sense and surprise in our modern lives, which some people try to fill with gross consumerism, sneaky sectarianism or just plain paranoia. Like the Master W in the movie, the real-life one has not yet found a proper answer to this stressfull condition of living in a society where everything seems to be availiable in abundance, but still, one never gets to a point of beeing really satisfied or even happy. Besides that we'd like to thank everybody out there who supported us in any which way during the making of the film. You're the greatest! Thank you!
Thanks for the interview!