Your Dr. Ella Mental's Mad Lab Picture Show: A Budderboddom Xmas - in a few words, what is it about?
This show is essentially about a kooky mad scientist, Dr. Ella Mental, who is trying to make a snowman come to life, and while she figures out how to do so, she also hosts us through an "educational film" as she likes to put it, the 1972 film Silent Night, Bloody Night. In her crazy preparation for her experiment she has to overcome several obstacles like her alter ego Hydie, and Gruber the Sorcerer. But along with her two sidekicks, Roscoe and Mr. Butterbottom she learns what the magic of Christmas can do.
What can you tell us about shooting the show as such, and the on-set atmosphere?
We shot the movie in one day. The environment on set is so much fun and very relaxed. Our crew is like one big family. We had hot apple cider and home cooked chili and spent the day laughing and making magic.
How was Dr. Ella Mental conceived in the first place, and did you have any creative input on the conception?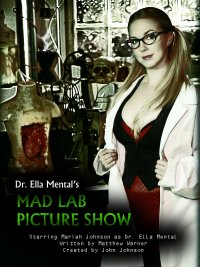 My husband Johnny Johnson [John Johnson interview - click here] and I had been mulling over the idea of creating a horror host character for some time. He really left it up to me to make the final decision on who I wanted her to be. I knew I wanted to play a mad scientist of sorts and really like the Jekyll and Hyde theme, which would allow me two different characters to play with. The overly enthusiastic Barbie, and the sadistic deep voiced mistress. I think the Dr. Ella Mental name was the hardest part for me to decide in the end. One funny little part of her character is she gets hiccups when she gets flustered, that causes her to take her special potion which inevitably turns her into Hyde. I took the hiccup concept from my own life because I have these bizarre hiccups every hour for the last 6 years, and I have seen many doctors to try and find out why, but they can't explain it. It's nothing serious, just my own weird little quirk, so I choose to use it and add it to Ella's persona.
Dr. Ella Mental-shows seem to have been made very much in the spirit of kiddie-shows - so do you consciously base your performance on presenters of those, and anything else you draw upon to bring Ella to life?
I think a big influence in The Mad Lad Picture Show is Pee-wee's Playhouse. Growing up as a child in the 80's you could not help but to love that show. It had such an influence on me as a small child. It was wacky, fun, educational, with puppets and crazy visitors, truly something you can go back and watch now and it still holds up. I feel like it was an adult kid's show in some ways. We wanted to put that same vibe into Dr. Ella Mental's show. We wanted it to be goofy, but very adult. I think it gives it a very different element that I haven't seen much of recently. I am also a huge fan of Lucile Ball and as a kid I watched I Love Lucy all the time. I added a bit of her quirkiness to Ella's character.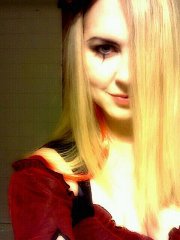 Hydie
Dr. Ella Mental's alter ego Hydie - how liberating is it to play her, and between her and the good doctor, whom do you like to play more, and who do you think you've got more in common with, personally?
I really enjoy playing Hydie. She is so raunchy and does not give one fuck about anyone but herself. I think I have more in common with Ella but sometimes wish I could be more like Hydie.
How much of a Dr. Ella Mental-show is actually scripted, how much improvised?
Most all of it is scripted. Mr. Butter Bottom's dialogue in the script usually just says "gibberish", so we never know what he is actually going to do, which is fun. If someone has an idea to change or add something on set, that happens, but not too often.
In the Dr. Ella Mental-shows you are usually pitted against a duck handpuppet and an imbecile (and I'm sorry for not finding a more political correct expression) - so how hard is it to not break out in laughter all the time?
Oh we break all the time! And that's what's so great about it! Jarod Kearney who plays Mr. Budderboddom is especially hard to be straight around. He will just pull out props from his coat and start singing, and of course we have no clue it's coming in the shot so we all bust up. The Duck Roscoe, played by Talon Borelli, is the voice of reason and always cracks us up with his dry deliveries of his lines.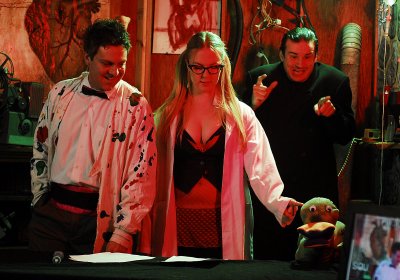 Jay Barber, Mariah, Jarod Kearney
and Talon James Borrelli as the handpuppet
To what extent can you correspond with the humour of Dr. Ella Mental, and would you consider yourself a humourous person?
Well, I keep in company with a lot of funny people and I hope that is has rubbed off on me over the years. I will say that I am not afraid of being silly or looking stupid which I think helps free me up from over-thinking things and allows me to be more funny. My humor in particular is very goofy, silly, and a little dirty. I have been known to even shock the boys with some of the things that come out of my mouth. Timing is something I have had to learn over the years. When to make a face and how to deliver a line is something I will forever be working on and perfecting in comedy.
The Dr. Ella Mental-shows are directed by your husband John Johnson [John Johnson interview - click here] - so what's your collaboration usually like?
John and I work so well together and we love what we do. He has such a vision and passion that inspires everyone around him, including me. We are a great team and feed off of each other's strengths and are not afraid to tell one another when something does not work. We listen, we debate, we laugh, and we believe in what we do. I can't ask for a better partner in crime!
Any future Dr. Ella Mental-adventures on the horizon?
We hope to do many more projects with Dr. Ella Mental! Nothing has been written out as of yet but we will definitely be doing a couple of more films with her this year!
Your usual field of expertise is special effects and makeup - so was Dr. Ella Mental your first excursion into acting? And how much do you enjoy the experience?
Yes, practical makeup and effects is what I primarily focus on. It's become my passion. Acting is something I defiantly tried when I was younger and it really didn't click until now. I think my experience of being on so many sets and being behind the camera as crew has reduced my fear of being in front of the camera, therefore making me more comfortable with my choices and not afraid to give it my all. My first acting excursion on film was on one of John's film's called Alucard, a retelling of Dracula, and I played Lucy Westenra. It's actually where I met John and it was one of the best experiences! My life was never the same again! That was about 11 years ago now! I really enjoy character acting and really transforming into someone else for a role.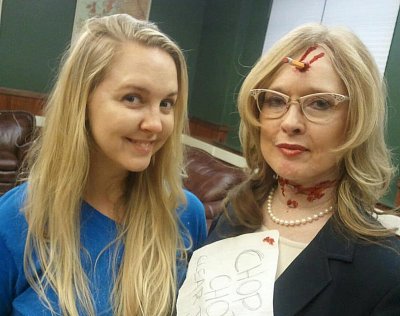 Mariah has just done FX-work on Camille Keaton on Deadlines
Speaking of special effects and makeup - do talk about your company Bio Duck FX for a bit!
My company Bio Duck FX started in 2008. I wanted to pursue a career in makeup and I wanted it to be more than just my name on the sign. I wanted to create a business that could encompass a team of creative people who want to make movie magic. The name is strange, but that's why I like it. Bet ya there is no one else out there with my company's name! J
How did you get into effects-work to begin with, and did you receive any training on the subject?
I have always been an artist from a very young age; from sketching to sculpting I loved it. I fell into the special effects world by way of a filmmaker who was making a movie and in need of a SFX artist but couldn't afford one. I volunteered, and had a friend who went to school for SFX show me how to cheaply do a body burn, and it worked very well! I fell in love the whole process on that set and haven't looked back. I am self taught and am always learning new techniques and about new products. This line of work never gets old!
Actresses, special effects wizards, whatever else who inspire you?
SFX – The KNB guys, especially Nicotero. Rick Baker, Jack Pierce, and Lon Chaney as well! So many great artists but those are my top 4.
The artist Brian Froud as well! I always loved his art and creature concepts.
And BATMAN.
Your favourite movies?

Feeling lucky ?
Want to
search
any of my partnershops yourself
for more, better results ?

The links below
will take you
just there!!!

Find Mariah Johnson
at the amazons ...

amazon.com

amazon.co.uk

amazon.de
Looking for imports ?
Find Mariah Johnson here ...
Something naughty ?
(Must be over 18 to go there !)

Labyrinth, Tim Burton's Batman, Nightmare on Elm Street 3: Dream Warriors, and Star Wars (6).
Also have a weakness for a good milkshake and watching the Hellraiser movies.
... and of course, films you really deplore?
Okay… I am going to say this…I am a huge Batman fan, I even read comics. But I have to admit that I hated the latest movie, The Dark Knight Rises. I just…. it really disappointed me, I have not forgiven it yet.
Also, the Twilight-movies. Wft… I never have watched one all the way through just cause I got so bored.
Your/your movie's/your company's website, Facebook, whatever else?
https://www.facebook.com/DrEllaMental
https://www.facebook.com/bioduckfx
Anything else you are dying to mention and I have merely forgotten to ask?
My favorite food is nachos J
Thanks for the interview!