Your new movie Attack of the Killer Shrews! - in a few words, what is it about, and what can you tell us about your character in it?
Itís a no budget love letter to 1950ís creature features while being an unapologetically over-the-top satire of them. I play a slimy literary agent that the shrews are inexplicably attracted toÖ
What did you draw upon to bring your character to life, and how much Marcus Ganci-Rotella can we find in Lewis?
I approached Lewis as though in any other movie, he would have been the villain (albeit an unsuccessful one), but unfortunately for him, a bunch of ravenous killer rodents got in the way. I donít think there is too much of myself in him really; I donít think Iím that slimy.
Honestly, how much fun was it running from and fighting "Killer Shrews"?
The extended chase sequence was a lot of fun, and it actually happened organically. I was supposed to run and they were supposed to briefly chase me, but when we shot he scene, Ken Cosentino (the director who was also the cinematographer) and whoever was puppeteering the shrew kept chasing me so I just kept running.
How did you get involved with the project in the first place, and are creature features in general something you're at all fond of?
We turned a negative into a positive when funding fell through for another movie that we were already knee deep in the pre-production stage of. Instead of giving up, we went with plan B. We pooled our talents and resources together along with a budget that even Roger Corman [Roger Corman bio - click here] would scoff at, and two weeks later, we had Attack of the Killer Shrews! As far as creature features go, I grew up watching them with my grandfather. Nobody else in our family was into that sort of thing, so they hold a special place in my heart for that reason. I wish he could have seen our take on the shrews, Iím sure he would have enjoyed laughing at my misfortune.
Have you actually seen the original The Killer Shrews, and if so, your thoughts about that movie?
I have seen the original several times; itís a product of its time. It is enjoyable if for nothing else than the dogs and the puppets. To this day, I would much rather watch a movie with practical FX, even less than stellar practical FX than a CGI circle jerk. CGI has its place, but it should be used to complement the practical stuff. When done right, it can be magical; thereís a reason Jurassic Park still holds up nearly twenty-five years later.
Do talk about your director Ken Cosentino, and what was your collaboration with him like?
First, let me say that he will be thrilled you spelt his last name correctly. The surprising frequency with which people misspell it has become a running joke within our circle. Ken and I have been friends for as long as I can remember. We bonded over our shared love for horror movies, and I have fond memories of countless movie nights at his home. I like to think of myself as the Bruce Campbell to his Sam Raimi, and by that I mean I may not always be a lead, but Iím always around somewhere within his work.
You also had production duties on Attack of the Killer Shrews! - so what were the challenges there?
Balancing both playing the character and the production duties were difficult at times for me, but luckily I have a good team surrounding me and we are always there to pick up a little slack for one another when necessary.
What can you tell us about the shoot as such, and the on-set atmosphere?
It was definitely run-and-gun filmmaking. It was all very fast-paced. The days were long and with little downtime besides our cherished lunch break. Everybody was game for the challenge though, and we all had a lot of fun. It was Hell sometimes, but once we were done, everybody was asking when we were making the next one.
Any future projects you'd like to share?
We hope to do a sequel of sorts, but that all depends on how successful this movie is. It will be a continuation of the Shrewniverse with the surviving characters having to combat a new monstrous threat. I wish I could say more, but until it is official, that is all I can say.
What got you into acting in the first place, and did you receive any formal education on the subject?
As technology has improved, it has helped give the little guys a shot at filmmaking, and is no longer seen as a strictly Hollywood endeavor. I have no formal education, Iím just a guy who loves all things cinema and is beyond thrilled to be involved in the independent filmmaking community.
What can you tell us about your filmwork prior to Attack of the Killer Shrews!?
The first time I was on a film set, I was an actor person (a nice way of saying an extra) for Troma Films. I distinctly remember watching the Toxic Avenger movies when I was probably way too young to be doing so, and to be on one of their sets and meet Lloyd Kaufman felt unfathomable to me. Since then, I have had bit parts in various projects as well as a few lead roles. Wolf House is probably the most noteworthy; it is a found footage horror flick that was recently released by Wild Eye Releasing. It is currently available at most Walmart stores across the United States as well as on Amazon.
Quite a few of your movies are of the horror variety - coincidence, or is this a genre you're at all fond of, and why (not)?
It is a combination of things; I love horror and it is also a genre that can be made with limited funds. For better or for worse, it is why there are so many indie horror movies around.
How would you describe yourself as an actor, and some of your techniques to bring your characters to life?
Thatís a good question. I have done different things to prepare for different roles. If itís a sizeable role, I usually write out a brief biography of the character. I come up with a backstory to help me understand why he is the way he is. My character in Wolf House for example had a pretty involved backstory with many parallels to myself.
Actors (and indeed actresses) who inspire you?
Iím a big fan of Lon Chaney sr. I love how he brought so many different looks to his roles. Too many actors are themselves first and the character second. A slightly more recent example would be Gary Oldman.
Your favourite movies?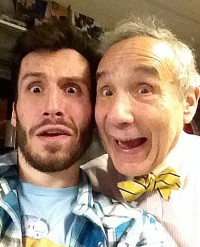 with Lloyd Kaufman


Feeling lucky ?
Want to
search
any of my partnershops yourself
for more, better results ?

The links below
will take you
just there!!!


Although there are certain genres I am more into than others, I watch just about everything. This is an impossible question for me to answer, and I have already taken up enough of your time.
... and of course, films you really deplore?
So-called bad movies are one of my favorite genres. Troll 2 and The Room are probably my favorites. Iím weird when it comes to movies, I embrace some truly crap films, but I also am a snob regarding others. The movies I especially donít like are the ones where you know the people involved could have done better and have no excuse for the end product.
Your/your movie's website, Facebook, whatever else?
DVDs of Attack of the Killer Shrews! can be purchased at http://www.killershrewmovie.com. Itís also on Facebook at http://www.facebook.com/killershrews. I am part of White Lion Studios, LLC and we can be found on Facebook at http://www.facebook.com/whitelionllc.
Anything else you're dying to mention and I have merely forgotten to ask?
I feel like I have talked too much already. Thanks for your time!
Thanks for the interview!