Your film Hell Fire - in a few words, what is it about?
It's about four prostitutes who kidnap an associate of their pimps, and he turns out to be the Anti Christ. They take him to secluded locations and all hell breaks loose.
Why make a film about the Antichrist, and what were your inspirations when writing Hell Fire?
I had been trying to write a script about kidnapping the Anti Christ for years. I got the idea years ago, when I was watching the Mel Gibson movie Ransom in the theaters. This had to be around 2000, I guess, a few years before I was making films. I was in the theater, thinking to myself, "Wouldn't it be great if the kid they kidnap turns out to be the Anti Christ?". Of course, that's not what happens in the movie so I shuffled that idea off in my head for a while. I even tried a few times to write a script based around it but couldn't quite find the inspiration. After I finished my second film, I was looking for an idea for the next movie, something we could shoot in one or two locations. For some reason while brainstorming, the words "Evil Dead with Hookers" popped into my head. I began envisioning drug addicted prostitutes literally fighting their own demons. It seemed like a good place to start, so I decided to merge the Evil Dead with Hookers idea, with the old idea of kidnapping the Anti Christ. And that's how Hell Fire came to be.
At times, Hell Fire goes pretty wild when it comes to action and violence - so how were these scenes achieved, and was there ever any line you refused to cross?
We had a really great make up effects artists for those scenes, Melissa Roth, who also works really fast. I love stylized violence and action, and I wanted this movie to have some really insane and complex action scenes, so we took a lot of time shooting them. There isn't an action scene in the film that didn't take less than two days to shoot. There's an effects-heavy action scene in a basement where the heroine fights her own demon. Both roles are played by the same actress, Katelyn Marshall. It took five days just to shoot this one scene.
You also have to talk about Hell Fire's very own brand of humour for a bit!
I love the mix of humor and horror. When I write, it's where my sensibilities gravitate to. I definitely have a taste for dark humor. I also love showing the monsters from their more human side. A lot of the humor in my films comes from that. I remember one of my favorite scenes in Zombies Anonymous is when two zombies were sitting around discussing why they wont eat the part of the intestines with the crap in it. And I like conversational humor, not jokes, or setups and punchlines. Movies that are funny because the characters are funny, not because everyone is telling jokes. In Hell Fire, there's a scene I really like where one of the characters is trying to explain the situation involving the Anti Christ to a 911 operator and it's just going really badly.
What can you tell us about your overall directorial approach to your story at hand?
A lot of planning. I like to storyboard. Hell Fire was completely storyboarded, every shot in the movie, over 2000 shots, before we started pre production. I did them myself, but they were the most ragged looking things. I had to put big numbers on the characters chests just to tell them apart. I thought the actors would be impressed with a giant binder of storyboards provided they didn't see any of the actual drawings. But they did the trick. Visualizing the movie completely before I shoot a single shot, that's important to me. I like to keep the tone and acting styles as natural as possible. That's something we would spend a lot of time on, on set. When it comes to the action stuff, content is king. I like a strong visual style in movies, but visual style shouldn't be used to mask a lack of content. I hate movies where an action scene is just two guys punching the shit out of each other, so to make it seem like something more than it is, they shake the camera around a whole lot.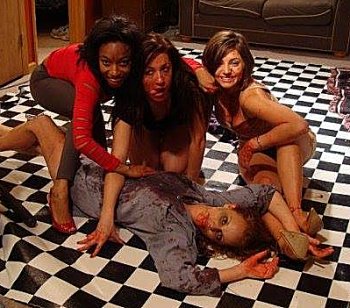 Do talk about your key cast, and why exactly these people?
Scott Green, who plays the Anti Christ, has been acting in my films for years. That role was actually written for him around his strengths as an actor. The rest of the cast we auditioned over 400 people and went with the best. Most of the leads, this was our first time working with them. They're all powerhouse actors with real acting chops. Selene Beretta, I remember in particular, made an incredible impression at her audition, when she tried out for the films villain, Rosetta. She was vicious! Sometimes with auditions, there were just little things that put some people over the top. Kasey Williams had auditioned for several parts but got the role of Cinnamon because she was so good at playing demonic possession, something she had to do in her callback. For the part of the unborn Messiah's pregnant mother, I had actors running around with the pregnant belly in the callbacks for the part. I remember Shashone Lambert doing this whole bit where she was trying to get off the floor with the belly on and it was hysterical. It's definitely what put her over the top over the other women that auditioned for that part. There's a little of that bit in the movie. I think the whole cast is great. Katelyn Marie Marshall, who plays the film's spunky heroine has this great on-screen charisma. Jennice Carter has amazing comic timing, as do Jodi Mara and Ray Chao, who come into the film halfway through. Chris Davis, who plays the pimp, he's also amazing. He's an actor that can reach some serious levels of intensity. Chris had such a great audition, I didn't even bother calling anyone but him in for a callback for that role. And of course, Joshua Nelson, playing a character named Babydaddy. He's been in all of my films. He's reliably amazing.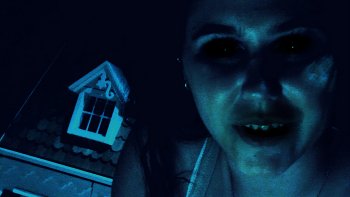 For the most part, Hell Fire takes place at one single location - so what can you tell us about your location, and what were the advantages and challenges of filming there?
It was a house in the Poconos, in Pennsylvania. I wrote the script specifically to shoot in, mostly, a single location, to keep costs down and to make the shoot schedule easier. We shot there over the course of about three weeks. The advantages to filming there was the isolation. It was just a house in the woods, and the nearest neighbors were hundreds of feet away. It was great. The biggest challenge was dealing with the weather. We shot in October, and at one point, had to deal with snow and cold temperatures. But then, the last day few days we were there, when we had to shoot our last fight scenes outdoors, it was 80 degrees.
What can you tell us about the shoot as such, and the on-set atmosphere?
We had a very small crew. Besides directing, I was handling camerawork, and lighting. Frank Garfi, my producer, business partner, and close friend, he was doing sound, as well as cooking food for the cast. Melissa Roth, the makeup artist, was there most of the days as well. A few actors came up to help, like John Martineau and Chris Davis, who plays the pimp. Since we were 2 hours away from New York City, everyone slept up at the house. It was great. We would shoot from about 2pm to 10 at night and then wrap. afterwards, we'd break out the beer and junk food, the cast and crew would be playing drinking games in the living room, and I'd be sitting in the corner, editing the days scenes together. It was so much fun. I remember effects heavy days were exciting to a lot of the actors. Selene Beretta told me she couldn't wait to do the scene were she gets the demon vomit in her face. It was great.
A few words about critical and audience reception of your film so far?
So far so good. We won the audience choice award at the New York/Los Angeles International Independent Film & Video Festival. Horrorfind Film Festival awarded us best special effects and best cinematography. And Fangoria just called the movie, "outrageously entertaining," which, as someone who used to read Fangoria as a kid, was freaking awesome. I think the coolest thing so far, though, is that Film Threat writer Mike Watt included a chapter on the film in his book, Movie Outlaw. We even made the back cover.
What got you into filmmaking to begin with, and did you receive any formal training on the subject?
I wanted to make movies since I was a kid, specifically when I saw the movie Superman, the Christopher Reeve one, back when I was ten years old. I took some film classes in college and made a few super 8 shorts, but most of my education in film really came partly from watching a lot of movies, and mostly, making my early films.
What can you tell us about your filmwork prior to Hell Fire?
I made two movies prior to this, Strange Things Happen at Sundown and Zombies Anonymous. Strange Things Happen at Sundown was kind of like a comic Pulp Fiction with vampires and a super, super low budget. It followed around a few groups of interconnected vampires, including mobster vampires, a born again Christian vampire, and a few other wacky characters. It's kind of part comedy, part exploitation movie, part drama. It's a bit of a mess but has some great stuff in there. My second movie, Zombies Anonymous is about a zombie plague where people live on after death, but don't lose their ability to think or speak. So zombies become America's new underclass and are essentially the heroes of the movie. There's a lot of big ambitious stuff in Zombies Anonymous, and I really like the way the movie came out but it was such an exhausting movie to make. The experience of making this huge movie is actually what got me to make a mostly single location film like Hell Fire.
How would you describe yourself as a director?
I think my mantra as a director is that a movie should, at the very least, be jam packed with as much cool shit as you can possibly put in there and nothing less.
Filmmakers who inspire you?
Tarantino, Kubrick, Coppola, Danny Boyle, the Coen Brothers, Paul Thomas Anderson, David Cronenberg, Charlie Kaufman's writing. Martin McDonagh, too. Seven Psychopaths may have been my favorite movie of the last 5 or 6 years. Edgar Wright and Guy Ritchie, especially when it comes to their editing and pacing. Scorcese, Spike Lee, John Landis, it's all over the map with me. George Romero was a really big influence, early on, particularly Dawn of the Dead. That movie I saw when I was 14 and that mix of humor, action and horror just had me. John Carpenter, especially his use of music, too - another big influence on me. I remember watching Escape from New York when I was a kid and becoming acutely aware of how his music was elevating my heart rate. Frank and I compose the music to our films and Carpenter is an enormous influence. Sometimes we'll be writing a piece of music and I say, "This might be sounding a little too Carpenter-esque."
&nbsp
Your favourite movies?
Too many to list. I'll tell you the posters I have in my apartment and that should give you an idea. Apocalypse Now, Reservoir Dogs, The Blues Brothers, The Shining, Raging Bull, The Big Lebowski, Taxi Driver, Psycho, Creepshow and Clockwork Orange. Most of those are those artsy Polish posters they make over there, which are far more awesome than the crappy American posters. But it gives you an idea of where my taste in movies is. My favorite movies change, like every year. I think right now Fargo is my favorite movie ever but a few years ago it was Apocalypse Now, and before that it was GoodFellas.
... and of course, films you really deplore?

Feeling lucky ?
Want to
search
any of my partnershops yourself
for more, better results ?

The links below
will take you
just there!!!

Find Marc Fratto
at the amazons ...

amazon.com

amazon.co.uk

amazon.de
Looking for imports ?
Find Marc Fratto here ...
Something naughty ?
(Must be over 18 to go there !)

I hate movies that don't try. They just connect the dots and slap it out there. I hate predictability, like those movies where I am sitting in a theater and by the end of the first act, I know exactly how a movie is going to end. There are definitely certain conventions that turn me off. I'm never a fan of movies with a lot of melodrama. Best way for a movie to lose me is to have too many dramatic pauses or heart wrenching monologues. Overly pretty looking casts piss me off, too. I like people in movies to look and feel like real people, not like they were chiseled at the actor factory. The excessive use of CGI has been really turning me off to a lot of films, lately. So many movies are using CGI for stuff they could easily do practically, and you can always tell it looks fake. Especially the explosions, the CG water, and my least favorite? CGI blood. Man, that CGI blood NEVER looks real.
Your/your movie's website, Facebook, whatever else?
www.facebook.com/pages/Insane-O-Rama-Productions/536026529839636
Thanks for the interview!