Your new movie Pickup - in a few words, what is it about?
Pickup tells the story of Megan, a young wife and mom who lives a "perfect" life yet she suffers from depression and an attachment disorder which manifests itself daily in a sex addiction. A sex addiction that is enabled by the growing social media landscape that we all know so well.
How did the project fall together in the first place?
I had been studying acting , working in the indie film community and auditioning for anything I possibly could for about ten years, but I was struggling to find opportunities to be considered for great roles in high quality productions. I was burnt out by all of the rejection and feeling stuck, so one day my coach April Yvette Thompson suggested that I self produce a film. It took me several months to get on board with the idea but I finally took her advice. She was adamant that I hired the best people I possibly could find for every job. She referred me to Jessica Blank who I collaborated with on the story of the film. I then hired Jeremiah Kipp [Jeremiah Kipp interview - click here] who I had recently worked with on a feature film. From there Jeremiah and I hand picked the entire cast and crew. The rest is history.
What were the challenges in bringing Pickup to the screen from a producer's point of view?
This was my first time as a producer and it was certainly a learning experience on many levels. The biggest hurdle in indie filmmaking is usually money, mostly because those of us doing it are struggling artists. So there were certainly financial challenges in getting the quality of film that I wanted without having a large budget. I made sure to take the time to do it right even if it meant holding off production until I could afford the crew I wanted. We had a lot of location changes so every minute counted and couldn't be wasted on set. We had one day in particular when we had extremely limited time at the location. I remember being near tears that a scene was going to have to be cut. Luckily my team was extremely proficient and professional that everything worked out beautifully.
You've developed Pickup's script together with Jessica Blank - so what can you tell us about her, and what was your collaboration like?
Jessica Blank is a working actress in TV/film and also has some strong writing credits (The Exonerated). When I was referred to her I had a brief conversation about my goals for venturing into this project. The collaboration with her was effortless. It started with a general theme of sex addiction. In my research I had not come across much representation in the film and TV world for this particular addiction, especially with a woman protagonist. I knew when I created this film that I wanted it to be something provocative that lingers. When she sent me the script I loved it immediately. It was a fast process because we were on the same page with what I was trying to accomplish.
You also play the lead in Pickup - so what did you draw upon to bring your character to life, and to what extent could you actually relate to your lead character, and the condition she's in?
I do believe that all addictions start with some level of depression. Although this is a fictional story, I do have experience with depression and anxiety in the past which is why I could understand the depth and inner turmoil of Megan. Megan is also very physical and speaks with her body and eyes. Growing up as a dancer, I was extremely quiet and shy; my communication was through my body. This connection to my physicality enabled me to feel very free to express her life without actually saying much. I also worked with actor/director Sebastian Tudores on my preparing a well fleshed out character before getting to set.
What can you tell us about the rest of your cast, and as a producer, how much of a say did you have in casting?
For the role of Ben, Jeremiah reached out directly to Jim True-Frost's agent. We hired casting director Erica Hart to find our child actor, Griffin Faulkner. Most of the ensemble cast was hand picked from actors I have known for quite some time. Because of the nature of the film, I had to be sure to hire people that I could trust. I told Jeremiah who I was thinking of for each role. We arranged meetings with each actor and made the final decisions together. The remaining ensemble members were referrals from associate producer Jen Rudolph and actress Kaye Tuckerman.
What can you tell us about Pickup's director Jeremiah Kipp [Jeremiah Kipp interview - click here], and what was your collaboration like?
There is a reason so many self producing actors hire Jeremiah Kipp. He truly cares about actors and their process and how difficult it is to be a self producing artist. He knows how to communicate with the actor in a way that is sensitive and very clear. He is someone who goes above and beyond his title of director. Jeremiah was so invested in this project from day 1 that he put me at ease with any concerns that I had. I knew that in the wrong hands this film could have been a disaster. The combination of his direction and Eric Giovon's dark yet sensitive and thoughtful cinematography made me feel safe and free to really go for it.
Do talk about the shoot as such, and the on-set atmosphere?
The on-set environment was tense at times because of the demanding schedule. However, everyone across the board was so professional and invested in delivering their best work. I am extremely grateful to everyone involved.
The $64-question of course, when and where will Pickup be released onto the general public?
At the moment we are focusing on the festival circuit for Pickup and have not planned on a general public release. We have gotten quite a bit of feedback that this should be made into a full length feature film. The goal is to get Jennifer Connelly on board to play the older version of Megan as we extend the life of this story.
Any future projects you'd like to share?
I shot a sci-fi film as a scientist/robot earlier this year and recently got to see the premier. I have been wanting to work in this genre for a long time so it was an exciting bucket list experience. I also have a few short films in the works for the fall. I will be working with Jeremiah again and one of the ensemble members, Christopher Piccione on a very intense and dark film about heroin addiction and a sci fi drama about clones. I seem to have found my niche! I am also in discussion with directors that I met at some of the film festivals about possible future collaborations.
What got you into acting in the first place, and did you receive any formal training on the subject?
I had been dancing professionally for many years as a Radio City Rockette and when on a tour of a Broadway musical in Europe, I was encouraged by the director to pursue acting when I returned to NYC. I read about the Meisner technique and it sounded like a great way to get a solid foundation. I studied at the Ward Studio for two years and then continued (even to this day) to study with many wonderful mentors. At first I was doing it to become a better stage performer, but then I found that I was drawn to the intimacy of acting for the camera. I never had that big show girl personality that belts out songs in public, so I realized my energy was better suited for TV and film than Broadway musicals.
What can you tell us about your filmwork prior to Pickup?
I started doing film work in 2008. One of the first films I did was at SVA and it was one of my best experiences to date. I lost count of how many student films and ultra low budget indies I have done, all of which made me a better actor even if they weren't always the best experiences. In 2010 I had my first TV experience as a day player on the soap opera One Life To Live. Recent feature films that I am very proud of are Ceresia, which is where I met Jeremiah on and got the opportunity to use my modern dance experience, and Right of Way, which just screened last month in NYC.
Besides acting, you can also be seen on the producing side of things occasionally (like with Pickup) - why is this, and what qualities are you looking for in films you choose to produce?
This was my first time producing and my main goal was to get my work seen as an actor. Although my priority right now is to build my acting career, I am open to the idea of producing projects with excellent writing. The writing is everything and more often than not, less is more. I prefer scripts that are visual and are about the inner life of the character and not so dialogue-heavy unless absolutely necessary to tell the story.
How would you describe yourself as an actress, and some of your techniques to bring your characters to life?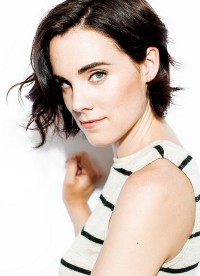 Feeling lucky ?
Want to
search
any of my partnershops yourself
for more, better results ?

The links below
will take you
just there!!!


As an actor I have been told I am raw, yet polished and provocative. I think that describes my work best, because while I am very well trained I am also very messy and impulsive. I've always been more interested in playing gritty, volatile characters than the stereotypical sexy leading lady.
My technique always starts by being grounded in the the reality of the story I am telling. Whether I can relate or not, I find a way into the character by way of what affects me and not necessarily what I have experienced in real life. And then it's all about listening and working off of the other person.
I also work very physically and use music to create a dance that informs my character.
Actresses (and indeed actors) who inspire you?
So many but some include: Rita Hayworth, Jessica Chastain, Michael Fassbender, Heath Ledger, Michelle Williams, Sarah Paulson.
Your favourite movies?
Some of my favorites are Dirty Dancing, Gilda, The Goonies, Black Swan, Take This Waltz.
... and of course, films you really deplore?
I can't really think of any at the moment that I deplore!
Your/your movie's website, Facebook, whatever else?
My personal website: mandyevans.net
Instagram: instagram.com/mandyevansbrown/
The film page: facebook.com/Pickup-117837455292085/
Thanks for the interview!
Thank you so much!!