Your upcoming movie Lab Rats - in a few words, what is it going to be about?
Lab Rats is a full out body horror, harking back to the greats of the 80s like The Thing, Re-Animator, The Fly, etc.
It follows Kat and her eco-warrior friends who embark on a mission to expose the international bio-chemistry company Ring-Amnion as liars after a tip-off that they ran an animal testing lab - despite their public profile claiming otherwise.
The gang, and Kat's 20,000 online followers, are eager to find out what Ring-Amnion have been hiding as they break into an old building, but they aren't prepared for what they find inside...
It soon becomes apparant that Ring Amnion do indeed test on the living and not just animals - this is where the splatter showcase begins.
How did the project fall together in the first place?
The idea really stemmed from our SFX artist Jayne. We knew we wanted to work together as a team again after a year of us all freelancing separately. So myself and the director David Wayman asked Jayne what one effect she really wanted to showcase. Her reply was a full on mutation/transformation - so we decided to make a film with multiple mutations ranging from melting faces to exploding body parts. The research/ experimentation angle just fell into place quite easily.
What do you see as the movie's main challenges from a producer's point of view?
The scale of this is beyond anything we've done before. The main challenges have been securing the location, and the logistical side of producing such as getting our actors across the country not only for shoots but also casts for the SFX. We have a much larger crew than usual, so getting a high-level crew for free wasn't easy. We also have set builds for the first time too, so we've had to find an amazing production design team to create our Lab Rats world.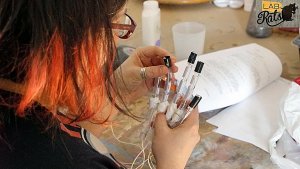 Jayne Hyman working on an animatronic hand
Lab Rats is going to be rather special effects heavy - so you have to talk about that aspect of your movie for a bit?
Lab Rats was conceived to be a real splatter showcase, we are great believers in practical effects and want the film to be a gory mess of exploding bodies, melting faces, oozing wounds and a ridiculous amount of blood. Jayne Hyman is our SFX artist behind all our past films and she has some amazing effects up her sleeves for the film. But we don't just rely on practical effects, we also have VFX artist Steve Askey on board to push our effects to their bloodiest potential. Steve and Jayne regularly collaborate on films and have learned to design and plan effects together to produce the perfect balance between the two mediums, with Steve on board we can make the impossible possible.
This is ultimately a mutation film, so you can expect someone literally melting, oozing boils and wounds, someone even starts to eat themselves. We're pushing ourselves further than ever on the effects front, even working with some basic animatronics for the first time.
Having talked about the effects, do also talk about your projected cast though, and why exactly these people?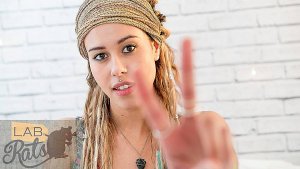 Teya Simone
We have cast Teya Simone in our lead role, she was the lead in our past film 6 Shooter. Teya is one of the most naturally talented actresses we've ever worked with, so it was never an option to give it to someone else. We have Darren Maffucci from the award winning Cannibals and Carpet Fitters, again someone with screen presence you can't deny. We also have Peter Radford on board, I've worked with him a couple of times and he's just a joy to have on set.
We've been lucky enough to actually cast beyond our own contacts on this project and recently cast Simon Wegrzyn who's just worked with Terry Gilliam. We are currently still casting two roles, so you'll have to keep an eye on our project to see those annoucements!
What can you tell us about your director David Wayman, and what's your collaboration like during pre-production of Lab Rats?
I've worked with David for years, we met on a feature film when I was a sound recordist and he was a D.O.P., and we've worked on projects together ever since. It wasn't until 6 Shooter that we actually collaborated properly as a director/producer team though and as that film premiered at Frightfest we realised it was a pretty successful collaboration! David is a very visual director, and I know he has a very clear vision for Lab Rats. From camera angles down to mood boards for production design, he's been bringing the visuals of the project to life. I then find ways to make this vision happen. The great thing about this film is that myself, David and SFX artist Jayne share a studio so we can constantly throw around ideas about the project. What's special about Team Chameleon is that every film is a collaboration between the core 5 members. We all have our say on everything from story through to effects, everyone's voice is as important as everyone else's.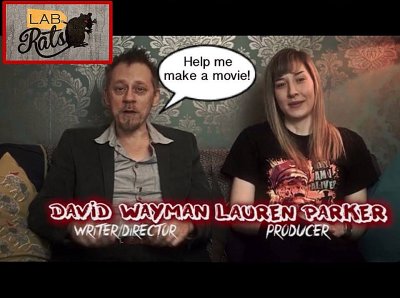 Your film is currently in the fundraising stages - so what can you tell us about your fundraising efforts?
We are currently crowdfunding for the film on Kickstarter, we always self-fund our films but this time we want to push past what we can afford ourselves. Unfortunately there isn't much funding available for horror-themed shorts, we've tried a few funding schemes but they always skew to the more dramatic films. So we are reaching out to our audience direct. We need horror fans to help us make this film a reality. We've already had support from Eli Roth backing the project but we need those who want to watch the film to actually help us make it.
https://www.kickstarter.com/projects/1404981016/lab-rats-short-horror-film
Once the funds are raised, what's the schedule, and any idea when and where the film might be released onto the general public yet (and yes, it's probably waaaayyy too early to ask)?
If we raise the money in time, we are actually shooting in about a month's time! We have a very tight schedule but we are aiming for final cut in July. The film is going straight into film festivals as soon as it's finished. But anyone who backs the film will receive a download as soon as the film is finalised in July.
Any future projects beyond Lab Rats you want to share?
We would love to make 6 Shooter into a feature film, we currently have a treatment and are looking for funding options at present.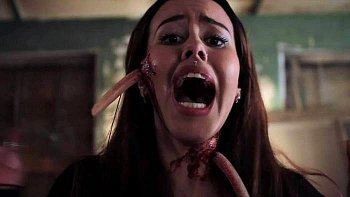 6 Shooter
With the team of Lab Rats you have recently also produced the short 6 Shooter - so you obviously also have to talk about that one!
Our last film 6 Shooter about killer worms only cost £70 to make and it premiered at Frightfest, aired on the Horror Channel and is currently available on iTunes as part of the Shortcuts to Hell anthology. 6 Shooter was the first time we really pushed our practical and VFX as a team and it really impresses for its minuscule budget. We only made it for a film competition and it has since gone on to screen at festivals around the world.
6 Shooter is a body horror comedy about killer worms with razor sharp teeth. There's a lot of blood, guts and silly splatter effects – certainly not for the squeamish.
What got you into producing to begin with, and did you receive any formal education on the subject?
I do have two degrees in film, so I always knew I wanted to work in the business somehow, but I fell into producing almost by accident. I started out working as a production assistant and sound recordist on various TV shows and films, until I started getting recognised for how passionate I was about projects and how organised I was. One person took a chance on me to produce a promo for a bar and I've been producing ever since!
What can you tell us about your filmwork prior to Lab Rats and 6 Shooter?
I've worked on a vast range of shorts, music videos and even low budget features in the past. But I'm most known for my work in horror I imagine. I made Magnets with the Team Chameleon guys a couple of years ago, which is another horror comedy. I also collaborate with director David Lilley a lot in the horror genre, we just made an awesome little horror super short that I hope to release online very soon. I think most of my work if not horror, is still darkly comic.
Do talk about your production company Team Chameleon for a bit, and the philosophy behind it?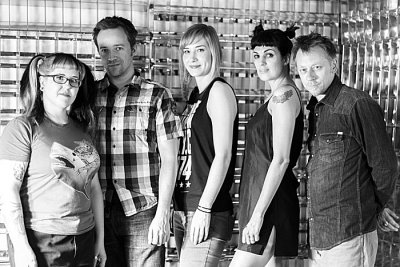 Team Chameleon: Jayne Hyman, Steve Askey, Lauren, Clare Gregory, David Layman
Team Chameleon consists of myself, director David Wayman, SFX artist Jayne Hyman, VFX Steve Askey and make up artist Clare Gregory. We started with the company just for our own work as a team, but now we have turned into a fully fledged production company as I now produce projects for several directors under the banner. Team Chameleon is just about making good quality projects, I just try and make films I want to see as an audience member myself.
Producers, filmmakers, whoever else who inspire you?
There's so many, I'm a huge Astron-6 fan as they make amazing films on shoe-string budgets and they do it for the love of cinema, just like we do. We always lose money on shorts, so we're always doing it for the passion of making something awesome to share. I'm a big Sam Raimi fan as again he started out independent and now he's huge, same with Eli Roth whom I admire for constantly trying to help new filmmakers. Robert Rodriguez is also one of my biggest inspirations as his quality might have dipped recently but his work ethos is inspiring, he's always done everything as cheaply as possible and always do as much as he can himself. The Soska sisters too [Soska Twins interview - click here], just for showing women can make it in horror!
Your favourite movies?
Too many to list! Big Trouble in Little China, Father's Day, Evil Dead 2, Re-Animator, The Thing, Drive, Back to the Future, Halloween. All the 80s and horror classics basically!
... and of course, films you really deplore?

Feeling lucky ?
Want to
search
any of my partnershops yourself
for more, better results ?

The links below
will take you
just there!!!

Find Lauren Parker
at the amazons ...

amazon.com

amazon.co.uk

amazon.de
Looking for imports ?
Find Lauren Parker here ...
Something naughty ?
(Must be over 18 to go there !)

I'm not sure I really, really hate anything! I've watched some awful horror in my time, but there's still something entertaining about even the worst horror film!
Your/your movie's website, Facebook, Kickstarter, whatever else?
www.facebook.com/teamchameleom
@TeamChameleonNG
@LaurenLovesFilm
https://www.kickstarter.com/projects/1404981016/lab-rats-short-horror-film
www.facebook.com/labratshorror
@LabRatsHorror
Anything else you are dying to mention and I have merely forgotten to ask?
I think you covered everything!
Thanks for the interview!
Thanks for covering us!