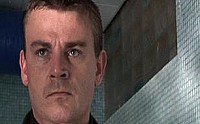 Kim Sønderholm
You have just released a movie, Craig. Can ou tell us in a few words what it's about?
The film is about a shy guy named Craig who loses both his parents when their house burns down. His sister survives, but due to heavy lack of oxygen, she is sent into a deep coma. Craig has only got one friend, Cliff, but he's got more than enough problems on his own, so he cannot really be there for Craig. Meanwhile, Craig is under heavy medication, and when he one day loses his precious Lithium pills, his whole world is getting turned upside down.
What can you tell us about production of the movie?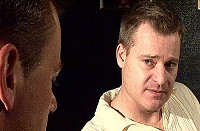 Jan Tjerrild as Cliff
I wanted to play Craig even before the story was developed fully. I knew it would be an interesting journey for me to take.
I've always been very interested in the serial killers films, both the ones about fictive killers and the ones about real-life killers. Without of course thinking what they did was cool, I've always found it quite interesting, and as the time was right it became more and more interesting to me to explore that as an actor. I had developed this serial killer story over several years in my head, and finally I got around to actually making it a full-on story and we started to film it before I actually noticed it.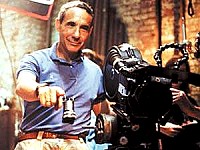 guest appearances by ubiquitous Lloyd Kaufman ...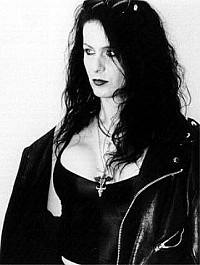 ...and Manoush
I wanted to make it a little surrealistic as well, a bit messy if you will, because that's how Craig's mind is - messy. I've been a huge fan of David Lynch for years and love the way he is able to affect your subconscious. Sometimes his movies don't make a whole lot of sense, but you still do get something out of them. I mean, I've watched Lost Highway and Mulholland Drive several times now, and every time I think I get something out of it. Now, that being far from me to compare myself with The Lynch, but I tried to put some elements in that didn't make a whole lot of sense, but at the same time on another level, they did. I've had a lot of reactions to it, positive I'm glad to say, but different people get different things out of it, but all things fit in somehow, so it's an amazing thing to explore.
Another thing with Craig was - I wanted to see if it was possible for the character to get people's sympathy, in this case because he is rather pathetic and sad, and to see how far that sympathy stretches when he starts doing evil deeds. Will they on some level be able to understand him, not condoning it necessarily or how will they react? It's clear that Craig has had a very tough life, experienced very gruesome things but does that justify punishing other people?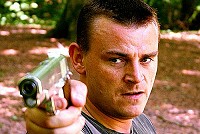 Kim Sønderholm as Craig
You have directed and written the film and also played the lead. How much of you is actually in the Craig-character?
Haha, very little. Well possibly the feeling of alienation at a time in my life I went through a couple of rough years, but other than that, not a whole lot. Never really killed anyone and I still have my family and a lot of friends I care a lot about, heh.
Apart from Craig, another movie you have collaborated on has been just released, the horror anthology The Horror Vault. A few words about that one, and especially your episodes of course.
Well I made two segments for The Horror Vault - Mental Distortion and When John Met Julia. Basically it is an anthology of nine stories, all about cruelty among human beings. I know that is a rather vague description but talking too much about it will reveal too much, heh... I encourage people to see it if you're into horror, I hope you will like it. There'll be a lot of bloodshed, cruelty, mystery, thrills, violence and a fair bit of explicit torture that will make you cringe.
The film is an Danish-American-British-Australian co-production. How did such an international co-production come into being?
Well I made a lot of contacts over the years and simply suggested the co-operation. Of all the people who collaborated I probably know Russ Diaper from the UK the best, we've met on a UK film a few years back and since then worked together on a lot of stuff - he also had a role in and composed the music for Craig.
On both Craig and The Horror Vault, you are writer, director and actor. Which do you enjoy the most/which does satisfy you the most?
Well I'm an actor first and foremost, that's my first priority field of work. But I enjoy all stages of film production and wanna keep doing it... well, except pre-production, that I hate, haha...
The websites and/or mySpace of both Craig and Horror Vault?
Both flicks can be ordered online through www.thehorrorvault.net and www.craigthemovie.com - the DVD is region free so don't worry about where in the world you are, you can order from the site no matter where.
After working solely as an actor for a few years, the first film you also worked on as a writer (not director though) was Brutal Incasso. A few words about that film?
Yes, Brutal Incasso was my first feature film not only as an actor but also as a writer.
The filming in itself took only 21 days around August 2004, but the whole process took 6 years in total. Let me elaborate, it started out in 1999 when we began to write it. Claus Lund, whom I studied acting with, and myself had thrown ideas through the air for months and finally sat down to write it. It started with a few loose ideas and we started building a story from that. The first idea was actually two money collectors beating up a Santa Claus in a mall (who hasn't always dreamed of that?), and when we filmed it, it was changed into a mime, since it was in the middle of summer. The scene was however cut in the end, although it can be found as bonus material on the DVD.
(In my own way I got my revenge on Santa though, watch the short film Blank and you will know what I mean!).
We wrote for over half a year and by then in the summer of 2000, I was about to start the last year of acting school and my time ran low. The script was hidden away for a couple of years until we started talking about actually making the film. I had a quite good impression of a director, Jonas Kvist Jensen, with whom I had already worked on a couple of projects and as he was looking for his next project and gave him the script and suggested making it. At first he had a lot of doubts but changed his mind, luckily. He felt some things were missing in the script, so he added on a few good things. It was a long process; writing started in 1999 and we had the final result of the film shown for the first time for a public audience on December 8, 2005. Since then we've worked on distribution and it's been released in several European countries, but we're still very interested in getting distribution in the States and the Asian countries. At the point of me writing this there's some negotiations with a few distributors in the US but nothing certain yet.

Feeling lucky ?
Want to
search
any of my partnershops yourself
for more, better results ?

The links below
will take you
just there!!!

Find Kim Sønderholm
at the amazons ...

amazon.com

amazon.co.uk

amazon.de
Looking for imports ?
Find Kim Sønderholm here ...
Something naughty ?
(Must be over 18 to go there !)

How did you get your start in the film industry in the first place?
I guess I always just saw acting as a dream that would never come through anyway, which is why I never pursued it. I simply didn't have the confidence in myself, I suppose. I did different jobs, let myself enroll in the Danish army where I spent nearly two years of my life, and all I got out of it was the certain knowledge that it was not what I wanted with the rest of my life. Ironically enough, I've played in army characters five times since then, but of course it's something entirely different.
When I was 25, I was taking courses at a business school in Aarhus - my birth town in Denmark - and I was bored out of my mind. I knew that wasn't what I wanted either, but I had to do something - couldn't keep dreaming for the rest of my life, right? At the second year I enrolled in drama classes at the school, and even though the level wasn't very high, I realized that maybe I did have some potential. I got a lot of positive feedback and people kept telling me to pursue it.
As the year closed, I found an ad in a local newspaper for a school named TeaterStudio in my hometown teaching method acting. They were about to start a new semester and looking for students. I applied, and after a long weekend of extensive auditions, I was one of twelve students to be accepted. It was quite rough and already after the first year we were down to eight students. In the end only seven of us graduated.The course took three years, you had to pay for everything yourself and the government didn't want to give you anything while doing it. The Danish government usually gives students what we call SU, which is just enough money to get by while under education so you can concentrate on that and don't have to worry about making a living. However, as Denmark already had three well renowned theater schools, they refused to give us this SU during these three years. So, it was three years of full time school and then after that, a full time job. Forget personal life - there wasn't much time for that. But it didn't matter. I finally got a taste of what I wanted - although I had known it all along - and I wasn't about to let go, just because it got a little rough.
A few films you really liked, both recent and all-time favourites?
As a kid in the early 80's I was hooked on Star Wars and the 007 films. Always wanted to be up there as a part of the action. Throughout my teenage years I turned very much towards horror films, such as the Friday the 13th series, the Freddy Krueger flicks, not forgetting the Halloween films. I still love these films, and to this day I still watch any horror film I can get my hands on.
I suppose I've been hooked on horror ever since I saw The Exorcist one late night it was shown on the TV. I guess I was 12 or so, and my parents had forbidden me to watch. But, you know how it is with kids, what you are not allowed to do is always the most exciting. So I saw it and as clichéd as it sounds, it changed my life in many ways. The film scared the living crap out of me. I didn't sleep properly for two weeks after that. (laughs) What scared me wasn't the possession as such, it was more the face of the demon you see in very short frames in a dream that Damian Karras is having, with his mother having to cross a highway. I mean, that fascinated me a lot. The fact that we have this whole film. And what terrified me the most was what you hardly saw, I guess those glimpses you catch of the demons face is less than a second in the entire film, but it made quite an impression on me. No other film has ever been able to get to me like that one did. It actually took me several years and a lot of persuasion to see it a second time. These days, obviously, it might not look like much - although to me it still does. As I got older I loved the slasher films such as Friday the 13th and the likes, and I guess I grew a bit tougher with age.
I guess the films I find most inspirational are probably Se7en, The Crow, Natural Born Killers, The Machinist, Requiem For A Dream, Lost Highway, Mulholland Drive... stuff like that... I like the darker stuff, I find myself oddly attracted to it... the Predator films and the Alien films also have a very big place in my heart.
And some films you really deplored?
Hm, well, yes... but I'd rather not get into that, heh...
Any future projects?
I'm currently in the early stages of two other feature films as a director: Tour de Force, which is an action film about a policeman who due to a tragic loss has a breakdown and starts doing hits for the mafia. Second, Czech Mates. Finally, we at Cetus Productions are currently working on a supernatural thriller in Danish named Sølvtråd, English title will most likely be Silver Thread, which is being directed by Jan T. Jensen and I'm producing and playing a bigger part in it too.
And FINALLY, recently, I played a supporting part in a feature film named Jon by Texan based director William Instone. Another part in Unlikely Prophets by director Cristian Cupertino based in Florida, and finally a part in The Tourist by Andrey Iskanov from Russia.
I'm looking forward to What Nobody Knows (Det som Ingen Ved) by Sren Kragh-Jacobsen. A Danish political suspense thriller by the same people behind Mifune's Last Song, the third of the Dogma films. Not a very big part I play in this, but I am very much looking forward to seeing that one as well. That film incidentally premiers in Denmark on my 35th birthday, heh. Dead on Arrival, a Swedish crime thriller I was in Stockholm to do a part for last summer, directed by Henric Brandt. "Operation Sunrise" by Donovan Cerminara which is a Canadian film I was in Poland to shoot last year just had a couple of screenings and will hit the festival circuit soon, can't wait to see that one. I did a cameo bit for Aurum by James Barclay and finally a part in Westbrick Murders, directed by Shaun Rana, starring Eric Roberts and Vernon Wells, in which I play the role of Officer Sam.
So I'm really happy and honored to have been given the chance to participate in projects that far away from my homebase, it has certainly been exciting and an enormous experience for me, and I certainly hope to be given that chance again in the future.
I love my job, so I always make space for new projects. I've done a lot of each, both indie films and studio films. Both definitely have their charm. I love the indie way of working, always so vibrant and alive.
Thanks for the interview, and good luck with your films.