Your new movie Dry Blood - in a few words, what is it about?
Dry Blood is at its heart a ghost story. Brian Barnes is tormented by horrific hallucinations that might simply be a symptom of his withdrawal, or they might be the supernatural result of something far more sinister. It doesn't help that his attempts to get clean are being impeded by an overly friendly local cop. A mountain Sheriff who has taken way too much interest in Brian.
How did the project come into being in the first place?
Clint [Clint Carney interview - click here] told me he had a story he had been working on and when I read the script my first reaction was "holy shit! We have to make this!" I knew we had something really original and smart, the passion we both had for the project drove us to get it made. We went from screenplay to finished edit in less than a year. In indie film terms that's extremely rare. Especially for a film with this level of production value.
What can you tell us about your writer, lead actor and executive producer Clint Carney [Clint Carney interview - click here], and what was your collaboration with him like? And how did you two first meet even?
Clint is a surrealist painter, musician and one helluva damn good screenwriter. We met in an informal writing group where members read each other's screenplays and give unbiased feedback. I read his screenplay for The Violent and knew this was someone I wanted to work with. We have worked together on many projects since then and have developed a back and forth working style that centers around the question "how can we make this even better?"
Do talk about your movie's approach to horror for a bit!
We also wanted to make a film that we connected with in the same way we did with the brilliantly crafted horror films of the seventies and early eighties. Those films built a mood and a sense of dread that relied heavily on the intellect and personal beliefs of audience to create the desired emotional response. We did not want to rely on jump scares, shaky cameras, and VFX to do the work for us. We wanted to create a sense of unease and foreboding that stayed with the audience long after they left the theatre.
What can you tell us about your overall directorial approach to your story at hand?
It was also important to us to anchor the film in a sense of plausibility and realism, no matter how out of whack things became for our main character. As a director, it was important to me that these characters feel like real people. We worked to avoid obvious stereotypes and dig deep into the unspoken dialogue to deliver honest believable performances. Most of our rehearsals were spent talking about who these people were before the movie began.
You also play one of the leads in Dry Blood, the creepy cop - now what did you draw upon to bring him to life, how much of Kelton Jones can we find in the character ... and how much fun was it to play him actually?
I never tried to be creepy as the cop. Cops are trained to throw suspects off balance in order to maintain control of the situation. It's a lot like directing actually. Leading up to production, I did a lot of research into procedure and techniques as well as reading books written by former police officers to get a sense of their inner voice. When I was shooting my scenes I also worked closely with the retired sheriff deputy who was our on set technical advisor. He was a tremendous help in making sure I was giving an acurate portrayal. I knew if I could get him to crack a smile, I had done a good job of intimidating Brian. I think it also helped that my great grandfather was the Sheriff of Amarillo, TX back in the old west. My grandfather was a motorcycle cop that became the chief of police in Sante Fe, NM. I guess I have a genetic predisposition toward being a cowboy cop.
What can you tell us about the rest of your cast, and why exactly these people?
Clint and I talked at great length about every aspect of the lead character. It became apparent that he understood this character in a way that went beyond the extreme depth that a screenwriter would normally have. I had worked with him before on music videos and knew he was quite capable as an actor. When we started talking about casting, it seemed very natural to have him play the role. He had not written the role for himself but he played it beautifully.
Jaymie Valentine was in the Day Dream From A Deathbed music video I shot for Clint's band System Syn. Jaymie has a natural strength and vulnerability combined with a striking ethereal beauty that I knew would be a great fit for the role of Anna. I had seen her and Clint act together and they had amazing chemistry in front of the lens. We talked a lot about who ideal cast would be and we always came back to Jaymie as our first choice.
Clint had suggested Rob Galluzzo for the clerk and when I heard him deliver his lines I knew he was the absolute best choice for the role. Rob is hilarious, he is also completely natural and at ease in front of the lens. His understated performance gives a nice comedic breath to what is otherwise a very intense film.
Graham Ehlers Sheldon was our cinematographer and his wife Ren Ehlers Sheldon was our stunt coordinator. I knew that as well as being producers they both had a great deal of experience as actors. I loved the connection they had with each other when they worked together and I knew that energy would work well to create the sense of alienation for Clint's character Brian.
Macy Johnson was recommended to me by a director friend. When we met her she told me she was a huge fan of horror films. She said her favorite film was Hellraiser and I knew she was a perfect fit for our film. She was amazing to work with, a total pro.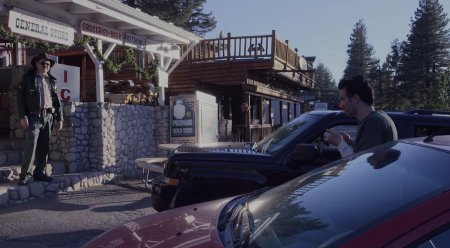 Kelton with Clint Carney
Dry Blood looks as if it has been filmed right in the middle of Nowhere, USA - so what can you tell us about your locations, and what were the challenges filming there?
We filmed most of the film in the mountains north of San Bernadino near Big Bear Lake. The mountain roads get very foggy and it was important to us that our crew was not driving in unsafe conditions. Our solution was to rent a four story vacation house in Lake Arrowhead so that the crew would not have to commute back to LA. This helped a lot with making sure everyone got enough rest; everyone but Clint, Clint never sleeps.
What can you tell us about the shoot as such, and the on-set atmosphere?
In a lot of ways it felt a working vacation, not that it was easy, but that we were in a beautiful environment with people we loved, making a story that we really believed in. In thirty years of working on feature films, this was by far the most fun set I've ever been on. It helped that we had great food and found a great local coffee roaster. We went through a lot of coffee on this shoot.
The $64-question of course, when and where will the film be released onto the general public?
That's a great question. We have submitted it to several horror festivals so the horror fans will definitely get first crack at it. We plan to do a theatrical release soon afterwards. We have a website and a Facebook page that we will keep updated with showtimes and locations as they become available to us.
Anything you can tell us about audience and critical reception of your movie yet?
We did a sneak preview at this years Monsterpalooza that was very well received. I'm really looking forward to hearing the response from the rest of the horror community.
Any future projects you'd like to share?
Our next film "The Violent" is a twisted drama set in the world of the punks and skins culture of the mid nineties. It's going to be really fucking intense.
Over the years, you've worked on movies in various positions, both in front of and behind the camera - so what do you enjoy the most, what could you do without?
Directing is my first love, the process of discovery is intoxicating. There is an incredible mix of curiosity and reasoning that goes into finding the heart and soul of a story. It's a bit like being an archeologist deciphering and ancient and magical scroll. Acting is very appealing for the same reason. My least favorite position to do is sound, but only because I'm a perfectionist. When I do sound I obsess over the slightest nuances.
What got you into the filmworld to begin with, and did you receive any formal training on the subject?
I was cast in a western feature film when I was sixteen. We shot in an old western town in Texas. While on set I was watching the cameraman flying above my head on tulip crane and thought that was the coolest fucking thing I'd ever seen. After I finished with my scene, I asked if I could join the crew, I've been making movies ever since then.
What can you tell us about your filmwork prior to Dry Blood, in whatever position?
I worked on the lighting crew for many years so that could learn from as many great DPs and directors as possible. By the time I was DPing I knew the exact capabilities of every light on the truck and how to use them to create whatever feeling I wanted to convey. I've also worked in just about every department at one time or another; sound, make-up, visual effects, art department, set stills, screenwriting, editing, producing, acting. I feel like having experience in those other departments helps me recognize and appreciate talent and create the collaborations essential to being a good director.
How would you describe yourself as a director?
I would like to think I have a good mix of preplanning and intuition. I spend a lot of time digging into the subtext of a scene and planning out how to light it and shoot it and how it fits into the larger flow but I still give the actors room to explore. I'm very careful about avoiding over-shooting a scene and lean toward a more minimalist approach. If I have to choose between a connected, believable performance and a lot of coverage, I'll choose performance every time. If an actor missed their mark, but makes me feel something powerful, that's the take that's going to be in the edit.
Filmmakers who inspire you?
All of them. Seriously, filmmaking is hard. It takes a lot of guts and perseverance to get a movie made. Anyone who has made a film to completion has overcome not only the odds but their own self-doubts.
Your favourite movies?
I watch a lot of movies. It would be impossible for me to pick a favorite. Though I do most enjoy films that I can't guess where they are going next. One of the downsides to being such a huge film buff is that you usually have the ending of the film figured out halfway though the second act. Films that defy expectation and surprise me are really enjoyable.
... and of course, films you really deplore?
I detest lazy filmmaking. Every chance you are given a camera is the chance to do something great with it. Something important. It's very frustrating to see someone who has access to great actors and resources not push themselves as artist. Usually this is a result of rushing a script into production or trying to pander to an audience.
Your/your movie's website, Facebook, whatever else?
www.facebook.com/DryBlood.movie
Anything else you are dying to mention and I have merely forgotten to ask?
Why did we make the film?

Feeling lucky ?
Want to
search
any of my partnershops yourself
for more, better results ?

The links below
will take you
just there!!!

Find Kelton Jones
at the amazons ...

amazon.com

amazon.co.uk

amazon.de
Looking for imports ?
Find Kelton Jones here ...
Something naughty ?
(Must be over 18 to go there !)

I spent much of my developmental years in movie theaters. Movies go such much further than just entertainment for me. They helped shape my world view, how I react to other people, my sense of empathy and place in the world. I have gained so much from movies that has helped me become who I am. I feel an obligation to the filmmakers before me to keep that tradition of story telling alive. To inspire viewers to question their own perceptions of reality. We set out to make a film that lives up to the standards of our favorite movies. My sincerest hope is that Dry Blood will make into the viewers' list of favorite films as well.
Thanks for the interview!
Thank you for the opportunity, and thank you for supporting independent filmmaking.