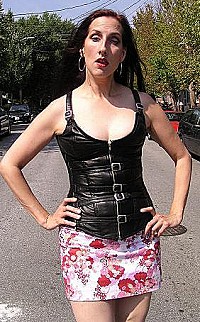 Kathi Lehmer
You are currently working on your second feature Mortal. In a few words: What is the film about?
Mortal is about vampires, but more than that it is about the state of being mortal. So it is really about being human as told from the viewpoint of a brand new vampire. The protagonist, Vincent has been made into a vampire against his will by someone very dear to him. It's about betrayal and desolation and wonder. It's about the unexpected things that happen in life and how something completely horrible can sometimes lead to something completely wonderful and then right back to something horrible again. lol
What are the film's main inspirations?
As with anything I write, a large helping of real life went into this one, but I've also been influenced by the hundreds of movies I've watched in the last two years and several books I've read or reread recently. Frankenstein at the top of the list. The Lovely Bones is a book about a child's murder told from the dead child's point of view. Something about the voice of that book has influenced my writing in Mortal.

I liked the first two vampire books by Anne Rice a lot, though I read them decades ago. I think the human side of her vampires influenced me in the writing of this script.
With Mortal being a vampire movie, is the vampire film a genre especially dear to your?
I love vampires, but who doesn't. They are so versatile. I really like the old-school vampire, romantic, mysterious, lonely.

My sister bought me a set of Dark Shadows DVDs (an American TV vampire soap opera made in the 1960's) a couple of years ago. The episodes are very melodramatic and laughable at times, but there is something about the mood - a spell is cast and the series becomes mesmerizing.
Barnabas, the main character, is an old-school vampire.
Your favourite movie vampires, and how do they compare to the vampires in Mortal?
Gary Oldman is a great Dracula, but my all-time favorite movie vampire is Klaus Kinski in Werner Herzog's Nosferatu. In comparison, my vampires are not as spectacularly monstrous or supernatural. My vampires are quiet killers. No splashy throat tearing. They are old and well-rehearsed vampires. Killing is like going through the drive-thru at McDonalds to them. Well, maybe more like grabbing a sandwich at a chic restaurant. lol
In Mama and Damian, you also played a vital role besides writing and directing it. Will you also be acting in Mortal?
I have a special guest appearance as Hesta Barron. That is the stage name I used in Mama and Damian. This time she is the hostess of VTV, a TV show within the film.
I really wanted to be able to concentrate on directing this film. I love to act, but it is very difficult to act and direct simultaneously.
A few words about your cast?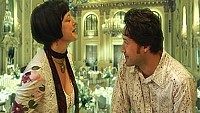 Madeline and Vincent
I spotted Patrick Stoner, who plays Vincent, the male lead, playing music at a fundraiser. He had the good looks and personality I envisioned for Vincent. The devil-may-care young man who is suddenly face to face with the devil.lol
Sheila Mod, who plays Madeline, the female lead, is an experienced and talented actor whom I met through my fiancé. She has the range to pull off this character who comes close to going off the deep end at times.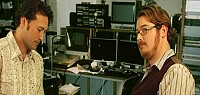 Vincent and Harry
Ashley Cleaver who plays Harry, played Wolfgang in Mama and Damian and stole the show, so I knew he could play anything.
Tanya Paoli was recommend to me by a friend. She is the charismatic singer in a punk band The Impatients and this is her first time acting. She has this otherworldly quality I needed for her character, Ava.
W.G. White, who played Damian the bear boy in Mama and Damian, makes an appearance in Mortal as a priest. W.G. was so great as Damian, I will always cast him in my movies.
How hard/easy was it to assemble a cast of a horror film of this kind in your area?
Well, it was easy and hard. lol
I had many auditions to find the right person to play Ava. I had a few false starts on some of the characters. As always, though, when something doesn't work out, something else appears that's even better.
I recently moved to an area just outside Philadelphia, so my network expanded quite a lot.
Also, I met so many people because of making Mama and Damian that I found it much easier to get the word out this time around.
I'm still looking for more extras.
Your debut feature Mama and Damian was populated by a whole bunch of loveable freaks and weirdos. Will that also be the case in Mortal, and what can you tell us about the film's main characters?
Well, vampires are pretty freakish and lovable.lol
I'm always attracted to freaks. Often they make the best actors. lol
I think anyone with a high intellect combined with talent usually has a great screen presence.
Without giving away the story too much, Vincent, the protagonist, is a confused, tortured, angry, wild vampire. He acts out his emotions like an angst-ridden adolescent.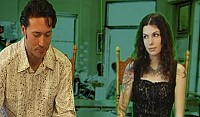 Vincent and Ava
Madeline is Vincent's romantic interest. Let's just say she's done something very bad and now she has to live with it. Harry is the mutual best friend of Vincent and Madeline. He is the voice of reason.
Ava is a mysterious character who appears halfway into the script and changes the way Vincent thinks about his present condition.
Much of the action takes place in a TV/movie studio which is also the vampires' lair.
Mama and Damian was a darkly ironic and completely bizarre movie. Will Mortal be anything like that?
Well, it's the same writer, so no doubt there will be some similarities. lol
Mortal has a much more solemn and eerie mood. However, there will be moments of humor. The twists in this film are many so I'll try not to put any spoilers in this interview.
Mama and Damian was done on a very low budget. Do you have more funds at hand for Mortal, and what can you tell us about low budget filmmaking as such?
No, I don't have any more funds than I had with Mama and Damian, but I have more resources. When you produce a film with a zero budget, you have to rely on volunteers and your own wits.
I am quite lucky that fortune has smiled on me and I have such a fine cast and crew already. They have done everything from recommending other actors to scouting locations for Mortal.
When and where will Mortal be out?
I intend to take my time. I want the acting and camera work to be really compelling, so we are rehearsing all the time. I hope to have it ready by next Summer. We will most likely premiere it in Philadelphia.
Your webiste, mySpace, whatever else?
http://www.trinkafivefilms.com
http://www.myspace.com/trinkafive
http://www.myspace.com/mortalmovie
http://www.myspace.com/mamadamian
Oh and the place where I am an artist in residence bears a mention:
It's a non-profit neighborhood community arts center.
I teach film to ten-year-olds. Some of my best ideas come from them. lol
You have done an extensive interview on Mama and Damian for this website [click here]. Anything about that film you'd like to add that was not in the interview?
At that time I didn't have any kind of distribution besides my own website.
There are now two different places to order Mama and Damian:
and
Who are your main inspirations as a writer and director?
I suppose Orson Welles, Hitchcock, Truffaut, Stanley Kubrick, Antonioni - the usual list of visionaries. I love Ed Wood's spirit [Ed Wood bio - click here]. I love the way he did it his way, despite the lack of success.
I gotta say though I have been influenced in an odd way by one film, Cleo from 5-7 by Agnes Varda. I liked her weird view.
I'm inspired all the time by art and life, unavoidable things.
Actresses (or indeed actors) who have influenced you?
When someone has an amazing talent I study them over and over again.
Spencer Tracy, Marlon Brando, Johnny Depp, Carole Lombard, Judy Holiday, Whoopie Goldberg, Philip Seymor Hoffman, James Earl Jones ... all of these actors have such great timing and are so believable as their characters.

Feeling lucky ?
Want to
search
any of my partnershops yourself
for more, better results ?

The links below
will take you
just there!!!

Find Kathi Lehmer
at the amazons ...

amazon.com

amazon.co.uk

amazon.de
Looking for imports ?
Find Kathi Lehmer here ...
Something naughty ?
(Must be over 18 to go there !)

Your favourite movies?
Far Away, So Close, Some Like It Hot, Blade Runner, Blow Up, 2001, A Space Odyssey, Lolita, Gosford Park, The Third Man, The Birds, Night of the Living Dead, La Dolce Vita, The Royal Tennenbaums, Wild Strawberries, Black Rain (Imamimura).
Old Japanes sci-fi has my attention at the moment. In reality my list is too long to list. lol
I like films that are stylish and have multiple layers of meaning.
A few movies you really didn't like?
It is a very rare movie that doesn't have some aspect that I can love. I mean a movie can be pure crap, but still I always consider that a lot of effort goes into even the crappiest movie.lol
For instance, I can watch a violent Tarantino movie and enjoy it but I'm never compelled to rewatch it. Bloodbaths don't interest me, except for Apocalypse Now and Leon, the Professional ... ok there are others, but the story has to be about more than meat-headed thugs killing other meat-headed thugs or hot babes killing meat-headed thugs. lol. Though I'm not against action, and I love a good car chase.
Anything else you'd like to mention that I've just forgotten to ask?
I would like to mention Mike Knapp who has been running the camera for me. I'm finding out as we go along that he is very astute and has a great eye. We met over a year ago on the set of a TV show Tim Qualls while I was doing an interview. We found out recently that we live like 15 minutes away from each other.

Jessi Johnston, who was my DP on Mama and Damian, will also be filming Mortal when she gets finished globe trotting.
Thanks for the interview!