First of all, why don't you introduce yourself to those of us who don't already know you?
I am a Remi-Award winning music composer/orchestrator for live-action and animation feature films, TV series, games and advertisments with about 18 prime-time television series, over 14 feature film credits under my belt.
What got you into making music in the first place, and did you receive any formal training in the subject? And did you intend to go into film scoring from day one, or did you only gradually drift into it?
Well, I started learning the piano at the age of 6 and continued to learn piano till I was about 13 or 14 years old. In the meantime, I had come across scores from The Dark Knight, Pirates of the Caribbean and Star Wars. But at that point I never knew anything much about film scoring nor did I ever think I would take up film scoring as a life-time profession but I had learnt audio editing and a little bit of Cubase. So before I graduated from school due to academic studies and final exams I had to discontinue learning piano for 2 years, but I continued practicing at home. But that was not it!!! It was a sudden attraction I felt towards learning music theory and understanding harmonies. So I began to buy music theory and harmony books and I would secretly keep reading them even though I had academic exams coming up. I remember having a small-size theory pocket book which I would quietly put inside a big size academic book. So from a distance it would look like I was studying from the academic book when in reality I was reading the music theory pocket book! When I realized this plan worked well, I started buying more music theory pocket books and continued to learn. My dad, who was a drummer, had also worked in the TV series industry as a music producer for about 17 years and had a studio and a team already set up. So exactly about two weeks before my academic exams I get this sudden spark inside me that craved to go to the studio to compose music. At first everyone at home would think of it as a plan I would use to escape studying, but my dad would manage to take me to the studio, and to everyone's surprise I was able to compose very small and simple music pieces on a keyboard sequencer. It did make everyone wonder how that was possible as I had discontinued piano classes for 2 years during that period, nor did anyone know about me secretly studying music theory and composing. So this was my first step into the composing world that appeared quite as a surprise to everyone, and I would study for my academic exams the whole day and at night go to the studio everyday. Eventually, after my exams got over, I did take a few classes for composing, harmonies and arranging, but always felt SELF-LEARNING IS THE BEST WAY TO TEACH YOURSELF! YOU ARE THE BEST MENTOR FOR YOUR OWN SELF! So I continued learning music and composing music for practice every single day to improve my skills and finally teamed up with my dad and continued with our journey into the film scoring world!
Some of your career highlights (so far)?
My first break was working on the 3D animation feature movie Super K that was released world-wide on 11-11-2011.
Scoring music and sound design for a ship breaking documentary that released nation-wide for which we were felicitated by the ship breaking union at the launch of this documentary.
An entry into the film industry in other countries began when we met Harley Wallen [Harley Wallen interview click here] and started scoring and doing the entire audio post production for most of his movies.
Winning the Golden Remi-Award for the movie Patiently Faithful in Houston, Texas has been one of our biggest achievements in our career. It is one of the oldest international film festivals which has previously handed awards to celebrities like Steven Spielberg and Ridley Scott.
Worked with Tirzitis Entertainment for their movie The Huntress - Rune of the Dead that released in theatres in a quiet a few countries.
Collaborating for SEVERAL SONGS with the very famous singer Amanda Cole, who has shared the stage with the late King of Pop Michael Jackson and the all time favorite Whitney Houston.
Recently worked on three full animation series for Netflix.
How would you describe yourself as a musician/composer, and what are some of you preferred musical style(s) to play?
I look at myself as a versatile music composer always up for exploring new genres and cultures, creating unique sounds from dynths and taking the traditional orchestra to new levels.
My strengths lie in orchestral and cinematic/hybrid music for movies. But I have a huge number of songs & world music compositions under my belt too.
You were recently responsible for the sound design and some of the score of Harley Wallen's Agramon's Gate [Harley Wallen interview click here] - so do talk about your work on that movie for a bit?
For Agramon's Gate, we mainly did the entire sound designing and mixing, but we also scored a couple of additional music pieces to replace it with the original score . Well, Agramon's Gate being a horror movie, our sound designer collected a huge number of scary sounds from raw elements which were then processed and manipulated into various creepy effects for sound designing. A lot of scary animal voices and human whispers were manipulated into scary voices for the Evil Spirit in this movie. We tried creating sudden shocks and impacts to give the audience the thrill and excitement.
Agramon's Gate isn't the first movie you've made with Harley Wallen - so what can you tell us about your previous collaborations, and how did the two of you first meet even?
We have been working with Harley Wallen since his movie Moving Parts. I came across Harley's first movie Enigma and I decided to write him a message and present some of our previous film scores, which he really loved, and that set the beginning of our journey together. Harley is a very creative filmmaker and he explores all kinds of different concepts. Harley has always trusted our work and music and always provided us a free hand for creativity. Harley has good understanding of music too. Sometimes I only make Harley listen to a particular melody only on my piano or just share an idea verbally over a call and he gets it really well Overall, it is really fun scoring music and doing the sound design on Harley's movies.
Now take us through the process of creating a musical score: What are your key inspirations, how closely do you stick to the images of the movie, and how closely do you prefer to work with the movie's respective director?
Okay, so the process of creating a music score first begins off with just watching the movie as an ordinary viewer. Just understanding the movie, the emotions, the characters, the hook points, the story-twists etc. Once I have seen the movie and developed some understanding of the story and the concept, I run through the whole movie once again along with the director to know about his thoughts and ideas for the music score and sound design. After that, I would sit by myself, try and enter into the character or become a part of the movie and run through all the scenes a couple of times and make a list of the themes needed and make a cue sheet to mark the places where music would begin and end, maybe not exact spots but approximate figures! Once that is done, keeping the movie picture in mind, I sit to create thematic material (freely without any video) that could come in subtle or prominent ways throughout the movie. Once I've collected sufficient thematic material I start placing them down to the video and create a score for the other scenes of the movie.
I would most often keep the director's suggestions and thoughts in mind while creating the score, but at certain places I come with some better ideas which could be the opposite of what the director had in mind, so I would do up a sketch of that idea and present it to the director. If he likes it, I go ahead and finalize the whole piece up. If not, then we stick to the original idea as discussed. But I always try to add my creative inputs all the time using my expertise and keep myself open to exploring all kinds of ideas for the film score.
So what's a studio session with Kaizad Patel usually like, and what kind of atmosphere do you prefer during your sessions?
A session would usually have my team working with me in my studio where music scoring & sound designing takes place. The benefit we have in working together is:
We have more heads come together for a project thus more ideas from different talents flowing in.
We discuss places where music needs to be more prominent and places where the sound design needs to have more prominence and score and sound design accordingly as per the need.
I prefer working in a fresh environment keeping the temperature of the air-condition quiet low thus having a cold and pleasant room. I would always dim the lights up in my studio as I prefer working in low-lights. Spray an air-freshner in the room to keep the mood going! Sometimes on days when I am not in the right state of mind, I like to get myself into that zone or mood by listening to some of my favorite soundtracks that would give me the necessary energy and inspiration.
Any future projects you'd like to share?
The movie Outrage by Sandeep should be coming to us in about 15 days.
Harley's upcoming movie Ash and Bone would also be coming in about a month or two.
Season 2 for three animated series for Netflix will be coming later around the mid-year.
I've been signed up for the rest of the year by the company Sonokinetic Ltd to continue creating demos for all of their libraries.
Musicians, composers, whoever else who inspire you?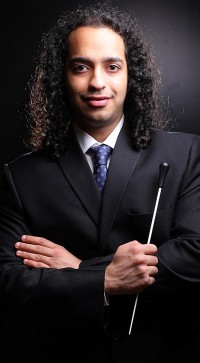 Feeling lucky ?
Want to
search
any of my partnershops yourself
for more, better results ?

The links below
will take you
just there!!!


No one other than maestro John Williams. Star Wars was one of the first movie scores I had ever heard in my life as a kid. I have a Stormtrooper kept in my studio. I look at it everyday before I begin scoring. It reminds me of my dream and why I am here on this planet and what I need to achieve in this one life we have been gifted.
Other composers like Hans Zimmer, Danny Elfman, Alan Silvestri and Michael Giachino inspire me to a great extent.
Your favourite movies - not only but also from a composer's point of view?
All the Star Wars movies! I would watch them over and over again only to study the score, the transitions, the thematic materials, the textures, the arrangements and the overall mixing of the film.
Another movie that has left a great impression in my head is Dunkirk, which was scored by Hans Zimmer where he came up with an innovative idea of building the score using a Shepard tone.
Another movie that has had a great impact on me is Dark Knight Rises. The sound of the brass, the strings and the cinematic percussion rattled the theatre seats. It's a score where Hans Zimmer broke all rules of the traditional orchestra to make it sound powerful and huge and cinematic .
A very different and creative approach can also be found in the DC Comic movies like Suicide Squad. A very different and innovative style of scoring music.
... and of course, films you really deplore?
Well, I don't personally enjoy a lot of detective movies, one of them being Murder on the Orient Express - very subtle film score. Not much of excitement at all! Completely dialogue oriented.
Your website, Facebook, whatever else?
Website: www.firozekaizad.com
Facebook: www.facebook.com/kaizad.f.patel
Email: kaizadfp@gmail.com
Thanks for the interview!