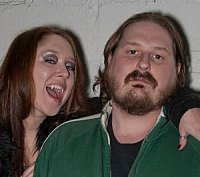 Justin R.Romine with Heather Dorff
photo by Shane Smith
First of all, why don't you introduce yourself to those of us who don't already know you?
Sure Mike, I'd be glad to. My name is Justin Romine and I am a storyteller. I say that because filmmaking is not my only talent. I consider myself a bit of an accomplished writer aside from as a screenwriter. I've worked the past 13 years or so in the television world and as a journalist. I have also had two book published. I consider myself a storyteller; I'm also a songwriter/musician, and an abstract painter. I didn't say I was a good songwriter or painter, but I find I constantly crave an outlet. Sometimes I may not be up to writing a screenplay, but maybe I can paint something. I've trained to work in the television broadcast field and as a filmmaker. I have a Bachelor of Arts in Film from The University of Nevada.
I was fortunate to train under some of the best in the industry. I've worked with the late Tony Curtis - a beautiful person -, television writing veteran Sean Clark, who has penned scripts on anything from Coach to Sliders to Northern Exposure as well as writing the bulk of Chicago's own Early Edition, and I also trained under horror legend David Schmoeller who directed the cult classic, Puppetmaster. I was also fortunate enough to work with actor Bill Fagerbaake who is most well known for his role as Dober in Coach and as Patrick Starfish in the animated world of Spongbob Squarepants. I also have trained under numerous other extremely talented artists.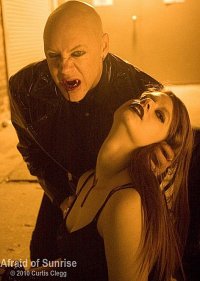 Ron Fitzgerald, Kelsey Zukowski
You have only recently made the vampire-short Afraid of Sunrise. In a few words, what is it about?
Afraid of Sunrise is about the power and corruption of the government over the second class citizens. It takes place in the near future and the second class citizens just happen to be vampires.
Yes it's a vampire movie. No our vampires do not sparkle and talk about their feelings. Our vampires are vicious and oppressed and will kill you in an instant for the fresh blood in your body. The government controls and sanctions the blood to the vampires, who have been microchipped so they can be tracked. Some vampires slip through the cracks and escape the vampire ghetto, thankfully there are still vampire hunters who still clean the streets. It can be considered a horror vampire conspiracy thriller.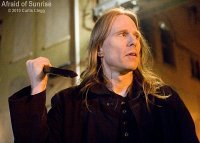 Andy Schatner
Andy Schatner [Andy Schatner interview - click here] does not only play the lead in Afraid of Sunrise, he has also produced and written it. What can you tell us about the man, and how did the collaboration come together?
Afraid of Sunrise is the fourth time now that I have directed Andy. On our first project, Dwelling, a short which I wrote and directed, Andy played the lead. We had a great experience together. Immediately after we wrapped shooting Andy told me about Afraid of Sunrise. Once I read the script, I was in wholeheartedly. The idea for Afraid of Sunrise was to make the short film because Andy also has a feature length script called Afraid of Sunlight, which we want to do badly. That film is way more elaborate, a different story line, different characters. It also will have a very large budget attached to it. Our hope was to shop the short around as sort of a commercial for the feature film. The only problem is that Afraid of Sunrise sprouted its own wings and has just taken off. The film is no longer likely to be a short, but more of a feature as the run time may be an hour plus at this point. We had originally wanted to do a 20-30 minute short.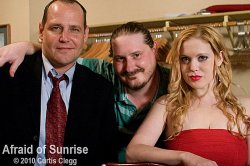 with Tom Lodewyck and Deneen Melody
A few words about the rest of the film's cast and crew?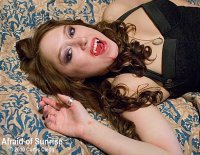 Heather Dorff
The cast and crew of this film are all amazing people. Of course the collaboration of Andy, cinematographer Don Ford, and myself has lent this film a very unique vision and feel. Our cast included the uber talented Tom Lodewyck (Incest Death Squad 1 and 2, Blue Lines [Tom Lodewyck interview - click here]), Deneen Melody [Deneen Melody interview - click here], who has become quite the scream queen as of late, keep your eye out for this amazing actress, and Heather Dorff [Heather Dorff interview - click here], who is a great actress as well. Everybody who worked on this film, Mike, from the production assistants to the extras, have been top notch and very professional. I wish I could work these people on a more regular basis, in fact, some of them I am working with on another project.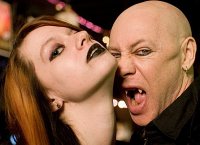 Ron Fitzgerald, Kelsey Zukowski
With Afraid of Sunrise being a vampire movie: Do you harbour a special love for the genre, and your favourite (and perhaps also least favourite) vampire flicks?
Bela Lugosi's Dracula and even the much older vampire movies hold a special place in my heart. My favorite genre is horror and Afraid of Sunrise is also a horror film as much as it is a vampire movie. But see, I love the darker, older vampires. During the shooting of Afraid of Sunrise we tried to make it as dark and as bloody as possible. I'm beckoning back to the vampires of yore, not teenybopper vampires. My favorite vampire films are the original Nosferatu and Bram Stoker's Dracula, both the book and the Coppola directed film. My least favorite are the Twilight-series. Way too tame and lovey dovey. If vampires were real, they would be ruthless killers with no remorse. Our tagline throughout the whole film has been "Our vampires don't sparkle", a dig into the Twilight-saga.
The 64-Dollar-question: When and where will the film be out?
You're asking the wrong guy the answer to that question. I'm just as excited to see the finished product as everyone else. It is currently in post production. It's being edited, scored, color corrected, sound work and so on. Not only does post production take quite a bit of time but it usually also requires money. We're still raising finishing funds so we can pay the people who deserve to be paid. The film will be out this spring (I'm guessing March/April). We plan to hold a couple private screening for investors and other interested parties, but will also be submitting to a lot of film festivals and horror conventions. Keep an eye out this spring for Afraid of Sunrise screenings. There will certainly be screenings in Chicago, count on that!
You have also recently finished the short Recidivism. A few words about that one?
We shot Recidivism just before Afraid of Sunrise. Andy Schatner [Andy Schatner interview - click here] also stars in that film as the brother to a recently paroled murderer, Tanner. Tanner now has to adapt to a technologically advanced society which he has never had to deal with while being in prison. Tanner starts to learn things like social networking and then begins stalking victims online. His brother is the only one who can stop him. It's a great little film. It's still being edited but I'm expecting that to be done in the next month or so. I love this film particularly because I was able to shoot at Joliet Prison, where they shot a lot of films including the classic Blues Brothers. Director of Photography Don Ford and I both sported our Raybans and fedora hats while shooting that scene and there's pictures!
Together with Keith Romine (your cousin, I feel obliged to point out, in case anyone wonders) you are also working on the webseries Cracked. What is that one going to be about?
Cracked is going to give Keith and I an opportunity be be kids again. We're still writing episodes, but basically it's going to be a short, comedy web-series with some very sick and twisted humor. I think I actually will be playing the part of Miles, a stuffed animal (we haven't found a large one to use yet) and Keith plays the lead. Miles is sort of a voice in Keith's head. The web-series will premiere on our website www.fatheadfilms.net and we hope to produce at least one episode a week.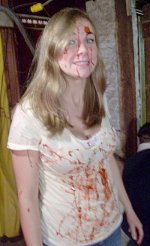 Dwelling
A few words about some other shorts you have directed, in no particular order:
Dwelling?
Dwelling is the first film in which I worked with Andy Schatner. Dwelling was a short script I wrote involving a couple and an affair. Geo had an affair and is trying to end it. The girl Jo, stalks Geo and his girlfriend. At one point she attacks Geo's girlfriend. The film hits a few raw nerves for some people and it's about someone who made a mistake that haunts him so much that he eventually has to do something about it.
The Rawhide Stagecoach Robbery of 1908?
The Western is my second favorite genre. I found a horse a couple great actors and shot a western, though it fast forwards to modern day. This was actually a project for one of my film classes. I decided to go crazy and make a western (I was a bit more advanced than most of my classmates). I actually got to ride a horse and play a role in the film as a cowboy! How cool is that? A dream come true, I'll tell you that. That film was filmed just outside Las Vegas, Nevada.
Just Dropped In?
Just Dropped In was something I did to cure some boredom. I shot video of my record player, at various angles, playing the song Just Dropped In (to see what condition my condition is in) by Kenny Rogers and the First Edition. I also shot a burning cigarette. With the song playing, I cut together shots of the record spinning and the cigarette burning at different speeds. It was fun, gave me something to do and not only is it a damn fine song but I think it's a hell of a video.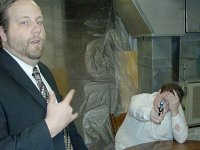 Till Death
Till Death?
Till Death is actually the first film I directed (other than when I was a kid making crappy movies with my black and white video camera). I wrote and directed that film as well, that stars my cousin Keith and an old friend Mike. The film is a bit of a mystery. One of the guys has a briefcase, the other wants it. Both are willing to kill for what's inside, but we never find out what's inside. Not a bad effort for my first outting, was certainly a learning experience as every film is.
Your maddest film though was probably Tape: The Musical, wouldn't you say? How did the whole concept come about?
Tape was actually part of a 48 Hour Film Festival. For those unaware, 48 Hour Film Festivals give you exactly that much time to write, shoot, edit and score a film. During the competition your group is given genre, a character name, a line of dialog, and a prop. You must then write your script and shoot it, making sure you use the aforementioned. The film was just a creative collaboration by all of us involved. That film is about a German girl looking for acting gigs. She visits a talent agency only to find some people would die for a role.
The travel-show pilot Weekend on Wings on the other hand comes out of a completely different corner. What can you tell us about that one?
I was approached by Las Vegas performer Doug Starks to help him put together a travel show. Weekend on Wings, also considered WOW, would be a a travel show for people on a budget. The show would highlight cheap flights, hotel deals, and destinations. We shot the pilot at the Valley of Fire, the oldest state park in Nevada. Doug's hope was to be able to offer full trips for about 300 dollars a person.
The pilot is still being shopped around and we're hoping something happens. It's been a few years though.
So far, you have restricted yourself to directing shorts. Could you at all be tempted to eventually make a feature film?
The goal, Mike, is to make a feature film. Feature films cost a lot of money, so until you can come up with that money, or until you can find a producer willing to put up some money, you're kind of limited in your options. I will say that FatHead Films is currently in preproduction on a few different feature length scripts. I would also like to mention that Afraid of Sunrise will be considered a feature, it originally was not intended for that but as we added scenes for cast members, the script grew. And instead of restricting the film, I decided, directionally, to let it unfold naturally, which allowed us some breathing room. We didn't have to rush any scenes, we shot every one of them perfectly and the movie has become a feature, what I can I say? I'm extremely happy with what we accomplished.
With Keith Romine, you run FatHead Films. A few words about your company?
Well, Keith and I started FatHead Films back in high school, many, many years ago. Till Death was our first film and we continued writing scripts and shooting video, learning our craft. Throughout college we stuck together and produced films together (we both attended UNLV at the same time). We both ended up back in our hometown and we are still pumping movies out.
How did you get interested in filmmaking in the first place, and what can you tell us about your time studying film?
My original interest in film came at a very young age. I got lost in the stories of movies (even if they were Disney movies). I loved how movies can clue the audience in on something, yet the characters have no idea. This is classic building suspense material but I loved how Hitchcock so carefully crafted his movies. When I was about five I decided I wanted to tell stories too, including through film and literature as well as other ways. As far as studying film goes, it is a painless process if you love movies as much as I do. We were taught HOW to watch movies and use that knowledge in MAKING movies. It was a very valuable education. I studied directors, cinematographers, producers, editors, and actors. I learned how to watch the space on the screen, the framing, the lighting, the performances, the cuts. It sounds very tedious and it is, but it's important to know if you want to make movies. In fact, I learned everything I could while I was in school. If you know everything, you have a better chance getting into the industry than if you just wanted to be come a director or an editor. That's how I was taught, learn it, know it, and use it type of deal.
Besides making movies, you have also written two books. A few words about them?
Well, like I mentioned earlier, I consider myself a storyteller, even if it's verbally, as a poet, or as a writer. The first book that was published is called A Bard's Tale and it is a collection of poetry inspired by Ireland (I have Irish, Native American, and Italian heritage). My second book is called Short Stories for People with Short Attention Spans. The stories are short, it was an experiment on my part to tell well-crafted stories in just a few pages. I think I did a pretty cool job and it's one of my favorite pieces of work. It's fun.
Writers who have influenced you?
My largest influences in writing are James Joyce, Bram Stoker, Brendan Behan, and W.B. Yeats. Yes, I am highly influenced by Irish writers. I am also largely influenced by the writing of John Steinbeck, J.D. Salinger, Clive Barker, Cormac McCarthy, and Ray Bradbury. I am also influenced strongly by the songwriting of the Beatles, particularly John Lennon, Sir Paul, and George Harrison. Ringo became a decent songwriter post Beatles.

Feeling lucky ?
Want to
search
any of my partnershops yourself
for more, better results ?

The links below
will take you
just there!!!

Find Justin R. Romine
at the amazons ...

amazon.com

amazon.co.uk

amazon.de
Looking for imports ?
Find Justin R. Romine here ...
Something naughty ?
(Must be over 18 to go there !)

And since we are talking about influences: Directors who inspire you?
There is a list of influential directors of mine that spans a mile long. The more important directors have been Orsen Welles, John Carpenter, Tarantino, Robert Rodriguez, John Carpenter, the Coe- brothers, and Adam McKay. I love a good comedy!
Your favourite movies?
My top 5 movies are: Citizen Kane, Pulp Fiction, The Big Lebowski, American Beauty, and Halloween.
... and of course, movies you have really deplored?
Anything starring Keanu Reeves except the Bill and Ted-films.
Your website, Facebook, whatever else?
Check out our website at www.fatheadfilms.net.
You can find us on Facebook by looking for FatHead Films.
Anything else you are dying to mention and I have merely forgotten to ask?
I'd like to everybody to check out the film What They Say. It's the next film I'm directing. It's starring Heather Dorff [Heather Dorff interview - click here] who is also producer and writer of the project. It's a very dark film that deals with how people cope with problems and inner demons. It's going to be a very tense and dark film. Please check our website at http://whattheysayfilm.wordpress.com
Thanks for the interview!
Thank you, Mike, it was my pleasure. I hope it was enjoyable and I hope we have some new fans!
All stills from Afraid of Sunrise copyright by Curtis Clegg