Your new movie Almost Amazing - in a few words, what is it about?
It's a romantic comedy about three guys figuring out life while trying to work at a company that hires them to write "break-up" cards.
Is any of Almost Amazing's story based on personal experiences? And perhaps related to that, which of the three lead characters in your movie do you identify with the most?
I play Chris in the film and he is a egotistical playboy and I actually related more to Michael's character. I wrote the script with the idea that I would play the opposite to my personality because Michael has so many layers. I love that he is juggling staying with a woman he doesn't love because of her tragic incident. And Chris was layered in a different aspect as all of his playboy shenanigans were reflective of a rocky relationship he had with his father. So it was so fun to write these characters.
Other sources of inspiration when writing Almost Amazing?
I was inspired by love and I mean that as in I wanted to do a film that didn't explain it. I feel like Almost Amazing has that Woody Allen/Terrance Malik vibe as in it's not based in a false reality. That is my style, I have a hard time utilizing how I think and to be able to use how I view love in a film was great! I think that is what inspired me, the characters and the idea that love is messy and it isn't perfect. I wanted to explore that and to do that as an African American was even sweeter. The film was told it wasn't "black enough", it was also told it was too "out-there". That means the phenomenal performances of Alisondra Alexander, Torrei Hart, Matthew Simmons, and Taylor Carter, etc it must have truly resonated!
Your personal thoughts about looking for true love?
I think that love is an action and the emotion of it is based off our perceptions of it. I think that understanding how to navigate our emotions towards this idea, the idea of love, that's how we can get closer to understanding it. So I look for people who challenge me and challenge "love". I want to go against what is considered normal and go for what we truly feel deep down. Don't just give me a gift for my bday, how did you feel? Did you want to give me a gift, or are you socially conditioned to think that getting me a gift is doing some archaic ritualistic part in this world
What can you tell us about your overall directorial approach to your story at hand?
What was interesting about this film was I was in it. So I got to sort of sit into a scene and connect and disconnect almost instantaneously. Khu, my DP and producing partner, she was integral in ensuring that we got the shots we needed. I mean she essentially directed when I couldn't see certain things. The goal was to allow us room to bounce off each other's characters and quirks. With that in mind I didn't want to solve problems easily nor explain them thoroughly.
Almost Amazing was shot (at least mostly) in New York City - so what was it like filming there, especially regarding the exteriors?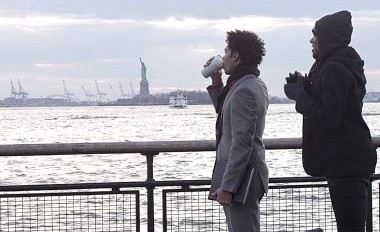 Killer! I mean it was below zero for the majority of the shoot and for some reason I got stung by a bee and almost died. Shout out to Macauly Caulkin! So for 75% of this film I had just gotten out the hospital and was dying! I mean face broke out and bruised and swole to the size of grapes. So we had to endure me essentially being fatigued and drained and sweating. But New York is beautiful and it was insane to even be able to shoot there. That was so awesome. A blessing! I have so many stories but my favorite is when we shot during New Years Eve and we thought the ball drop would be close. And it wasn't, so I had to convince multiple cops that we needed to film this scene because of love! I mean I legit had to convince him that Almost Amazing was so great we had to shoot the New Year 's Eve ball drop. He ushered us to the front after 3 hrs of running through barricades and lines! But every frame of New York is always beautiful and it was such a phenomenal experience.
You also play one of the leads in Almost Amazing - so what can you tell us about your character and what did you draw upon to bring him to life? And have you written him with yourself in mind?
I spoke a bit about him earlier but I play Chris. He is a womanizer who is using his great looks and charm to have different women every night. He works at a company called "Unluv" where he writes break up cards for a living. I had to break out of my shell because I'm not charming nor am I a playboy, so it was really interesting to wear his skin. To sort of see where it would take me. What I love about Chris is he makes no qualms about being a bad guy. He actually is bad at being bad and that makes it even more fun especially when he meets his match in April, played by Taylor Carter. I believe their dynamic is what helped me move inside of his skin.
What can you tell us about the rest of your key cast, and why exactly these people?
Alisondra Alexander plays Ra and she is a gem! I mean to find someone capable of handling a girl who is dealing with tragic loss and to play her so effortlessly! I was so enamored with her performance. Also Taylor Carter who plays April, she is another rare undiscovered talent. She brought it every scene and that helped Chris bring forth his dynamic even more! It was a thing of beauty to watch how she approached a scene. Matthew Simmons, our leading man, was awesome. I mean he comes from an action background and to watch him soften his character, just amazing. Eddy Herrero plays James, and he was interesting because his character has the highest stakes and he plays him perfectly. Then to see Brian Hooks be a villain in a film, what range! Torrei Hart's comedic relief helps center the film and she stepped in and killed her scenes. So many memorable performances in the film and I loved each character. Billy Blanks coming from martial arts to playing a caring Dad... I mean what great moments. Camila Banus who plays Taylor, let's not forget her... I mean what a professional! She sets the tone for the entire film!
Do talk about the shoot as such, and the on-set atmosphere?
We were so stressed out I would say the atmosphere was survival haha. We had so much fun and when you are doing a film like Almost Amazing, things can happen at all turns. The late Reno Rankins help cast the film and sometimes he would suggest someone for a role two days before and we would roll with it. It was like going back to college! Miss it already L
The $64-question of course, where can Almost Amazing be seen?
Itunes, Amazon Video on Demand, DirectTv, Fandango Now, and Wal Mart January 28, 2018!
Anything you can tell us about audience and critical reception of your movie yet?
What has been great is people have watched the film and no one has felt it was predictable. I love how audiences love my unconventional style. It's almost Wes Anderson-esque. As in you watch the film and don't realize what or why but somehow you had a good time. You were connected and that's all I want as an artist. To be heard and to be engaging.
Any future projects you'd like to share?
The 13th Friday is available now on iTunes, Vudu, Hulu, and will hit Redbox early next year - http://apple.co/2g7zDue
The Elf will be released November 7, 2017 on itunes, Vudu, Amazon, and all VOD platforms and DVD December! Working on a TV series called Reapers with Khu and Cameron White. My company Pikchure Zero Entertainment will begin filming in November for that television series. Conundrum Secrets Among Friends is being written and produced by Shaun Cairo of Shakir Entertainment, he is also my manager. I am working closely on producing that film and we are scheduled to begin principle photography next dummer. If You're Gone directed by the incomparable Brittany Daniels is in post-production and it stars Masey Mclain and Desiree Ross. It is a film based off her award winning book of the same name. Khu will be directing her second feature film as well, an untitled sci-fi project.

Feeling lucky ?
Want to
search
any of my partnershops yourself
for more, better results ?

The links below
will take you
just there!!!


Your/your movie's website, Facebook, whatever else?
Instagram: pikchurezero
Twitter: @jupiterrings
Anything else you're dying to mention and I have merely forgotten to ask?
I am excited to be producing alongside Shaun Cairo the upcoming film Conundrum: Secrets Amongst Friends starring Parker Mckenna Posey, Cameron Bright, and Jo Marie Payton. Also looking forward to our Television series Reapers! I am excited to be working with my producing partner Khu and she will usurp me as an even greater tour de force. Deanna Grace Congo and David Cazares are in the midst of producing Forsaken 2! I am excited for the projects Pikchure Zero Entertainment have on the docket!
Thanks for the interview!