Your upcoming movie The Poltergeist Diaries - in a few words, what's it going to be about?
The Poltergeist Diaries tells the story of Jacob Taylor, a young man who vanishes without trace after moving to an isolated cabin in the woods. With the help of footage he leaves behind, his family members, friends, colleagues and a detective try to find the answer to the strange events that are centered around him.
With The Poltergeist Diaries being a ghost story, is that a genre at all dear to you, and some of your genre favourites? And what will make your film stick out of the crowd?
I am fond of paranormal movies and stories that focus on the borderland between life and death, yet my film will more likely put emphasis on those who are "left behind" and how these characters are able to cope with the pain and what it truly takes to try to explain the seemingly unexplainable and accept the unacceptable.
What were your sources of inspiration when writing The Poltergeist Diaries?
Probably I would mention Picnic at Hanging Rock (1975), a beautiful supernatural drama directed by Peter Weir. I highly recommend watching it.
As I understand, The Poltergeist Diaries is at least partly a found footage movie - so why did you choose this approach, and what are the advantages and challenges filming that way?
I would define it as pseudo-documentary instead of calling it a found footage film. There will be many interviews in it, though it's true that the core of the story is based on the main character's videos and recordings. If one considers the budget, it is definitely an advantageous approach, but it can have many risks since one needs to face massive challenges in order to be able to present an exciting 75-80 minutes in a way like this.
What can you tell us about The Poltergeist Diaries' overall look and feel?
My goal is to present a film with an ominous and depressing tone. Ambient music, long takes in the misty autumn have became my trademarks, so to say and I am pretty sure these will be accompanied by great acting.
The Poltergeist Diaries stars amongst others Eric Roberts - now how did you get him even, and what was it like working with him?
It was a few days after Christmas. It was a sudden glimpse, I cannot describe better. I was sitting in front of my desk and was wondering about how great it would be to work with a big star from Hollywood. This is one of the biggest dreams of every filmmaker I am 100% sure. I put down five names on a piece of paper, names of actors who are approachable and the production can afford. The name on the top of the list was Eric Roberts. Since he was nominated for an Oscar and numerous Golden Globes, I wrote messages to his agents though I never saw any hope of getting any replies, but Timothy Beal of UTB Talent Management has been a great partner and helped me to land Eric in the film as we managed to agree with him. I got an enormous amount of help from his wife Eliza Roberts too. Working with Eric was short and to the point, there was a rehearsal on a Saturday afternoon and the scene was completed the next day with the help of a skeleton crew in his house. I directed him online until the scene was perfect. It was a great example of filming in quarantine, that's for sure.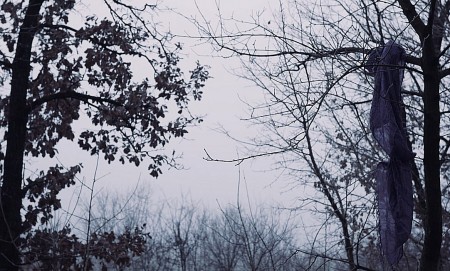 What can you tell us about the rest of your cast, and why exactly these people?
I have already worked before with the two leads András Korcsmáros and Péter Inoka and I like to work with them very much. They are extremely talented and committed actors who understood my viewpoints immediately. This is the first time I'll work with Kata Kuna, it was András who drew my attention to her. Kata is one of the lead actresses in a daily series here in Hungary and I believe she fits perfectly into the production. An important supporting character is played by Maria Olsen [Maria Olsen interview - click here], who is one of my favorite horror actresses, and Laura Ellen Wilson, who I have wanted to work for ages and now we'll finally have the chance to do so. The film marks my fourth cooperation with Shawn Michael Clankie, and I am lucky enough to work with actor and producer Jon Vangdal Aamaas.
From what I know, part of The Poltergeist Diaries has already been filmed - so what can you tell us about the shoot(s) so far? And what's the schedule for the rest of the shoot, and any idea when and where the film might be released yet?
Only a few scenes have been completed until now, we have a lot of work to do. I love what we have so far. Knowing that the first scene we finished was Eric Roberts' is nothing short of a paradox. We are going to film some minor scenes in May and we'll continue from September to the end of November. If all goes well and our world is not coming to an end, we finish in January-February 2021 and start its festival round as soon as possible. I hope it'll find its audience worldwide by the end of 2021, but I would like to see it in US theaters as well.
Any future projects beyond The Poltergeist Diaries?

Feeling lucky ?
Want to
search
any of my partnershops yourself
for more, better results ?

The links below
will take you
just there!!!


Currently I work on two projects. The first one already has its script in Hungarian, its title is A Hidden Place, a mixture of an adventure film and a mystery with a touch of horror. The other one is technically a single-location mystery horror titled In the Shadow of the Night. I also plan to make sequels for two of my previous films, therefore the following years will hopefully be pretty fruitful.
Your/your movie's website, social media, whatever else?
https://www.facebook.com/thepoltergeistdiaries
Thanks for the interview!