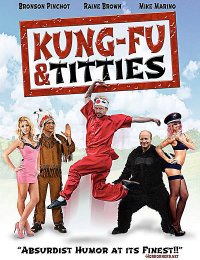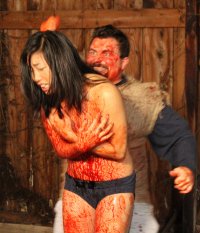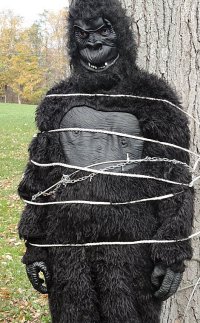 I know we have talked about this at quite some length before [click here], but do bring us up to speed: Kung Fu and Titties - in a few words, what is it about?
In a nutshell, Kung Fu and Titties is the story of a wannabe kung fu fighter who has to save his girlfriend from a horny old man.
Basic question: To what extent do you identify with your movie's hero Richard Titties?
He's a regular guy up against insurmountable odds....there have been points in my life where I've felt like that. I think lots of people can identify with that. Richard Titties is also the anti-Leeroy Green (see The Last Dragon [1985]), in the fact that he's terrible at martial arts.
As unbelievable as it sounds, Kung Fu and Titties is not the first movie to combine kung fu and titties - any other kung fu and tittie-films that might have influenced you in making this one, and other sources of inspiration?
Of course, there have been many! And that's one major reason why I made this film. I would stay up late as a youth hoping to see lots of boobs and some fighting in a movie... and I'd only see about 5 seconds of nudity. So with Kung Fu and Titties I wanted to just overload the film with titties. If I were 10 when this movie came out, I'd be in heaven. Now there's porn everywhere so I don't know if modern 10 year olds will care. As for my inspiration for this film, you can look at the entire Jean-Claude Van Damme library, namely Double Impact (1991), such a cheese ball movie. Kickboxer 2 (1991) with Sasha Mitchell, pretty awesome cheesiness. The films of Steven Seagal... and Big Trouble in Little China (1986), minus the nudity, that film was the main inspiration for Kung Fu and Titties. God Bless John Carpenter.
A question that has probably popped into the mind of quite a few viewers when watching Kung Fu and Titties: A gorilla? Really?
Yes. In the original incarnation of the screenplay there was a gang of gorillas. The gang of invisibles, which the Croatian army fights, was originally set to be a gang of gorillas. For various reasons, we kept the main Gorilla but we deleted the gang of gorillas that was to fight behind him. Also, Gorilla is the first main character you're introduced to in the alternate reality... so that was a set-up for the audience to go, 'WTF?... A kung fu gorilla? What is going on?'
How would you describe your film's overall humour, and did you ever have the feeling you were going too far?
3 different screenwriters. Probably about 5-10 other crew members and consultants all putting their spin on things before the script was written. Then when it came time to film, some actors were improvising or even creating their own scenes. I wanted to capture as many various comedic elements, jokes and gags as possible so that the film wasn't reflecting just one brand of humor. To answer your question, yes, at times I felt some things were over the top and out of hand (such as the shot of the giant balls)... but as the film progressed I realized that this is what the film ultimately would be... More titties, whacky humor and pushing the envelope than anything else. Those over the top moments are what people react to... so overall I'd say it's absurdist, off-the-wall humor.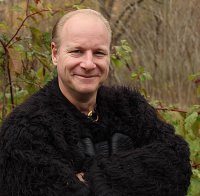 Mike Marino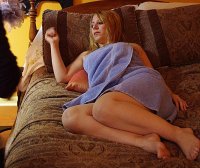 Raine Brown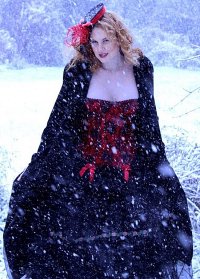 Seregon O'Dassey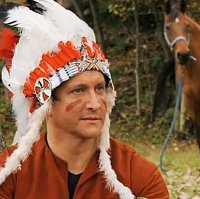 Bronson Pinchot
What can you tell us about your key cast, and why exactly these people?
- Mike Marino, I met him years ago and kept in touch... I'd wanted to work on a project with him and I knew that I needed someone experienced playing that character. Someone who was funny, but could play it straight so you'd believe that it was normal to walk around in a gorilla suit. He being a veteran comedian and entertainer... it was a perfect fit for Gorilla.
- Sean Molnar, I'd become friends with him through another project... I knew he was an amateur actor but he had a lot of charisma. We auditioned other people over the years but I just had a really good feeling about Sean, that although he wasn't as trained, he was charismatic and likable... and that people could identify with him. I'm really happy with his performance.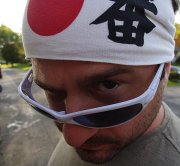 Sean Molnar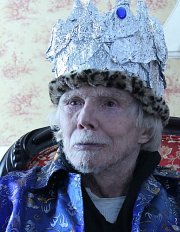 John Archer Lundgren
- Raine Brown, I'd worked with her before and... basically the script of Kung Fu and Titties revolves around her. So I asked her permission and if she'd want to do it. She said yes. And of course, she's an awesome girl and fun to work with, which is why I wrote her into the screenplay as a major plot element.
- John Archer Lundgren, well... he's unreal. He's over the top. He is Zeefros. I witnessed his acting on another project and kept in touch with him. When the time came... I approached him to play Zeefros. Even if I'd had tons of money to make this film, he still would have been my first choice. He's amazing.
- Seregon O'Dassey [Seregon O'Dassey interview - click here], we'd had other actresses in mind over the years... then when we had to hire only locals because of our budget, we opened up auditions. Seregon just auditioned really well. After seeing her auditions it didn't matter. She was funny and believable and thought it was a cool project... oh yeah... and she agreed to show her boobs. That helped too.
- Bronson Pinchot, he was someone we were interested in early on for the part... and then last minute came totally out of the blue. Our agent was contacting many A,B & C actors for the role. We had some names interested that made my head spin... but either they wanted too much money or weren't local. I got a call one night from Bronson Pinchot (pretty awesome!!)... he said he wanted to do it. His agent accepted our offer. No brainer for me. It was Bronson Pinchot! He came in with great ideas for his character. And it worked out great. Really cool guy & very professional.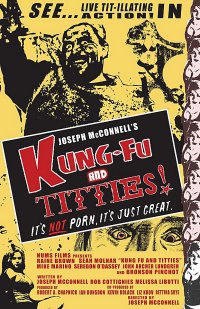 Feeling lucky ?
Want to
search
any of my partnershops yourself
for more, better results ?

The links below
will take you
just there!!!

Find Joseph McConnell
at the amazons ...

amazon.com

amazon.co.uk

amazon.de
Looking for imports ?
Find Joseph McConnell here ...
Something naughty ?
(Must be over 18 to go there !)

- Kevin Kolack, good friend of mine. We've worked together a lot over the years and he had this old movie review character from his Youtube videos that I loved, A Frenchman named Pierre. It fit with the character that I'd been writing for Army Bob... so I just plugged him in there.
The $64-question of course: Where can Kung Fu and Titties be seen?
Kung Fu and Titties is currently available for $8.99 as a digital download on Vimeo On Demand. You can stream it to any device (TV, iPad, Computer etc.)
VOD link - http://vimeo.com/ondemand/kungfuandtitties
Also, we are currently selling pre-order DVDs for $14.99 on our website. Those orders are slated to ship in the end of September of this year. With the extra money you're getting bloopers, deleted scenes, boner reel, music videos, trailers and unedited promo videos.
DVD Link - http://www.kungfuandtitties.com/store
Any future projects you'd like to share?
I'm currently doing an avante-garde short called Emptied shot on 8mm film with Bettina Skye, Kevin Kolack and Dante Briggins, which is narrated by Jasmin St. Claire. Other than that... just plugging away promoting Kung Fu and Titties.
Your/your movie's website, Facebook, whatever else?
http://www.kungfuandtitties.com/
https://www.facebook.com/KFTMOVIE
https://twitter.com/kungfutitties
Anything else you are dying to mention and I have merely forgotten to ask?
Yes. A big thank you to you for interviewing me again and promoting Kung Fu and Titties. And a HUGE thank you to all the investors, cast/crew members and audience members who came to our screenings. Go see the film! You'll have fun and see lots of boobs!
Thanks for the interview!