Your upcoming movie Book of Ash - in a few words, what's it going to be about?
Jordan Pacheco - The film is about demonic possession and will touch on how everyday churches respond to claims of this affliction.
David Langill - It's a possession movie... and that terrifies me. I feel that some possession cases are very real, and what's more terrifying than that.
What were your inspirations when writing Book of Ash?
JP - Definitely The Exorcist, Amityville Horror and Legend of Hell House.
How would you describe Book of Ash's approach to horror? And is horror a genre at all dear to you?
JP - We are trying to take a fresh approach to possession films. While we will have classic elements there will be some really stylized scenes that I want to be as beautiful as they are disturbing. Horror is very dear to me. I spent a good majority of my childhood watching them. There's no better feeling than being frightened.
DL - One goal I'd like to come from those who watch Book of Ash would be their feeling like this sort of thing could happen anywhere, even in their own house. The "real" approach is what I'd like to be accomplished.
I've always been a fan of the horror genre. Having my birthday two days before Halloween always made that time of year special. Horror and Halloween always go hand and hand.
Do talk about Book of Ash's intended look and feel for a bit?
JP - The film will be shot on the RED camera and will feature some amazing special FX. I'd say the closest comparison for the style would be The Conjuring with some Pan's Labyrinth mixed in.
DL - As I briefly discussed above, I like a "real" feeling to occur from start to finish. Even during the intense scenes, I want it to look as if it could happen to anyone at anytime. That mixed with the old saying and technique, "less is better" should leave the audience covering their eyes while on the edge of their seats.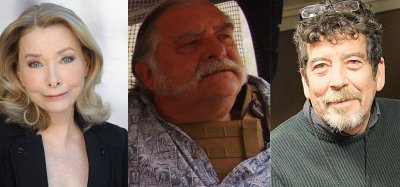 Lynn Lowry, Timothy Patrick Quill, John Dugan
With Lynn Lowry, Timothy Patrick Quill and John Dugan, you have cast three quite big names within horror circles - so why exactly these people, and how did you get them interested in your project?
JP - Well I'm a film maker but first and foremost I'm a horror fan. Getting the chance to work with actors from some of my favorite films is unbelievable. But they are also very talented. Timothy Quill I have worked with on our film Dead Bounty, he not only nailed his part but was a pleasure to have on set. He's a really great guy. Lynn Lowry is a great actress and we really needed a strong female actress to play the mother of our leading role. There are some scenes that she will need to switch emotions from one extreme to another and Lynn has shown she is capable. As far as John Dugan goes, a film crew is a big family and every family needs a grandfather lol. We met John at a convention in Florida and got along really well. Since then we really wanted to work with him and he is perfect for this role.
DL - We are very excited to have these three horror pros attached. Jordan and I met both Dugan and Quill at a horror convention in Florida last year. We had a role in one of our other films, Dead Bounty, that, after meeting and talking with Quill for the weekend, knew that he'd be perfect for the role. During Quill's time filming Dead Bounty, he was one of the most down to earth, professional and genuinely likable persons I have ever met. So with that, we knew we wanted to work with Quill again. We wanted to work with Dugan and came up with a great character for him in Book of Ash. Quill and Dugan meshed so well together that we wanted to cast them both. Lynn is a talented actress and such a sweetheart. I had been talking with her through social media prior to Book of Ash and couldn't wait for the day to finally work with her. Once Jordan and I decided to do Book of Ash, we knew we wanted Lynn involved.
We talked with all three about the script, their characters and our plans with the film. After talking with each of them, they were interested and immediately became attached to the film.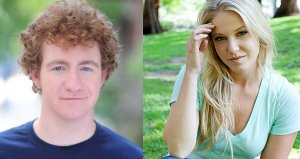 Chris O'Reilly, Kati Salowsky
Anything you can tell us about the rest of your key cast and crew yet?
JP - Well, Chris O'Reilly was the lead in our first feature and is extremely talented and dedicated. So we're happy to bring him back.
DL - Cast as the lead female role, "Audrey Barrows", is Kati Salowsky. Kati is in one of our past feature films, Provoked. Chris O'Reilly is another actor who we've worked with on multiple projects and he will be in Book of Ash as "Father Thomas"
As far as I know, Book of Ash is still in pre-production as we speak. So what are some of the major challenges before the film goes into production, when do you plan on shooting it ... and any idea when and where the movie will be released onto the general public yet (and I know it's probably waaay too early to ask)?
JP - We are still in very early prepro but are looking at filming early 2015 for a fall 2015 release. The major challenges ahead are finding a strong cast to fill the remaining roles, budget and location scouting.
DL - We hope to begin filming in 2015 with a release later that same year. With low budget independent films, one of the common challenges is to secure all the funding. But with more successful projects under our belts, the investors are more comfortable with funding. Also, Jordan and I have the get-it-done-one-way-or-another attitude so even with challenges out there, we will still keep moving forward.
Any future projects beyond Book of Ash you'd like to share?
JP - I'm actually working on two other scripts right now, both are creature films. One is kinda campy, the other a thriller.
DL - We're filming a slasher, Sexy Slasher, in the fall of 2014. We wanted to do something between Dead Bounty and Book of Ash. It's a straight up slasher film, lots of gore!
As far as I know, Book of Ash isn't the first collaboration between the both of you - so what can you tell us about your previous collaborations, and how did you two meet in the first place?
JP - David and I met while working on a film Villanelle I was doing for make up and David was a producer. This is our third feature as a team but we have worked on numerous other projects together.
DL - Jordan and I met while working on the feature horror film Villanelle. Jordan was hired for special effects makeup and I was a producer on it. We continued to work together on other projects then teamed up to make Jordan's directorial debut feature film, Provoked. Book of Ash will make our fourth feature that we've teamed up to make
What got each of you into the filmworld in the first place, and what can you tell us about your filmwork prior to Book of Ash?
JP - I always wanted to work on movies, I never thought I actually would be tho. I'm from a rundown city in Massachusetts so there wasn't much hope for a career in film. After 10 years of working retail I decided to give it a try. I looked online and eventually found a website with jobs for indie films in new England. I had no experience in anything so I picked what seemed to be the most needed crew position at the time, special FX artists. I taught my self some basics watching YouTube videos and bought a starter kit and after a few short films met up with Eric Rodrigues who attended the Tom Savini school for FX makeup. So I continued doing FX and learning as much as I could about directing from watching the directors I worked for. Eventually with the support and dedication from David as well as so many others I met over the course of 2 years, I was ready to write and direct.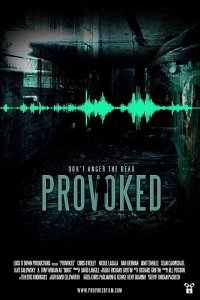 DL - I went to school for law enforcement and prior to being a film producer, I was a police officer. I got my first taste for the industry when I was cast to be on a TV show that was hosted by Robert Englund [Robert Englund bio - click here]. The name if the show was A Nightmare on Elm Street: Real Nightmares. They flew me out to LA twice for the show and it was such an amazing experience. It wasn't until a few years after that where I got my first experience with independent horror films. As I mentioned, I was a police officer and a film company was filming inside the police station. They had asked for police extras for a briefing scene and I went in for it on my day off. After filming the director had shown me some footage and asked what I thought. I pointed out some continuity issues and he was impressed by that and asked if I wanted to join the crew as script supervisor. Years after that is when I started working on film full time. Besides being a producer, I also act. My most notable acting role to date, is in IFC Midnight's hit Almost Human. Currently, I have worked with Jordan on the most projects to date. Jordan's dedication to the films makes it an easy decision to continue the path.
Filmmakers, writers, producers, whoever else who inspire you?
JP - George A. Romero and Steven Spielberg are huge inspirations but I'm inspired on a daily basis by other indie filmmakers. They do so much with so little it's incredible.
DL - Being involved in the independent film community gives you the chance to meet some great filmmakers who do so much with so little. There's one filmmaker out of Rhode Island who has over fourteen films with worldwide distribution. Every independent filmmaker should be inspired by that. One of the most successful independent horror films, Halloween, has to be looked at as one that paved the way. Halloween's director John Carpenter and producer Debra Hill did a lot back then with very little in comparison to the studio films.
Your favourite movies?
JP - Jurassic Park, Night of the Living Dead, Silver Bullet and Braveheart to name a few lol.
DL - I like horror comedies like Ghostbusters and Bettlejuice. I like the original Scream movie and I believe that helped bring horror back into the spotlight. Of course the classics: Christine, A Nightmare on Elm Street, Friday the 13th are always fun to watch.
... and of course, films you really deplore?
JP - Saw, Open Water, the new Halloween films and Transformers-series. I love the comics and old cartoons.

Feeling lucky ?
Want to
search
any of my partnershops yourself
for more, better results ?

The links below
will take you
just there!!!

Find Book of Ash
at the amazons ...

amazon.com

amazon.co.uk

amazon.de
Looking for imports ?
Find Book of Ash here ...
Something naughty ?
(Must be over 18 to go there !)

DL - I'll give most movies a try. But I really can't stand the movies you know where made just for the money.
Your/your movie's website, Facebook, whatever else?
JP - Twitter: @haunteddirector
DL - Twitter: @NewEnglandIndie
Anything else you are dying to mention and I have merely forgotten to ask?
Our first film Provoked will have a major announcement in the near future.
Thanks for the interview!
JP - No, thank you!
DL - Thank you for the interview.