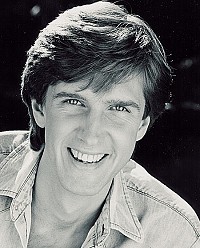 Jon McBride
Before anything else, could you please introduce yourself to those who don't already know who you are?
Howdy. Iím Jon McBride and make low budget movies. Very low budget movies.
Not too long ago, your first two films, Cannibal Campout and Woodchipper Massacre, both from 1988, have been re-released on Camp Motion Pictures. What can you tell us about these films?
I can tell you I am stunned that so many people have seen them. At the time I didnít think anyone but the people involved were going to see Cannibal Campoutt, and when it was actually picked up for distribution I couldnít believe it. The fact that itís achieved any kind of cult status is totally amazing to me. Even after Cannibal Campout was distributed I thought only a handful of people had seen it and it would disappear into video heaven. It wasn't until the internet craze took off that I started to hear from tons of people who had seen the movie and even own it! I was incredulous. I still am. It's also a bit overwhelming.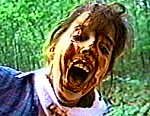 Amy Chludzinski
Cannibal Campout ended up being very popular and I think the reason for that stems from the fact that everyone involved really loved low budget horror and I think it shows in the movie. We didnít take ourselves too seriously and the fun factor shines through. I read your interview with Amy Chludzinski [click here] and she seems to mirror my feelings. And I should add that Amy was such a fantastic trooper as well as incredibly sweet woman. Not many actresses would have put up with what she had to.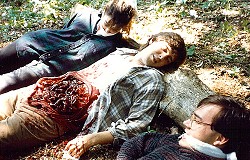 Cannibal Campout
Another reason for Cannibal Campout's popularity was because of the gore. I donít think anyone had seen anything quite like it and was shocked. At the time no one really dared show some of the stuff we did. I wish we had even gone a little farther but ultimately I was very happy with what we achieved and how the FX turned out, especially the scene where the campers are force-fed parts of each other. That scene incidentally was not scripted per se. Once everyone was doused in Karo syrup and the camera started rolling some interesting improvisation took place, especially by the guys playing the cannibals, most of which ended up in the final cut. For instance, when Amyís face was pushed down into my ripped out stomach neither one of us were expecting that. Her horrified expression and scream was real. You can even see me start to laugh just before it cuts away. Everyone tossed out ideas that day that helped make the scene more gruesome, but I have to give most of the credit to Gene Robbins who played the lead cannibal and went all out in that sequence. He was great.
Excessive gore really was the main focus of the movie so we tried to work it in as much as possible. At that time a lot of movies were trying to outdo each other in the gore department and that was part of the fun, trying to cross the lineÖwhich I think was eventually accomplished but actually Cannibal Campout wasnít even the movie I planned on making. I had a completed script called Bachlegore Party that I really loved and was probably one of the most gruesome and disturbing scripts I had ever worked on. The problem was it was just too big a movie to undertake. There were too many characters, complicated FX and location shots and it soon became apparent that the movie wasnít going to happen. I tried to think of a way Bachlegore Party could be simplified, realized that if I was going to make a movie, it was going to have to be bare bones, a small cast and excruciatingly uncomplicated, and out of frustration one day I just said out loud, ďForget locations. We should just shoot a movie in the woods, hack up a couple of people and call it something like Cannibal Campout.Ē I was halfway kidding at the time but the simplicity of the idea proved to be the perfect springboard to actually start shooting something, so Bachlegore Party was shelved and Cannibal Campout began.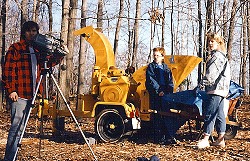 Woodchipper Massacre
After Cannibal Campout was released, the distributors asked me if I could make them another movie. They knew that the home video market was drying up for low budget stuff and was hoping to get at least one more title out before that happened. I knocked a few ideas around but couldnít really come up with anything until a friend of mine mentioned the local woodchipper killing. At the time I was living in Connecticut and there was a real life murder case where a husband killed his wife, froze her body, chopped it up and fed the pieces through a woodchipper in their back yard. I thought about it and decided that a woodchipper movie might be topical and get some added exposure if it was similar to a real crime. That was basically the seed of inspiration but I still didnít know how I was going to approach the subject. Actually it wasnít until I saw Tom Casiello and Denice Edeal in a local theater production that the story for Woodchipper Massacre formed in my mind. They were so good and really stood out and I knew I wanted to use them in the movie. After meeting them and having them agree to be in the movie I shaped the script around their characters and suddenly I found the project morph from another gorefest, which was the original plan for Woodchipper Massacre, to a dark comedy of sorts. And working with the kids was a blast. Both Tom and Denice were highly professional, and really got into their roles. I also enjoyed having complete control over the shooting schedule and not having to cart equipment off on various locations. Most of the movie was shot at one location and it made the process much easier. Faster too. I also enjoyed the comic element of the movie. It really does play like a sit-com and thatís what I intended.
How were the films received upon initial release?
I was totally thunderstruck at how well Cannibal Campout was received. You have to understand that I never really thought anyone was actually going to see it. Making the movie was really just a lark and a test of sorts, a chance to get together with some friends and have fun. Everyone involved loved low budget horror movies and spent most of their free time either watching or talking about them and none of us thought the movie would be seen outside a small circle of friends and family. The plan at the time was to try and sell a few copies to local video stores, which we ended up doing, however when I eventually learned that a distributor in Hollywood was interested in selling it I was floored.
I was also shocked at how well it sold but that was just good timing since it came out at a time where anything new on a video shelf was immediately snatched up and rented and video stores were buying anything out of the ordinary so timing had a great deal to do with that. Iím still amazed that so many people have seen it and that itís still in some video stores. Just about anyone whoís into low budget horror is familiar with Cannibal Campout and it seems to be somewhat of a cult movie now.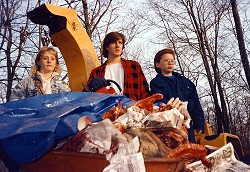 Woodchipper Massacre
Woodchipper Massacre wasnít received nearly as well. But then everyone was expecting another bloodbath. Including the distributor. They were disappointed after seeing it for the first time and I suppose anyone who was familiar with Cannibal Campout was too. It was suggested that I add more gore but once the movie was completed I liked it the way it was. Gore for goreís sake doesnít appeal to me. It worked for Cannibal Campout and was even necessary but for a movie like Woodchipper Massacre I felt it would have detracted. I really was trying to focus more on the plot and the characters and was hoping to make Woodchipper Massacre appeal to a wider audience. Cannibal Campout wasnít exactly the sort of thing youíd find in the family section and I thought Woodchipper Massacre could be viewed by a more diverse audience.
I was disappointed by the reaction to Woodchipper Massacre in relation to Cannibal Campout. I still think Woodchipper Massacre is superior to Cannibal Campout in plot and characterizations but somehow it just didnít connect with a lot of people. It was a farce and a spoof and either you like it or you donít. That became obvious to me after the initial screenings. Some people didnít get it at all while others howled with laughter. I think it depends on your sense of humor. One interesting note, and this really surprised me, kids love it. Mark Poloniaís daughter called it her favorite movie and preferred it over Disney fare when she was little.
Were you at all surprised that these films got a second lease of life?
Very. I was contacted by Camp Motion Pictures who told me about their new company and interest in releasing both Cannibal Campout and Woodchipper Massacre on DVD to start out their lineup. I was very excited about the idea and happy to contribute as much as I could to the releases. Over the years a lot of people have asked me when these movies would be released on DVD and I never really thought it would happen until Camp Motion Pictures contacted me and the experience has been great. They did a fantastic job putting the DVDís together and the fans of the movies are thrilled with the finished product and extras. These releases have more extras than most of the big Hollywood DVD releases. They also give a great insight into the world of low-budget movie making and would be of interest to anyone who ever thought about making a movie on their own.
You have also taken the lead roles in these two films (as well as a host of other films). What do you enjoy more, acting or directing?
Well, doing both at the same time is a double edged sword. Itís a lot easier to do one or the other. I basically cast myself in the movies because I know I can depend on myself showing up and that I will get the job done. Too often a low budget movie will never get off the ground or finished if youíre working with unpaid actors that have trouble making all the shoot dates, and when you cast yourself in a movie that isnít a problem at all. Itís also fun to act, especially with the troupe of regular actors that appear in our movies however I am never happy with my performance. Itís really painful to watch myself sometimes but I think just about every actor is self conscious in that regard. Personally I would rather just direct or act. Not both. And I definitely prefer directing to acting.
Some of your favourite acting jobs?
Some of my favorite acting jobs were on stage but I think youíre referring to the movies. I really enjoyed playing the Priest in Black Mass/DaVinci Curse. I also had a great time playing Wayne in Among Us. It was funny because when John Dalton, the writer of both movies, showed his family the screener of Black Mass, his family asked who was playing the Priest and they didnít believe him when he said it was the same guy who played Wayne. That was a lot of fun and satisfying to hear as an actor.
I've read somewhere that you once also had a role on the popular daily soap Days of our Lives. Is that at all true?
Yes, that is true. Actually I worked on a couple of soaps and it was a blast. I had so much fun and was lucky to experience that. But learning all those lines can be a bit intimidating and unnerving. I still havenít mastered it and am really envious of people who can look at a script once and remember it. The line learning process has never been easy for me.
I definitely feel that I learned a lot while working on soap sets. Of course, every soap is different so you get to try out different ways of shooting. For instance, Young and the Restless blocked and rehearsed a scene then shot it right away whereas Days of our Lives blocked and rehearsed all morning then shot in the afternoon. You also learn how to position yourself with the camera, eyeline stuff, and working occasionally with teleprompters, which I love. There's nothing quite like working on a soap set and the experience was quite different from the way I thought it was going to be. I think working a full time gig on a soap would be one of the best jobs any actor could ask for.
According to my information, your directing career took a long break after your first two films. Why was that?
I was really busy producting music videos for MCA Records and just didnít have any time to work on another movie for a while.
From the mid-1990's onwards, you have co-directed quite a number of films with the Polonia-brothers. What can you tell us about them?
One day, out of the blue, I received a phone call from Mark Polonia. He told me he was a low budget movie maker, had really liked Cannibal Campout and wanted to make a movie with me. I was a bit surprised by this as I hadnít worked on any low budget projects since Woodchipper Massacre but thought it would be fun to at least talk with Mark and his brother John. After meeting them face to face it took about five minutes for me to realize I wanted to work with these guys. We talked about different ideas and Mark told me about a sci-fi script he had been working on. They already had some of the puppets and different props so we decided to shoot that movie which eventually became Feeders.
Working with the Polonias is like going to a party every day. And I never laugh as hard as when weíre working together. Ninety percent of our outtakes have someone busting up. Words canít describe how much fun we have when we work and I think some of that comes across in the movies too. We had an amazing on-set chemistry which is very rare and shot most of our movies so quickly that itís really a blur.
Our movies are constantly met with mixed reviews. Some people really love them while others canít stand them. And some of the criticism is justified. Sure, some of the effects and props are painfully hokey. Yup, the acting isnít going to win any awards. True, the storylines are sometimes cobweb thin. But weíre talking about NO budget movies here. NO budget as in not ANY. It seems like a cop out for movie makers to always blame their shortcomings on lack of funds but the unfortunate truth isÖthatís the way it is. You work with what you have whether itís actors, locations, props, whatever. Then you have a choice and that is, A) Do we bother making this even though itís not going to look like Transformers or are we going to, B) Use what materials and people are available to us, have a heapload of fun, do it anyway and see what happens. Usually the Polonias and myself just plunge ahead and make the damn movie just because we enjoy doing it.
Iíve said it before and Iíll say it againÖworking with the Polonia brothers is the greatest experience there is and that alone keeps me going back to collaborate with them time after time. Iíve never worked with other moviemakers who make the process so enjoyable and so much fun. Even to this day I am stunned that our movies have had such wide releases and I think a lot of it is luck and having something available at the right time. Believe me, Mark and John and myself never once had illusions of grandeur regarding the movies we made or their quality. We are well aware of their shortcomings. But we do pour everything we have into them and try our best, no matter how limited our resources may be.
Your first collaboration with the Polonias was Feeders (1996). A few words about this film?
Again, we had a blast. It was like partying the whole time. All we did was laugh. They were the coolest, funniest guys I had ever been around.
Just that I was amazed that Feeders was distributed by Blockbuster. My jaw actually dropped when I heard the news. I still think it was a major fluke that it happened though. At the time Independence Day had just been released theatrically and Blockbuster was specifically looking for a sci-fi movie. If that hadn't been the case I don't think Feeders would have gotten nearly the exposure it did. Or any at all. Really, so much of getting a low budget movie out and distributed highly depends on luck and timing.
Iím hoping that a distributor might decide to release Feeders again down the line with all the extras that never made it into the first DVD release, including the original cut of the movie, bloopers, documentaries and commentary tracks. The outtake reel alone would be worth getting the DVD. Itís hysterical.
In Feeders 2: Slay Bells, you did play a part but didn't have a hand in directing, right? Why that, and a few words about Feeders 2 (1998)?
Well, I did a cameo and directed some of the second unit footage. I was living about 2,000 miles away from the Polonias and it wasnít possible for me to travel so we decided I would just shoot some footage myself and they would edit it in. When I shot the footage I really didnít know too much about the script. It might not have even been written when I shot my stuff. I do remember being taken aback by the story when Mark Polonia told me it involved another alien attack during Christmas and Santa Claus. That worried me a lot and I told Mark that I thought they were making a mistake going in that direction. Of course, when I saw the final product I loved it. It was one of the funniest things I had ever seen.
After shooting stuff on my own and sending it to the Brothers to edit in with their stuff we joked about doing an entire movie that way, shooting scenes with actors that arenít even in the same room and editing it together. It really is amazing what can be accomplished in editing. Itís still my favorite part of the process. The first interior van scene in Cannibal Campout was shot like that too. I could never get all the actors in that scene together at the same time so we shot everyoneís lines individually and when they cut together you really canít tell.
What about Terror House (1998)?
Actually Mark Polonia can tell it better than I can. He wrote this about our Terror House shoot:
After the success of Feeders we decided to try it again. This time we would travel to McBrideís area and warmer weather. We had access to a large mansion that would be empty for several days so we fashioned a story to fit the location. The result: Terror House.
Again I was given the task of writing the story. I combined several ideas from unfinished scripts and added some new twists to create a story that resembles an H.P. Lovecraft tale; A dark house, people trapped inside cut off from the outside world and inside something monstrous lurking in the darkness. Thatís all the plot I can reveal without spoiling it for those of you who may see it. But in comparison, it is an updated monster movie like they used to make in the early 80' s like The Boogens and Unseen.
This time locations wouldn't be a problem. The mansion and its many rooms and halls would do. Only an additional highway scene and some exteriors of the grounds would be needed.
As far as effects, the story called for some lightning shots, several digitally touched up shots of the mansion with brick and boards on it and the big finale of the house being blown to smithereens. Make-up effects necessitated a complete creature suit made by Nightview Productions (based on a design by my brother) a head that becomes severed but still flops about, arm rippings and other gore FX.
The completed effects worked well once we got around to shooting them, the only problem being that the owner of the mansion strictly forbid any use of fake blood because of its staining nature. This proved to hamper the actual shooting but we snuck in some and later would shoot inserts with blood splashing and gory murders. You can't even tell. The creature looked pretty good although he is kept in the dark till about half-way through the movie. We decided the monster would wear a dirty shirt, in its own perverse way of trying to be human (actually because we ran out of money and couldn't afford anything else) but he had goat legs and long grotesque fingers, greasy long black hair and monstrous feet. It would work fine.
To help ease the burden and lighten the production load, Jon McBride shot several key flashback scenes with a scantily clad girl roaming the halls, taking a bath, etc. This proved to be a good move as the shooting schedule was tighter than it had been before. He shot four hours of footage. Enough to make an entirely different movie. We arrived with actors and crew after a long eight hour drive. After unloading the equipment and a brief tour of the mansion we were ready to roll.
This time we didn't care if it rained or snowed because of the fact that 98% of the movie was indoors. This also helped to speed up shooting. Before we arrived there was a huge snowstorm and the entire shoot almost went down the drain, but we were determined to see this movie get made.
Shooting began at 11:00 p.m. and ended at four a.m. Six scenes were shot. They involved our actors awaking to find themselves trapped in the house. Then the power goes out. Naturally they must first find the fuse box and encounter an unwelcome force who is cranky and a bit hungry. The energy behind the scenes almost matched the on-screen energy as things really clicked and everyone pulled together.
During a screening of the dailies several days later we dubbed Jon McBride the "Prince Of Profanity" as his character speaks in a southern drawl and constantly adlibs curse words which just seemed funny. His character was a jerk anyway, the character you love to hate, and we hardly got through any takes without laughing.
Another fine actor along this time was Bob Dennis. Bob has appeared in two low-budget films. One, Savage Vows, recently finished shooting under his direction. He is very talented and is currently starring in the movie we're shooting right now called The House That Screamed.
Holly Harrington played the mystery girl and did a remarkable job. Holly had a lot of stage experience under her belt but had never acted before a camera. You'd never know it though. She was a natural and a real trooper.
The actor who had to wear the monster suit had a very thankless job. The costume was hot and stuffy and visibility was low which necessitated many re-takes as he tended to run into walls and grope for actors five feet away in the opposite direction.
Lighting for many of the scenes was extremely difficult. The house was very big and the walls were creme colored so we would bounce the light from low angles and once again paint the frame. We would then bathe our actors in a light blue light. This seems to always bother people. "Why would there be lights and colors in total darkness," they ask? I try to explain its just a perception of darkness and a way to make the shots interesting and they still don't get it! Let them watch a movie shot without lighting and see how long they put up with it.
There's always one scene in a movie that proves to be difficult while shooting. Terror House was no exception. During a lengthy sequence where our surviving characters take refuge in a small bedroom and discover a diary which leads to the flashbacks we had some trouble. First of all, the actors kept blowing the lines. And not just a few times. It happened over and over. Then, the laughter set in and once that starts it's contagious. Three hours later the scene was finished. Everyone thought it would be the low point of the movie because of all the blown takes but we ended up fixing it in post.
After this scene we filmed a decapitation. Well, not really, because as the monster lops of Bob Dennisíhead, it really just flops back and dangles. Because of the "no blood clause" we filmed the decapitation dry then added blood later and made it work in the editing.
Finally, days of no sleep and non stop shooting took its toll. We could barely concentrate. One of the crew stared at a tripod and couldn't even remember how to unlatch the camera. We were beat. Sleep came easy that night for everyone.
The last day of principal shooting ended on a Sunday. Our shooting schedule consisted of a long climactic scene in monsters basement lair, strewn with body parts. Several dolly shots were set up but because of the limited space only one proved to be worth using.
As the day rolled on, a fight was staged between Jon McBride and the monster. Needless to say, Jon lost his arms. However, the shoot ended on a happy note as we filmed numerous shots of the monster chasing a character down steps and through dark halls. Again, dolly shots were set up, this time more successfully. We actually finished at a decent hour and prepared for our long drive home.
We were very happy with the end result of Terror House and were proud just to have completed the project. Especially with a limited budget, time, and resources. Of course, no movie is perfect and we all have work with what we have. After all, anyone can make a film for $50 million. Itís done every day. The real skill is working with nothing and still coming up with something. And that's what we did.
Some words about Hellgate: The House that Screamed II (2001)?
Well, it was another really fun shoot. And if you donít mind here is a nice recollection of the shoot by Mark Polonia, John Polonia, and myself:
Lightning fills the skies as a woman stirs in her sleep. Haunted by dark visions and ghostly creatures she wakes screaming. A voice calls out to her. Following it downstairs she is besieged by hands that appear from the darkness, tearing her head from the shoulders. So begins the backdrop to the Hellgate: The House that Screamed II.
Taking its cues from the original The House that Screamed, a 1999 home video release, Polonia Brothers Entertainment and Jon McBrideís Intercoast Productions are retaining elements of the original film, while unveiling more of the mysterious houseís secrets and the reason for its hauntings.
ďThere is much more to tellĒ, says Mark Polonia, one of the films three directors, ďThe original supplied a framework, while the sequel adds new dimensions and expounds on the hauntings, plus the first one did extremely well. Hollywood Video reported it being a top horror rental in their first sixty days and it out performed in rentals for the next seven monthsĒ.
The Polonias and Jon McBride are no strangers to hot home video releases. Their first collaboration, Feeders, was a campy sc-fi horror film that was Blockbusters' #1 independent rental for 1996. They have worked and collaborated on five movies since, including Terror House, Feeders 2, Blood Red Planet and Dweller. The hard work has finally paid off too as the three are now in negotiations with a Hollywood company to move into a bigger arena and produce pictures exclusively for other companies with much larger budgets.
The House that Screamed II was a milestone for many reasons. It was the first movie to be cast off the Internet. ďWe really needed some new faces,Ē commented Mark Polonia. ďPlus this was a fairly large cast, larger than we normally work with and since we shoot most of our stuff in rural Pennsylvania itís really tough to find actors who are talented as well as available. So we posted some casting notices on various acting websites and were surprised at the number of inquiries we received. Weíre always open to new talent and anxious to work with people who have the necessary incentive and enthusiasm that we look for. And we lucked out on The House that Screamed II. Newcomers to the Polonia Bros/Intercoast fold included Brice Kennedy from West Virginia, Jeff Dylan Graham from Indiana, and Leslie Culton from Ohio. All did a great job and are extremely gifted actors. A real camaraderie was built with the cast and plans are afoot to work again real soon.Ē
John Polonia adds, ďWe were a bit worried that everyone might not get along or that some of the actors might end up not being able to make the schedule but this was one of those rare occasions that everything just clicked and worked like clockwork. There were no problems, no difficulties, no personality clashes, it was like a small family working together. A real bonding took place and I think itís apparent as you watch the movie.Ē
Special effects were also treated differently this time around. There are creature effects, special make up appliances, and even state of the art digital effects in The House that Screamed II.. ďThe original was somewhat limited in the effects departmentĒ, Mark explained, ďIan Flory, a talented guy from Scotland who we found on the Internet handled the digital stuff including electricity shots and a portal sequence. Brett Piper, the director of Drainiac, handled the creature effects, which included some head masks and demon hand puppets.
The movie is actually gorier than the original, something that wasnít intended at the beginning. ďWe were trying for a more surreal atmosphere,Ē says Jon McBride who played the part of Professor Pollenfax as well as co-directing and producing. ďWe wanted The House that Screamed II to be the type of movie that didnít have to rely on gore to be scary. We didnít even plan it but the gore just sort of started to creep in, slowly, and before we knew it there was a lot more than we had envisioned. It works really well too. Itís not gore for gore's sake.Ē
Many locations other than the house were used, including a TV studio, rock quarry, and local cemetery. As with the first movie, most of the sequences are night-time based, which made for many a long evening, especially in the cold Pennsylvania fall season. All the scenes scripted were shot, with minimal compromise. Mark explains, ďOnly one exception was the end hell sequence. A more elaborate idea was planned, but we settled on a simpler, more effective sequence. Shocking is a better word for it. Jon was wrapped in chains, being torn apart with all this blood on him, screaming so loud all the neighbors heard him. It looked great when it was all cut together. I thought for sure the cops were gonna show upĒ.
Jon McBride recalls, ďYeah, here I am tied up being yanked to pieces and all this blood is dripping from me and I have to scream over and over again. It was exhausting but exhilarating and fun at the same time. I just prayed that the camera was getting it all.Ē Jon continues, ďI remember everything about the day we shot that scene and we approached it with some trepidation. It was one of the only scenes we didnít have a storyboard for, or even a clear understanding of how we were going to make it work visually. We kicked around a few ideas, discussed various angles that could work but didnít when we started shooting. The amazing thing is, a bottle of chocolate syrup made everything come together and made the scene work. The FX artist was going to start applying blood on me for the sequence and since we were shooting in black and white I had an idea to use chocolate syrup instead. I remembered reading that thatís what they used in Night of the Living Dead, plus it was bound to taste good too. Man, was I wrong. Unfortunately, this was not that delicious Hersheyís chocolate syrup but some sort of cheap generic brand that tasted absolutely horrible! I have never tasted anything so vile in my life! So after having my hands secured into chains and my mouth filled with the stuff the camera started to roll and the result was unexpectedly disturbing. I started to scream, but instead of a scream I began to gag. The gagging went on and on as the syrup just flowed out of my mouth in a never ending stream and drenched me. What was going to be a short take ended up going on and on and on. And the camera just kept rolling as I continued to fight against the chains and bellow at the top of my lungs. At one point I caught a glimpse of John Polonia who is never affected by gore and he was slack jawed and ashen. I knew then that we had captured something really horrific and that pleased me immensely. When we were finally done he had said watching the scene actually made him sick to his stomach which, if you know John Polonia, is absolutely unheard of.Ē
ďWe have an unusual situation when it comes to workingĒ, says Mark, describing the collaboration he and his brother share with Jon McBride. ďFirst, we all get along great, which is rare. We have a lot of fun when we work, which spills over into the cast as well. We also have strengths and weaknesses and each of us can hold the other areas up if someone else canít. We also work quickly. Thereís no waiting around or down time. Probably our worst problem is we donít stop. Someone usually has to say stop and that theyíve had enough.Ē
Jon McBride continues, ďItís unusual all right. Three filmmakers all working together and getting along on a set it virtually unheard of. But itís more fun than work. Weíre all doing it because we want to and enjoy what weíre doing. Thatís really important.Ē
John Polonia adds, ďI think part of our success in working together is the fact that there is no power play between us or ego stuff, which can ruin any working relationship. Thereís just none of that with us.Ē
In my (very) humble opinion, filmtitles don't get any better than Gorilla Warfare: Battle of the Apes (2002). So please could you talk about that one for a bit?
Gorilla Warfare started off as a movie we specifically made for a 3D market. The whole gimmick revolved around 3D and each shot was set up for that. The footage looked great in 3D too. Unfortunately once it was shot the 3D deal had fallen through and it sold to a company who has yet to release it. As usual, we had a lot of fun making the movie and laughed constantly. Itís pretty difficult to take yourself seriously when youíre running around in a jumpsuit and ape mask on. John Polonia nearly passed out a few times during some fight scenes since it was so hot and nearly impossible to breathe in the masks. I do hope itís released and available someday as itís really a fun movie. The few people who have had a chance to see screener copies have enjoyed it and really got into the camp factor.
Your last film, also with the Polonias, was Black Mass (2005), a World War II/Satanism-shocker. How easy/hard is it to bring those subjects to the screen on a very limited budget?
Itís always a challenge but we manage to make it work, no matter what the budget is. We just try to get creative. Creativity is the key. Of course, the final result may not be exactly what we had envisioned but you work with what you have. Black Mass (which may or may not be released under the name The DaVinci Curse) is our best movie. I think people are going to be surprised how good it is when they see it. We hit a plateau with that movie on so many levels that I almost wonder if we can top it. Iím so anxious for people to see it. Itís definitely our stand out film.
I know my questions have by no means touched all of your films. Are there some missing you would really like to talk about?
Well, you may or may not have heard that John Polonia passed away earlier this year. He was only 39 and it was a shock to all of us. He was such a great guy and words just canít convey how much heís missed. There is a very nice dedication video for him on Youtube and heíll be remembered through his many movies. Mark is currently making a movie dedicated to him called Halloween Night, so you might want to look for that soon. Johnís last movie was called Monster Movie and will be available on DVD any time now.
You have also worked as a composer on some films by the Polonia-brothers (in which you weren't necessarily otherwise involved). What can you tell us about this talent of yours?
Composing the music is great fun. Itís just amazing what the extra voice of music can do to augment the visuals on the screen. Iíve always felt that the music in a movie is one of the most important aspects anyway.
There were many times where I just couldnít get together with the Polonias to help with a production and working on music for their movies still allowed me to be a part of the project.
As far as my talent goesÖwell Iím a total amateur when it comes to composing. The only reason I started doing it was because we had no budget to hire anyone and I just made a stab at putting some riffs together that might work. The Polonias were pleased enough with what I did so I just kept at it. Itís turned into a hobby more than anything and I really enjoy it but I certainly donít think Iíll ever make any money doing it. John Williams has nothing to fear.

Feeling lucky ?
Want to
search
any of my partnershops yourself
for more, better results ?

The links below
will take you
just there!!!

Find Jon McBride
at the amazons ...

amazon.com

amazon.co.uk

amazon.de
Looking for imports ?
Find Jon McBride here ...
Something naughty ?
(Must be over 18 to go there !)

Your movies, both with and without the Polonia-brothers, are usually shot on a rather low budget. What can you tell us about your approach to filmmaking, and are budgetary constraints hampering your work?
Our approach to filmmaking is just get out there and shoot. Itís fast and quick, we shoot and move on. I think we shot Terror House in 16 hours. We donít have much time or budget and just do whatever we can to make it work. Dweller, another favorite of mine, was shot in one long weekend and cost a total of $50. It isnít as well known as some of the others but itís a great little flick, especially considering our time constraints and no budget.
There are always budgetary constraints, no matter what the project is. Again, the key is to just use what you have and try to find a way to make it work. And involve as few people as possible. The larger the cast or crew becomes, the more expensive and problematic a production can be.
Also, your films often seem to view their horrors from a humourous angle. Why do you think horror and humour often blend so well?
Actually I donít know if horror and humor really do blend well. I think good horror shouldnít be funny at all. The original Night of the Living Dead wasnít a bit funny.
That said, horror is a lot easier to do than comedy. In a way the two are linked but, face it, when youíre making no budget movies itís a lot easier to run around in the woods throwing blood on people than it is to stage a complicated comic scene. Comedy is just so much harder to pull off. Cannibal Campout definitely has some comedy elements to it although they werenít exactly planned, whereas Woodchipper Massacre is a total black comedy that is really just an expanded sitcom episode. Comedy is also a lot more subjective than horror and not all comedy styles are embraced by the same people. Horror is usually more profitable financially than comedy which is the reason so many low budget movie makers do them.
I actually do prefer comedy to horror but the comedy I enjoy isnít exactly mainstream comedy. I like offbeat comedy and tried that approach when it came to Woodchipper Massacre, which ended up being totally hit or miss with the people who saw it but those who got what I was doing just howled, which pleased me immensely.
Personally I get more satisfaction out of making people laugh than I do grossing them out.
Your website/mySpace/whatever else?
Heh, I donít really have a current one. People are always asking why and I simply donít have the time to put something like that together or maintain it. Maybe one of these days.
As an actor, who are people you really look up to ...?
I tend to enjoy character actors the best. People like Johnny Depp, Robert Downey jr, Anthony Hopkins, Alan Rickman, the kind of actors who can play just about anything and are willing to take risks.
... and as a director?
I tend to like individual movies rather than a director. I never see a movie because of a director. I pick movies for subject matter and story. However I really do admire low budget directors the most. They have to overcome incredible odds to get their movies made, let alone distributed. And itís hard work. Harder for them than directors with huge budgets and studio backing.
Some films you really liked, both recent and all-time favourites?
This changes on a daily basis but I really love the classics. Comedies, Musicals, Dramas, I really enjoy all genres.
But if youíre asking specifically about horror, I grew up on them and couldnít get enough. Creature Features was a big deal for me as well as anything that looked remotely scary on TV and I stayed up all hours of the night to see anything that even hinted of horror.
The original Night of the Living Dead was the first movie to seriously effect me and definitely influenced me to some degree. The Andromeda Strain was another even though itís technically regarded as sci-fi, however I classify it as horror since it scared me on a deep, primal level. Don't Look in the Basement is another gem in my book and a must see for any low budget movie maker. Others that come to mind include Evil Dead, The Legend of Hell House, The Innocents, The Changeling, The Dead Zone, The Stepfather, The Fly (both versions), Re-Animator, The Howling, Dawn of the Dead (original), Horror Hotel, The Nanny, Fiend without a Face, Them!, The Stepford Wives (original), The Omen, Invasion of the Body Snatchers (original), Öand just about any old black and white Universal movie.
In high school I lived for the weekends and a night at the drive in or local theater that showed the low budget horror fests. I vividly recall that period in my life with huge affection and have always thought it was a great time for Independent Horror with titles like Without Warning, Pieces (the line ďHe killed her while she was still aliveĒ has to be one of the best ever), Phantasm, The Prowler, The Hills have Eyes, Don't Go in the Woods, Texas Chansaw Massacre, Motel Hell, Incredible Melting ManÖnow those were exciting times for horror aficionados. Sure, some of them werenít all that good and wouldnít make it as classics but they certainly were entertaining. Usually I went with friends who were into horror too although I recall some truly disastrous dates where my taste in movies was simply not appreciated. Which leads me to my one and only advice on dating. Never take a girl youíve just met to see Mother's Day.
I remember thinking to myself how much fun it would be to act in these types of movies. I never thought that watching a Hollywood film. The low budget horror films just seemed to fuel my imagination more and whenever someone asked me what kind of part I wanted to audition for my answer was always ďA really gory horror movie.Ē Maybe it was the FX makeup, or that for some reason I thought it looked like the people in those movies were having a good timeÖIím not entirely sure.
Recently Iíve been watching a lot of Italian horror movies after a friend turned me on to them, specifically Argento and Fulci [Lucio Fulci bio - click here] and I really enjoy their style. Tenebre and House by the Cemetery are standouts so far but I still have many more on my viewing wish list. Iíve also really gotten into Asian Horror too. Audition, Tale of Two Sisers, Uzumaki, Cure, and Oldboy were all highly enjoyable. I have a steady pile constantly coming in from Amazon and sometimes I wonder if Iíll ever get the time to watch them all.
Any films you really deplored?
Oh, there are tons. I donít enjoy hardly any of the movies coming out now at all. I canít even recall the last time Iíve been to a movie theater.
I think the American movie industry is about as bad as you can get these days. And not just bad. BAAAAAAD! Iím talking bottom of the barrel stuff here. There is no worst aspect. Itís all horrible.
In my opinion, most movies today are uninteresting, unoriginal, dull, blatantly terrible films that make me feel ripped off both time and money wise. I am so tired of remakes and sequels and I know Iím not the only one. Our country has the best movie studios in the world with infinite financial resources and a vast talent pool and look what they are offering the movie going public. There is simply no excuse for it. Of course, today itís not about movie making or craft. Itís about money and profit. The studio heads these days are accountants and lawyers and making movies to them is an assembly line job and a quick way to put cash in their pocket. Itís not about a love of film making. And I think things are only going to get worse before they get better.
That said, when it comes to low budget American horror films, I think itís a very exciting time and the opposite is true. With the advent of video and the Internet some very talented people are finally getting a break and able to get their material out into the public eye. I think the movies shot on video that Iíve seen recently have been quite entertaining and very well made. I also see fantastic stuff on Youtube on a daily basis which is more entertaining than anything Hollywood can put out. I think low budget Indy filmmakers are the ones who will ultimately keep horror alive and evolving because Hollywood simply wonít or canít do it.
&nbsp
The only movies Iím watching these days are either Independent or foreign films. Itís the only way to see anything original.
That said, I did just caught Michael Clayton on cable this weekend and thought it was excellent.
Anything else I've forgotten to ask and you are just dying to tell us?
Canít think of anything at the moment. Iíve probably droned on way too long already. Iím just really thankful that people have enjoyed some of my stuff. To be honest Iím still amazed at the number of people who have seen some of my movies and itís a little overwhelming at times. I never thought that some of them would get the attention they did and Iím grateful for that. Even if I never get to make another movie Iím happy that I was able to make a minuscule offering to the genre Iíve loved for so long.
And to any aspiring movie makers out thereÖJUST DO IT! If I could make a movie, anyone can. Donít listen to any negativity. Donít be discouraged. Donít take no for an answer. Donít be swayed. You donít need a lot of money, exotic sets or fancy equipment. Just grab your digital camera and some friends and begin shooting. Starting is half the battle.
Thanks for the interview.
Your welcome. Take it easy!