Your new movie The Friday Night Death Slot - in a few words, what is it about?
It's about a horror host who is screening shorts, trailers, cartoons and commercials during his late night show and a viewer with nothing better to do than watch.
What were your inspirations for cooking up The Friday Night Death Slot?
I have always loved films like The Kentucky Fried Movie and Amazon Women on the Moon. I even like The Groove Tube! They're not exactly anthologies, because everything comes flying at you from every possible direction, though they are mostly comedy-based. I wanted to do the same thing with The Friday Night Death Slot, but I really wanted it to have more of a horror angle.
You just have to talk about your horror host character Johnny Ghoulash for a bit, and also his past appearances! And your thoughts on horror hosts and their shows as such?
I've always loved horror hosts. They add a little fun to the movies I already love, so how can that be a bad thing? I grew up on The Hilarious House of Frightenstein, which was filmed in my hometown of Hamilton, Ontario. Johnny Ghoulash started out as a character that appeared in Matt Cloude's Midnight in the Mortuary series. He was in a segment entitled, Ghoul Schoul. From there, he went on to his own series entitled Partially Devoured Movies. The first six episodes are currently on Roku at Zombee TV, but there are 10 more episodes awaiting release. Hopefully, sometime soon. Johnny also appeared in his own feature-length film, Johnny Ghoulash Escapes From Creightonville.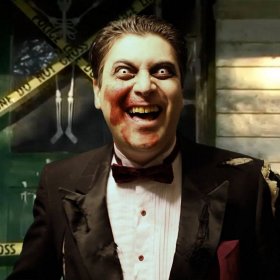 Johnny Ghoulash
What can you tell us about The Friday Night Death Slot's brand of humour?
It's a sick, demented kind of humour in a lot of places. The kind of humour most horror fans can get behind, I would guess! The movie also has a lot of parody moments, so if you know the references, or the genre that is being lampooned, it's definitely more fun. There are places where the humour is more subtle, but more often than not it is just plain silly. In your review, you mentioned that it would likely make a great party movie. That's really what we were hoping to achieve.
With its many vignettes, The Friday Night Death Slot covers a very wide field when it comes to approach to horror - so what kinds of horror are you into more than others, and why?
I love all kinds of horror. Sometimes I go through stages. There was a while there where I saw every zombie movie ever made. Then, every slasher movie. Then, every exorcism movie. Right now, I'm enjoying supernatural ghost stories. That's something I wanted to capture in my film. All those different genres within the greater genre of horror. Nothing quite like variety! I guess the reason for my love of all things horror come from reading Famous Monsters of Filmland as a kid. I always wanted to see everything they ever wrote about...
Maybe related to the last question, which vignettes were the most fun, which were the most challenging to shoot? And which are your favourites, actually?
I'm happy to say we had fun shooting all of the segments. The vignettes that had larger casts were the most fun just because so many people were involved. The Heebie Jeebies was a blast to shoot, so were FireCRACKER and Frank Einstein. The hardest segment to shoot was probably Spring Cleaning. We had to travel to Quebec for the location we wanted, and there was so much blood to deal with on set. It was incredibly messy and I wanted to make sure our main actress, Faith Rayah was as comfortable as possible. It's hard to pick favourites, but lately I've enjoyed re-watching Not For The Faint of Heart and Eat the Rich.
Do talk about your directorial approach to your stories at hand?
My directorial approach changed with each segment. Each one was so different. If the vignette was based in a certain time period, I did my best to make it feel like it was directed in a style appropriate for that time. There was no dialogue in The Devil's in the Details, so I had to make sure the story was clear without words. Severance Package was intentionally more wordy than other segments, and that meant a different style of direction as well. In Spring Cleaning I utilized split screen effects a lot. It was my homage to Brian DePalma!
What can you tell us about your assistant directors Kyle Hytonen [Kyle Hytonen interview - click here] and Darren Hutchings, who each directed an episode themselves, and what was your collaboration like?
Kyle and I worked together very closely on The Heebie Jeebies. We hashed out the main story together and researched all the crazy 1920s catch phrases used in the segment. Kyle wrote the script and directed it. I edited it and did all the effects. Kyle is a great guy to work with on set. He's easy going and makes things very comfortable with his approach. I look forward to working with Kyle again. Hopefully soon!
Darren is a super nice guy and very talented. His segment was called Leap Year Massacre and he produced it entirely. I only worked as an actor on that one. In fact, it wasn't originally created for The Friday Night Death Slot, but I was ecstatic to have it become part of the film.
You star in quite a number of the movie's vignettes - so what can you tell us about your characters, and your approach to them? And do you actually write your characters with yourself in mind?
Playing so many roles myself seemed like a good idea at the time. I figured it would be a good way to showcase my abilities. As time went on, it proved to be harder and harder to act and direct at the same time. I think in upcoming projects I'll do one or the other and not both. The characters I like to portray are usually out of their minds and a little over the top. My approach often has to do with capturing the madness I want to portray in the character. Sometimes it is a little more sublte, but most often it is bordering on outrageous. When I started working on this film with Andre Guantanamo, we weren't sure we would attract other actors to be part of our little film. We wrote things with ourselves in mind at first, and then expanded as more actors entered into the picture.
What can you tell us about the rest of your cast, and why exactly these people?
The cast was so great all around. Many of them were friends or people we had worked with on other productions, so we knew we could count on them and their abilities. Andre Guantanamo was the first person I talked to about the movie and how I wanted to go about shooting it. He's a very talented actor and I'm proud to have him in almost every segment! The same goes for Deborah Jayne Reilly Smith. She has a lot of versatility which really helps in a film like this one. I wish I had time to mention everybody. They all did a great job.
Do talk about the shoot(s) as such for a bit, and the on-set atmosphere?
The film was shot over a year and a half, quite often in between other projects. Thankfully, that worked with the type of format we had chosen for the movie. Every set up was a little different. Sometimes we were on location, other times in front of the green screen. The atmosphere was positive. At least, I hope so, because I really believe that it is the director that sets the atmosphere! That was another great thing about working with Kyle and Darren. They have a very pleasant and positive manner that really rubs off on the rest of the cast and crew.
Anything you can tell us about critical and audience reception of your movie yet?
Not really at this time. We're a few weeks away from our premiere at this point. We've applied to a number of festivals and hope to get the chance to bring our film to a larger audience soon.
Any future projects you'd like to share?
My next film is entitled Space Monsters Must Die. I'm just entering into the pre-production stage. It will have a bunch of monsters and their alien masters trying to take over the world. It will definitely be heavily influenced by my love of Japanese monster films! I'll also be portraying Major Foht in Brett Kelly's Skipper Smith and the Very Important Thing. That will be a fun time...
Your/your movie's website, Facebook, whatever else?

Feeling lucky ?
Want to
search
any of my partnershops yourself
for more, better results ?

The links below
will take you
just there!!!

Find John Migliore
at the amazons ...

amazon.com

amazon.co.uk

amazon.de
Looking for imports ?
Find John Migliore here ...
Something naughty ?
(Must be over 18 to go there !)

You can keep up with me and my films by following these links:
www.facebook.com/survivalzombie
www.facebook.com/fridaynightdeathslot
www.facebook.com/spacemonstersmustdie
www.facebook.com/PartiallyDevouredMovies
Anything else you are dying to mention and I have merely forgotten to ask?
Nope, but I will take this opportunity to say please check out the fan page for Space Monster Must Die. We're just starting and I intend to update all through pre-production all the way to the finished product. Join us for the ride - www.facebook.com/spacemonstersmustdie
Thanks for the interview!
You're welcome, and thank you for all your hard work!