Your new movie Battle Apocalypse - in a few words, what is it about?
Battle Apocalypse is a post-apocalyptic horror film, set decades after a bio-terrorist attack unleashed a virus upon the world, transforming much of humanity into vicious creatures and laying waste to civilization. The remnants and survivors have staggered about for years, as the infected slowly starve and die off.
Our story follows Josh and Penelope, two such survivors who have banded together in the hope of rescuing others and hopefully rebuilding civilization. When they encounter Abira, the lone survivor of another group, they must face new and terrifying challenges if they are to survive.
Synopsis aside, though, Battle Apocalypse is about rebirth. Itís about what the world might look like decades after the apocalypse, and asks whether or not humans living in it might be better or worse for it!
How did the project come into being in the first place?
Screenwriter Ben Kurstin, who I had worked with in other capacities before Ė he as a gaffer, me as a director of photography Ė has actually written several really spectacular and uniquely dark scripts, many of which I had read previously. One script in particular was this untitled zombie-esque film that he wrote on a whim Ė he would say it was ďfor a girlĒ Ė after driving by the old abandoned mall in Harvey, IL where they shot the famous car chase from The Blues Brothers. He saw it and thought the notion of telling a story set long after the apocalypse had already happened would not only be a great setting for a film but one that could be achieved on a micro-budget. He approached me and we talked about the prospect of Glass City Films producing the project, and agreed that I would direct it and he would shoot it; which would enable him to get a feature film under his belt as a cinematographer (having shot a few short films prior) and would enable us to finally produce a horror film!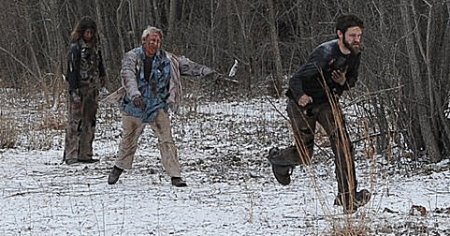 With zombie movies being pretty much a dime a dozen, what do you think makes Battle Apocalypse stick out of the crowd?
They really are a dime a dozen these days, arenít they?! Itís easy to blame The Walking Dead for the proliferation because of its success, but really itís a budgetary thing too; all you need is makeup and a lot of extras willing to walk slowly on camera! I think, rather often, you get some lazy filmmaking on account of the easy popularity of the genre, and a lot of people donít get into the subtext of what the zombies might represent or how characters might reasonably act in that kind of exaggerated situation. But on our end, what intrigued us about the script had nothing to do with the zombie genre at all, but the fact that itís really a well-told love story, with strong and complex characters. There was also a unique twist in that the film takes place so far after the apocalypse and the infection has already happened, so it allowed us to really create our own universe. In Battle Apocalypse, humanityís already lost, at least in what weíd consider civilization, and compared to films like Dawn of the Dead or 28 Days Later that actively show the breakdown of society, this shows us the remnants of that world in the distant future. Thereís something really unsettling about that.
Is the zombie genre a genre at all dear to you, and some of your favourite zombie movies?
Personally, Iím a huge fan of the genre. The obvious candidates for my favorite zombie films would be the original Night of the Living Dead (that ending still gets me) and Dawn of the Dead, but Iím a surprising cheerleader for the Zack Snyder version of Dawn of the Dead as well. 28 Days Later was a big turning point for the genre, with the whole infection thing as opposed to the undead. And Shaun of the Dead is just terrific.
For me, Iíve always loved how zombies become this sort of metaphorical stand-in for whatever issue weíre dealing with as a culture, and Romeroís the champion of finding meaning in that, whether itís racism or consumerism or what have you. In Battle Apocalypse, I latched onto the idea of a world ravaged by disease and a species fearful of its own extinction, something weíre obviously dealing with now with various viruses and ecological disasters. That sounds totally pretentious, I know! And I wouldnít say we were actively thinking about how to exploit those things at every turn. But the subtext is there, and I think it adds a gravitas that lesser zombie films lack.
What can you tell us about Battle Apocalypse's writer Ben Kurstin, what was your collaboration like, and how did you first meet, even?
Like I said before, Ben and I had worked together for years before Battle Apocalypse; we first met on a film called Nowheresville, a no-budget feature that I shot for writer-director Jonathan Talbert. We developed a pretty good rapport and shared a lot of the same visual interests and ideas, growing as artists in film together in Chicago. So us getting to work together in a new capacity Ė as a director/DP team Ė was really exciting for us! And as a writer, Ben was spectacular, particularly during the early phases of re-writing the script; the film had a different, much bleaker ending originally (if thatís even possible), and he did an incredible thing with finding ways for every little moment and clue to have a payoff in its own way.
Our relationship during the production of Battle Apocalypse was really awesome, but also a bit complex and difficult at times. Being a cinematographer myself, I can recall a dozen times or more that Iíd step behind the camera or start playing around with lighting and Ben would basically have to slap me on the wrist and make sure I was letting him do his job! And conversely, I canít imagine how hard it must have been for Ben to watch us play around with his script and even alter lines over the course of the rehearsal process or filming on set, or watch us have to block or set up shots differently than he might have pictured in his mind while writing. But thereís nobody else who could have shot this film with the incredible eye Ben has for composition, light, and shadow, and sometimes finding ways to light scenes with a single fixture and flashlights. Everything he brought visually had intention and purpose, and we had so many lengthy and productive discussions during the shot-listing stage Ė general themes, specific moments, film references. This movie really has his stamp all over it, in the best way.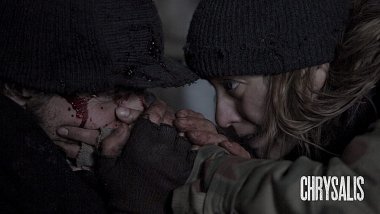 Cole Simon, Sara Gorsky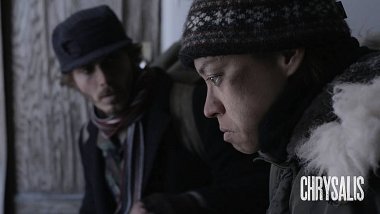 Cole Simon, Tanya Thai McBride
What can you tell us about your cast, and why exactly these people?
Ben wrote much of the script with Cole Simon and Sara Gorsky in mind as Josh and Penelope. We had worked with them before in many capacities; Cole has actually directed a pair of features for Glass City Films (the award-winning films Glass City and Separation Anxiety) and had done tremendous theatre work in Chicago before Battle Apocalypse; Sara had done a couple of short films with us and had also worked with Cole on a few theatrical productions as well. And because of that experience, we knew both of them not only had the talent but also the drive to work towards these characters; both of them lost a ton of weight leading up to the production Ė to better fit into a world of nomadic, starving survivors Ė and were actively involved in promoting our Kickstarter campaign months before production began!
Tanya McBride came to us through Cole, actually Ė they had collaborated together at Ohio State several years ago, and Tanyaís an accomplished film and theatre actress in Chicago. She absolutely nailed her audition for us, so much so that we wound up pushing production back about a month to accommodate her availability! It was absolutely worth it to us; she brought a startling humanity and survivalism to Abira. Itís a hard role to play and a harder role to make sympathetic, but she took it one step further and even evoked a sense of real empathy for the character. They really all did such a fantastic job bringing these characters to life.
You also have to talk about your movie's locations for a bit, and what were the challenges of filming there? And what kind of an effort was it to find the right locations on a budget?
One of the central tenets of low-budget filmmaking is to write for what you know you have. For better or worse, Gary, IN Ė a once-proud steel town thatís fallen into severe disrepair and distress over the past several decades Ė filled the bill of a world set decades after the apocalypse, and Ben had scouted these locations in a variety of ways, from looking online at sites like Urbex to going out for photography. The abandoned church, the large factory warehouse, the dilapidated hospital...these and more were all available to us, and we worked extensively with the City of Garyís Film Office to get permission for all those areas.
The challenges are probably obvious for the most part, especially in a winter setting: no power, no heat, no running water, etc. We had an RV on set and either had a portable toilet or access to nearby buildings for bathroom access, but otherwise we danced around small propane heaters and carried a lot of hand warmers and coffee! The strange difficulty we had early on was a sudden warm spell after a blizzard, which caused the snow to melt and seep into the walls and leak on our sets; itís a scary sight to see pieces of roof and ceiling falling nearby because the old concrete has begun to expand in the heat!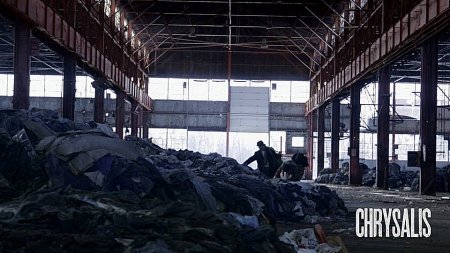 But really, budget-wise, you couldnít ask for much more. We could look 360 degrees and barely have to do any real set dressing for the most part; the locations did all the work for us! And since the city owned the vast majority of the locations, permission was easy to obtain and as long as we had insurance covered, the fees were minimal. Taking care of the crew and pre-scouting locations each day to confirm the locations were safe was the main priority.
What can you tell us about the shoot as such, and the on-set atmosphere?
It was COLD. Cold, damp, and dirty! Thatís all real snow, real breath, real shivers, and real dust being kicked up by our actors as they run from the infected. It was an impossibly ambitious shoot: 94 pages in 17 days in the dead of Chicago winter. Everyone had a blast, for sure, but there was a real sense of focus, especially with limited daylight: we had to make the most of every single day and not think about how cold it was.
A few words about audience and critical reception of your movie so far?
So far, the critical reception of the filmís been spectacular, including your review, so thanks for that! With rare exception, people really seem to get what we were trying to do, and havenít complained that there wasnít enough gore or that it wouldnít make sense for these characters to be in these circumstances in this world or what have you. Thatís not to say those naysayers havenít been out there Ė IMDbís full of them! You canít please everyone, especially on our budget, and we were never aiming to. Weíve had really positive feedback at film festivals, and of course our premiere screening with our Kickstarter backers in Chicago was maybe one of the most fun events Iíve ever been a part of as a filmmaker.
Any future projects you'd like to share?
Weíve been so focused on getting this film out into the world that I donít know if weíve thought specifically about what our next endeavor would be! Weíre always developing new scripts Ė a couple of features, a possible web series or two Ė and weíre definitely planning at least one short film weíll produce in the coming year. I know Benís always writing, and as Iíve been studying for my MFA at Depaul University Iíve had the pleasure of reading a lot of fantastic material from aspiring and current screenwriters. The next projectís out there, for sure, and probably already in our wheelhouse. But I want us to have the same visceral, enthusiastic reaction we had when we read Benís script. Thatís when weíll know exactly what weíre doing next.
What got you into filmmaking to begin with, and did you receive any formal training on the subject?
Iím not one of those filmmakers who knew from a very young age that he wanted to be a director; really, the closest I got was writing scripts and stories as a high school student. And I was obsessed with box office reports (blame Titanic for that one). But it wasnít until I went to college at Notre Dame that I really figured out how passionate I was about it, and decided to study it. After graduating, then, I moved to Chicago to pursue a career as a freelance cinematographer, and started Glass City Films with Cole as a means for making our passion projects.
What can you tell us about your filmwork prior to Battle Apocalypse?
Iíve directed another feature, the romantic thriller Happily After, but for the most part Iíve worked chiefly as a cinematographer on all manner of projects: short films, feature films, documentaries, music videos, commercials. Iím really proud of the work I did on the Bangladesh doc Strong Bodies Fight and the feature film NightLights, but Iíve learned from every single project Iíve ever done. Thatís the best part about being a filmmaker: you get to be a sponge in everything you do, learning tricks of the trade on each production and applying them to the next one.
How would you describe yourself as director?
I donít know that Iíve made enough films yet to describe myself, stylistically or personally! But I love bending and blending genres, and hope to continue doing that. As a director, I hope every film I make is in service of the story and the script, and while that might result in some disparate works Ė Happily After and Battle Apocalypse are vastly different works Ė I also believe I get exponentially better each time Iím behind the camera because of that focus.
Filmmakers who inspire you?
David Fincher, Darren Aronofsky, Steven Spielberg, and Kathryn Bigelow; The Hurt Locker and Zero Dark Thirty are, to me, two of the best films about war Iíve ever seen. But really, Iíd say Fincherís my favorite director; the consistency and audacity that man has in what you might sometimes call simple thrillers, the style and precision he employs, and the care he takes with his actorsÖ thatís what Iíd endeavor to be, someday. I never run out of filmmakers that inspire me! And Iíd be remiss in not citing a bunch of the cinematography greats: Deakins, Kaminski, Conrad Hall, Gordon Willis. The list goes on.
Your favourite movies?
Eternal Sunshine of the Spotless Mind will always hold the number one spot for me. No film has captured my imagination and my heart in the same way since. After that, though, I donít even know if I could give you a top ten list, and definitely not a ranked one. I love blockbusters like Independence Day alongside small indies like Primer, and my guilty pleasures sometimes outweigh the critically acclaimed gems (damn, I wish I could stop watching Armageddon). The Dark Knight is one of the best crime dramas of the 2000s. The Social Network also really struck a nerve with me, and Iím still bitter it lost Best Picture to The Kingís Speech. Ghostbusters is a perfect comedy in my mind. And horror-wise, you canít top The Exorcist.
... and of course, films you really deplore?
Iím a man not easily displeased. Obvious candidates would be the Transformers movies. All of them. And itís probably not even fair to mention Twilight. But if youíre looking for something a little more unique, Iím also going to go out on a limb and say that Iíve never had such a negative reaction to a film as I did to Douglas Sirkís Written On The Wind. I know thatís one of those films youíre supposed to study when youíre in film school and admire for all the mise-en-scene and whatnot. ButÖ ugh. Honestly, though, on a general level I find things to like in just about every film. Most people will ask me, ďYou make films, so do you have a hard time watching movies now?Ē And my response is exactly the opposite. If Iím enthralled in a story, Iím not thinking about the technical aspects. If the storyís not captivating, thereís always something interesting to follow, some unique choice the director or actor made. You have to find that spark in every movie, because someone obviously believed in it enough to make it!
Your/your movie's website, Facebook, whatever else?

Feeling lucky ?
Want to
search
any of my partnershops yourself
for more, better results ?

The links below
will take you
just there!!!

Find John Klein
at the amazons ...

amazon.com

amazon.co.uk

amazon.de
Looking for imports ?
Find John Klein here ...
Something naughty ?
(Must be over 18 to go there !)

Battle Apocalypse Ė we still call it Chrysalis at film festivals and via our website Ė can be found at our website, www.TheRestAreDead.com, and also on Vimeo On Demand. Other sites:
Facebook: www.facebook.com/therestaredead
Twitter: @GlassCityFilms
Tumblr: therestaredead.tumblr.com
IMDb: http://www.imdb.com/title/tt2836260/
YouTube: www.youtube.com/glasscityfilms
We check all our social media pages and IMDb often!
Anything else you are dying to mention and I have merely forgotten to ask?
The whole reason this film exists in the first place is because of the Kickstarter campaign we ran back in August of 2012. We had 372 backers who believed in us enough, at a very early stage of the filmís life, that they supported and backed us to the tune of over $35,000 Ė even pledging for things like survival packs and getting to be an infected in the film Ė and Iíll never stop being thankful for that.
Thanks for the interview!
Thank you!