Your new webseries Casting Directors - Season 2 - in a few words, what's it going to be about?
Casting Directors is a mockumentary that looks at the casting industry, and the quirky and sometimes morally corrupt people who oversee it. This season focuses on gender and race, and the skewed politics that limit opportunities for talented females and ethnic minorities. Although the message is very serious, the series is a comedy and satirises the ignorance of those who give rise to the 'casting couch' reputation, as well as the larger than life characters who pass through casting rooms.
What were your sources of inspiration when writing Casting Directors? And is any of it based on actual experiences of yours or industry rumours?
I was asked to write the episodes around the time that the various stories of abuse in the film industry were coming to light. The narrative hadn't been mapped out at that stage but it felt vital that we addressed these issues and highlighted the toxic attitudes that allowed such abuse of power and discrimination to go unpunished for so long.
The creator of the show, Anthony Vander [Anthony Vander interview - click here], plays an actor/writer/director called Simba Slays, who is growing increasingly frustrated at the lack of opportunities in the UK for black actors, which is highlighted by the decision of many young black actors to showcase their talent in the US. Anthony shared with me his experiences, which were then incorporated into the script.
In terms of the humour, my main sources of inspiration were The Office and Extras.
How did you become the writer of the second season of Casting Directors, and were you at all involved with the first one?
I have a close working relationship with Anthony, who gave me my first writing gig when I was still at university. We work very well together, so when he asked me to write the second season of Casting Directors, it was a no-brainer. I had watched the first season as an audience member and was very impressed – it had great characters, relatable humour and an earnest core. I was going to approach Anthony with ideas for Season 2 before he asked me to get on board, anyway!
To what extent will the new episodes of Casting Directors be a continuation from the previous season, and what do you think are the major differences?
As mentioned earlier, Simba Slays is returning, a year on from his failed project in Season 1, slightly embittered and angry at the industry. Man-child Billy Spencer, who was second in command at the agency in the first season, is now the boss, who is not best equipped for his sudden promotion. Aside from Simba and Billy, though, we have all new characters, including corporate hotshots, seedy producers, adult entertainers and egos galore.
I think the main difference in this season is the introduction of more conflict, as the characters' motivations become more apparent, with Billy's oft-overlooked assistant Grace and Simba standing up to the system.
Do talk about Casting Directors' brand of humour for a bit!
I had a great base for the humour, due to the writing in Season 1 giving me an instant feel for the characters. The humour is often ironic and satirical, with a lot of cringeworthy scenarios and foot-in-mouth moments. My main goal was to prompt uncomfortable laughter.
What can you tell us about Casting Directors' director and creator Anthony Vander [Anthony Vander interview - click here], and what's your collaboration like?
The man is prolific. Our first collaboration was Sweetboy, which he produced (self-funded), directed and starred in. He is constantly finding ways to get the stories we want to tell out there and I don't doubt that he is sitting on many, many ideas, waiting for the right timing. He is great to collaborate with, as we have similar ambitions, influences and visions. He is very patient and if our respective visions don't always line up, we talk through the situation in detail until we find common ground. I am very grateful to him, as he gave me an opportunity when I was desparate for experience. I didn't have any feature-length screenplays under my belt and I was still a couple of months from graduating. He liked my treatment of his concept and I hope I repaid his faith. It's great to work with someone who has directed, written for stage and screen, acted in diverse roles and produced multiple projects, all with aplomb. He can give me insight into how actors receive scripts, which was invaluable in our second collaboration, Scales, as it is very much a character-driven project. He is a great mentor and friend, and I relish every opportunity to work with him.
Do talk about Casting Directors Season 2's cast, and have you written the script with these people in mind?
We are fortunate enough to have an incredibly gifted comedic cast, who were able to balance the farcical and humanistic elements of each role. It was very useful having Billy and Simba already cast from Season 1, as I had a solid foundation to work from. The role of Grace was written with the very talented actress Mavin Rasheed in mind; however, the other roles were cast after the script was finalised. Kamal Simpson, who starred in Scales, came on board, when we learned of his experience in various forms of comedy acting, despite the tone being far removed from his character in Scales. It was great to see his versatility.
The $64-question of course, where can Casting Directors be seen?
Episode 1 - The Bonking Bobby: https://www.youtube.com/watch?v=Bwllc-LGMAc
Episode 2 - Make It Sexy: https://www.youtube.com/watch?v=kB9vzTocVac
Episode 3 - The Blagger: https://www.youtube.com/watch?v=bpk83Zbneac
Episode 4 - The Illusion of Inclusion: https://www.youtube.com/watch?v=YfzOq7h-vns
Any future projects you'd like to share?
As mentioned, I recently worked with Anthony again as writer and producer of Scales, our second feature film together. It was my first time producing, which was a massive learning curve in and of itself, but a great experience. The project is currently in post-production and we are incredibly excited with what we have created, along with our fantastic director, Nathan Hannawin.
Aside from that, I have been working on scripts for a couple of short films, which I keep returning to and tinkering with, and I am in the early stages of writing Season 3 of Casting Directors.
What got you into scriptwriting in the first place, and did you receive any formal training on the subject?
Storytelling has been my passion since primary school and became a massive factor in my education, culminating in me studying Film and English at University of Southampton. In third year, I was able to select modules in writing novels and screenwriting, which introduced me to the intricacies of storytelling, giving me a structure for my creativity. I was taught the theories and models of Christopher Vogler, Blake Snyder and Syd Field, which built my confidence and understanding of different archetypes and pacing; though, I don't think screenwriting is as simple as following a formula – just like in sport, you can't beat match practice.
What can you tell us about your filmwork prior to Casting Directors?
My debut was 2014's Sweetboy, which was screened at the BFI (British Film Institute), received its North American premiere at the HBO-sponsored American Black Film Festival in New York and aired on British TV on London Live multiple times in 2016 and 2017. Between Sweetboy and Scales, I wrote several scripts, which gave me me more confidence in my ability and helped me to work on aspects of my writing. When I started writing Scales and then Casting Directors, I felt my writing carried much more conviction.
How would you describe yourself as a writer?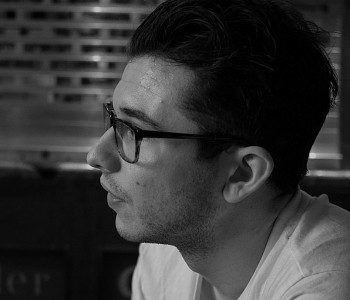 Joe at the Scales scriptreading
My writing to this point has been bleak and dark, but laced with humorous outlets. I am a very light-hearted guy, so my writing style is kind of at odds with my personality – I don't know if that's worrying or healthy! It's better than being the other way round though, I guess.
I consider my main strength to be my dialogue, so my scripts tend to be very much character-driven and intimate. I like to create morally ambiguous shapeshifters of characters, as I enjoy blurring lines and surprising audiences.
Writers, filmmakers, whoever else who inspire you?
I think the way Paul Thomas Anderson gives such unique voices to an incredibly eclectic cast of characters across his body of work is remarkable and something to aspire to. Robert Altman for the same reason. I love Richard Linklater's humanity, Noah Baumbach's relatable humour, David Lynch's build of dread, Yorgos Lanthimos' dark, dry humour, and Jim Jarmusch's conciseness and love of loners.
Your favourite movies?
The Godfather, It's a Wonderful Life, Dazed and Confused, The Thin Red Line, Short Cuts, Marketa Lazarova.
... and of course, films you really deplore?
I'm pretty vocal in my dislike of the Marvel machine!
Your/your series' website, Facebook, whatever else?

Feeling lucky ?
Want to
search
any of my partnershops yourself
for more, better results ?

The links below
will take you
just there!!!


Instagram: joe_harvey1991
Twitter: @JoeHarvey91
Scales:
Instagram: howyouweightrust
Twitter: @ScalesFilm2018
Casting Directors:
Instagram: billyscasting
Twitter: @BillySCasting
Anything else you're dying to mention and I have merely forgotten to ask?
Check out Casting Directors on YouTube from March 22nd!
Thanks for the interview!