Your upcoming film When Death Calls - in a few words, what is it about?
When Death Calls is an anthology of scary stories set around a main story of a DJ telling scary stories over the radio on Halloween.
What was it that initially drew you to the horror-anthology concept, and your favourite (horror-)anthologies?
Well, I've always felt anthology horror films - as well as sketch comedies - are lots of fun. It's always like going through a gift bag full of surprises. Even if some of the things in the bag aren't that thrilling there's usually enough there to make you happy.
As a filmmaker I enjoy them because they keep things fresh. This is my second anthology - the first was Grave Danger - and it's kind of like making a series of short films. By the end of shooting a feature you start to feel creatively burnt out - you've been telling the same story, working with the same people, seeing the same sets and the same costumes week after week and you're just itching to do something new and different. When you do an anthology, you devote maybe a weekend to a specific segment then next week you're somewhere else working on a new story with new people - it keeps it fresh.
As far as my own experiences with anthology films, I'll always treasure the memory of being a teenager watching Creepshow 2 with a packed house on a Friday night at the Franklin Theater. The last segment where the dead hitch-hiker kept popping up to terrorize the woman in the car - as well as the audience reaction to it - was such great fun.
What was the radio show-based wraparound story of When Death Calls inspired by?
Not sure I have an answer for that, it was just an idea I had. Radio stations and call-in shows have always been used to great effect in horror movies. Much of Texas Chainsaw Massacre 2 is centered around a radio station, and then there's the psycho calling the radio shrink in Don't Answer the Phone. Maybe those were sub-consciously influential?
Other sources of inspiration for When Death Calls?
Well, much of what I do is inspired by old exploitation pictures from the 60's through the 80's. It was a real magic time for these great, inspired cult movies and I generally am just trying to make my own entries into those type of films.
What's also great about anthologies is it allows you to do many different things and I think When Death Calls runs the gamut of classic B-movies, both in style and in content. One story is a monster movie, one is a slasher movie, one is a very black comedy - there's something for everyone and I think they all work.
What can you tell us about your directorial approach to your film?
Well, I try to approach things from a practical standpoint. When you're working with so little money it certainly inhibits what you can do, but I tend to see that as a challenge and it makes things more fun. I like figuring things out and making people wonder how I did so much with such a small budget.
One of my biggest influences as a filmmaker is a guy most people have never heard of called S.F. Brownrigg, although he is now starting to get a little recognition all these years later. He most famously made Don't Look in the Basement in the 70's, and he also made several really good, really creepy horror movies (as well as a silly straight-to-video 80's comedy). Unfortunately he passed away many years ago, but he did an interview with Fangoria magazine in 1989 that I read back when I was sixteen, and what he talked about there was more valuable to me as a filmmaker than anything I gleaned from any college film courses I ever took.
Basically, he talked about making films with no money and how these things could be done and how he did his films. It was a very practical approach to making movies, and I read that article several times over and used it like a blueprint for what I would someday do. That's kind of my approach, very practical.
Since there are quite a few gorehounds among my readers: How far are you going in terms of violence, blood and gore?
Sorry to disappoint anyone, but I'm not a gore guy. I've always been a great fan of horror movies, but it was never about the splatter. The story and the suspense is what does it for me. I mean, if you are depicting violence I think you do need to show it and let it have an impact on your audience, but I'm not about blood and guts for entertainment. I like a horror movie to be like a roller coaster ride - fun, exciting, thrilling, we jump, we scream, but at the end we had a good time and we want to do it again. I wouldn't want to go on a ride that would make me sick to my stomach or makes me feel dirty or disturbed. That's not fun.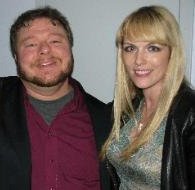 Jim Haggerty with Suzi Lorraine
A few words about your leading lady, the lovely Suzi Lorraine [Suzi Lorraine interview - click here]?
Wow, what can I say? Suzi Lorraine is the total package, a true movie star. She's one of my favorites - an amazingly good actress, a consumate professional, gorgeous, and on top of all that she's a really talented writer. But beyond that she's an exceptionally sweet person, very patient, very kind, very funny, very humble, and amazing to work with. When Death Calls is the second film we've worked on together and I hope it's the second in a series of twenty million. She's just terrific, I'm very honored to have her in my films and even more honored to consider her a friend.
What can you tell us about the rest of your cast and crew?
Well many of the folks involved have worked with me before. It's always very gratifying that folks are willing to work with me again, it's an acknowledgement that they enjoyed working with me and that they were happy with what we did together.
Of course Dennis Newman is involved, who's been my right hand man since Grave Danger, we always have a great time together. He was very instrumental behind the scenes and he had a very funny turn as the cable guy in one of the more humorous segments. Of course Jae Mosc, the Yellow Ape matinee idol is back. Other familiar faces on hand are Robert Lincourt and Stephen Alan Wilson of From the Inside, Rebecca Rose McCain, David Tapias, and others.
We also have some great new blood in this one. I think people will be really impressed with Nathalie Bryant, really good actress in a very challenging role, as well as Katt Masterson, Pooyah Mohseni, Steve Arons, Darlene McCullough - it's a tremendously good cast. Maybe the best group of people I've ever had the pleasure of working with.
The $64-question of course: When will When Death Calls be out?
Well, if I give you a general idea can I have $32? It should be out early 2012. We started it quite a while ago and there were a lot of changes from when we started to the present, but it's basically done now. At this point we're just polishing it up as much as possible because we've been getting a surprising amount of interest from both fans and distributors, so we want it to be right. We usually release things in February to coincide with my birthday, but since this year Tempe is giving a wide release to From the Inside and Is This A Joke? in February we may sit on it slightly longer to not let it be overshadowed by those two.
Let's go back to the beginning of your career: What got you interested in filmmaking in the first place, and did you receive any formal training on the subject?
Well, I grew up wanting to make movies from a very early age. At about seven years old I started studying the movie section of the newspaper - I knew everything that came out and where it was playing and what the reviews were like. I knew I wanted to grow up and make movies. When I was a teenager I got a camcorder for Christmas and began making these horrible little ten minute cop movies with my friends and family and anyone else who crossed my path.
As far as I know, before you made your first feature, you worked in the music industry for quite a bit, right?
Well, I started out at Hunter College as a film major and they had no film program at all. It was a great place to be discouraged from being a filmmaker and even though I still loved watching movies, I was learning to play guitar and was becoming more interested in music. I ended up graduating as a communications major at SUNY Old Westbury on Long Island and got a job at a music distributor after college.
What can you tell us about your debut feature Slasher?
Well, that was the game changer. I was working in music, raising a family, and was producing and hosting a heavy metal TV show on cable access. At that point it dawned on me that I never made a movie like I said I would when I was a kid. So using the cable company's equipment and a cast made up of hammy colleagues from my job we made The Slasher.
I had the title for a long time, it seemed so obvious, yet no one used it. There was The Nightstalker,The Prowler,The Ripper, but no "Slasher." I wrote the script going to and from work on the bus on this mini-laptop I used for work and every weekend for about three months we shot this crazy little movie. The scheduling was insane, we were driving back and forth all over Queens and Long Island using everyone's houses, as well as their parents' houses, as well as my old college campus.

It was a crazy experience but I loved every minute of it. It really made me want to keep doing this. This was my calling, this is what I was here to do. And while there is much about that movie that makes me cringe now, I still maintain it is the best movie ever made for $200 using all non-professional actors and all non-professional equipment. While it lacks a lot of finesse, it does tell a story, it moves at a brisk pace, it has a beginning, middle and end, you can always see and hear what's going on, and a lot of the acting is actually quite good.
A few words about I Dream of Dracula? And how exactly did you dream up that catchy title (pun inevitable)?
It is a fun title, I always liked that one. I Dream of Dracula was a horror/comedy and was the follow-up to The Slasher. It was kind of the antithesis of The Slasher: - where that movie made me want to make movies, I Dream of Dracula made me want to give up making movies several times. It was a tough birth to be sure, but it was a learning experience and I learned a lot from it. I am also very pleased with how it turned out. I think it's a really good movie and I think it's a fun movie.
According to my information, you didn't make another feature after I Dream of Dracula for six years. Why, and what did you do in the meantime?
That's not exactly true, I shot From the Inside in 2004, about two years after completing I Dream of Dracula. The post-production was a bit of a nightmare. The editing was holding things up for a very long time. Two years later it was still tied up and I had met my wife, so we decided to forget about it for awhile and start fresh and make a new movie while trying to get From The Inside done, and that was Grave Danger. Both Grave Danger and Witchmaster General were completed and saw the light of day before From The Inside, which is why that became known as my 'lost' film for a long time.
So what can you tell us about From the Inside?
Well, it was the lost film, it took forever to get through post and be released, but it was truly worth the wait. I love all of my films, but I have to say From the Inside may very well be my favorite. It's a very dark, gritty thriller with a lot of twists and a very cynical nature, It's probably not the kind of film I'm usually associated with but it is really good. A great cast - the aforementioned Stephen Alan Wilson, Robert Lincourt, and Jae Mosc, as well as Amanda Ladd, Dave Daniels, Stacey Schwartz and Brian Haggerty, my uncle who is a theater actor. It's a great thriller with some great acting.
Grave Danger?
Grave Danger was kind of a revitalization of sorts for me. I was a bit bitter and disillusioned after the From the Inside fiasco was holding that up and I really was in need of a new project. I so wanted to do a new movie, but without finishing From The Inside it felt wrong. But I had just met the woman who I would end up marrying and had fallen in love, so it was a time of new beginnings. It was something we were going to do together.
It was also a nice way to transition back in. A little time had passed since I filmed From The Inside, and even though I believed it was good I had no outside validation of that fact. I Dream of Dracula and The Slasher didn't find distribution right away, so I was a little gun-shy. So doing Grave Danger was, like I said before, less daunting than doing a full-on feature and more like a series of short films.
It was then that I met Dennis Newman and Allon Scheyer and they would become invaluable from then on. I also started trying to get some name actors on board - Cathy St. George was a Playboy Playmate in the 80's and would sign autographs at conventions, Vic Martino had been on The Sopranos and Kaye Bramblett was a veteran of the Troma classic Squeeze Play.
Besides those bigger names I discovered other amazing talents like Katlin Owens, Bud Stafford, Debbie Kopacz and Jeff Cusimano who would all work with me again.
Witchmaster General? And was the similarity in title to the classic Whitchfinder General intended?
Honestly no. There was a movie called Wishmaster which I thought was kind of a stupid title, but it reminded me of Witchmaster so I started kicking that around. It was kind of a play on Postmaster General, if anything.
The concept was to have a witchdoctor using voodoo to kill people. This seemed like another practical low-budget idea. Instead of having to simulate setting someone on fire, you set a doll on fire and somehow the person far away feels it. I wanted a big star to do the role, and the first person I thought of was Angus Scrimm of the Phantasm-movies.
Logistically that seemed impossible, so instead I set my sights on James Avery who played the Dad on Fresh Prince of Bel Air. While he wasn't very similar to Angus Scrimm he was a recognizable name/face and with his large and imposing frame could be quite scary. Unfortunately we never got it past his agent - not sure if he ever read it or not.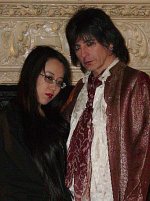 Phil Lewis with Stella Kim in Witchmaster General
Finally my music roots came back into play. I was always a big fan of L.A. Guns and in my travels I managed to befriend the band, so I thought the lead singer Phil Lewis might be interested. Again, very different from the last two guys, but definitely had a certain something.
I sent the script to Phil and he was very excited. He came in and was a total professional and did a great job with the role. It was exciting directing my rock n roll idol from when I was a teenager. And I think Phil got a kick out of 'this little guy that used to come to our shows' as he says on the DVD extras, directing a movie.
In addition to Phil, Vic from The Sopranos returned, we had the great Suzi Lorraine [Suzi Lorraine interview - click here], Colleen Marie who was a 90's Playboy Playmate and Tatyana Kot who had done this Nazi b-movie that was getting some attention. It was an all-star epic, which is probably why it's my best known film.
For Is This a Joke? you left horror for comedy? Why, and what are the differences between directing horror and comedy?
Well, "s This a Joke? was an experiment of sorts. Back in the 70's sketch comedy movies were big, stuff like The Groove Tube and Kentucky Fried Movie, the former of which spawned Saturday Night Live. I always loved these kind of films, but there was actually a sub-genre within that which were films I call 'dirty joke movies' because they're just that - old dirty jokes enacted by actors and that's it. There were actually quite a few of these movies - Jokes My Folks Never Told Me, Up Your Ladder (or just Up Yours as it was also known), If You Don't Stop it You'll Go Blind and it's inevitable sequel Can I Do It Til I Need Glasses.
Anyway, I was watching a bunch of these movies and I was telling my wife how easy it would be to make one of these movies and how much fun they would be. The problem was, these movies weren't funny because you always knew the joke and knew the punchline. But my wife correctly pointed out that people these days don't tell dirty jokes anymore because everyone's so politically correct and younger college-aged folks probably don't know these jokes. And as we were about to start shooting in high-def for the first time it seemed like a fun project to test things out with.
So we started mining dirty joke books searching for jokes. We wanted jokes that were funny, visual, do-able, and had not been done in any of the previous movies in the genre. It would be an homage to those kind of films. And I think it worked - it's got the vibe of those old movies.
There is a big difference directing straight comedy because comedy does have to have timing where horror timing is different, so we tried to find some new folks to work with and I think the cast we put together really sold the material nicely. For me it didn't seem like so much of a departure - except for From the Inside my films all have humor in them, usually in the dialogue. And I've done stand-up comedy myself, so I have that background. And I think my sense of humor is what a lot of people like best about me, so it seemed natural.
Any other films of yours you'd like to talk about, any future projects?
Well, once When Death Calls is done I'm planning to do a short film with this great actress I've come across named Risa Cohen. It's very different from anything else I've ever done, it's a very character-driven piece and I'm very proud of it. I can't wait to start working on it.
Most of your films are of the horror variety in some form or another. Is this a genre especially dear to you, and why?
I've always been drawn to scary movies, but as I said before, it's more the story and the suspense. When I grew up watching Friday the 13th-movies, the tale of a boy drowning and his deranged mother taking revenge on negligent camp counselors drew me in a lot more than the body count or the special effects. I like all different types of movies, but I guess horror is always my first inclination.
You usually also appear in front of the camera in your movies. What can you tell us about Jim Haggerty the actor?
Well, I always like to have at least a little cameo in the movies I make. Hitchcock used to do that, and I think it's good fun. I've actually been trying to branch out a bit more as an actor. I'm in quite a few bits in Is This A Joke? and I have a pretty big role in When Death Calls, I think I pulled that off, but it was a trial by fire - I was acting opposite Rebecca Rose McCain who's such a good actress you can't screw around. You really have to bring your A-game when you work with someone that good. It was intimidating, I almost chickened out, but I think I sold it OK. You'll have to let me know when it comes out.
But I'd like to do some acting in someone else's movie so I can focus more on the acting and not also be carrying the rest of the film behind the scenes. So if anyone out there has a project, drop me a line.
A few words about your production company Yellow Ape Productions, its slogan "Movies for the Midnight Hour" - and how did you come up with this ingenious company name?
I don't know if it's necessarily ingenius, it's just what we do. Way back when, before DVDs and cable were so all-encompassing and movie theater admission was cheap, there was what was called the 'midnight movies,' movies that would play at midnight on Fridays and Saturdays for a less mainstream audience. I like to think that the movies we make would all fit comfortably into the old midnight schedules if we were around way back when. And I think we accomplish that.
Of all the aspects you work on on your films, directing, writing, producing, acting, photography and whatnot - which do you enjoy the most, what could you do without?
That's tough. I love the whole creative process. I have always loved to write, everyday I have an idea for a movie, I have far more ideas than I have time to write them or money to make them. I also love directing, seeing your idea come to life into something real right before your very eyes is something that everyone should get to experience. It's the most amazing thing. I enjoy acting too, but not as much as the writing and directing.
Photography and the more technical stuff I can live without. I don't know all the technical stuff and I find it boring. I prefer to surround myself with smarter guys who know all the camera tricks to help me get what I see in my head on film. I love working with the actors, but not really the machinery. But I guess it's a necessary evil or we'd be doing theater!.
Directors who inspire you?
S.F. Brownrigg as I mentioned, George A. Romero, Martin Scorsese, Ridley Scott, early John Carpenter, John Landis, Wes Craven, Martin Brest, there's tons of guys who've done great stuff. But I'm not so much a director groupie either, it's more a case by case basis. I don't think there's any director who I've seen everything they've done. If a movie doesn't interest me, I don't care who directed it.
For example, Scorsese - I like when Scorsese makes the kind of films he's best at, gritty movies about bad people doing bad things. Sure, he can do other things and that's his right, but it's not always something I'm interested in. If he's doing a concert film of The Rolling Stones or a documentary on Bob Dylan that's cool, but The Age of Innocence? That's just not something I would want to watch, so it doesn't matter to me that it's from the guy who made Goodfellas and Taxi Driver.
Your favourite movies?
In no particular order: Alien, Night of the Living Dead, The Blues Brothers, Star Wars, Midnight Run, Airplane!, The Hills Have Eyes, The Groove Tube, Death Race 2000, Don't Look in the Basement, The Devil Bat, The Departed, Frankenhooker, The Cannonball Run, Zombie, Kentucky Fried Movie, The Ape Man, Assault on Precinct 13, Machete, First Blood, The Terminator, Lady Terminator, Halloween, Doctor Detroit, 2001: A Space Oddyssey, Planet of the Apes, Escape from the Planet of the Apes... I don't know, there are so many and probably so many I'm forgetting.
... and of course, films you really deplore?

Feeling lucky ?
Want to
search
any of my partnershops yourself
for more, better results ?

The links below
will take you
just there!!!

Find Jim Haggerty
at the amazons ...

amazon.com

amazon.co.uk

amazon.de
Looking for imports ?
Find Jim Haggerty here ...
Something naughty ?
(Must be over 18 to go there !)

Ah, I don't like to be a negative jerk - there's enough of them floating around on the internet. It's tough making a film, I respect anyone that's taken a shot at it, even if it ended up being something I didn't like.
Your/your film's website, Facebook, whatever else?
Please drop by www.yellowape.net and pick up some of our films. I believe you'll all enjoy them. Also, please drop by our Facebook page and LIKE us - we're new to the mighty Facebook and are really trying to get our fanbase numbers up - http://www.facebook.com/pages/Yellow-Ape-Productions/113118132097328.
Anything else you are dying to mention and I have merely forgotten to ask?
No, I think we covered it. I don't think I've ever talked this much about myself, you were very thorough. If anyone's still reading I just want to say thanks very much and thanks very much to the folks at (re)Search my Trash for your interest. I hope I didn't bore anyone with my long answers.
Thanks for the interview!
Thank YOU!